Is Your Career Path Leading You To The C-Suite?
Joining the C-suite is something many young New Professionals aspire towards – often this brings with it visions of travel, a corner office, and a lucrative salary package.
To make it into the inner circle, however, most  'Chief ofs' will be able to recall a colourful history of high-pressure decisions, major sacrifices and long working hours. But with it comes an array of opportunities including acting as a voice for the voiceless, leading innovative change, and being a driving force towards achieving a company's vision.
The modernisation of the executive level has led to a multitude of new C-suite positions. The multiple reasons for this are companies finding a need to ensure leaders at the top have foundational business knowledge, and as a way of maintaining history, direction and vision.
Three GetSmarter executive committee members, John Hill – Chief Information Officer, Thelme Janse van Rensberg – Chief of Talent and Chris Vella – Chief Communications Officer, give their advice on career path evolution, new C-suite roles, as well as what they believe it takes to move into a 'Chief of' position.
How to become a Chief Information Officer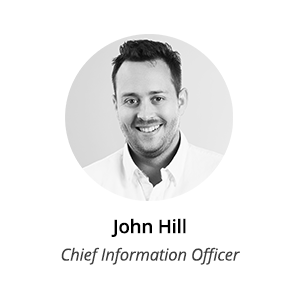 What is your educational background and work experience?
Honours degree from the University of Cape Town in Business Science, specialising in Information Systems
Product Owner to Lecturer to IT Operations Developer to Chief Information Officer
I started out in the world of corporate finance. I learned some valuable lessons on what it takes to run a technology ecosystem on a large scale, highly regulated enterprise. However, I found the pace very slow. Through a fortunate series of events, I landed the role of IT Manager at GetSmarter in 2012. A couple of months later, I was promoted to Chief Information Officer in order to provide strategic direction for Systems and Technology at GetSmarter."
What is your opinion of the new C-suite roles?
CIO and CTO are mostly interchangeable concepts. The role has been around for a long time actually. However, it's only in the last 10 – 15 years that CIO's have had a seat at the 'strategic table'. This comes off the back of realising that ALL businesses are technology businesses. Not having technology represented at the highest level of strategic decision-making is like fighting with one arm behind your back. I think the question of necessity stems from the background of the enterprise in question. For example, traditional 'brick and mortar' institutions have decades of legacy built into their processes and technology.
In order to meet the growing demands of their customers in a digital era, it sometimes makes sense to carve out a specialist role whose sole purpose is digital transformation. The Chief Digital Officer is a good example of this.
What is your advice for those aiming towards being promoted to a C-suite position?
The root of the word 'executive' is 'to execute'. It's the ability to deliver meaningful value to customers and employees that should drive the work of the executive.
Focus on delivering real-world value to stakeholders
Embrace learning and engaging with the world around you to solve problems
Deliver value in new and interesting ways
How to become a Chief of Talent

What is your educational background and work experience?
Bachelor of Arts, language and culture
Honours in English studies, Masters in Philosophy – translation and editing
Operations Executive to Senior HR Executive to Chief of Talent
I've been at GetSmarter for six years now and moved into the role of Chief of Talent two years ago. The Chief of Talent position has probably been in existence for around 3-4 years and it stemmed from the need of having a voice at the top to represent people within an organisation. Without people, most organisations cannot exist.
I didn't start out in HR but in operations. I completed the training and development course at GetSmarter and I'm self-taught in the rest. There was an opportunity to be a lead in HR, so I raised my hand – that's crucial in business, especially for females – being willing to volunteer for something even without the background knowledge. 70% of learning happens on the job, so i figured even if I don't have the knowledge, I'll learn it while working.
What is your opinion of the new C-suite roles?
It would be great to work closely with a Chief Happiness Officer. If you have someone focusing on compliance, you don't want them driving happiness as compliance will usually win – but if they're both at the top role, there will be healthy arguments when making decisions. Generation Y and Z, and millennials are different to employees from 30 years ago – they need to find meaning in their work, and if they don't, it's very easy for them to quit. At the same time, you don't want new titles that are fluffy and undefined. You want leaders who are enablers – they see the vision of others and translate that into something tangible for the end user.
---
Related content: How can you develop your professional leadership identity?

---
What is your advice for those aiming towards being promoted to a C-suite position?
It can become easy for some to become complacent once they've reached that level, but it's so important to stick to your day-to-day priorities and not lose sight of who you represent. You're the voice for many when you're at that level.
Be very agile and open-minded
Be humble and sometimes invisible in what you do – in talent, you need to know the business needs and translate those into models to meet a higher objective without expecting to take credit for anything
Be realistic about expectations
Write down what you want to do and get a mentor for advice and expertise
Execute really well in leadership, the GetSmarter values-based leadership course is great for this
How to become a Chief Communications Officer

What is your educational background and work experience?
Bachelor of Commerce specialising in Informatics
Postgraduate diploma in marketing and communications
Started in Marketing with a 10-year career in Advertising before taking on a Business Director role in EdTech
My BCom gave me a general business foundation with technology at the core enabling successes throughout my career. I commenced my Advertising career at OgilvyOne as an Account Executive across a number of global brands which set me up to join The Lovemarks Company, Saatchi & Saatchi as an Account Director. It was here that I deepened my career in the digital space by leading business relations in digital communications. With more experience in digital, I jumped at the opportunity to join Quirk (No. 1 Digital Agency in SA at the time), where I took up the role of Client Service Director and was responsible for the Cape Town client portfolio, account management team, and revenue targets.
What is your opinion of the new C-suite roles?
It makes sense to have Chiefs, but having too many can be unnecessary and dilute key strategic decision making. As every business has different drivers for success, the roles required should adapt to suit the needs of the business to drive the right outcomes.
Is there space for new C-suite roles?
Definitely, as long as it's in a collaborative environment, and titles aren't being given just for title sake. A good one I'd suggest is Chief of Privacy – the privacy of data is fundamental as there is more to protect in a world where engagement through digital is at its highest.
What is your advice for those aiming towards being promoted to a C-suite position?
Continually upskill your digital experience/knowledge
Build strength in partnerships so that they evolve into friendships
Add impact through value – have a holistic understanding of what the key drivers of the business are by stepping out of your function and asking questions so that you can prioritise what's important, not urgent
Where there is a business challenge, be the one to stand up and tackle it
Look for opportunities that are right in front of you to grow – training, programs, short courses – to ensure you stay ahead of your competitors
Get involved in as much as you can to help shape team spirit and culture
Be patient
---
Ready to carve out your C-suite career path?
Certified online short courses from the world's leading universities designed for busy, working professionals, like you