Combat career inertia by adopting the mindset of a New Professional
Take a moment to picture the elusive workplace of the future – which, by the way, is now only a handful of years away.
Millennials will represent 75% of the global workforce by 2025 – right now, at GetSmarter, millennials make up 90% of a 330-strong team –  and within the next 3 years it's expected Baby Boomers will leave 31 million job positions open as they head into retirement.
But there's also a good chance if you're a Baby Boomer you may not retire, with the Bureau of Labour Statistics predicting the participation rate of workers older than 65 will rise to 23% in 2022.1
On top of that, the rapid and disruptive evolution in digital technology you're currently experiencing won't be slowing down anytime soon; you'll be expected to join progressive and diverse companies that are multigenerational, multicultural, multinational and gender-balanced; increasingly employers will put more trust in you – allowing you to work remotely and giving you flexible holiday benefits; and you'll be given more autonomy over your professional development and career growth.
Amidst all of this disruption, an evolved working professional will have to emerge – a digital native driven by change not by generational identity, with a demonstrated propensity for and ability to embrace education and learn new skills in a globally distributed, highly collaborative and always on-the-go workforce.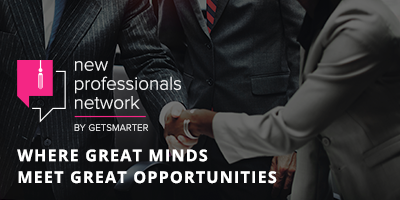 The New Professional
Thelme Janse van Rensburg, Chief of Talent at GetSmarter believes the New Professional is a self-starter:
"The rise of digital education has changed the profile of the successful employee. Previously, you'd look for people who would stick to the requirements of their role, follow instructions on completing training and remain in a specific role for a long period of time – which creates stability, but in no way increases the pace at which the business achieves its objectives. Now, you employ self-starters who know that upskilling and self-learning has high impact. This employee will use digital education to fill the gaps they identified themselves and rise to the top (along with the business) a lot quicker."
---
Related content: Join the New Professionals Network    FIND OUT HOW
---
What does this mean for you?
Regardless of your age, if you're planning on remaining in the workforce you'll need to be willing to pick up the baton from the greats that have gone before you, and join this new movement of working professionals who are:
Self-aware
Goal-orientated
Thought leaders
Passionate
Tech-savvy
Social
Agile
Career changers
Career restarters
Entrepreneurs
Innovators
But most importantly: they are lifelong learners.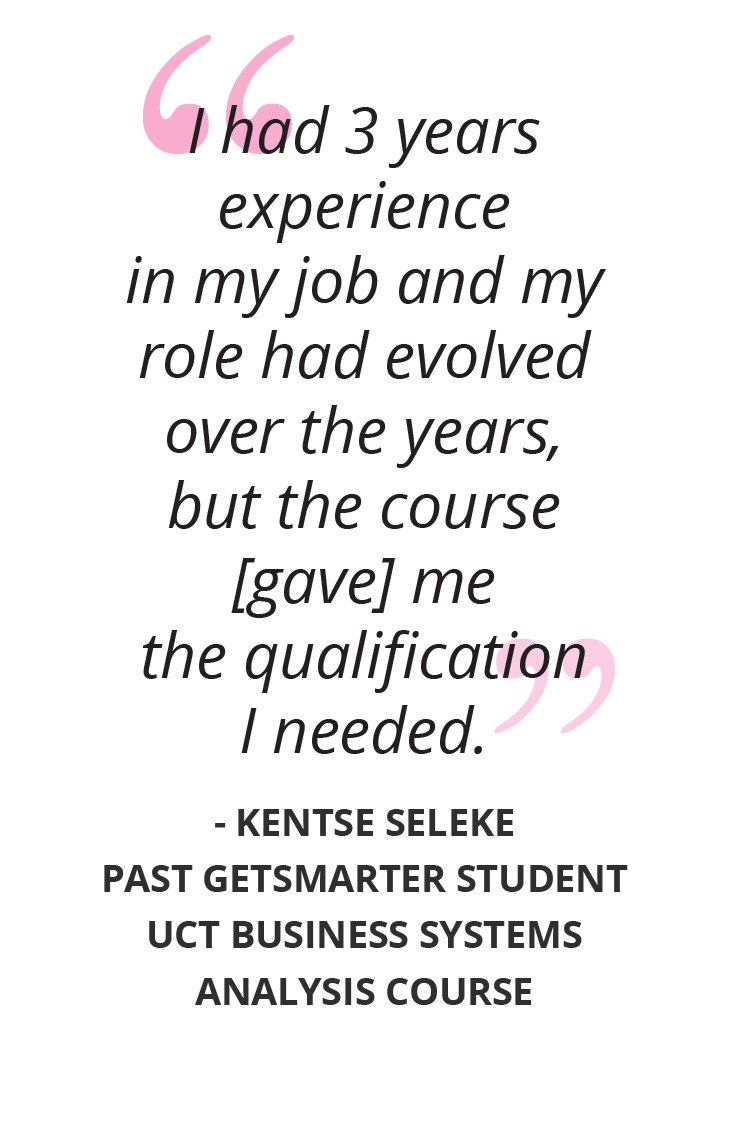 As a New Professional, you'll be able to keep up with the pace of the career landscape by identifying and creating your own opportunities for skills development through a focus on continued education.
Kentse Seleke, a past student on the UCT Business Systems Analysis online short course, identified an opportunity to expand her skill set within the IT field, thereby empowering herself to manage new work systems as well as improve her chances of getting a promotion.
"I had 3 years experience in my job and my role had evolved over the years, but the course [gave] me the qualification I needed."
Investing her time into professional development through continued education paid off.
She was promoted from Systems And Data Management Administrator to the sought-after position of Business Systems Analyst, and attributes the online course as being the "main reason" she was considered for the promotion. Her next plan of action is to complete the UCT Data Analysis online short course to ensure she is well-equipped for her new role.
Kentse is a great example of a New Professional – hungry to continuously learn, eager to evolve in her job, and willing to work hard to make it happen.
---
Prepare yourself for the workplace of the future by investing in new skills today.
Study an online short course and be recognised as a member of the New Professional Network.