The journey to meaningful change in business is finally gaining traction. One of its sustainability pioneers is Mike Barry, Head of Sustainable Business at Marks and Spencer, and Guest Lecturer on the University of Cambridge Business Sustainability Management online short course.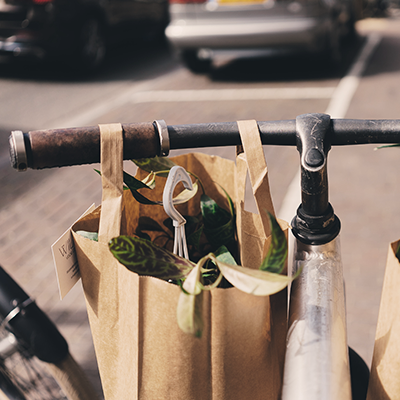 In his TEDX speech on A Manifesto for a Sustainable Business Revolution, he discusses how having the conveniences of modern life is the economic focus versus the principles of having a sustainable economy. You and I take advantage of these conveniences daily, and without a second thought, but these have a higher cost than expected. The resources we have on earth are finite.
The reality is that modern conveniences use up these resources and this impacts on the environment. From work, to home, to the food you eat – the comforts of this daily routine are due to the availability of natural resources like air, water and land.
Driving Meaningful Change in Business
Businesses simply can't afford to put off change anymore. Sustainability has reached critical mass, with world summits and economic forums monitoring issues of resource scarcity and high-risk environmental factors affecting world populations.1 More so than ever before, the consumer has the power, and is becoming the deciding force of change for sustainable business practices.
This is why sustainability makes business sense. Just as design, technology and innovation are the case for business – this too, applies to sustainability. Why should businesses take action?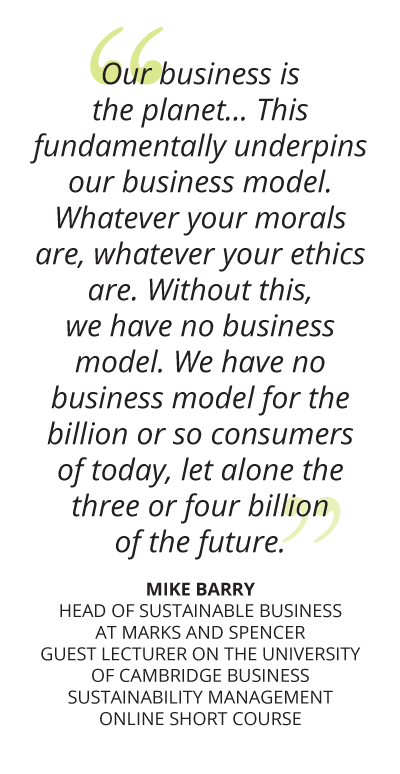 Innovation Improves Human Lives
The value of a sustainable business is going to prove itself in the scale of the change in the industry. Its value chain will promote the future of resource sustainability.
Innovation is going to require a change in the mode of thinking that businesses merely offer products and services in economic terms, to companies that also demonstrate social value. Resources are limited and businesses that use society's resources will have to ensure that they are doing so for the good of all. Businesses are expected and indeed, held to a bigger ideal of resource conservation, because of the magnitude of their actions and its effects. Companies wanting to do business will have to accept the old status quo of doing business, has changed.
This is a hard-hitting truth for many businesses today, who may not understand the need for this ideology, but statistics on the earth's 'ecological deficit' portrays a clear picture. In 2015, the Global Footprint Network estimated that, "the world's population currently consumes the equivalent of 1.6 planets. This figure should rise to two planets by 2030 based on current trends."2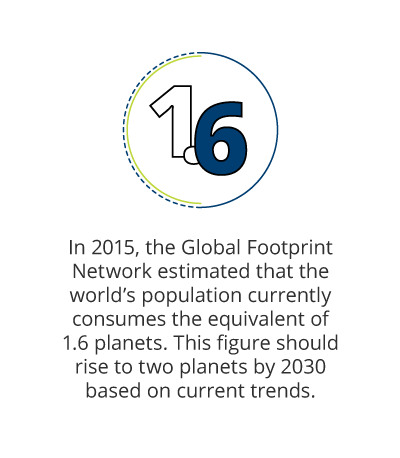 Building a Sustainable Economy
You would be hard-pressed to find someone who doesn't like the convenience that technology brings. But how does this translate into a business case?
The reality is that at least one of these terms has become common business discourse:
Renewable energy
Climate change
Carbon footprint
Resource scarcity
Urbanisation
Deforestation
Reuse, repurpose or recycle
Companies are increasingly realising that the cost and social challenges of doing business are inextricably linked. This isn't an ephemeral concept, cost metrics are driving businesses to care about environmental factors; especially when the volatility of natural resources is at stake. Corporate social responsibility is therefore performed not out of legal obligation, but as a necessity.
Developing a Plan of Action
Sustainability is redefining business risk, to the point where the financial implications of a profitable business rest on a "triple bottom line of: Profit, People, and Planet."3 In essence, a company that fully accounts for financial, social and environmental factors truly understands the costs of doing business. Environmental risks have become powerful metrics for business practices and performance.
Companies have a roadmap to an alternative type of business – a sustainable one – and ignoring that is no longer an option.
The five-step strategy to sustainable business practices:
Plan
Integrate
Develop
Communicate
Innovate
Collaboration and partnerships in business are key to tackling sustainability challenges. Even if companies don't understand why they should be sustainable, this will differentiate their business by giving them a competitive advantage.
Mike Barry is often asked: "How do businesses become sustainable? What should businesses do? Where do you start?"
Become future-fit by learning about sustainability and discovering innovative methodologies for ensuring that your company is driving meaningful change from Mike Barry, amongst other industry pioneers, on the University of Cambridge Business Sustainability Management online short course.