How Big Data Helps in Real Estate Analysis
Big data has affected the way that organisations do business in every industry across the world, and real estate is no exception.1
Understanding the term 'big data' will help give context to how it helps in real estate analysis. Gartner's explanation, circa 2001, is still considered the go-to definition: 'Big data is high-volume, high-velocity and/or high-variety information assets that demand cost-effective, innovative forms of information processing that enable enhanced insight, decision-making, and process automation.'2 This is often referred to as the 'three Vs' of big data.
Essentially, big data is processing of large amounts of data, be it historic or real-time, and to which algorithms are applied to discover trends in user behaviour, predict future outcomes, or gain other business insights. The data sets can be structured or unstructured, and can be analysed to make precise and accurate business decisions.3 Processing, analysing, and identifying meaningful insights from such volumes of data is too great a task to expect from a single analyst, or from more traditional data processing software, which is why data technology is utilised to do the analytical heavy lifting for organisations.4 In this way, businesses get answers to problems from bulk data, which they otherwise would not have been able to.
The three Vs of big data
Volume.5 Big data entails processing high volumes of data. This can be anything from Twitter data feeds, clicks on a webpage or a mobile app, or sensor-enabled equipment. Volume can vary between tens of terabytes of data for one business, or hundreds of petabytes for another.
Velocity.6 The quick rate at which data comes in, typically from 'firehose' data sources like social media, and is processed at an alarming rate. Velocity also implies the capability of a business to quickly process the data and, most importantly, utilise its findings faster.
Variety.7 The wide array of data types that are available. Traditional data types are more structured, whereas big data typically comes in unstructured data sets. Unstructured and semi-structured data types come from sources such as text, audio, email, and video, and often require additional preprocessing before value can be extracted from the data set.
The power of data
When it comes to getting your message in front of your target audience, and measuring its efficacy, in a world that is already cluttered with advertisements and content, big data is proving effective.8 It brings valuable insights, such as consumer trends, and offers the ability to filter important information from the noise.
The key to using big data efficiently is not in how much data a business has, but how it utilises the data. Organisations can take data from any source, and in any format, and analyse it for solutions in order to:
Make better decisions.9 Big data analytics can give business decision makers the insights they need to help their businesses stay competitive and grow. In the NewVantage big data survey, 48% of the respondents from Fortune 1000 companies surveyed say they use big data and analytics to compete.10
Cut costs.11 Some big data tools, such as Apache Hadoop and cloud-based analytics, can bring cost reductions when large volumes of data need to be stored, and can identify more efficient ways of doing business.12
Increased productivity.13 Syncsort's survey of over 200 professionals from various industries and roles found that 59.9% of respondents use big data tools to increase productivity. Big data tools allow data analysts to work through more data, faster, which increases their personal productivity. Additionally, the insights generated from the analytics often improve productivity at a company-wide level.
Manage online reputation.14 Big data tools allow companies to monitor and improve the sentiment of the consumer about their brand, service, and product, based on feedback on social media platforms, and other consumer sites.
Improve customer service.15 Among respondents to the NewVantage survey, customer service improvement was a common key goal for big data analytics projects, and 57.1% of companies experienced success in this regard. Social media, customer relationship management (CRM) systems and other points of digital contact give organisations a wealth of data about their customers, and this data is used to better serve those customers.
Increase revenue.16 Businesses use the insights gathered from big data to improve their decision-making, optimise stock based on customer trends, and improve their customer service. As a result, revenue increases follow. According to the Syncsort survey, more than half of respondents said they use big data tools to increase revenue and accelerate growth based on better insights.17
The advantages of big data in real estate
Before big data, many of the decisions made in real estate were mostly based on gut feel and first impressions. Now, data analysis is one of the main factors in today's decision-making process.18
Real estate service providers who are focused on delivering bespoke, customer-centric property solutions typically have satisfied customers.19 Insights from their data can be used to help better meet the needs of their existing customers, the real estate owners, and be used to position themselves as the real estate partner of choice for prospective customers.
The internet has made searching for property – to buy or rent – an online exercise, with big data being enabled by many apps, websites and online forums. According to a study by the National Association of Realtors, 51% of home buyers found their property online in the last year.20 The data revolution makes finding data on proximity, real-time traffic estimations, noise levels, areas of late night activity, restaurants, parks, outdoor activities and customer reviews easy to find, and eliminates some of the typical buyer confusion.
Realtors, investors, and home buyers now have access to data that is a click away, which empowers them to make smarter investment decisions, with data analysis making accurate predictions about risk and market trends.21 Big data is transforming the real estate industry into a well-calculated game of information. Benefits include: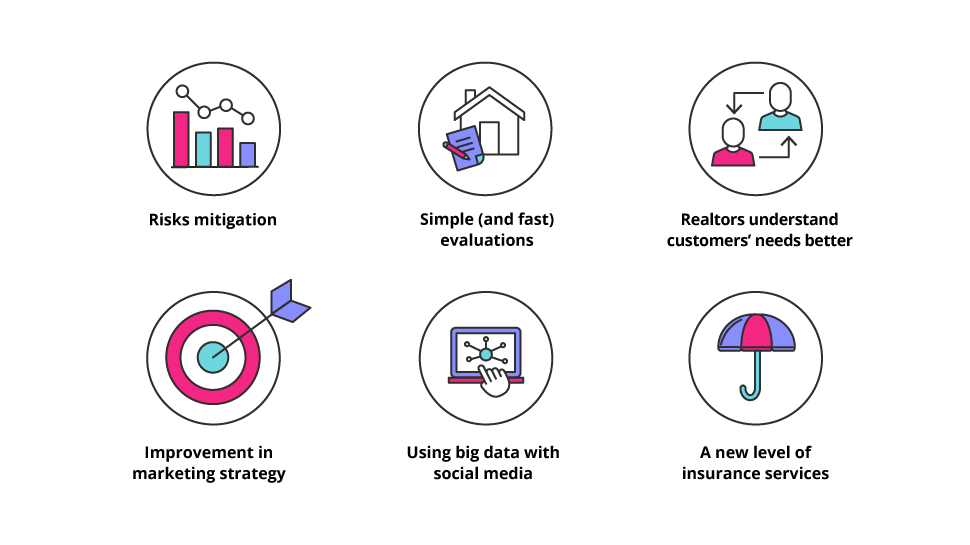 Risks mitigation.22 Predictive analytics helps reduce risk when it comes to real estate investments, and realtors and buyers now have access to critical information about a property with few unknowns.
Simple (and fast) evaluations.23 Realtors use property evaluations to set the price of their properties, and home buyers and investors use them to put forward offers. Financial institutions rely on them to calculate loans and minimise losses. Big data has the ability to make appraisals based on years of market data, making it a tool for buyers and sellers alike. Coupled with viewing the property, it offers a way to make accurate appraisals.
Realtors understand customers' needs better.24 Predictive analytics provided by big data helps real estate agents better understand what their customers want, and helps them respond with personal offers based on the data.
Improvement in marketing strategy.25 Realtors can move on current consumer trends faster, and more accurately.
Using big data with social media.26 Many advertisers utilise social media sites for their useful marketing data due to their high use by the valuable 18- to 35-year-old demographic. It's easy to target your key audience by region, age, gender, interests, and preferences for optimal engagement.
A new level of insurance services.27 Insurance companies that cater to home insurance also use big data to analyse optimal insurance offerings for customers and geographic regions.
The future of big data in real estate analysis
Ever since Google and YouTube added 'how-to' videos for almost every subject, people have discovered how to execute any number of tasks previously reserved for professionals, including how to handle real estate purchases.28 In the US, organisations such as CoreLogic,29 Smartzip30 and InfoSparks31 offer interactive data visualisation, providing important data you can use for accurate decision-making.
Data analytics technology is becoming increasingly user-friendly, making it more accessible to people from all walks of life, and optimising not only the real estate industry, but is even bringing improvement to the way we live in our homes.
Location intelligence for house scouting.32 Utilising Geographic Information Systems, real estate managers can capture, store and visually display location information, making house hunting and location scouting more accessible to investors
Building management technology.33 The Internet of Things (IoT), the network of devices, home appliances, and other items that have technology that enables these things to connect and exchange data. This supports certain components of real estate management, such as property sensors alerting property managers about maintenance needs, and thus improving tenant and resident experiences, and reducing cost
Transparent data democratisation.34 Real estate agencies need to give their customers access to transparent data through democratisation, making real-time topical data available, such as recent surveys, lists of homes for sale or rent, and other important information that is pertinent to the investor or seller
What does big data mean for the real estate industry of tomorrow? Advances in technology will continue to reshape the real estate industry, as well as the business models of real estate service providers.35 These changes are likely to alter responsibilities, required skills, as well as risks in the real estate sector, and will impact on margins. However, the long-term outlook for the real estate industry in lieu of big data and data analysis is a positive one, if those in the industry adjust to the benefits big data technology provides, and begin to prepare for future changes, today.
Study the applications of data analytics in real estate. Register for the Data Science in Real Estate online program from MIT SA+P.