Nic Groom has been playing professional rugby for 11 years. Many will know him as a Stormers scrum half or more famously for his involvement in English Premiership team, the Northhampton Saints.
What many don't know is Nic Groom has a secret weapon when it comes to bettering his performance. Education.
"I realised early in life that studying made me a better player because of the discipline it requires. In my first year at the University of Cape Town I signed a contract at WP Rugby, but I was determined that I was going to carry on with my degree. Interacting with other people outside the rugby world and learning new skills on an educational basis helps me become a better rugby player, and a better person."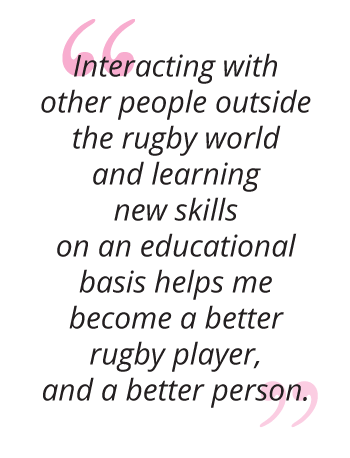 An example to the underdog
Growing up in King Williams Town in the Eastern Cape, Nic Groom struggled substantially to get his rugby career up and running during his younger years. After matriculating he enrolled at Western Province Rugby Institute, but was subsequently not offered a professional contract, making him question whether rugby was truly in the books for him or not.
"I thought I had to focus on different career options."
This triggered Nic Groom's enrolment at UCT to study a Social Sciences degree. To his surprise, within his first year, he was asked to play for the Western Province Under-21 side – the provincial team that would go on to win the title that year.
Fast-forward to 2016 when Nic Groom celebrated his 50th Super Rugby match for the Stormers against the Reds in Cape Town. "To be honest, I never thought I'd play 50 Super Rugby matches for the Stormers! But the fact that it was my 50th Super Rugby cap made me reflect on how far I've come, which reminds me why I love this game."
Watch this video on 'A day in the life of Nic Groom'
Embracing a flexible schedule
Nic Groom has made sure to use whatever free time he has between games and training to prepare for future after rugby but soon realised he required a much more flexible schedule compared to what was on offer at university.
"Attending lectures and tutorials at university was one of my biggest hindrances, purely because we would train most days. I wanted to find a way to study in my own time. I had been looking for something new to explore and marketing seemed fun and interesting so I decided to take the GetSmarter Content Marketing course. I would like to start some sort of business one day and I figured whatever I ended up doing after rugby, marketing skills would always be useful."
Below is a timeline listing Nic Groom's involvements for the last few years: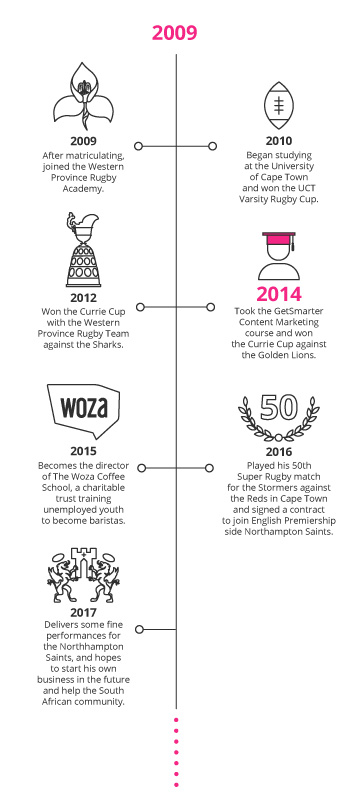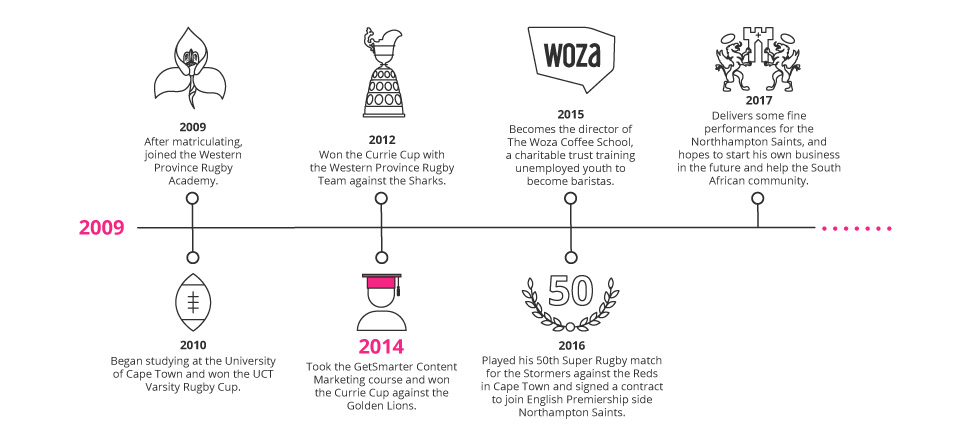 Nic Groom benefited from making learning a priority and practising discipline and time management. The flexibility of his studies also gave him the opportunity to fully commit to two of his passions simultaneously: rugby and learning.
"GetSmarter is the perfect way to study. It's innovative, credible and flexible, and they're genuinely passionate about giving people the opportunity to better themselves. I believe upskilling yourself wherever possible is so important in today's employment climate. The course was insightful and is a great addition to anyone's CV."
---
Nic Groom made the time to increase his knowledge in preparation for a possible career change.
Are you ready to make that career change you've been yearning for?