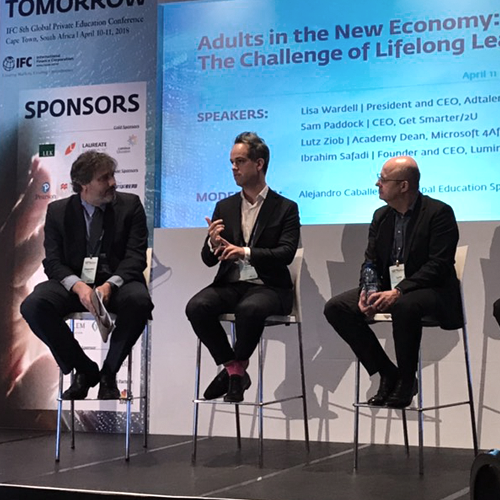 "As we move into the fourth industrial revolution, new ways emerge for technology to shape higher education," said Alejandro Caballero, Principal Education Specialist, at the International Finance Corporation (IFC) 8th Global Private Education Conference in Cape Town.
This was the first time the IFC hosted their Education Conference in Africa and approximately 500 education industry executives from all over the world, were in attendance.
With an overarching theme of Learning for the Jobs of Tomorrow, the purpose of the conference this year was to host a global forum addressing how education can be transformed in such a way to prepare students for their future careers. On the second day of the conference, four speakers came together to discuss Adults in the New Economy: the Challenge of Lifelong Learning, with particular mention of people-mediated education, the relationship between learning and technology, and the field of study, learning science. The panel was moderated by IFC's Principal Education Specialist, Alejandro Caballero, and included the following guest speakers:
Sam Paddock
GetSmarter/2U – CEO and Co-Founder



Ibrahim Safadi
Luminus Education, Founder and CEO


Lutz Ziob
Microsoft 4Afrika – Dean


Lisa Wardell
Adtalem – President and CEO


The lifelong learning topic emerged based on the US Bureau of Labor Statistics report that working professionals born around 1957-1964 held on average 11.9 jobs from age 18 to age 50 – where almost half of those jobs were held between ages 18 to 24.1 That's close to 10 different jobs before the mere age of 40.
Lisa Wardell described how technology is a primary driver of the need to upskill and innovate in one's professional space. She also mentioned the field of learning science – a discipline focused on the scientific understanding and research of learning and pedagogy, in the hope of implementing improved learning methodologies in the education sector.
Educators are problem solvers for both the students and the employers and at @adtalemglobal we use the same idea that @sampaddock shared of 'monitoring for when life gets in the way.' – @lisawwardell #IFCEducation #CapeTown

— GetSmarter (@getsmarter) April 11, 2018
Sam Paddock linked the discipline of learning science to data and technology:
"It feels like we are moving pedagogy into the scientific realm where we can use data as part of the learning journey. We have an opportunity to advance our understanding of learning science from the art and science of teaching to a far more data-driven one. We now have the ability to measure how people learn in the online environment."
Learning is such a human process and we are re-learning how important it is to put to people back into the process. As we learn how people learn we can use the data and analytics to enhance, as @lisawwardell says, learning science. –@sampaddock #IFCEducation #CapeTown

— GetSmarter (@getsmarter) April 11, 2018
The new workforce is dominated by a demand for flexibility, upskilling, reskilling and adaptability to change. It's now the time where lifelong learning is being embraced more than ever before if working professionals hope to keep up with the technology-driven environment. The private education sector comes in as a response to both the challenges and opportunities that arise out of this movement towards creating lifelong learners.
Sam Paddock went on to say, "We have a meaningful number of students worldwide who want to develop skills in blockchain, fintech, cryptocurrency and the like, and we are finding a way to fill that gap". However, the guest speakers all agreed that technology is not reaching its full potential in the education environment, due to lack of confidence, and guidance.
"There is an underestimation that technology can replace brick and mortar learning as well as an overestimation that you can just provide online learning and hope something will happen." – @lziob #IFCEducation #CapeTown

— GetSmarter (@getsmarter) April 11, 2018
Lutz Ziob described how technology is being underestimated when people say it will never replace brick and mortar learning, while it is being overhyped or overestimated when online learning is made to be easily accessible, and people assume this is going to solve everything. Linking back to learning science, if educators make use of the data gathered from a variety of disciplines like cognitive science, motivational psychology, behavioral economics, and others, studying the way in which people learn – these private education industries will be able to effectively create curriculums and environments where students are more likely to succeed in their lifelong learning journeys.
At a GetSmarter we use data to understand what interventions matter most to student success. For the first time, we have millions of data points to help us make sense of the learning process. – @sampaddock #IFCEducation #CapeTown

— GetSmarter (@getsmarter) April 11, 2018
Sam described how if "you can find a way to marry humans and machines in a very meaningful way to give them personalised experiences, you have a very motivated student space. Our experience is that people-mediated education, where there is a high degree of dedicated people support, drives up completion rates. Our completion rate currently sits at 91%. To be clear, our pass rate hovers around 81%, showing that just completing a program is not sufficient to pass. But you can't pass if you don't complete. Completion is our first point of focus."
Lisa agreed with Sam, saying this is where the analytics comes in – giving you the ability to ask the questions like "which student is in trouble?" or "which student needs that extra help" – all giving the digital education sector that human conditioning. "The last thing you want is to find out in week 12 or week 13 is that they missed the basics. The balance of human and machine, and understanding who your student is, is what it's all about," she said, "Students are demanding a new way of learning."
---
Are you ready to embrace the journey of a lifelong learner?
Gather new skills and knowledge in a people-focused educational environment