Living a Sustainable Lifestyle: How Women are Leading the Movement
The COVID-19 crisis has disrupted the world environmentally, commercially, and socially – especially within poorer, marginalized communities. However, one consequence is undeniably positive: it has motivated us to live more sustainable lifestyles. Research from GetSmarter's global report, 'Sustainability: The Meaning, Changing Perceptions, and Expanding Agendas', shows that these shifts in individual behavior have led to impactful changes within careers, businesses, and society at large. It also reveals how women are leading these changes and are playing a growing part in creating a more sustainable world.
That being said, the onus is on everyone to play a part in the sustainability agenda, and the following data-driven lessons and insightful trends from GetSmarter's survey of 546 professionals from 65 countries will show you how to unlock sustainability in your life and career, and the benefits for you and your workplace.
Changes in individual behavior are influencing business strategies
With all the financial pressure of COVID-19, the conventional belief would be to place less of a priority on environmental and ethical concerns when shopping – however, the opposite is true. The pandemic, combined with the threat of the climate emergency, has consolidated and focused our efforts in helping to create a better, healthier world. GetSmarter's research reveals that more than two-thirds of respondents are making more sustainable lifestyle choices than before the pandemic hit. This is in line with external research: a global survey by Accenture shows that consumers have evolved dramatically, with 60% of respondents making more environmentally friendly or ethical purchases.1 Businesses that aren't targeting this eco-conscious market yet should, as these consumers are worth an estimated $382 billion to retail and ecommerce brands around the world.2
In line with this, our report respondents rank climate action as the most urgent Sustainable Development Goal (SDG) for the future; it's also the biggest influencer for these individuals to make a positive change.

This individual behavior and awareness is driving change and innovation on a business level. GetSmarter's research reveals that 45% of respondents have indicated that sustainability has become part of their jobs over the last 24 months, and that the biggest shift is an increase in highly sustainable business practices.
Companies are now paying attention to every element of their value chain, from ethical relationships with suppliers and responsible sourcing, to how they manage energy usage, reduce waste, and provide product ingredient transparency. As opportunities for sustainable innovation and stewardship continue to grow, this opens up new career avenues with the potential to lead meaningful change.
Gain a practical guide to drive sustainability and understand the impact on your business's bottom line in the Corporate Sustainability Management: Risk, Profit, and Purpose online program from the Yale School of Management Executive Education.
Women are leading the sustainability movement
Our survey reveals that women are more driven to grow their sustainability knowledge than men and have a higher demand for sustainability-focused roles. Crucially, they also have a higher level of education within sustainability, which helps them get into more of these roles than their male counterparts. Women are at the forefront of the movement with 58% of sustainability executives in large companies being female.3 The ethical living discourse is also predominantly led by women like Greta Thunberg and Alexandria Ocasio-Cortez – two of the highest-profile climate campaigners.4 "Research suggests that women have higher levels of socialization to care about others and be socially responsible, which then leads them to care about environmental problems and be willing to adopt environmental behaviors," says Rachel Howell, a lecturer in sustainable development at the University of Edinburgh.5
Additionally, women are proven to be more powerful consumers and are responsible for more of the domestic decision-making, equipping them to make more sustainable choices. Marketers have also traditionally advertised more to women, as historically, they buy more lifestyle products across a range of categories (they drive 70–80% of all consumer purchasing decisions) and thus perpetually enforce this gender sustainability gap.6
Sustainable businesses and markets are adapting and thriving
As women are more aware of the ethical and responsible lifestyle choices, they're igniting spectacular growth in several industries linked to sustainability. This surge is directly connected to SDG 12: Responsible consumption and production, which ranks second-highest in urgency in our survey. The first industry example: the sales of vegan products in the US have risen by 90% since the start of the pandemic,7 which emphasizes the increase in sustainably focused purchases.8 The natural and organic food market has grown by 9.5% in 2020, making the industry worth $252 billion.9
The fast fashion industry is now combating its reputation as one of the worst offenders in waste production, as there's major growth in the sale of second-hand and vintage clothing in what's called 're-commerce'. This 'pre-loved' market is projected to double in the next five years, reaching $77 billion, and it's expected to grow 11 times faster than the broader clothing retail sector by 2025.10 Industry sustainability heavyweights like Patagonia and Selfridges are spearheading these second-hand sales.
The beauty industry is reducing its waste by motivating customers through discounts to use refillable and reusable packaging.11 Unilever has been able to reduce the waste produced by their 400-plus brands by 32% since 2010 and aim for 50% by 2030.12 The international beauty chain, The Body Shop, has begun treating plastic trash as a raw material and is sourcing it from trash pickers to use in packaging.13 It will buy 600 tonnes of waste this year alone.
The rise in sustainability across industries is also helping to rewrite the rules of ownership, especially among the younger age groups like millennials. There's a growing trend in renting instead of buying traditional assets, starting with homes,14 but also including subscription and rental models in goods as varied as clothes and recycled running shoes through to furniture.15
By combining this market growth with the increasing emphasis on buying local, circular economies, sustainable supply chains, and supporting ethical production, it shows the sustainability agenda has integrated its way into products and processes, but beyond this, into the core of business strategies. A sustainable lifestyle is not just about shunning plastic bags or separating your waste: it starts with your relationship with your community and environment, and extends to your role in business.
Lead innovation and apply new technologies to create effective, resilient, and sustainable supply chains with the University of Cambridge Sustainable Supply Chain Management online short course.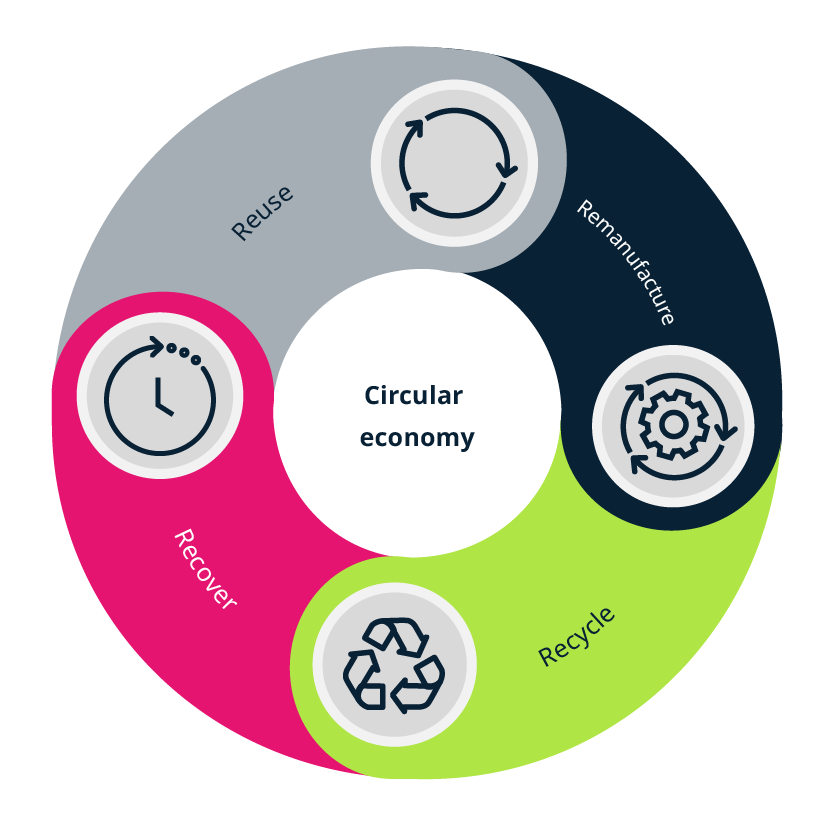 How these shifts in sustainability can impact your career and business
The starting point for sustainability: harness altruism and empathy as drivers to become more sustainably focused personally and professionally. This helps influence positive change on an individual, business, and societal level. This motivation, combined with a willingness to upskill in sustainability, will lead to growth within this global movement.
By empowering women through education and career development, and raising the urgency for SDG 5: Gender equality, businesses can leverage the strengths of women as sustainability stewards. Currently, our survey shows that SDG 5 isn't considered one of the most urgent goals for building a resilient future, but it should be. Gender equality needs to be addressed in your company's sustainability agenda – not just for equity's sake but in order to attain sustainable success. Companies with an inclusive culture are six times more likely to be innovative, and twice as likely to hit or better financial targets.17 According to the United Nations, "Putting women and girls at the center of economies will fundamentally drive better and more sustainable development outcomes for all, support a more rapid recovery, and place the world back on a footing to achieve the SDGs."18
To achieve positive results in the triple bottom line of sustainability – people, planet and profits – it's everyone's responsibility to drive change, both personally and professionally. The best method to achieve those three Ps in business is through upskilling.
Closing your sustainability skills gap will help to bolster your career in a rapidly changing world that's offering new challenges and opportunities. Become a sustainability steward with GetSmarter's portfolio of online courses from world-leading universities.
---
Stay competent, confident, and informed