9 Tips for Growing a Sustainable Business
Creating and growing a sustainable business is good for several reasons, chief among them being that we live, work, and play on one planet, and we need to take care of it for the benefit of all. However, good conscience aside, a sustainable business model may also be a successful business model.
As Raymond Ackerman, founder of retail group Pick n Pay, is known for saying, "Doing good, is good business."1 Ackerman used a sustainable business model to combat the human injustice of the apartheid-era South Africa, by investing in multiracial employees – funding additional studies where needed, and encouraging entrepreneurship in their communities. Ackerman grew his four retail outlets into a highly successful, multinational enterprise this way. Nelson Mandela, former South African president and Nobel prize winner, said of the Ackermans, "Raymond and Wendy are in the forefront of that group of good men and women who feel they should plough whatever resources are in their command in order to develop a community which has been neglected for more than three centuries."2
According to a global consumer survey by Unilever (the organisation behind well-known brands like Lipton, Ben & Jerry's, Dove, and Knorr), there is a $1 trillion market opportunity for businesses that highlight their sustainability endeavours.3 The Global 100 is a report by Canadian sustainability-focused financial information company Corporate Knights, that ranks large enterprises around the world based on their ability to reduce carbon and waste. The 7,500 companies that do this best also generate over $1 billion in annual revenue.4 The "Business and Sustainable Development Commission's" report shows that sustainable business is one of the most lucrative business sectors.5
It is easy to understand why investing in sustainability is becoming a more mainstream idea for business executives. Today, over 90 per cent of CEOs believe that sustainability is imperative for their business success, and are now focusing on introducing sustainability initiatives and strategies, such as:6
Innovation around sustainable products and services
Creating positions such as a chief sustainability officer
Producing sustainability reports
Sustainability is not limited to established enterprises: the number of first-time entrepreneurs who are developing their companies around environmental protection and services has grown, which has brought about an increase in the number of promising start-ups that focus on long-lasting, eco-friendly and recycled goods.7
What is a sustainable business?
In 2015, world leaders at the United Nations (UN) agreed on 17 goals that would create a better world by 2030. These goals focus on eradicating poverty, fighting inequality and ending climate change.8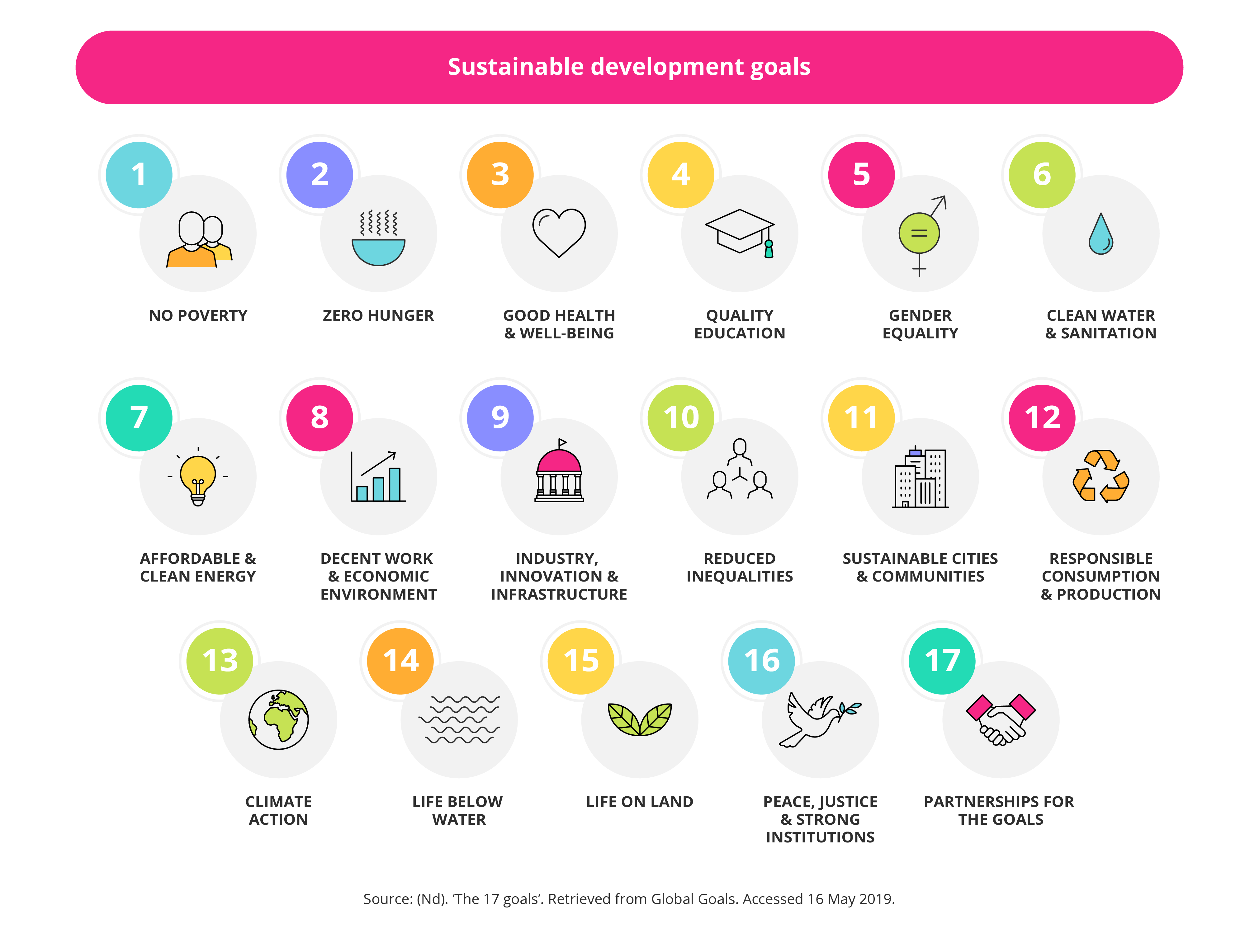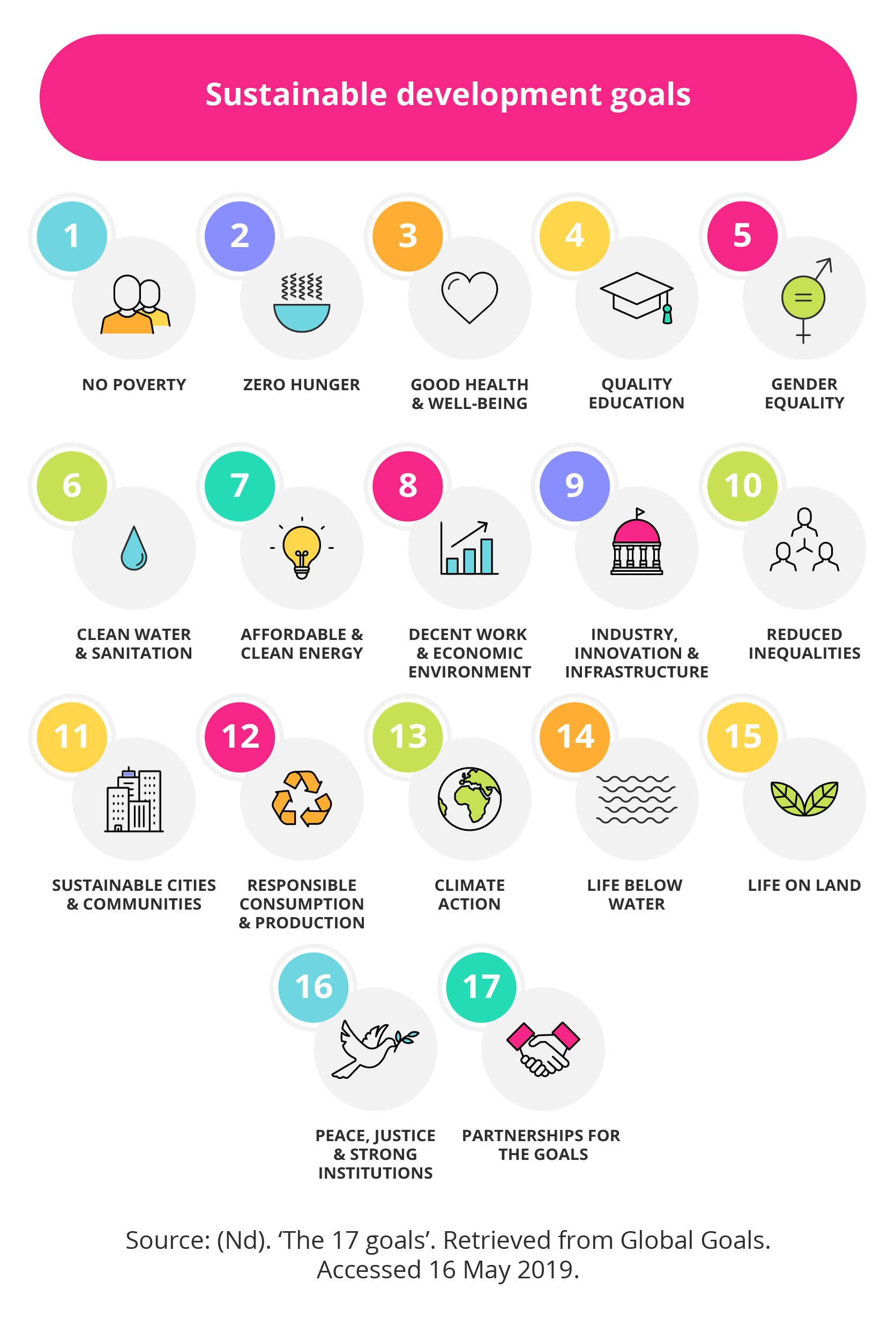 A sustainable business that wants to line up its sustainable business goals with the UN's goals might start with responsible consumption and production. To do this, they would need to ensure that their supply chain supports environmental goals, such as climate action, life below water, and life on land.
Organisations would also look at their staff and management structures to ensure gender equality and reduced inequalities. They could assess their immediate communities and see how they can initiate or contribute towards the goals of good health and well-being, quality education, clean water and sanitation, and sustainable cities and communities. All of these goals work together to bring about a positive impact.
How to grow a sustainable business
According to Unilever's "Better Leadership, Better World" report, there are key leadership endeavours that are pivotal to successfully growing a sustainable business in accordance with the UN's Global Goals.9 Here are some tips on how to make your business more sustainable.
Connect with the need.10 Business leaders can look at pictures and videos, and read studies that show how much damage has been caused to the environment, but progress will be slow unless business owners begin to feel connected to these issues themselves. If a business as a whole wants to commit to becoming sustainable, the first step is a personal connection to the need to take care of the planet.
Repair social trust.11 Ever since the global financial crisis, trust in business has deteriorated. Business leaders need to work on regaining the trust of society, their consumers, employees, and the communities they are present in, and repair their license to operate. Partnering with governments, customers, workers and civil society, and contributing positively to the community, and then openly communicating their sustainable interactions with society, will go a long way in rebuilding societal trust in the business.
Make sustainability a core principle.12 Sustainable businesses genuinely believe that climate change, unethical resource consumption, and pollution are high on the list of concerns, and that they can contribute to the solution. If sustainability is to become central to how a business operates, the leadership team needs to educate themselves on what sustainability really means, and why it is so important. Reading articles about the topic, attending sustainable-focused conferences, and joining industry coalitions that are focused on bringing the Global Goals into fruition are a good start.
Do research.13 Businesses that only have a superficial interest in sustainability will go after whatever mainstream eco-friendly strategies are trending at the time. Typically, this will be used as part of their marketing strategy in the hope to gain more brand equity and consumers. However, these activities are typically more in an attempt to check the 'sustainability' box, than as part of a deep-thinking sustainability approach. True leaders know that sustainability endeavours are more complex and will require more from them. To understand the impact of the business, business leaders can carry out deep-dives. These investigations can help them uncover the state of the community, the environmental and human impact across their entire supply chain, and the materials life cycle. For sustainability to take root, research needs to be done. Businesses need to examine all the elements of a decision by including sustainability experts in the process and considering life cycle analysis (LCA) tools.14
Innovate.15 Applying a sustainability lens to every aspect of the business means there may be a need to change business strategies. Innovations will arise out of the need to adjust the business towards greater sustainability. These include:


Empowering board members and business leaders to focus on sustainability and drive execution
Strategically planning and developing products or services that produce sustainable outcomes
Marketing products and services that evoke sustainable choices from consumers
Using the Global Goals to inform leadership development strategies

Incorporate diverse leadership.16 Sustainable businesses look to the Global Goals as their road map to greater sustainability. These are not only focused on the environment, but include greater equality, fair wages, and investing in diversity. The "Better Leadership, Better World: Women Leading for the Global Goals" report argues that gender equality in the workplace can help unlock more than $12 trillion in new market value that is linked to the Global Goals. It comes as no surprise that 30 per cent of the board members of Chr. Hansen Holding, the business that took first place on the Corporate Knights' Global 100 list of most sustainable businesses, is made up of women.17
Set a long-term, holistic vision.18 Understand that sustainability is more than a token response to keep consumers happy. Sustainable businesses set targets that are well-researched and achievable. Goals may include reducing their carbon footprint by 50 per cent or eliminating it altogether. Or, eliminating pollution across their supply chain.
Be accountable and constantly improve.19 Many inspiring sustainable businesses are exceedingly transparent, with in-depth information available on their websites about where they source their products, how they manufacture, their labour practices, how sustainable their materials are, and areas they are working on to improve. Being transparent makes businesses more accountable, and removes complacency. Being accountable ensures businesses are constantly striving to find new ways to decrease their footprint further, and fosters more credibility with consumers.
Embrace competitors as collaborators.20 When one key player in a sector becomes openly sustainability-focused, it drives others within that sector to follow suit. This type of competition is encouraged by sustainable businesses, not only because of the positive impact on the environment, but also because it forces them to continue their sustainability innovations. Leaders find like-minded competitors and non-profits to collaborate with to develop innovations that might be out of reach for a single organisation.
For businesses of all sizes, emulating international giants, such as Apple with their eco-friendly headquarters21 or Tesla's new 5.5 million-square-foot Gigafactory,22 both of which use solar energy, is only possible if the sustainability budget runs into the millions. However, individuals and companies can start small: recycle waste, use tap water instead of plastic bottles, utilise natural light in the office. Most of these things are already happening in the workplace; how much more can be achieved with continuous focused thinking on sustainability? The power of business to provide a change that positively impacts on the world is vast. With its unmatched powers of ideation, production, and distribution, the business world is well-positioned to bring the change needed at scale.
Interplanetary colonisation, despite the attention generated by the likes of Elon Musk and Stephen Hawking, is as yet not a viable option.23 Until it is, growing sustainable businesses is a means to help repair and protect what we have, one recycle bin and supply chain at a time.