How Sustainable Business Practices Help Attract and Retain Talent, and Secure a Competitive Advantage
A sustainable business agenda is no longer a nice-to-have. Instead, it's become a critical tool for remaining competitive in a changing marketplace. Today, consumers and employees alike have higher expectations of companies, and are demanding a shift to more sustainable practices. The risk of not doing so? Your business could lose its customers, its most valuable talent, and get left behind in the race toward a low carbon future.
To unpack the effects of environmental, social, and economic sustainability on modern business, GetSmarter surveyed 546 professionals from 65 countries to create a comprehensive report – 'Sustainability: The Meaning, Changing Perceptions, and Expanding Agendas'. Using unique data from our survey, this article explains why you should start prioritising sustainability education in your business and how you can leverage industry-specific examples and business trends to guide your decisions for workplace learning, employee engagement, and talent attraction.
As a leader or learning and development (L&D) professional, you're responsible for empowering your staff with the latest skills. The rise of sustainable business practices has created a demand for sustainability expertise. Your role in helping staff identify and close these knowledge gaps can create purposeful and healthy workplaces; it also provides your company with the skills to drive sustainable transformation.
Four key workplace benefits of upskilling your staff in sustainability
As your organization introduces more sustainable initiatives, you'll find there are several human resources benefits in tackling the sustainability agenda early and authentically. GetSmarter's research found the following:
1. Sustainable business strategies can improve employee loyalty and retention
Professionals who work for companies leading in sustainable practices report being happier, feeling more cared for, and more productive. A positive side effect to this is that organizations can leverage sustainability practices as an effective tool in their employee retention strategies. This is substantiated with external research: one global study found that 61% of professionals believe business sustainability is mandatory, and 46% will only work for companies with sustainable business practices.1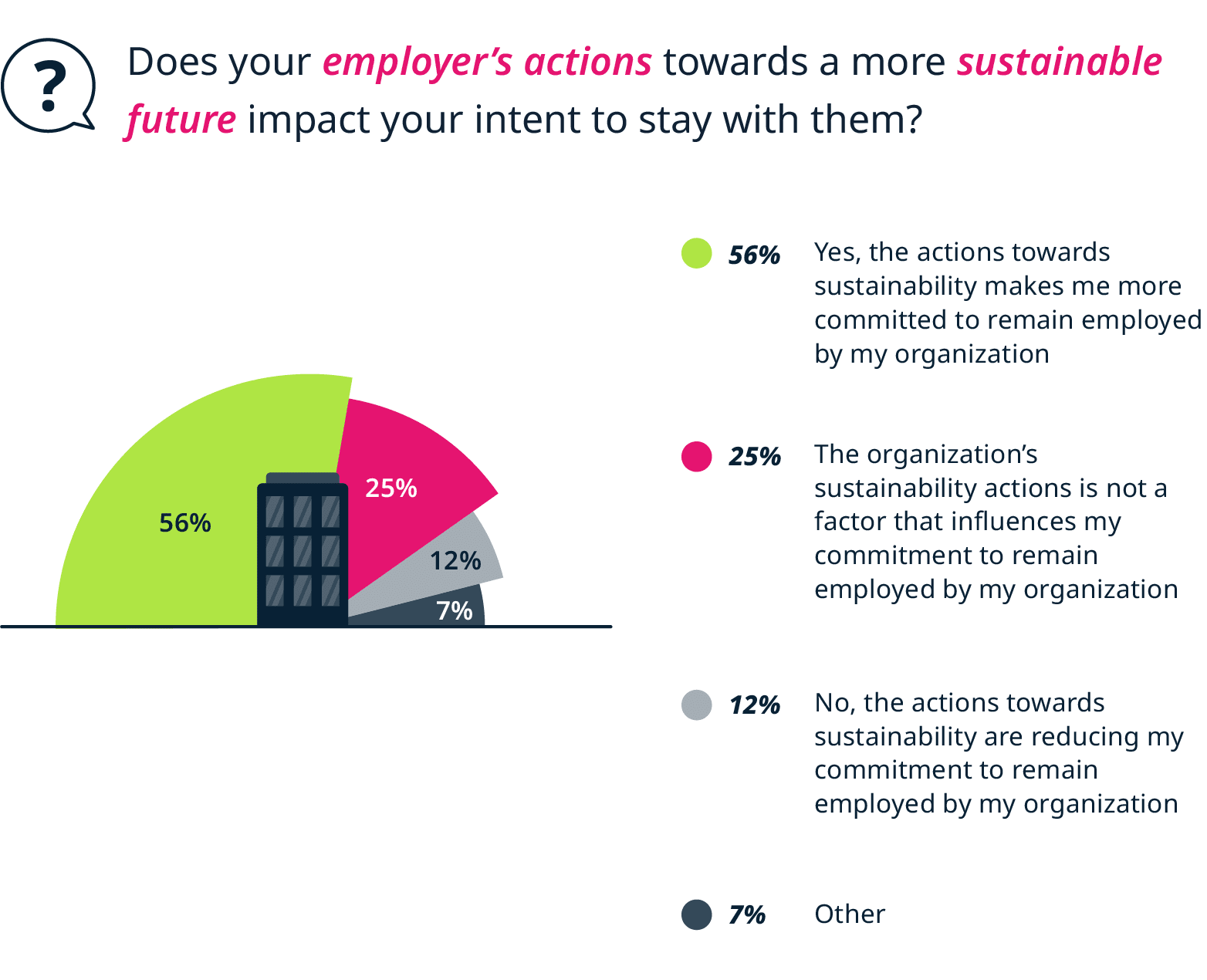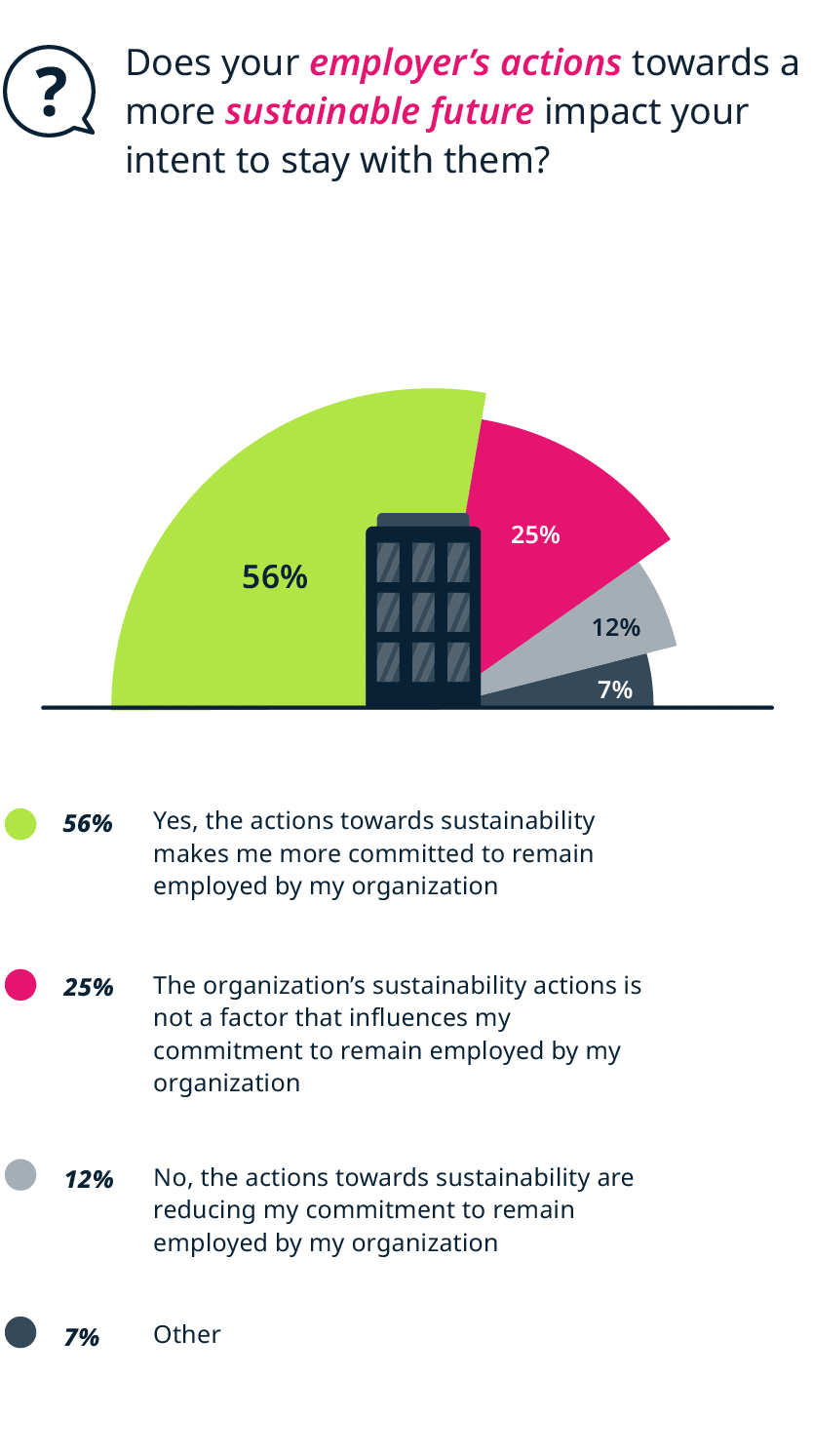 2. Investment in sustainable practices will help create a diverse, creative workforce
Diversity, equity and inclusion (DE&I) has become a major business priority as societies continue to tackle injustices through professional upliftment. The pandemic has highlighted social inequality in several areas, and this has increased the relevance of DE&I even more. Such initiatives are a practical way for businesses to address the larger global issues such as gender inequality and education.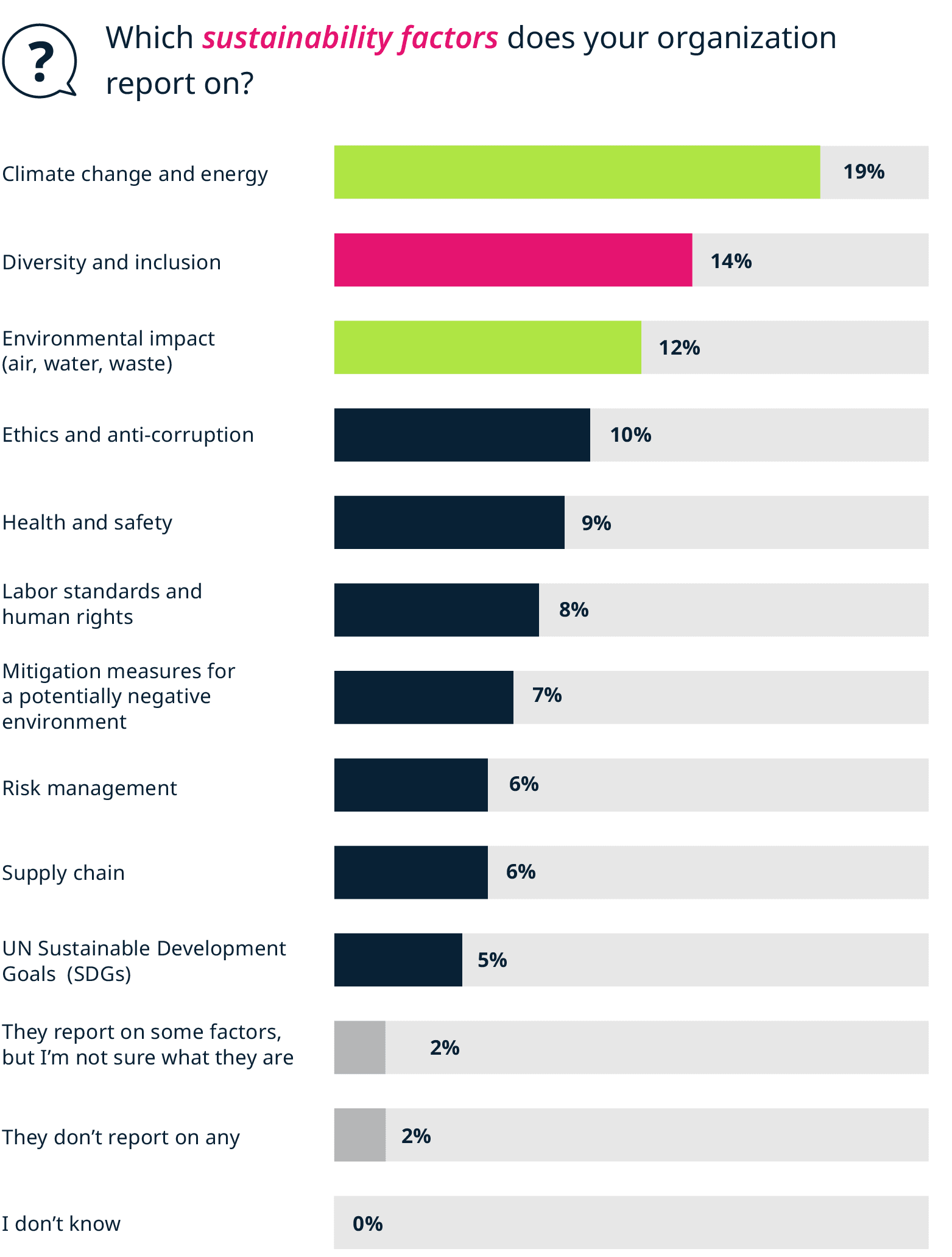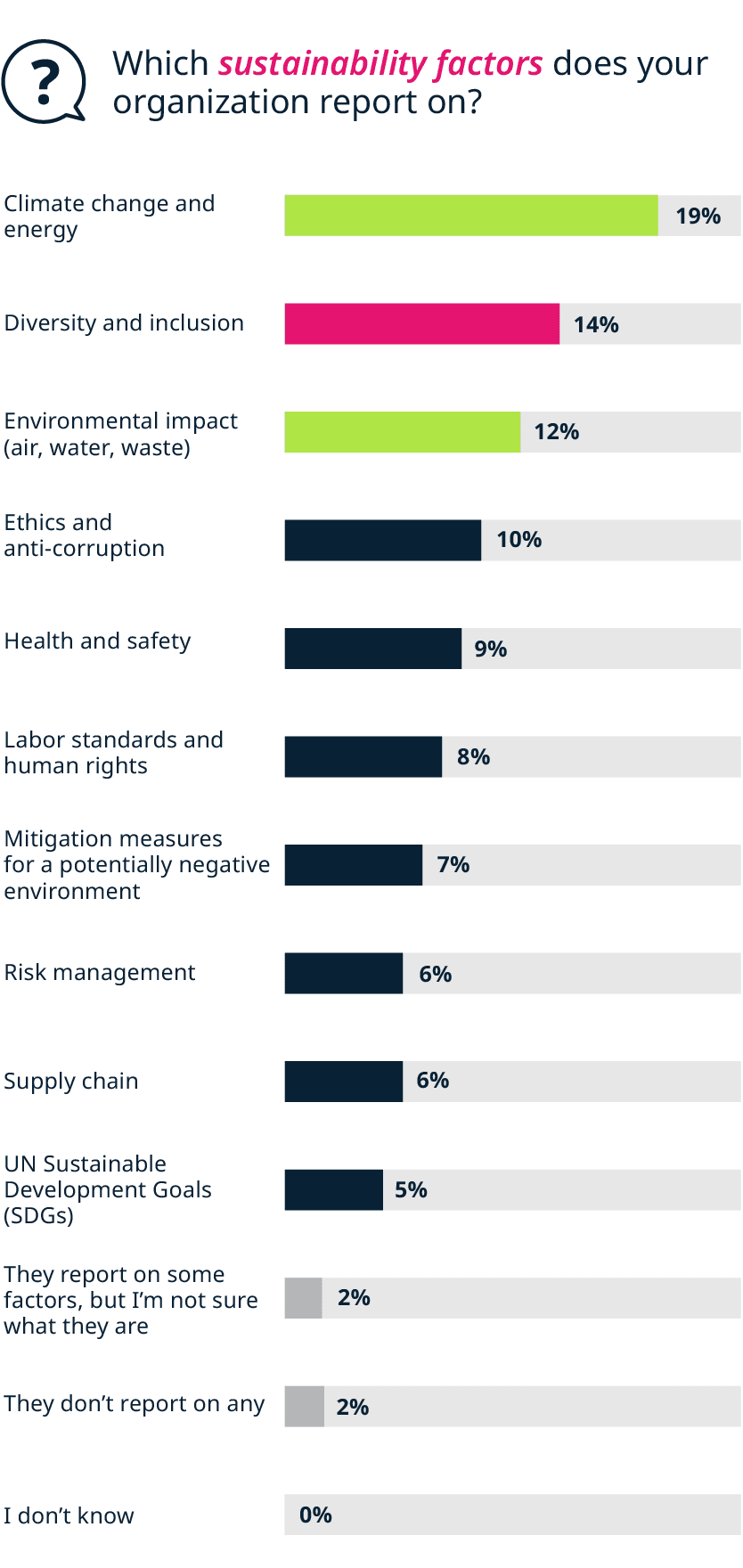 DE&I is a central component in creating a more just and fair world, as a truly sustainable future requires meaningful participation of all members of a community.2 Within L&D, you can earn several workplace advantages by investing in DE&I training. Workforces that support employees from different backgrounds and perspectives lead to a diversity of thought, greater innovation, and better business outcomes.3 It also leads to higher levels of acceptance, tolerance, and trust, and improved office morale. Leadership and L&D need to ensure they have engaged with bias and inclusion issues, together with the broader workforce, in order to truly capture the benefits diversity offers. An effective DE&I strategy is also better for the bottom line: according to McKinsey, the most diverse organizations outperform competitors by 33%.4
3. Sustainable business practices can help you attract employees and new customers
There's growing demand for companies to adopt sustainable practices as the share of consumers that support climate positive brands continues to increase. This is supported by global research, as 73% of consumers now say they would change their consumption habits to reduce their impact on the environment.5 As businesses work to align their processes with changing demands, our research shows an increase in highly sustainable practices at a business level across the board.

This groundswell in enthusiasm for sustainable action can also be leveraged in your hiring strategies and employee education. By integrating sustainability into your staff training, you can help drive this agenda from your company's perspective and give your team a greater sense of purpose. You can also showcase your values and efforts to potential talent who are looking to join an organization that makes an impact that matters.
The University of Cambridge Business Sustainability Management online short course will equip your staff with skills to integrate sustainability into your business strategy, and tackle social, economic, and environmental sustainability challenges within your organization.
4. Harnessing hybridization can solve sustainability skill shortages
GetSmarter's report reveals that employee skill requirements are shifting to include a bigger focus on integrating sustainability. This is supported by the fact that 47% of the professionals shared that their jobs are linked or fully focused on sustainability across a wide range of industries. It's clear, there is a fast-rising need for education in sustainability among professionals, regardless of job title.

Our data shows that sustainability-focused responsibilities are being integrated into existing roles, which we call hybridization. This is also linked to the changing nature of careers, one of eight megatrends, which are shaping the world that we forecast in our Future of Work report.

The sustainability report also shows that 21% of respondents state that a sustainability education has positively impacted their career and earning potential. If you can harness that performance potential using hybridization, you'll be able to solve any short-term sustainability skills shortage among your employees.
Empower your team to understand the risks and strategic opportunities presented by climate change and help create a more resilient business model with the Business and Climate Change: Towards Net Zero Emissions online short course from the University of Cambridge Institute for Sustainability Leadership.
How to create a roadmap for a sustainability learning program
Our report reveals that the most common areas sustainable companies invest in include climate change and energy and social responsibility programs. It also shows that 14% of our survey respondents say the companies they work for or own are investing in sustainable products and service innovation, and a further 12% invest in sustainable supply chains.
As a result, skilled professionals in these disciplines are in high demand. This provides a solid starting point for you to investigate if your employees have any inherent skills gaps.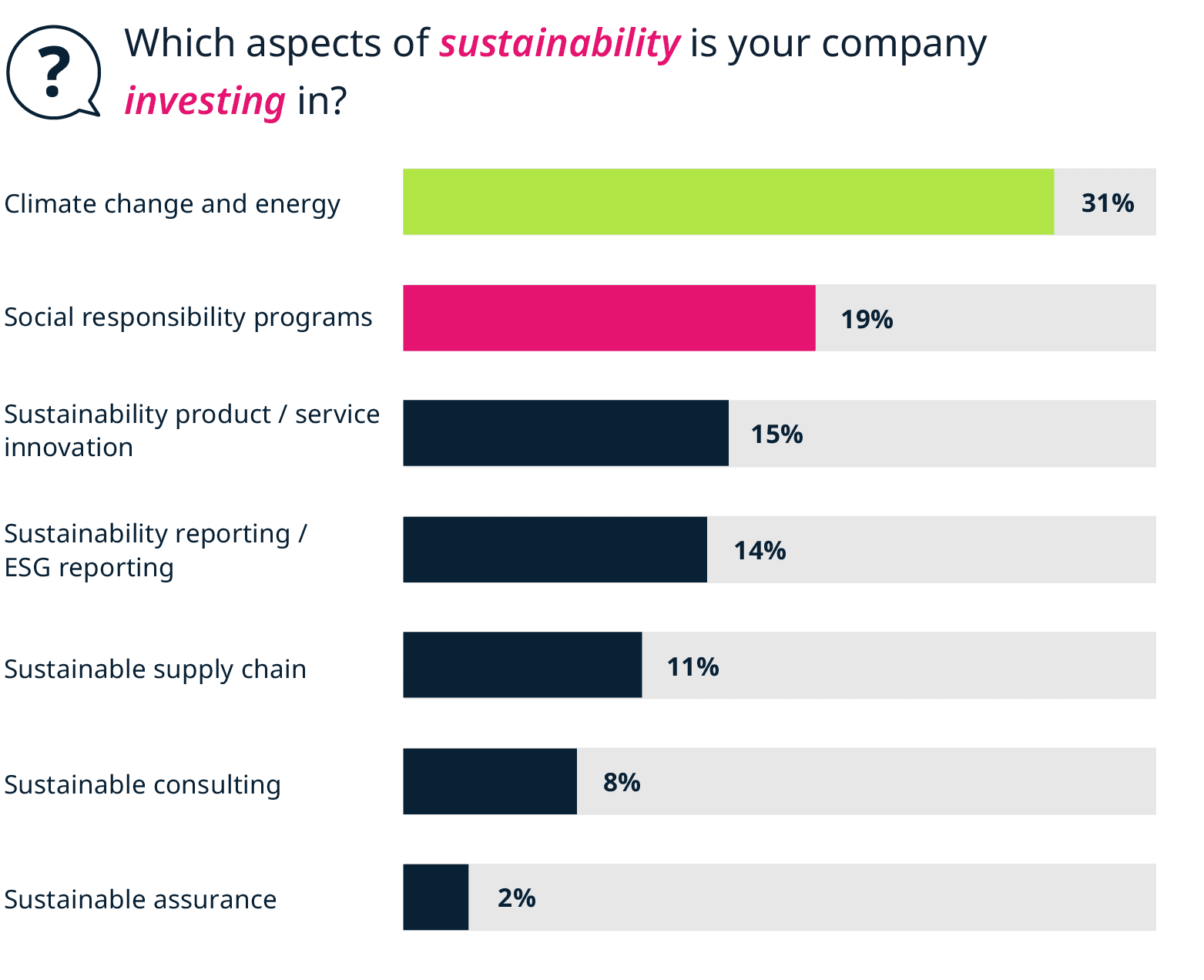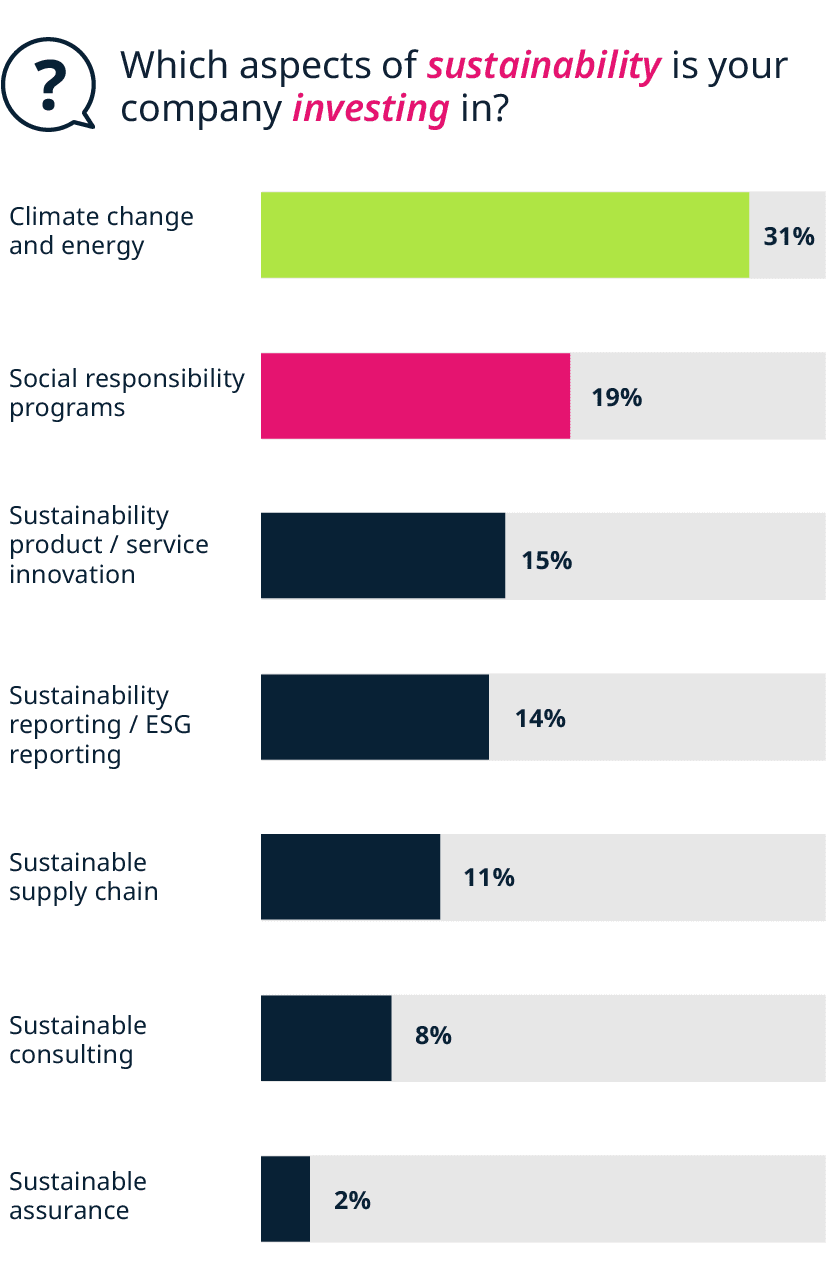 Given the dangers of the climate emergency, climate change is seen as a major operating risk. However, within the sustainability agenda, it's an opportunity. Finding new ways to continue working in your company while reducing contributions to carbon emissions can create new avenues for innovation, efficiencies, and behavioral change in your organization. This can lead to long-term value creation and cost savings.
Combining this insight with the course map provided below can help you formulate a bespoke sustainability learning plan, one which suits your specific industry and commercial needs while working within the SDG and ESG criteria.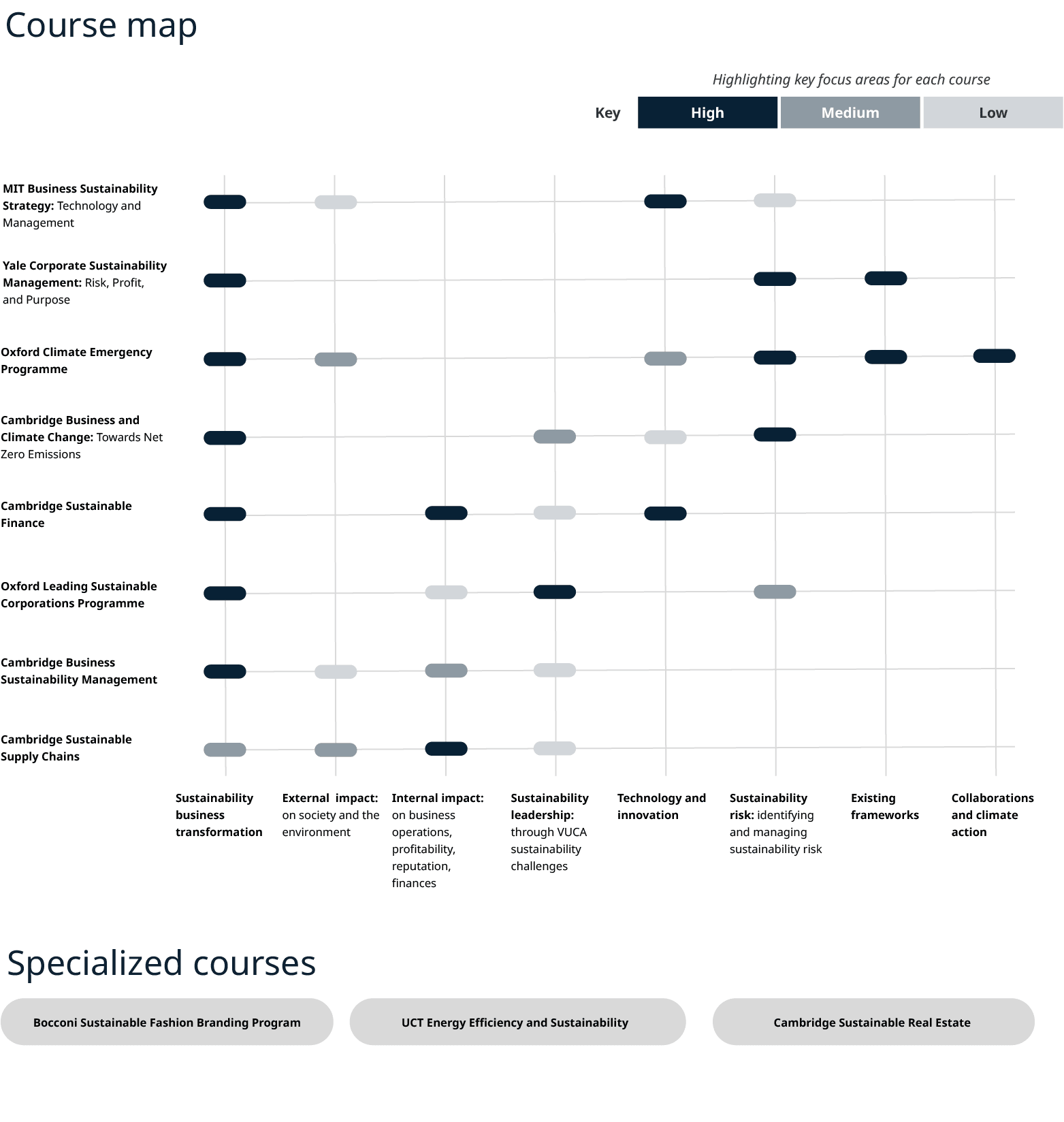 The sustainability agenda is rapidly changing how we all do business. There's a growing demand for specific skills in critical areas such as addressing climate change, energy management, and DE&I. The key to leading sustainability in business is to first analyze where the workforce skill gaps are, and then to develop a customized learning plan to unlock the benefits of being sustainable. The reward for upskilling your teams: you'll earn better results for people, profits, and planet.
GetSmarter can help you close the skills gap with our portfolio of online sustainability courses. This learning partnership will enable you to attract, train, and retain the employees you need to guarantee sustainable success in any business.
Complete the contact form to speak to a business development manager and start your company's journey of lifelong learning.
---
Stay competent, confident, and informed