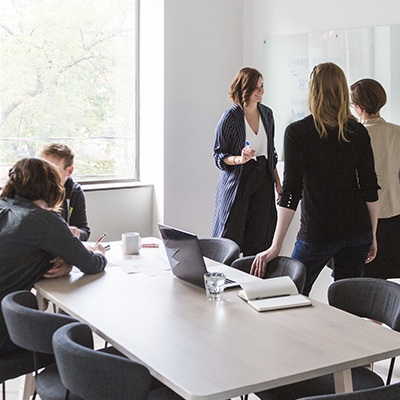 How do you advance into the role of Sales Director? Perhaps you entered this career path as a Sales Representative, a Buyer or moved over from another relevant professional position. A sure way to strengthen your promotion opportunities is to take advantage of further training, or continuing education through online short courses to highlight and develop your sales capabilities.
New Skills Academy1 says a Sales Director is someone who:
Has great organisational skills: from managing a sales team to finding time for presentations, a Sales Director will need to develop a sales-oriented pitch to a wide variety of audiences to drive business growth
Has great motivational skills: anyone responsible for managing a team will need to have the ability to drive a team forward and inspire creativity and input from each individual
Is enthusiastic: a person with a dull personality is not a good seller – to engage with your prospects, it's essential to believe in the product you're selling, be consumer-oriented, and pitch with enthusiasm
Can manage stress: tight deadlines and sales targets bring with them a pool of pressure, especially when you're expected to be motivational and organised during the difficult moments – if you're stressed, your team will be too, so it's essential to keep your cool as often as possible
Is a great communicator: whether it's face-to-face, on the telephone, or in emails or reports, strong communication skills will be needed to ensure you're always explaining yourself properly and giving good instruction and direction
Find out from five leaders in the sales arena on what they believe got them to a place of securing this role.
Which skills do you need to advance in your career to Sales Director?
Download a course prospectus to find out how this online short course can help you become a Sales Director.