The Most In-Demand Skills For Managers In 2019
Across industries, emerging professions are set to increase from 16% to 27% by the year 2022.1 There will also be higher demand for specialised roles such as Data Analysts, Scientists, Software and Applications Developers, and other digital-based professions enhanced by the use of technology. But with the rise, comes a decline. A survey from the 2018 World Economic Forum indicated 75 million jobs may be displaced by trends emerging from the Fourth Industrial Revolution.2
As certain jobs become redundant, and new specialist jobs respond and establish themselves in the job market, the pressure for skilled managers will increase. If the global market predicts workforce transformations, labour will need to adapt accordingly. Technological advancements are set to dominate in the coming years – driving business and market growth. In response, managers will need to develop technological acumen to progress at the same rate. What then, will be the most in-demand skills for managers guiding the future workforce? What's for certain is that agility within change, and innovation within technology will be crucial considerations for global leaders.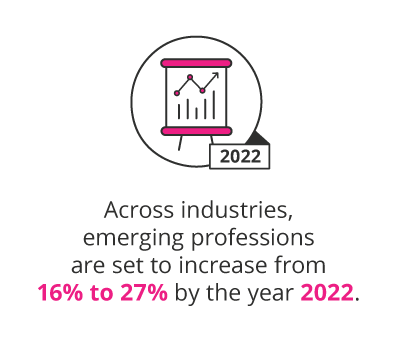 Change across industries and economies is occurring at such a pace, that a focus on up- and reskilling is becoming imperative. The 2018 Future of Jobs Report identifies the trending skills for 2022 to be:3
Analytical thinking and innovation
Critical thinking and analysis
Complex problem-solving skills
Leadership and social influence
Systems analysis and emotional intelligence
The above, among others, are all management skills leaders and executives harness for effective productivity. These skills exhibit a move away from manual labour, and more towards strategy and technology, and will consequently affect the career progression of both the employee and the manager.
In an interview with Fast Company, Liz Bentley from Liz Bentley Associates, a consulting firm that specialises in human behaviour, progression and performance;4 she stresses the need for adaptability, and notes how the existing and past hierarchical structures will no longer be suited for future management.5 These are some of the skills set to be at the forefront for future managers:
Technology skills
No job will be exempt from technological advancement, and managers will have to grapple with new challenges, conflicts, and opportunities that emerge.6 In order to remain relevant, managers will need to be aware of the latest developments, and embrace change to anticipate market movements and internal business dynamics.
Leadership skills
Traditional leadership styles are being replaced by dynamic relationship-focused development models.7 The egocentric managerial approach will no longer apply. Effective management skills will see leaders being collaborative contributors, who focus on team development.
Soft skills
Despite the emphasis and shift towards a digital, automated workplace, managers still need to remain strategic and innovative in their leadership style; they will also need to understand their team more than ever as workplace changes continue to increase. It is precisely because of the technological pace that creative problem-solving skills, listening, effective communication and time management will remain top management skills for the future.8
Collaboration
Globalisation has opened the channels for cross-border teams. Organisations operate through consultants, contractors, and remote employees, which can be challenging when establishing company cultures. Workforces are also becoming more dynamic as Generation Z enters the labour market, and baby boomers reach retirement.9 Managers will need to be aware of dynamic demographics to capitalise on market changes, and navigate team diversity.
Emotional intelligence
Emotional intelligence is a crucial leadership skill, and is being recognised as a business differentiator. It encompasses self and social awareness, and self and relationship management. Managers need to remain flexible within the complex space of chance and transformation. EI is about behaviours, and it can vastly help managers to navigate the organisational landscape.10
Transparency
In a global world where data is accessible and available for all, managing trust and fostering a healthy company culture is a key attribute to high performing teams and leaders. Transparency ensures that problems are solved efficiently, teams are built on a basis of trust and support, and performance levels rise.11 Being an effective manager within markets of hyper growth and innovation will require clear channels of information and exchange.
Forbes noted how changes within leadership are influenced and closely aligned to the changing work environment.
Future management skills will depend on inevitable market shifts and growth, and to facilitate change, managers will need to be agile. Despite the technological movements, leaders will still need to hone in on 'traditional' management tools. Forbes noted how changes within leadership are influenced and closely aligned to the changing work environment.12
Speed of growth within the business market is fueled by the incessant stream of new technology. As the demand in business increases, supply is expected to be immediate, and organisations will need to accelerate their productivity in order to meet expectations. What is evident among these management skills, is that leading through change will be at the forefront. Leadership and business culture expert, Dr Rachel Headley, says, "The most powerful change skill is leveraging your people's natural inclination to be creative through transitions. Harness that energy, and leaders will be unstoppable."13