The Advancing Role of Artificial Intelligence in the Logistics Sector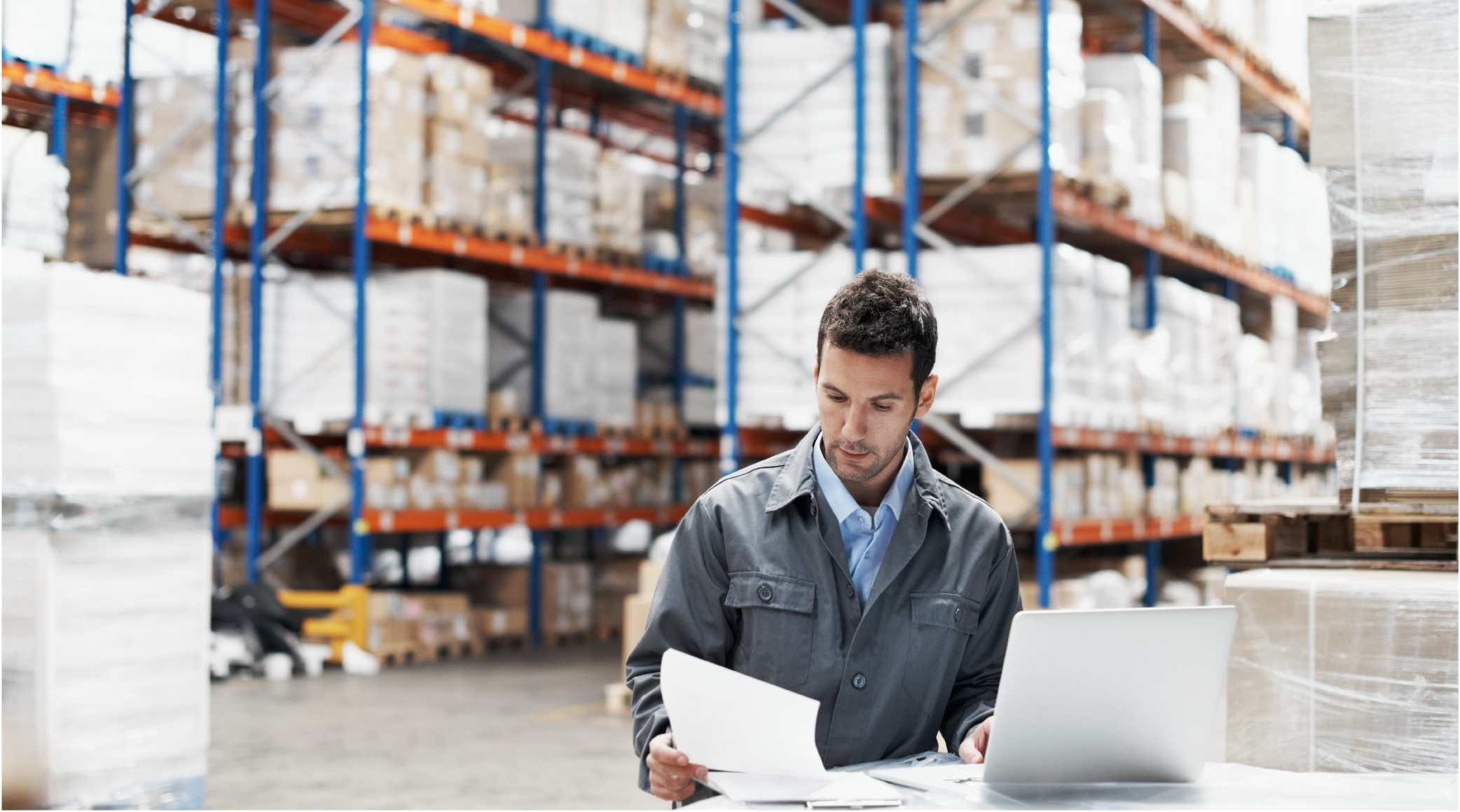 Perhaps you've never thought of it before, but every product you have in your possession is the result of a process called supply chain. Like most industries in today's world, this sector is being impacted by the advancement of technologies such as Artificial Intelligence (AI).
To understand its implications, let's first define supply chain: it's the path that a commodity takes through manufacturing, transport, and distribution centres, until it reaches the end consumer. For most logistics companies the supply chain can be riddled with inefficiencies and wastage:1
Extended lead times due to bottlenecks in production or inefficiencies in transportation cause client dissatisfaction
Defects in production cause more than material loss, but time and productivity can be lost while machines are being re-calibrated
Inventory forecasting errors cause storage waste
Overproduction results in stagnant materials that do not produce a return, plus incur increased storage costs
Artificial intelligence can and is being used to optimise this entire supply chain; from planning to autonomous transport.2 Forbes Insights research shows that 65% of 433 senior transportation-focused executives believe supply chain, logistics, and transportation processes are undergoing massive transformation and entering a renaissance period.3 The reason is that today's transportation ecosystem is under tremendous pressure with a 35% growth forecasted for freight tonnage moved by trucks between 2016 to 2027.4
Matthias Heutger, Senior Vice President and Global Head of Innovation DHL says, "Today's current technology, business, and societal conditions favour a paradigm shift to proactive and predictive logistics operations more than any previous time in history."5
How AI is successfully being applied in supply chain management
Established organisations are already embracing and utilising machine learning for insights into, and refinement of, core strategies for issues such as optimal warehouse locations, as well as more urgent daily activities such as availability, costs, stock and inventory, transportation, suppliers, and staffing.6
John Langley, Clinical Professor of Supply Chain Management and Director of Development for the Center for Supply Chain Research at Penn State's Smeal College of Business, says that – although the transport industry has always been data-focused – today "all of this added computing power can be focused on making better decisions, not only from an overall strategic and resource planning basis, but in real-time decisions".7
Automated warehouses
Large corporations who have a need for fast and complex logistics solutions, such as Amazon, are investing their own resources to promote innovation in artificial intelligence and robotics in order to facilitate automated warehousing. The Amazon Robotics Challenge – a challenge of skill sponsored by Amazon where entrants submit their robot hardware and software designs that aim to simplify picking and packing items from a shelf8 – is an example of Amazon's dire need for advancement in robotics for warehousing.9
Another case in point is Ocado, an online-only supermarket in the UK. Their highly automated warehouses are transforming logistics through AI so effectively that other grocery chains are buying their automated warehousing tech.10
At Ocado, people still do the unpacking and packing, but robots do the sorting and rearranging in this immense inventory 24 hours a day. Ocado's Chief Technology Officer, Paul Clarke, explains that Ocado's goal is to continually upgrade its technology, to "disrupt itself;" in order to stay competitive. Where typical grocery warehousing involves deliveries that are unpacked into crates, placed onto conveyors to shelves, where "pickers" then fulfil a customers' orders, the new paradigm is more focused on optimal space usage. Crates are now stored in huge stacks, that seem to be randomly grouped, however their groups are algorithmically calculated based on how frequently items are accessed. Individually, the robots aren't intelligent, but their actions are all coordinated by a central computer and are used as efficiently as possible.
Smart roads helping to maintain infrastructure
In Colorado, AI is being developed for highways. Smart roads are highways that have sensors that monitor wear and tear of the road, and that sense the vehicles on them.11 These roads are connected to the internet and can alert motorists via their phones of upcoming traffic jams and automatically alert emergency systems when accidents occur. This could provide highly valuable information for businesses who spend time on the road.
Common supply chain problems and AI solutions
Increased demands from shippers have pushed organisations to explore intelligent technology. Some of the most common solutions that AI technology offers in the supply chain are:
Improved resource management12
Predicted fluctuations in global shipment volumes before they occur13
Optimised transport routes and faster deliveries14
Better customer service15
Advanced image recognition that identifies the condition of products and shipments16
End-to-end autonomy to transportation17
The ability to predict and monitor parameters such as traffic, weather, and socio-economic issues for more accurate load pricing18
Efficiency and financial drivers for AI in logistics
The Forbes Insights survey19 shows that the expected benefits of incorporating AI technologies in their supply chains mitigate the costs of implementation. These benefits include increased productivity, faster response times, end-to-end clarity across the value chain, fewer errors in deliveries, higher quality at lower costs, plus the ability to anticipate customer needs.
A BCG analysis of 1,096 global companies including transportation and logistics, from all over the world found that use of artificial intelligence can reduce conversion costs by up to 20%, with higher workforce productivity accounting for up to 70% of the cost reduction.20 Not only does it reduce costs, but it can help generate more sales by delivering products with a much shorter lead-time.
In a recent DHL report,21 AI projects address management, invoicing processes, and Cognitive Automation to reduce running costs through automation through the use of three strategic value drivers:
Fewer manual processes
Less human effort per process
Fewer errors from human decision-making
The framework below can serve as a guide to know what AI process could be implemented for cost reduction.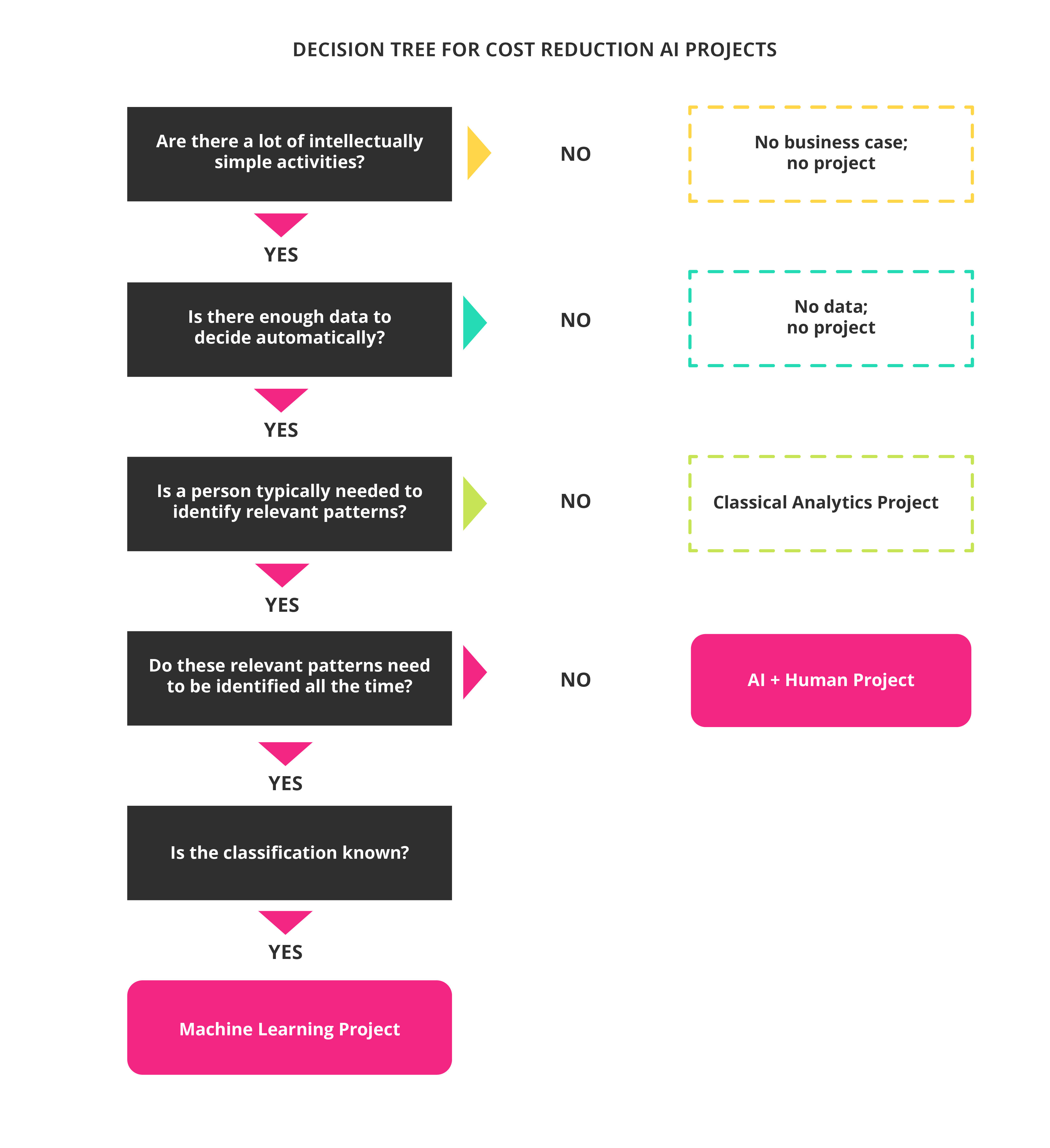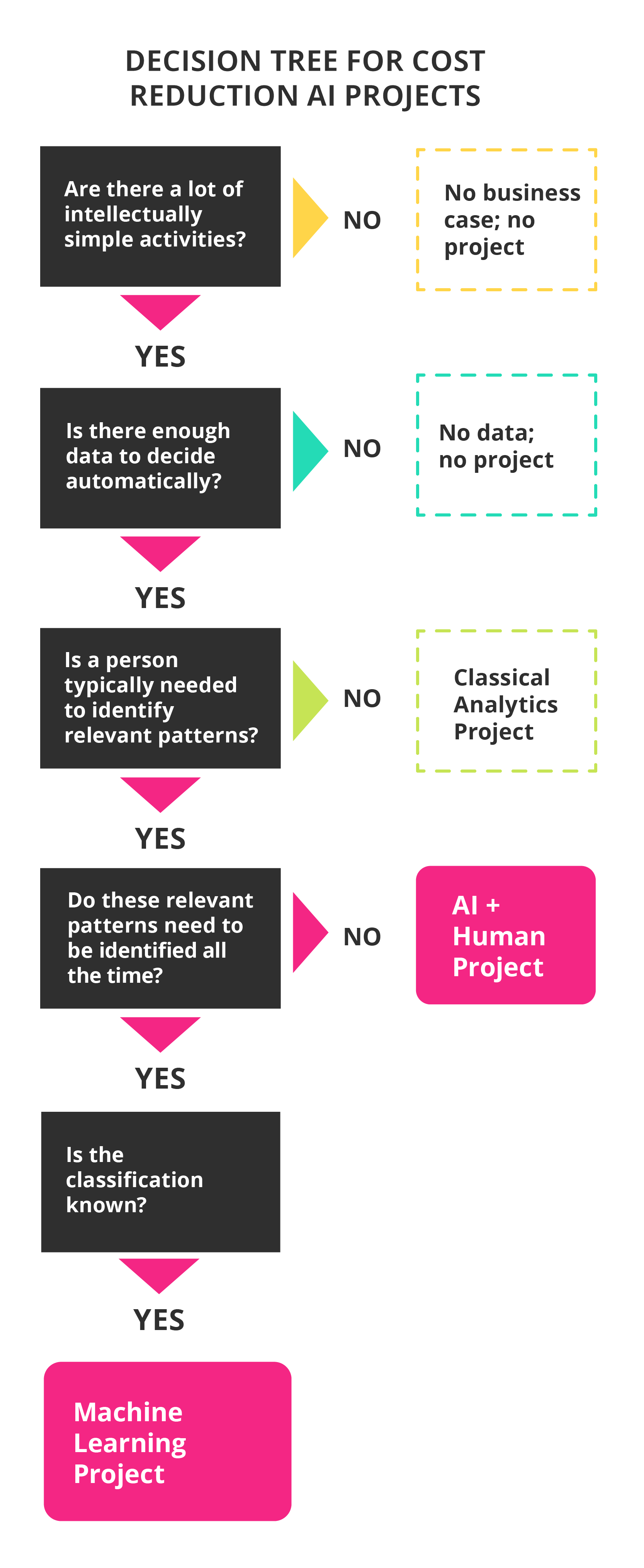 How AI optimises inventory management
Effective management of inventory is paramount to customer satisfaction and competitive advantage. C. John Langley, says, "The effect of Amazon is heightened expectations. Next week is no longer good enough. It's got to be on its way now and arrive at [its] destination within a day or two!"22
When it comes to inventory, AI democratises and uses available information, such as real-time stock and inventory levels, as well as load capacity of trucks to execute the delivery, in order to come to a fair price and ensure both parties are satisfied. Artificial intelligence can also manage and monitor supplier inventory levels, and truck availability ahead of time, so that customers are informed of the correct price and expected time of delivery for upcoming deliveries.23
The logistics sector is complex and multi-layered, requiring the ability to plan, be resilient, and flexible. However, with the right platform, automation of logistical work processes can effectively improve the use of time and money when determining the logistics of an operation, lowering costs and risk, and improving profitability.24 Going forward, businesses who chose to avoid AI in their supply chain stand the chance of becoming irrelevant while their competitors, who choose to learn about AI, overtake them.25