Top Business Analysis Trends 2019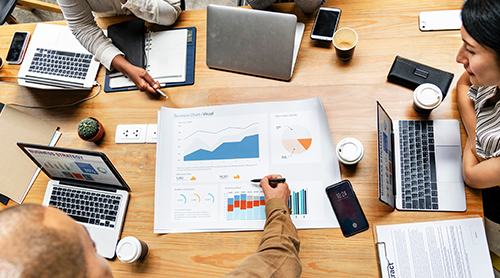 The modern business world is dependent on the digital movement.1 As professionals who enable and manage business change and offer solutions,2 Business Analysts should look towards technological evolution as they consider the future of their jobs, and the general trends for business analysis as a whole. Just as the digital space continues to change, Business Analysts can expect their role to equally adapt.
The value of upskilling, reskilling, and hiring for agility is at the forefront of the future workforce.
Digital transformation trends
The current business environment is quickly advancing towards new-age technologies; the likes of machine learning, cloud computing, and development and IT operations (known as DevOps).3 These shifts within business operations are being influenced by larger digital shifts. Based on research from the past year's advancements in technology and digital transformation, Forbes has created a list of the top 10 digital transformation trends for 2019.4
Forbes predicts growth in chatbots, natural language processing, and connected clouds that facilitate company needs like storage, networking, security, and development. The list also makes note of realising blockchain's potential power, and goes on to mention all the other tech-oriented innovations like data, analytics, machine learning, artificial intelligence, as well as how they are all connected, through the Internet of Things.
The last trend the list refers to is facilitated by recruitment and CEO's. Studies have shown that employees are pushing digital transformation to start at the top, rather than having technical tasks delegated to IT, marketing, and HR departments. Forbes notes that CEO's will be making it a priority to hire for the digital age, and ensuring their company has a culture open to change and flexibility. The value of upskilling, reskilling, and hiring for agility is at the forefront of the future workforce.5
How Business Analysts need to adapt
The future of business analysis holds a new technological domain and Entrepreneur identifies the key trends disrupting business processes, which in turn, will influence Business Analyst job trends.6 In order to remain relevant, Business Analysts will need to broaden their learning and expertise by doing the following:7
1. Learn new-age technologies for business processes
The business environment is technology-driven, and Business Analysts will need to understand and familiarise themselves with the latest innovations in process and analytics. They will also need to have a firm practical grasp on industry-related tech, so to confidently advise their organisation on relevant and applicable solutions – ones that align to the current technological standard.
2. Incorporate data analytics
Emerging from the digital age is the emphasis on data and the space it's generated; the Internet of Things (IoT). The IoT global market is set to rise from its valuation of $157 billion in 2016 to estimated $457 billion by 2020.8 As the number of connected devices increase, so will the amount of data. Businesses who are able to derive meaning from the numbers, will benefit from the market insights.
Business Analysts will need to adapt their expertise to leverage big data tools for better business solutions. Tableau, the data analytics and visualisation software, can help Business Analysts understand and interpret data for business intelligence and insights. Tableau demonstrates a new-age system technology that focuses on data for business analysis.
3. Become 'Agile'
Agile is a form of project management that handles projects in increments, and emphasises flexibility, evaluation, and collaboration.9 In the disruptive business environment, the need for management adaptability can ensure challenges are quickly resolved. Business Analysts can benefit from this leadership style, as projects are approached with the focus on business values, while ensuring practical and technical feasibility. Business Analysts, like Agile managers, should be transformative business players, facilitating change, communication, and engagement.
4. Facilitate digital change
Entrepreneur suggests that Cloud Computing is becoming the most effective solution to enhancing organisational agility. Business Analysts serve a critical role in business methods and process changes; it would be their responsibility to analyse if cloud computing would better serve the business, and what department and operation it could be applied to. They would also function to facilitate that digital change over. Business Analysts would need to restructure business processes to align with the new technical solution.
5. Align with user design
In addition to considering the internal organisational structure, Business Analysts need to account for the business's impact and engagement with its customers. User experience (UX) is increasingly relevant in the digital and technological landscape. New systems are constantly evolving and continually changing the ways in which users interact with a digital platform. User satisfaction, engagement, and experience need dedicated consideration. UX designers, similar to Business Analysts, engage with business needs and offer the best solution for its users. Gaining UX expertise can enhance an analyst's understanding of a business's digital presence and user interface, in order to ensure customer satisfaction.
The career growth prospectus for Business Analysts depends on their ability to adapt alongside the digital disruption.
The future of business analysis
Previously, Business Analysts focused on the core features of business; they had a deep knowledge of business operations and principles within their industry, as well as tools for project management and soft skills like communication.10 Now, the emphasis on broad skill sets, technological acumen, and diverse industry awareness is imperative within the evolving digital landscape.
The career growth prospectus for Business Analysts depends on their ability to adapt alongside the digital disruption.11 They will be required to enhance their interpersonal skills as complexities and uncertainties emerge, and have technical skills sufficient enough to ensure holistic business operations and functional implementation.12
According to the 2018 report, 'The Future of Jobs', reskilling will be imperative for the future workforce. By 2022, more than half of the working population, 54%, will need significant reskilling and upskilling.13 The trends set to positively impact business growth up to 2022 include the increasing adoption of new technology, advances in cloud technology, and the increasing availability of big data – all major factors influencing the future of business analysis.
The report also identifies that by 2022, 85% of companies will likely have adopted user and entity big data analytics. Jobs that are expected to become redundant are the roles that are susceptible to process automation and new technologies. Over the period of 2018-2022, middle-skilled white-collar roles like data entry clerks, auditors, accounting, payroll, and banking clerks will increasingly decline in demand and relevance. If your job has the potential to advance, diversify, and expand with digital innovation, then you should be actively upskilling and becoming technologically proficient.
Business Analysts have the opportunity to advance as technology does. As the future of business is dependent on digital progression, analysts need to be keenly aware of the movement and trends. Year 2022 will see a skills demand for analytical thinking, innovation, originality and initiative, analysis, leadership, emotional intelligence and systems analysis.14 These skills, coupled with technological awareness and practicality, will see the Business Analyst role develop with the future of technology, rather than against it.