2019 Workforce Trends and the New Skills Gap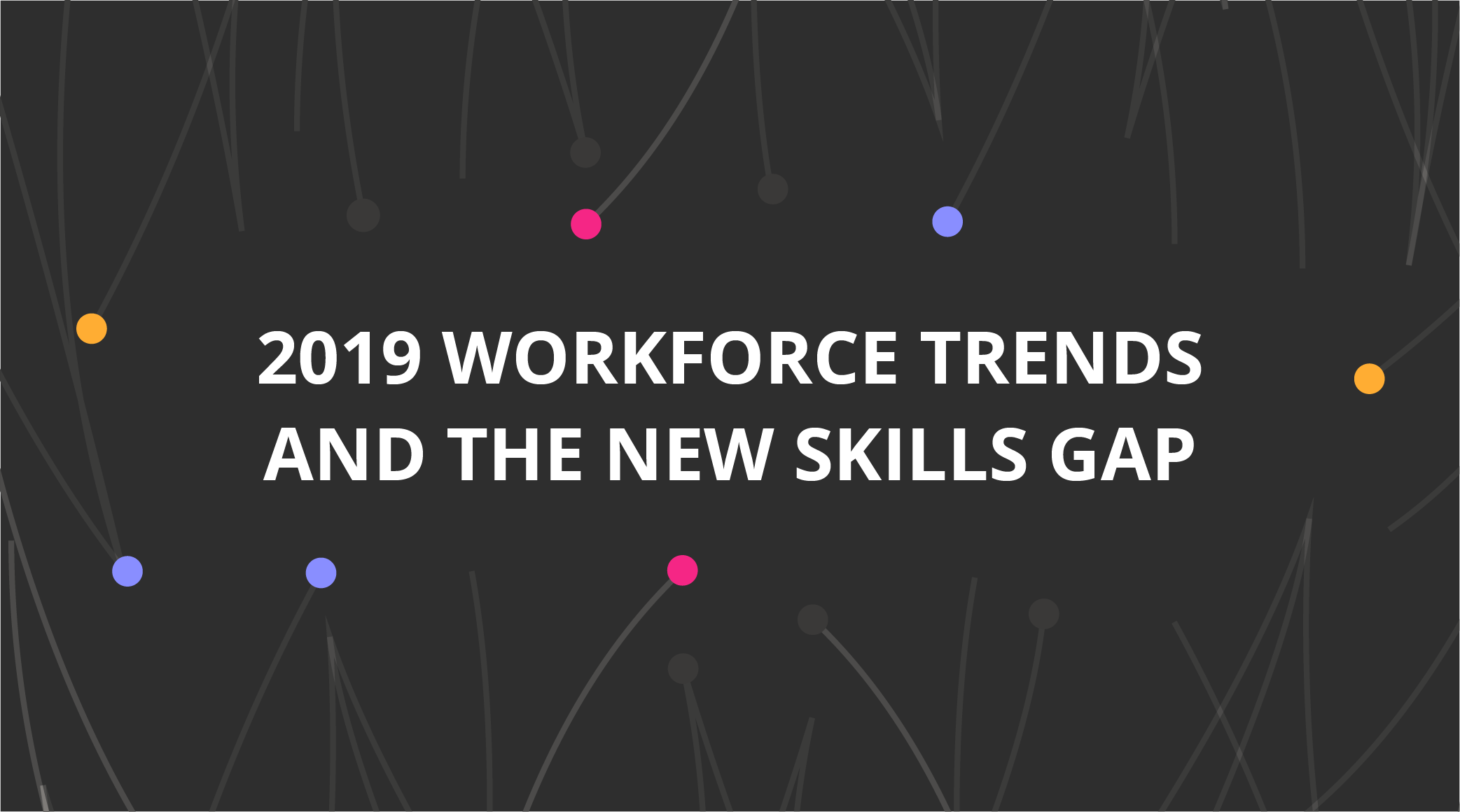 The disruptive nature of new technologies is widening the skills gap in companies around the world. But filling the gap with advanced engineering talent is only one step towards solving the problem. Increasingly, companies seeking to take advantage of digital disruption are falling short of the social, interpersonal, and leadership skills needed to speed up adoption of new technologies.
This trend is observed in GetSmarter's 2019 Disruptive Tech Survey, based on responses from 350 senior business professionals who have completed one or more of GetSmarter's disruptive technology short courses.
Across both the 2018 and 2019 surveys, over 75 per cent of companies agreed that there was a "high" or "very high" likelihood that their business would experience disruption as a result of new technologies. While digital disruption is considered inevitable, businesses are increasingly focused on human capital. When asked where in their organisation they experienced the most pressure from technology, the most-cited answer was "skills shortages", which doubled from eight per cent in 2018 to 16 per cent in 2019.
This report covers key insights from the survey to provide talent managers with a view of the industries and business areas experiencing the biggest shifts in desired skill sets, and the workforce trends that are prompting companies to switch from tech-focused to people-focused strategies.
Where is technology causing the most disruption?
As with the GetSmarter 2018 survey, most companies surveyed operate in banking, financial services, and insurance, reflecting the extensive reach of fintech.1
Beyond banking, disruptive technology is influencing various other parts of the economy, with this year's survey results seeing increased representation from four additional industries.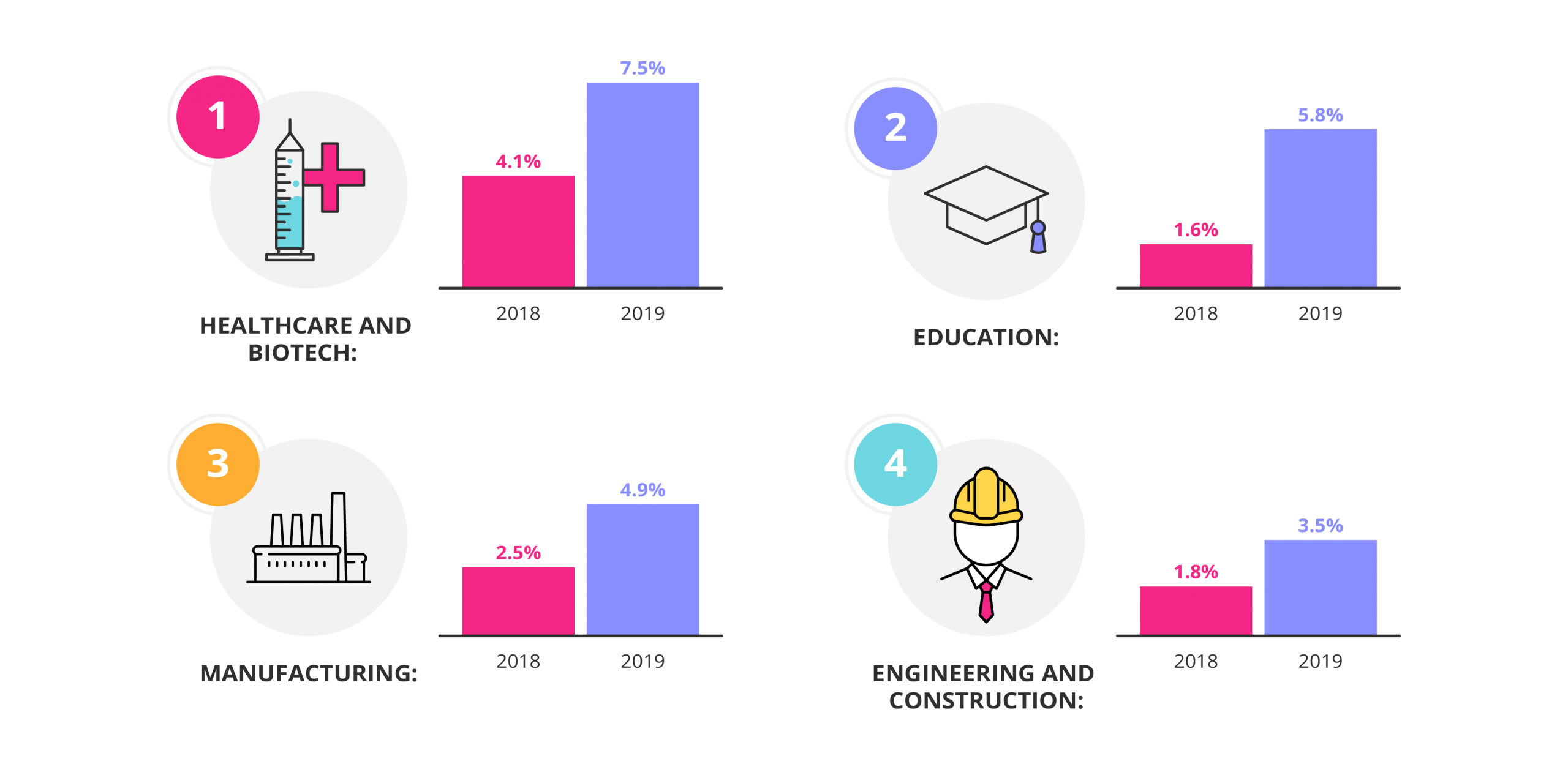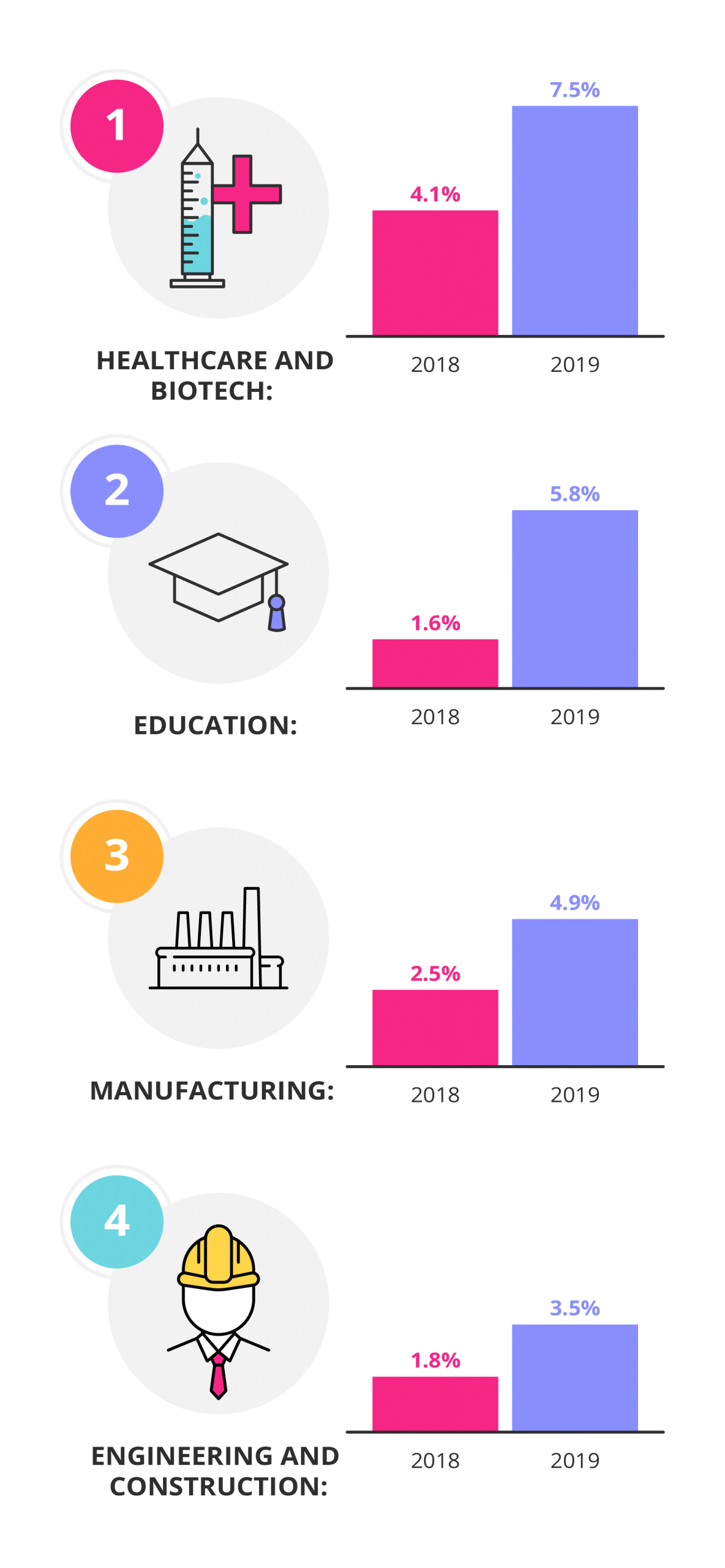 Technology commentators report increasing disruption on human resources in all of these sectors:
Healthcare and biotech: Medical and business professionals within healthcare organisations need to obtain new skills in order to provide the digital service delivery that their patients and partners have come to expect.2
Education: To reap the benefits of learning analytics and other data-driven curriculum reforms, teachers need to include a digital dimension in their engagement with students.3
Manufacturing: Industry 4.0 holds big potential for manufacturers – from predictive maintenance of machinery to enhanced device interconnectivity4 – but successful implementation of these solutions will require a large degree of upskilling and change management.
Engineering and construction: Innovations such as real estate analytics and the use of augmented reality for modelling architectural designs could unlock big gains.5 But to harness this potential, practitioners in engineering and construction will need to expand their strategic thinking and current capabilities.
The impact of disruptive technology is expanding. Not only are new industries being affected, but within the workplace, the growing reach of data and technology is being felt across various departments.
More soft skills for technical pros, more data skills for everyone else
Since the dawn of big data, analytics has grown into a powerful source of value for virtually every team in business.6 As a result, demand for technical know-how and analytical skills – competencies that were once considered exclusive to IT – has spread into various functional areas.7
Companies in GetSmarter's 2019 survey were asked which of their departments are being most impacted by disruptive technology, and their answers reveal the same trend:
From 2018 to 2019, there was a sixfold increase in the number of respondents who said their most impacted team is human resources (HR) or talent management. This is consistent with the rise of people analytics, an emerging practice centred on the use of data in HR teams to monitor organisational health and personalise the employee experience.8
Compared to 2018, a larger share of 2019 respondents cited marketing and communications, project or programme management, and design and creative as being the most impacted.
In 2018, 30.1 per cent of respondents indicated IT, versus 16.4 per cent in 2019. This reveals that the role of data and technology is no longer limited to IT teams.
Practically any department in a business today can tap into the treasure trove that is analytics. Increasingly, this work requires collaboration between technical and non-technical roles, which opens a sea of opportunities for upskilling.9 For example, technical professionals like data scientists, data analysts, and data engineers are more frequently needing to partner with line-of-business analysts or functional managers in order to help them understand the data that is relevant for decisions related to product deployment or other internal business problems.10
This creates 'cross-pollination', as the Harvard Business Review (HBR) reports, highlighting two sides to the upskilling opportunity: technical professionals should develop strong communication and interpersonal skills, while non-technical analysts and managers have a chance to gain exposure to the basics of data interpretation.11
Artificial intelligence, the leading disruptive technology
One of the aims of the GetSmarter Disruptive Tech Survey is to determine which technologies or disruptive innovations are of most interest to business professionals. Consistent with last year's results, artificial intelligence (AI) topped the list of in-demand technologies for 2019.
This result comes as no surprise, as many consider AI to be the most prevalent disruptive technology today.12 Numerous studies have reported on the value gains that pioneering firms have derived from AI.13 Some manufacturers, for example, use advanced analytics to pinpoint redundancies in their processes, thereby saving on production costs.14 Other firms have created entirely new revenue streams from AI: Deutsche Bank in Germany built a consumer credit product that uses AI to decide whether to offer a loan to a customer, and within eight months of launching the product, their loan issuance rate increased 10- to 15-fold.15
Following AI, the other leading technology innovations that the 2019 survey respondents are most interested in include:
Machine learning
Data science
Advanced analytics
While unique in many respects, these fields are all linked to AI. Through combining statistics, mathematics, and computer programming, they ultimately serve a common purpose: to address business problems by understanding past trends and predicting future patterns.
Many companies have set off in pursuit of the widely reported benefits of AI and its subsets.16 As a result, the demand for professionals skilled in data science and advanced analytics has grown exponentially. In the UK alone, it has more than tripled over the last five years – an increase of 231 per cent compared to the average of 36 per cent across all skilled occupations over the same period.17
In-house data science and data engineering talent is a key ingredient for any organisation looking to successfully execute a data-driven strategy. However, generating real business value through data analytics requires so much more.
Succeeding at AI requires new organisational behaviours
Businesses today realise that a tech-centric strategy is not enough to advance their AI initiatives. A recent HBR study recalls how, in earlier years, many businesses responded to the growing hype around AI by making some basic technology and talent investments to get AI pilot projects off the ground. But the HBR study notes that today, real AI capability building demands more than just 'plug-and-play' solutions.18 It requires a business to redesign workflows, improve workforce training, enhance communication between teams, and overcome cultural resistance to automation – essentially, to change organisational behaviour.19 According to HBR: "New applications [of AI] will create fundamental and sometimes difficult changes in workflows, roles and culture, which leaders will need to shepherd their organisations through carefully."
The shift in focus from technology to organisational behaviour comes as the positive hype around AI's potential has begun to give way to a sense of the difficulty involved in scaling the implementation of AI initiatives.20 A comparison of the 2018 and 2019 GetSmarter survey results reveals strikingly similar trends.
In 2018, respondents were asked where in their organisations they felt the most pressure from disruptive tech. The most-cited answer, at 25.4 per cent, was "product innovation" – a common approach taken by businesses when starting out with an emerging technology.21 In the 2019 survey, "product innovation" dropped by more than half, to 12.4 per cent, while at the same time, a larger share of respondents cited other priority areas. All of these are less tech-oriented and more closely related to the changes in organisational behaviour that the HBR study observes is needed to succeed at AI: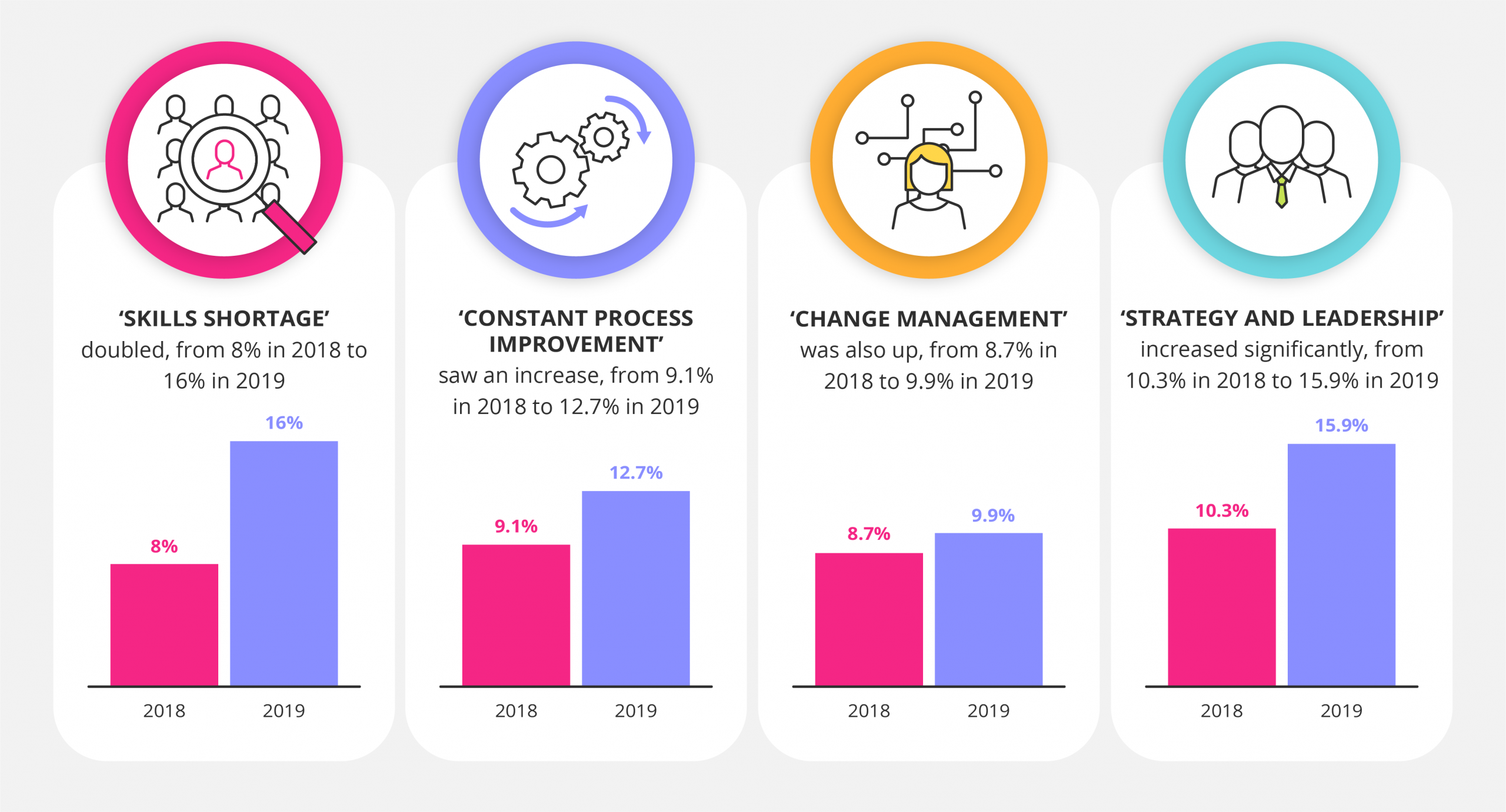 It's important for talent managers to understand which tactics are most likely to pay off in terms of addressing the above priorities. According to global research firm Gartner, an effective strategy for reducing skills shortages is to upskill current employees, as opposed to relying on outside talent, given the overall shortage of advanced analytics skills in the market.22 Interestingly, a recent study by MIT recommends a combined approach: companies should both upskill their existing workforce and hire experienced AI talent, but only for technical leadership roles.23
When relying on traditional IT executives, like the chief technology officer, a company's approach to AI tends to be restricted to current operating procedures. But successful AI adoption requires fresh and innovative ways of thinking, which is more likely to occur under the purview of a new executive, such as a chief digital officer or chief analytics officer.
Alongside the right C-level appointment, a successful AI strategy requires that leaders across the company have a firm grasp of the opportunity that AI presents, as well as a high-level understanding of how the technology works.24 Being knowledgeable on the subject also enables senior-level individuals to lead by example which, for staff members, helps to inspire confidence in the leadership layer.
Equally important for effective AI adoption is anticipating potential social resistance and taking active steps to counter it. Getting people onboard with AI requires more than simply telling them about the benefits of an AI-powered solution.25 Instead, business leaders should strive to create genuine excitement about the possibilities of AI by encouraging activities centred around not only producing AI but also consuming it. For example, teams could be invited to test each other's tools, participate in hackathons, or take part in creative feedback sessions.
Who is responsible for bridging the skills gap?
As new technologies change traditional ways of working, an important question arises: who is responsible for upskilling employees? In the GetSmarter Disruptive Tech Survey, when respondents were asked whether they viewed continuous learning as a "personal strategy" or a "business responsibility", 70 per cent answered the former. This suggests that many professionals believe the responsibility to upskill lies with individuals and not employers.
The expectation that individuals should take responsibility for their own upskilling can be problematic.27 For example, employees may fear coming across as incompetent if they ask for help. Or they may assume that their employers will think they'll leave soon after they get upskilled and thus decide it's not worth investing in them. Other individuals might feel dissatisfied with an employer who's not invested in their development and decide to change jobs. In any event, if employees are expected to take sole responsibility for their own upskilling, there is a risk of perpetuating the current skills gap.28
Talent managers should combat assumptions and take proactive steps to engage staff on upskilling opportunities. This could take the form of either coaching, mentorship, part-time learning programmes, or practical job shadowing exercises.29 Companies stand to benefit immensely from upskilling their staff. Investment in employee development has proven to result in increased staff motivation and engagement, which can improve retention.30 In addition, better skilled staff can lead to productivity gains and help reduce costs, which increases a company's chances of remaining competitive.31
The way forward for talent managers
Finding effective ways of upskilling employees for the future of work will require a collective effort from all parts of the organisation. Learning and development managers have a pivotal role to play in facilitating this process by promoting a culture of learning and driving skills development initiatives. Employees will, of course, need to play a role as well, because ultimately it is their skill sets that need to be developed. Managers in charge of training and growing talent can contribute by staying up-to-date with trends in disruptive technology.
The evolution of digital capabilities is ongoing, as is the skill sets that are needed for successful technology adoption in business. Maintaining a focus on the changes in this space should be a key priority for all talent managers.