From Team Building to Trust Building Activities
How would you define the Fourth Industrial Revolution? You'd likely start with the language of digital disruption, and highlight the groundbreaking technologies that have pioneered this transformation, such as artificial intelligence, automation, big data, and blockchain.1 These represent some of the most high-profile innovations of our age, set to shape business in the coming decade and beyond.
Yet, even as the pace of change accelerates and the corporate rulebook is continually torn up and rewritten, one factor remains a constant and key part of any organisation's success: people. In fact, going digital hasn't removed the human element from the business equation – it's arguably made it more central.2
Professor Klaus Schwab, founder and executive chairman of the World Economic Forum, has repeatedly stressed the fact the Fourth Industrial Revolution is to be "human-led and human-centred",4 which is a claim supported by many offices and boardrooms around the globe. Almost a third of today's CEOs agree that "most" or "almost all" of their work is now done by people working in teams, with 74 per cent seeing a team-based model improve organisational performance.5
However, this doesn't mean that simply throwing together a team and hoping for the best is the magic bullet for business success. A workforce lacking in motivation is still doomed to fall short. A recent Gallup poll suggests that only a third of workers in the US are engaged in, enthusiastic about, or committed to, their work and workplace.6 Further research proposes that a majority of employees aren't even "somewhat" motivated, passionate, or excited about their jobs.7
Now, more than ever, it's imperative that organisations focus on what it takes to build and maintain a winning team, and promote a successful corporate culture.
Culture shock
Businesses underestimate the importance of a strong company culture at their peril. Far from just mounting a motivational poster or developing a catchy slogan, culture is the guiding force behind an organisation's ethics, and requires a genuine commitment to living and breathing it every day.
When done right, corporate culture can enable a long-term and sustainable competitive advantage, and can be a key factor in the effective execution of an organisation's strategic vision.8 However, the everyday reality is usually decidedly less positive. Studies have suggested that under a third of working individuals think their organisation has a strong culture,9 and nearly half of employees believe that their leadership is minimally or not at all committed to improving the situation.10 The ramifications for any business are startling: culture is increasingly cited as a key reason why employees may accept a position,11 pass on the perfect job,12 or quit outright.13
Traditionally, team building – that periodic call for employees to assemble for a designated group activity – has been viewed as a key tool for enhancing corporate culture. However, with as much as 80 per cent of executives now agreeing that their culture must evolve if they're to succeed, grow, and retain the best people, the time has also come to rethink team building activities as we know them.14
Broken building
For any defenders of the team building status quo, the statistics don't make for particularly pleasant reading. Recent research suggests that only a quarter of employees believe that their organisation excels in its team building efforts.15
The abiding complaints are all too familiar – team building activities are seen as an unwanted and time-consuming distraction, lacking in structure and even appropriacy.16 In blunter terms, many employees still just don't see the point. Evidently, it takes more than an improvised quarterly event of enforced interaction to communicate the very real and meaningful value of teamwork and collaboration to employees.
The new normal
This need for a rethink has been thrown into even starker relief by the COVID-19 pandemic which, as the bane of 'business as usual', may force a change to traditional team-building exercises.
With nearly half of employees now preferring a model that will let them work from home more often in the future,17 and three in four chief financial officers planning to shift at least five per cent of on-site employees to permanently remote positions,18 business leaders must now consider a reality in which assembling a team in person may no longer be feasible.
Remote working presents a unique and sizable challenge for team culture. Remote workers potentially communicate less with colleagues than they did before,19 which may lead to them feeling disconnected, less productive, and even less creative.20 In a virtual environment, there may also be a tendency to overlook the importance of relationships, and to treat workers as mere cogs in a machine, out of sight and out of mind.21 And, crucially, any sense of demotivation that is born out of an employee feeling isolated can significantly impact wider team spirit and precipitate a damaging domino effect.22
Evidently, the 'quick fix' of the traditional team building event is no longer sufficient, nor is it necessarily even possible. In this new normal, a new direction is required.
A change in approach
Affecting real change and enabling sustained improvement comes from the ongoing dedication of people striving together towards a common goal – not just once a quarter but all year round.
Rather than forcing connection through artificial activities that bear little resemblance to a team's daily responsibilities, there is significant benefit to be found in encouraging more organic connections by making culture a natural component of everyday tasks.
Lasting success is brought about not by clambering over an obstacle course, but by fostering mutual respect, and sustained fulfilment comes not from capturing a flag or completing a puzzle but in deepening real-world relationships with a focus on emotional intelligence.23 When people feel like they're appreciated and given a sense of belonging, they're more productive, motivated, engaged, and over three times more likely to contribute to their full potential, which has significant bottom-line business benefits.24
Six key components in building the 21st century team:25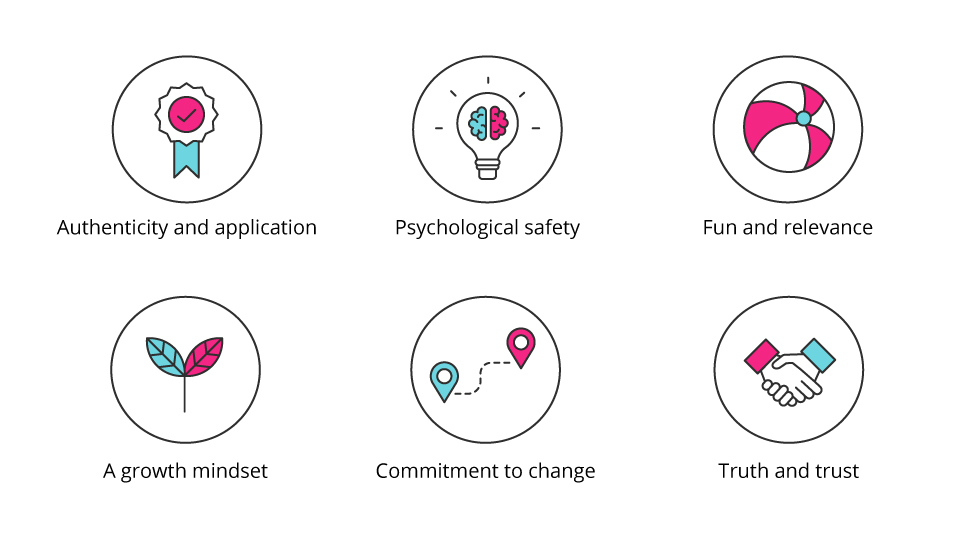 ---
Stay competent, confident, and informed
Sign up to our monthly newsletter to receive the latest course information, insight from renowned thought leaders, and a summary of our most recent blog articles.
---
Why trust building?
It's impossible to overstate the central role that trust plays in building a winning team. The ability to build trust outranks all other leadership attributes,26 and research has shown that enhanced trust among colleagues even activates brain systems that can motivate teamwork and make work feel like play.27
There are no easy shortcuts to building trust. It takes a concerted amount of time, intention, and hard work to develop it and even more to maintain it. However, using trust as the starting point for building a team may just be the most important thing a business leader can do. Studies have shown that, instead of pursuing traditional team-building activities based on vague concepts of 'collaboration', injecting elements of personalisation and self-disclosure into one's daily operations can unify a team and keep it motivated for the long haul.28
Trust-building examples
With this in mind, you may find significant value in shifting from a model of the occasional team-building exercise to a process of ongoing trust-building activities across every aspect of your work environment. Here some ideas for simple activities that can grow and enhance trust in an increasingly digital working world: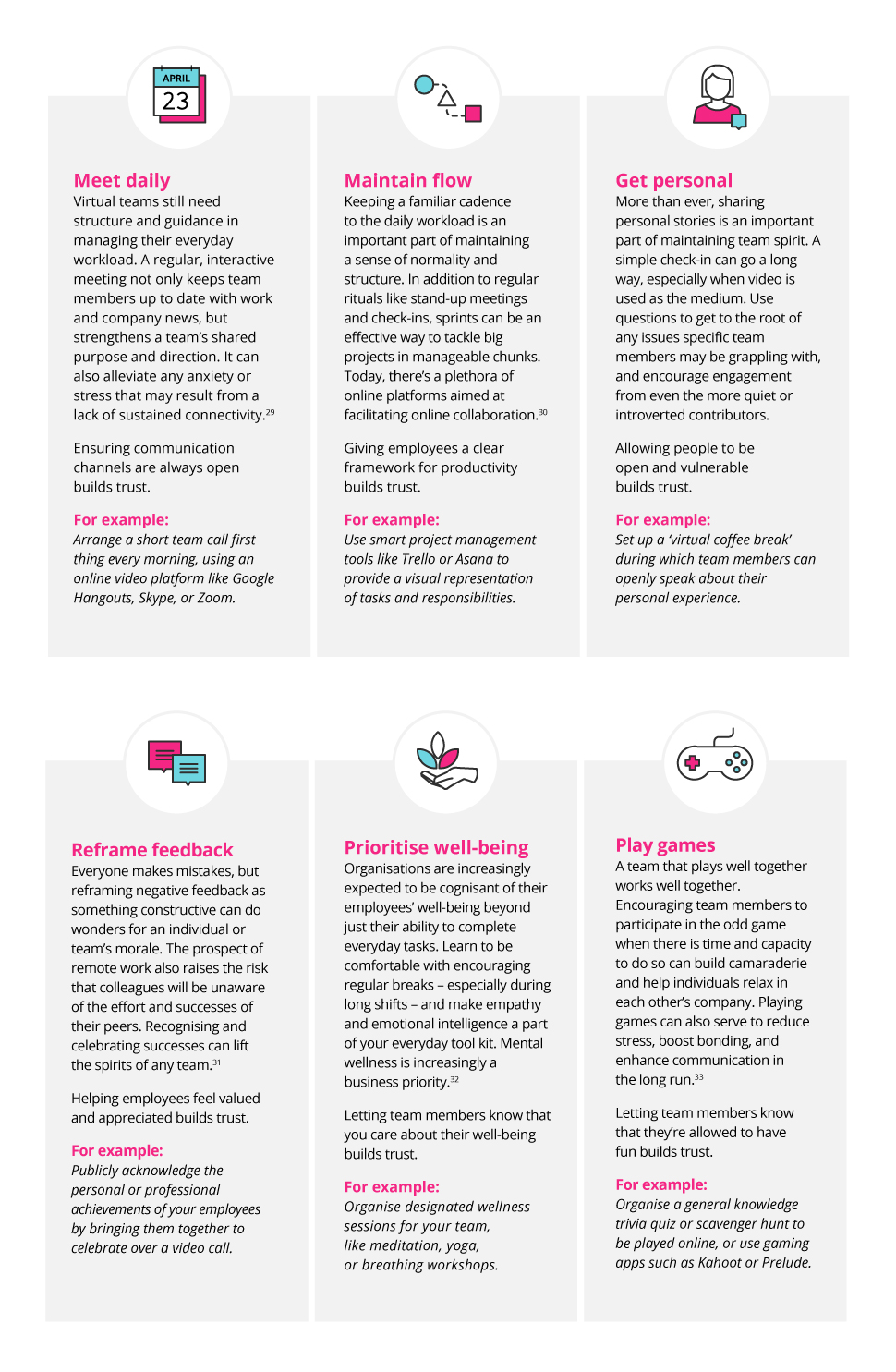 Invest in your organisation's future today