How to Identify Key Training and Development Needs for Your Employees
Most managers understand the importance of business growth through training and development in an organisation, but they fail to ascertain the needs of the individual within the company. It's counterproductive to provide training that isn't needed or, worse, to give the wrong training altogether.1 But how would a learning and development (L&D) manager determine what training is needed for current and future skills within the company?
How to identify the training needs of employees
Carrying out a training needs analysis (TNA) is the best, most cost-effective way to identify the training needs of the talent in a company, and it's the first step within the training development cycle.2
A TNA should give the business answers to the following questions:3
What training is required and why?
Where is it needed?
Which individuals need it?
Who will provide it?
How will it be provided?
What are the cost implications?
How will it impact the business?
Methods of training needs analysis
There are several TNA methods that can answer the above questions. Not all of these approaches will work for all businesses, so select the method or methods that are best suited to your organisation:4
Questionnaires
Observation
Interviews
Examine employees' work
Assessments and reviews
The levels of a training needs analysis
Understanding the training requirements of employees can be handled with a three-tiered approach of TNA.5 It involves: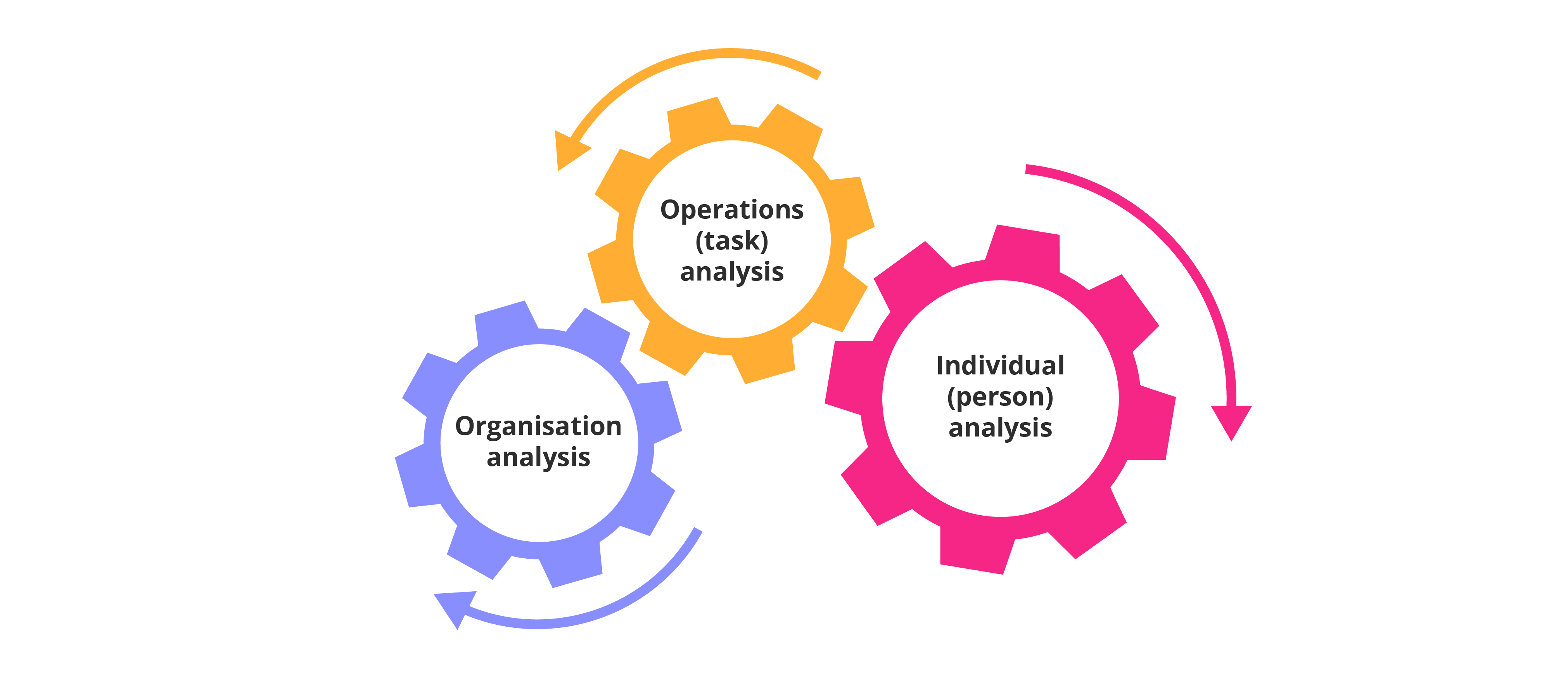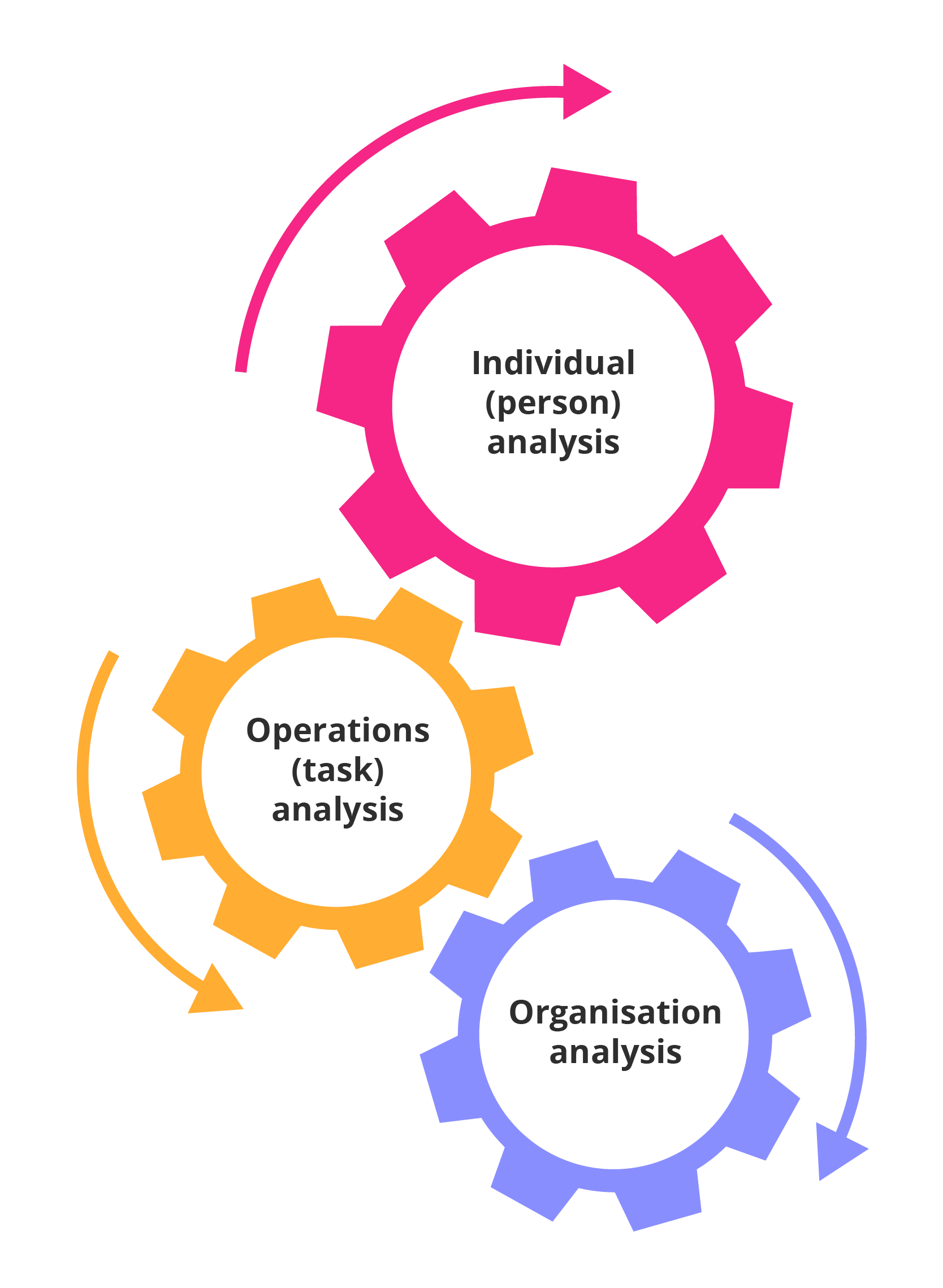 Assess the business.6
Identify the business's mission and goals regarding employee development, and what support senior management and managers will offer regarding training. Find out what resources are available for training, and if they are sufficient for the projected development goals.
Assess operations and tasks.7
Identify what skills are necessary to perform each task, and then compare it with the existing skills and knowledge of the staff. This analysis will highlight any potential skills gaps. You could set up assessment centres, run tests, and observe the team carrying out key tasks to determine the level of current skills and knowledge, compared to what is ideally required to perform these tasks.
Assess the individual.8
Identify the training needs of each employee by analysing performance reviews and appraisals. It would also be beneficial to find out from each employee what challenges affect their day-to-day tasks. Some questions you could ask the management team to determine the training needs of employees include:


What mistakes does your team make on a regular basis?
What actions would you like to see your team take, but don't?
When you think about employees performing their jobs optimally, how does that look?
What do you think prevents your team from performing a certain task to high standards?
What is the one thing you would change in how your team carries out their tasks?
What task would you like to see your team trained on? What would you like to be trained on?
What new technology would help you and your team to carry out your work?
What new technology would you like to see invented to help you with your work? Why?
Two findings should emerge from the analysis:9
Present training needs. The TNA will highlight where training is needed most, what skills and knowledge are required, and who needs to be trained.
Future training needs. What should also emerge is the potential impact that changes in technology, business development, legislation, and company growth will have on the organisation's future training needs.
How to identify and train skills gaps of the future
According to Pierre Nanterme, Chairman and CEO of Accenture, digital innovations are changing the demand for skills in the future, and businesses worldwide are facing a skills crisis that could delay the economic promise of technological advancement.10 Ordinary changes to our skills-development programmes will not be enough to meet the rising future skills requirements.
With this in mind, the L&D manager is faced with the difficult task of anticipating training requirements for skills needed to operate technology that has yet to be invented. However, there are ways to prepare for the future skills required in your company:
Build with who you have.11 The employees you have right now are the best source your company has for meeting your growth needs. It's more cost-effective to retain the people who already know your business, your core values and your customers, and rather invest in their training to close upcoming skills gaps.
Invest in future talent pools now.12 Meet with local educators, colleges, universities, and high schools and offer on-campus awareness and recruiting programmes, internship awareness, and workforce readiness programmes. Network with educators to discuss what skills businesses require, and how educational institutions can help bridge the gap.
Identifying the important training and development requirements of your employees is the first step. An ongoing commitment to the training and development of your employees will ensure your business is better positioned to harness the potential economic thrust that is synonymous with the introduction of new technology.