How to Improve Employee Engagement
Employee engagement is moving up the priority list in organisations that understand the worth of their talent, and want to ensure they're not lured elsewhere. Some have even replaced the traditional chief human resources officer with a chief employee experience officer.1
Why are companies moving towards greater employee engagement? This is not solely in response to the war for talent. Employers who invest in employee engagement benefit in key performance areas that impact businesses significantly.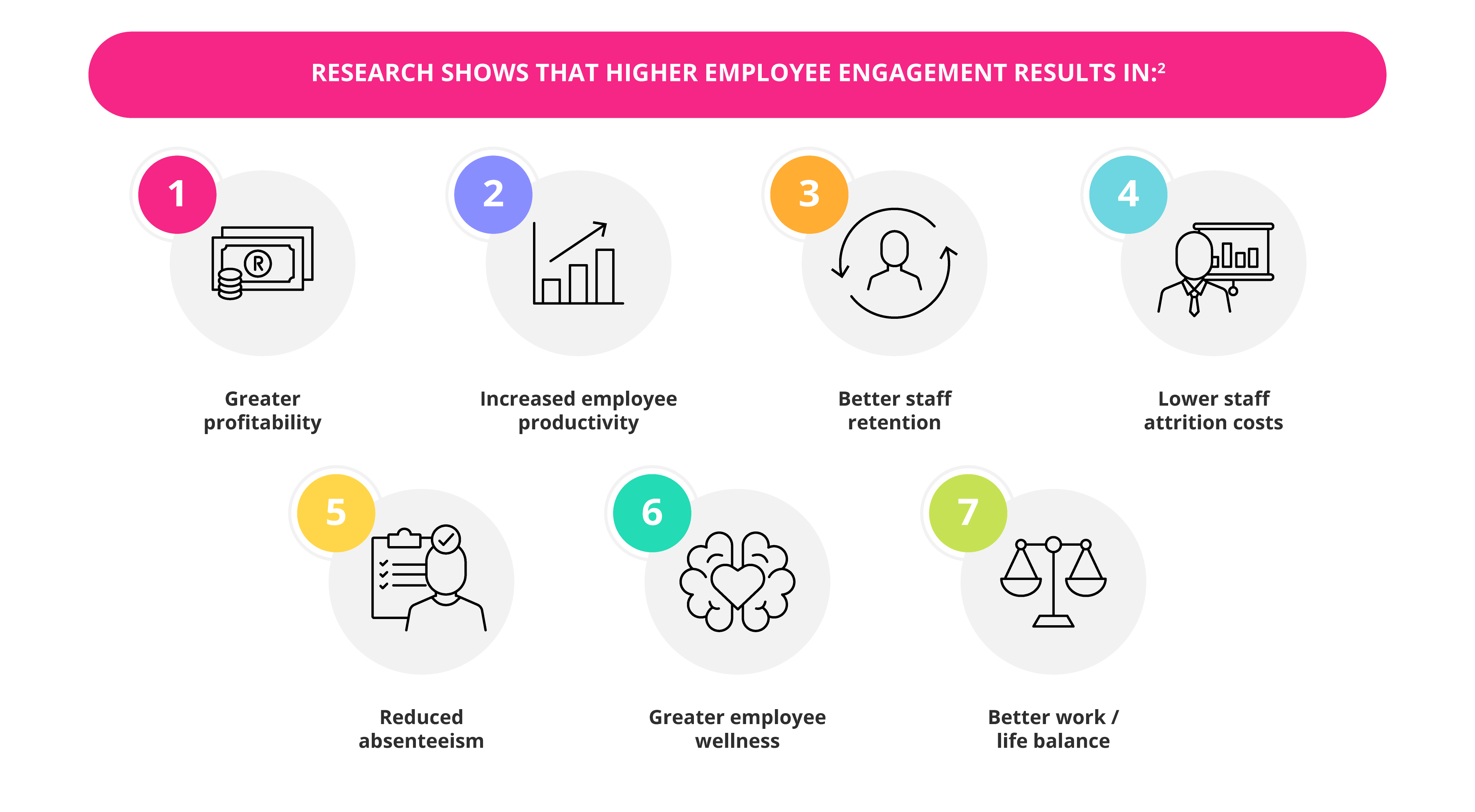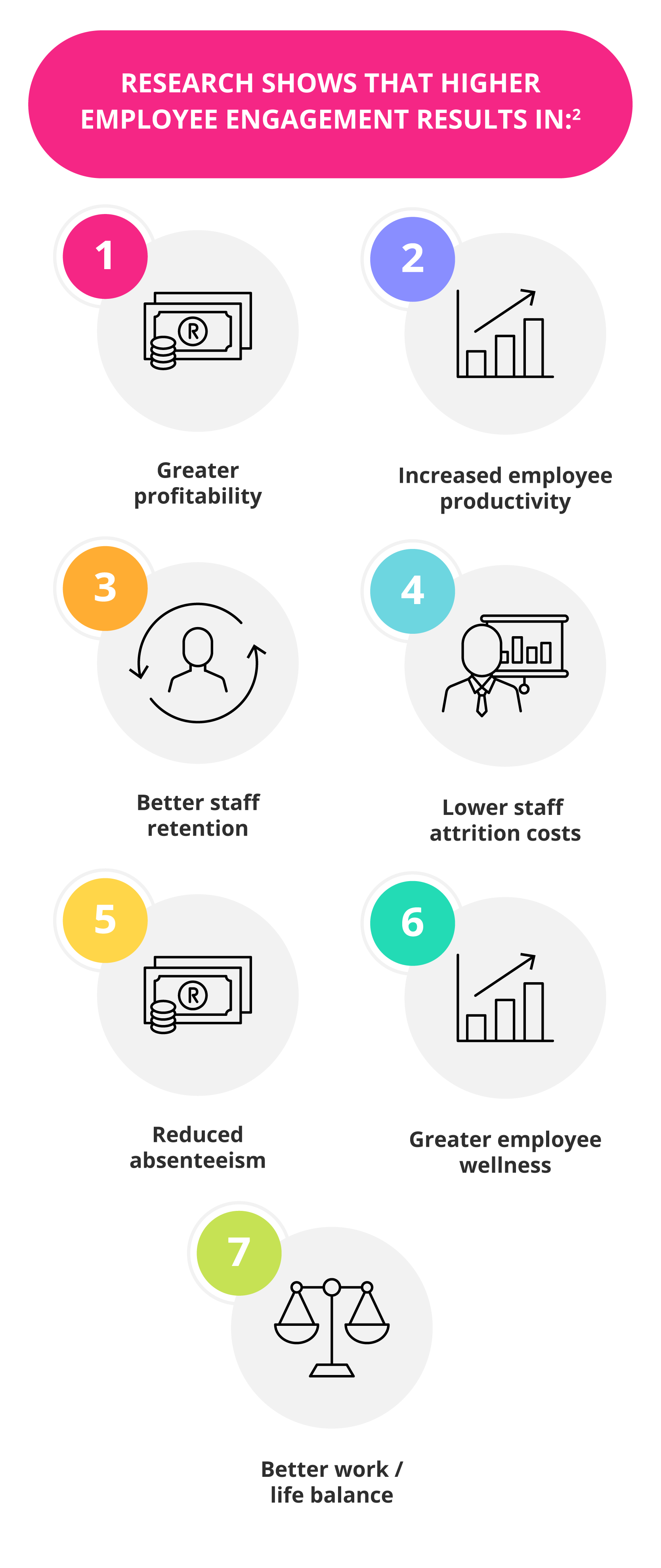 How to improve workplace satisfaction for multigenerational employees
Most businesses have a convergence of generations in their teams, which needs to be taken into consideration when strategising towards improved employee engagement. According to the Pew Research Center, millennials (those born between 1980 and 1994) now make up the largest portion of the workforce in the US, contributing 56 million employees to the marketplace, with Generation X (those born from 1965 to 1979) accounting for close to 53 million, and baby boomers (those born after World War II) sitting at 41 million.3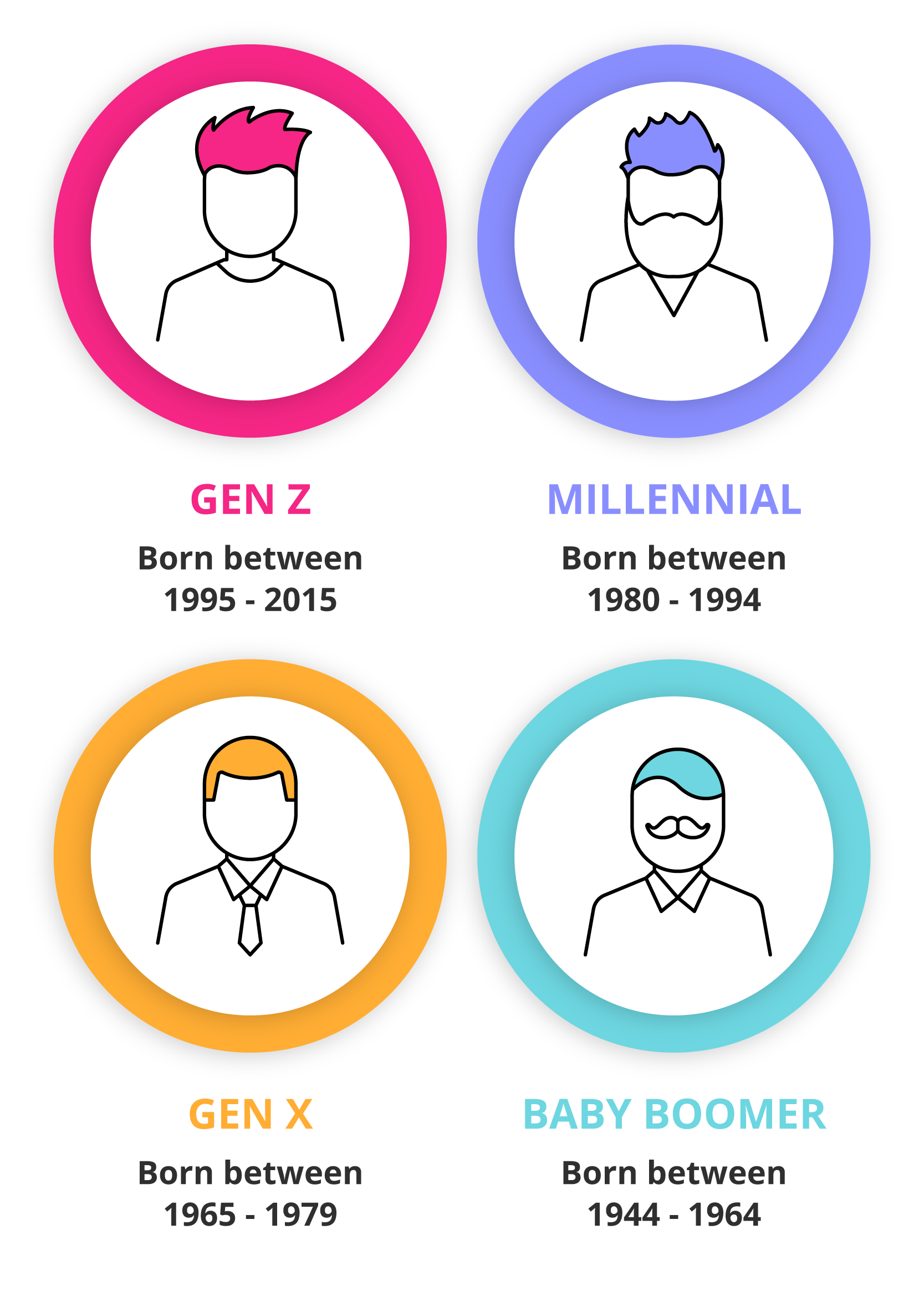 While baby boomers, generation X, and millennials are similar in many areas when it comes to engagement, there are some clear differences. Millennials tend to feel engaged with a company when they have career opportunities and are offered career development, while generation X views a company's commitment to professional development as a contributor towards greater job satisfaction.4 More than just offering free lunches or fancy perks to drive quick engagement, a holistic change in the way businesses interact with their employees is needed.5 Here are some ways to improve employee engagement in the workplace.
Invest in good managers6
A good manager understands that their own success, as well as that of the business, predominantly depends on employees' achievements. A good manager will look for ways to empower their employees, identify and applaud their contributions, and will seek out their ideas and opinions. A manager who engages with workers on a business's objectives, and who has the ability to give employees a clear sense of organisational direction, is part of what creates a healthy business and successful work environment.7 Whether companies hire externally, or promote from within, selecting a leader who has a primary focus of effectively managing employees will greatly increase the likelihood of higher employee engagement.
Encourage flexibility8
Flexibility in the workplace gives employees the freedom to manage their work schedules or location to suit their needs. This often comes down to a matter of trust between employee and manager, but when given flexibility outside of the rigid eight-to-five office hours, research has shown a 13% improvement in employee performance.9 When it comes to managing generation Z, close to one-third insist on having a say over their work schedule.10 Millennials similarly are not primarily motivated by financial reward, but rather by a flexible lifestyle, and the opportunity to work in structured, small teams.11
Nurture authentic, honest relationships12
A sincere relationship between employees and managers can facilitate a trusting work environment and improve teamwork, especially when employees see that they can be honest, and not feel like they need to hide things from management.
Promote taking breaks13
A work culture that encourages short breaks is a great way for employees to refresh and gain perspective while working on difficult tasks. Even providing a team lunch during a stressful project can help employees reconnect and refocus, and have fun together. When employees understand that managers care about their mental and physical well-being, they feel more motivated to work hard, and positively contribute to the team.
Ask for feedback14
Asking for feedback from employees is a great way to engage employees. Typically, employers are the ones giving feedback, not asking for it. Asking for their opinions on projects and tasks will also make workers feel more engaged with the work at hand.
Give meaning to work15
Companies that create meaningful workplaces through their leaders' ability to link daily tasks to a grander goal are shown to have higher employee engagement.16 It's important for many millennials to know that their work is helping improve society, so emphasising the organisation's corporate social responsibility, sustainability, and diversity can play a positive role in their engagement in the business.17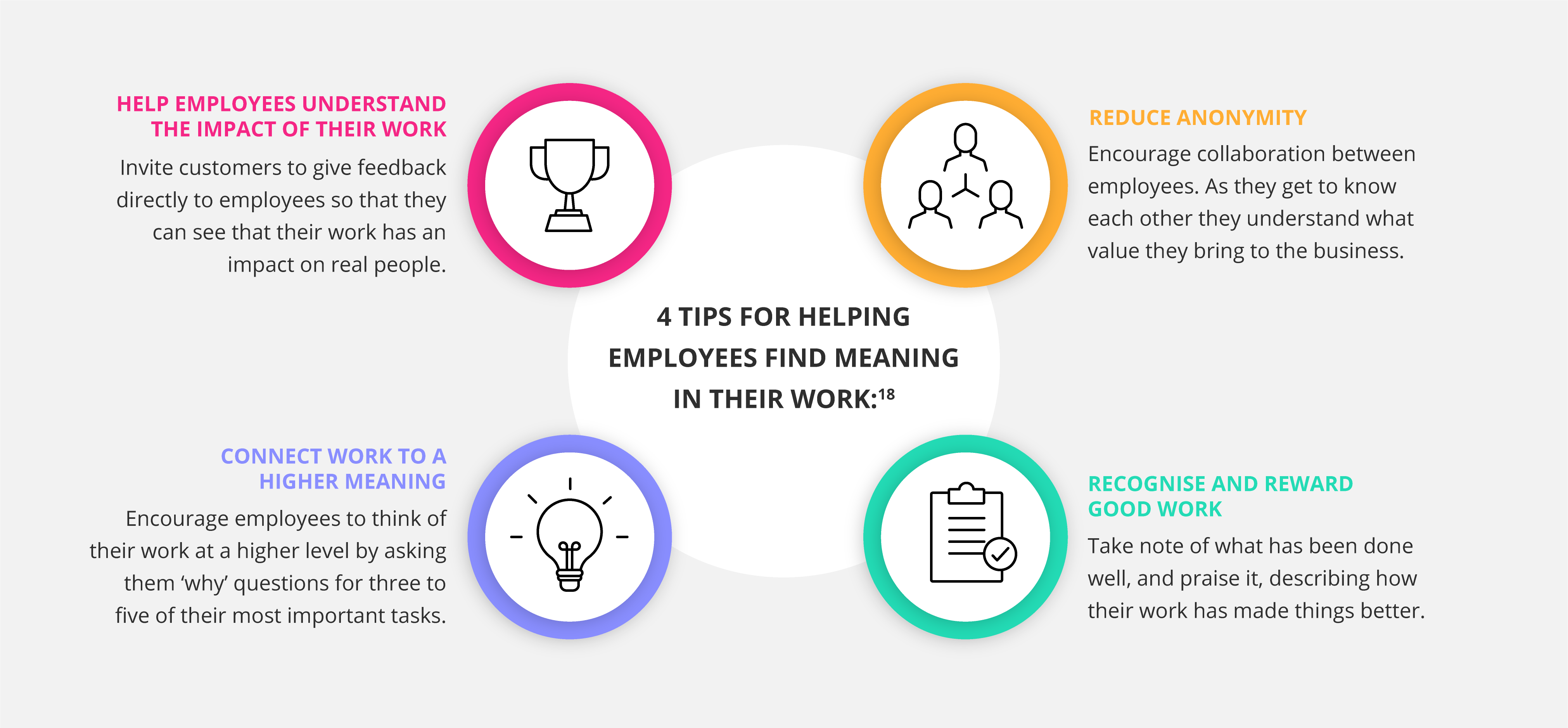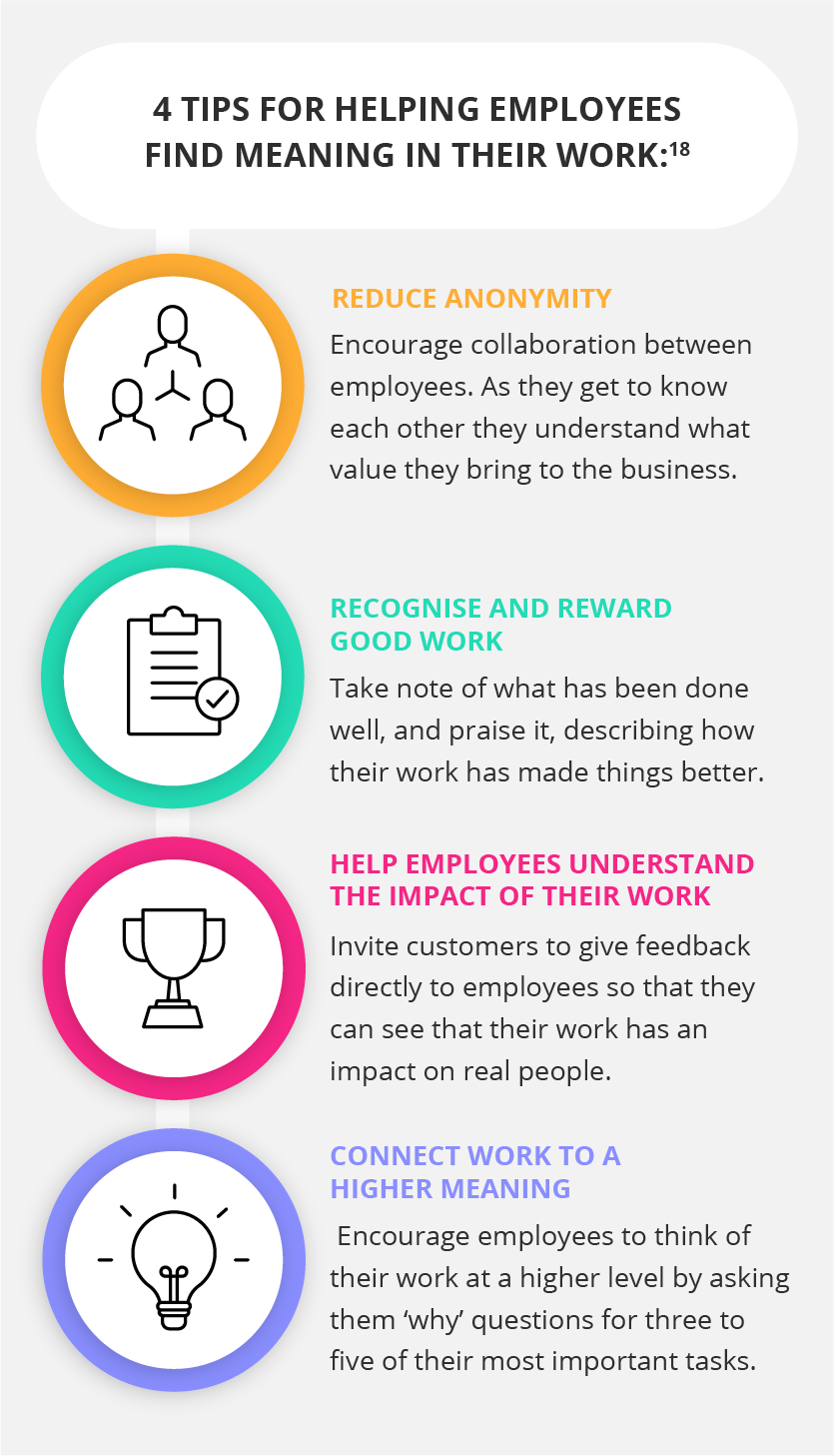 Develop a people-focused, sustainable culture19
Create an environment and culture that supports work-life balance, and that makes people feel that they are valued, heard, and belong. Work-life balance is more important to millenials than salary.20 Improving employee engagement requires a sustainable shift in culture towards a more people-oriented approach. Recognising the mindsets, values, and beliefs that drive employees will help shift daily behaviours.
Mentor and train your employees21
When managers offer their knowledge, experience and know-how to younger employees and act in the capacity of mentor, employees feel engaged and taken care of. One way of expediting the transfer of experiential knowledge is to utilise baby boomers as mentors.22 Their experience and skills can help other generations, and helps to bring a different perspective. When training and mentoring is in line with employee interests and aspirations, it's an effective way to build employee engagement.23
Encourage collaboration24
Not only does collaboration improve efficiency and reduce company costs, it also drives a sense of team bonding, and helps employees learn from others. Empowering teams to come up with their own solutions also builds employee ownership.25 Using agile approaches to let workers prototype and scale solutions themselves helps ensure organisations save money, while making employees feel that they are part of bringing about meaningful solutions.26
Show appreciation regularly27
A simple 'thank you' to employees for their efforts and hard work can improve employee engagement. Millennials in particular expect a lot of feedback and rewards in the workplace.28
Promote happiness29
In America, 83 per cent of employees feel stressed at work, 55 per cent are unsatisfied with their jobs, and 47 per cent have difficulty staying happy.30 A lack of happiness in the workplace is worth nearly a trillion dollars in lost productivity and increased costs. Each year, American businesses lose an estimated $300 billion due to stressed workers, $500 billion due to disengaged employees, and $11 billion due to employee turnover. Being happy at work is vitally important, and needs to be a goal in itself, not just a byproduct of a pleasant work environment.31 Too often laughing at work is perceived as people not taking their jobs seriously enough, however, according to the Mayo Clinic, happiness and humour at work has the following benefits:32
Beats stress. Laughter can relax muscles, lower blood pressure, and improve the immune system
Engages employees. Managers who include humour in their management style have higher levels of employee engagement and work performance, not only from their direct reports, but for themselves
Lowers staff turnover. Employees who work in a humorous environment report higher workplace satisfaction scores and say they're less likely to leave their roles
Encourages collaboration. When laughter is shared, body language is mirrored, as well as hormonal and neuronal activity. This prompts a mutual investment in one another's well-being
Set realistic, everyday engagement goals33
It's important for managers to set engagement goals that are meaningful to their team's daily experiences. These need to be clearly communicated with the team to get maximum buy-in and commitment. Regular one-on-ones with employees will ensure engagement drivers become woven into daily interactions and activities, and become part of the workplace's culture.
Low employee engagement is a problem that can be solved. In short, employees feel more engaged when they're allowed to do purposeful work for meaningful rewards, supported by managers who empower their teams to make decisions, in a workplace that's positive and has a culture that reinforces engagement.34