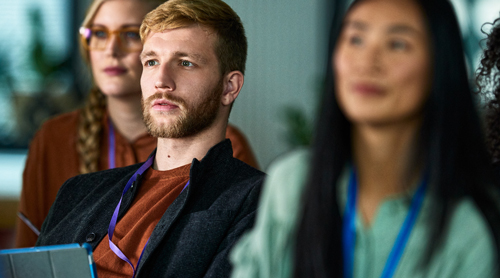 Eighty-two per cent of workers are keeping their eyes open for new opportunities.1 One of the reasons why: a lack of opportunities for growth.2 The development needs of an employee aren't just crucial for fulfilling your company's skills requirements: development of employees can drive retention and efficiency, too. In fact, ninety-four per cent of employees would stay longer at a company if it invested in their careers.3
Understanding the development needs of an employee starts with recognising that no employee enters your organisation as a perfectly formed staffer. In fact, as your company's needs evolve due to digital transformation, it's impossible to consider that any employee entering your business could be entirely prepared for its future needs.4 Here's the empowering news: sixty-eight per cent of employees prefer to learn at work – giving organisations a great opportunity to drive employee development activities.5
Soft skills development areas
Our increasingly roboticised future has made one thing clear: soft skills development in employees is vital. A robot may be able to do, but a robot is not able to lead.
According to LinkedIn's '2018 Workplace Learning Report', training soft skills – an employee's way of thinking and their behaviour – is the number-one priority of talent developers, executives, and people managers.6 Soft skills develop an employee in such a way as to ready them for almost any functional requirement, present or future.7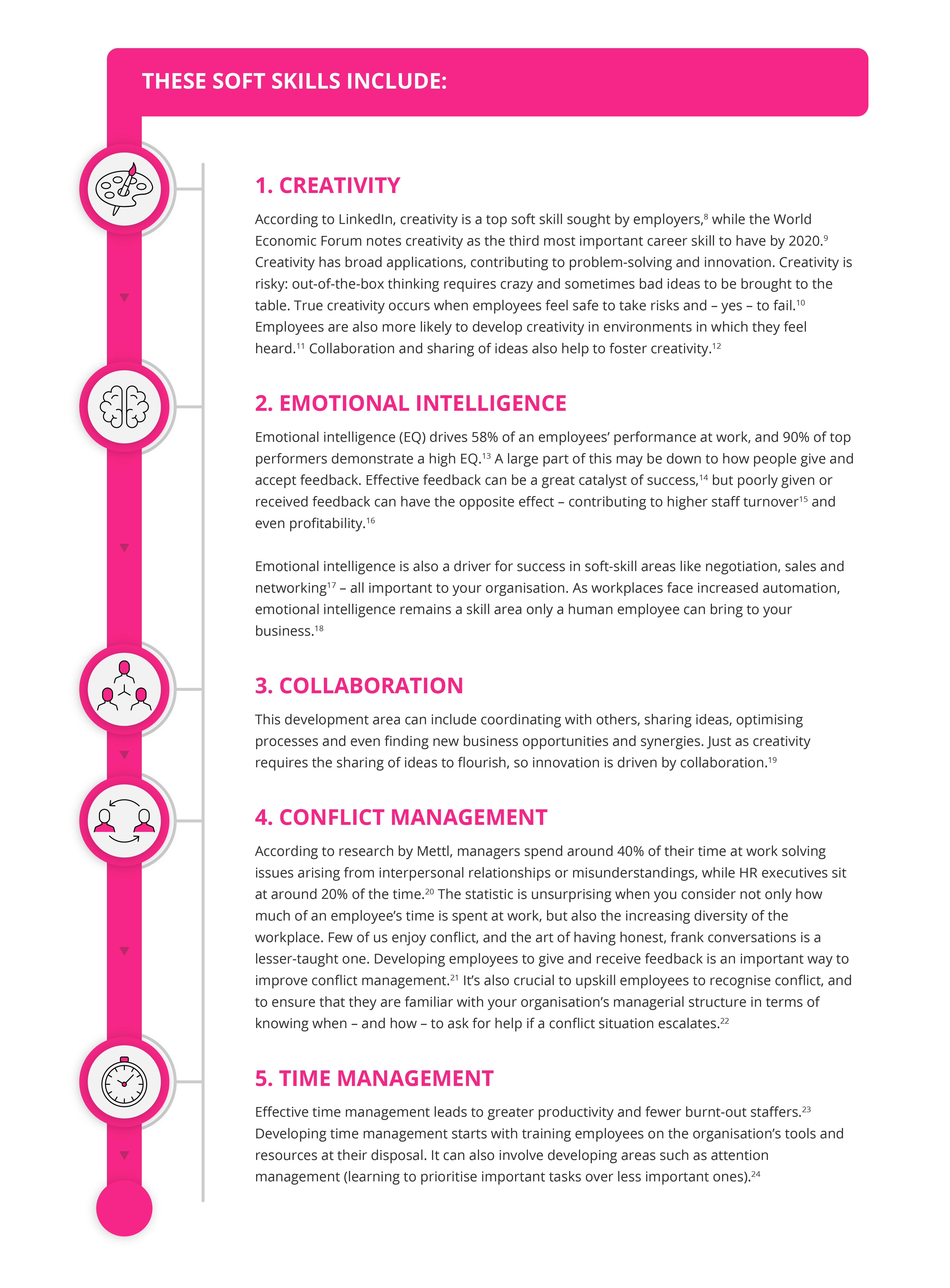 Hard skills development areas
Hard skills – specialised abilities, often directly relating to an employee's particular role – are functional by nature and you're more likely to recruit against these specific requirements. That said, the nature of digital makes it inevitable that you'll need to continually develop even your most qualified employees in these areas. The best method is through short, sprint-like workshops and courses. Shorter, sharper bursts are more likely to be embraced and retained by employees – and more likely to remain as up to date as possible, content-wise.25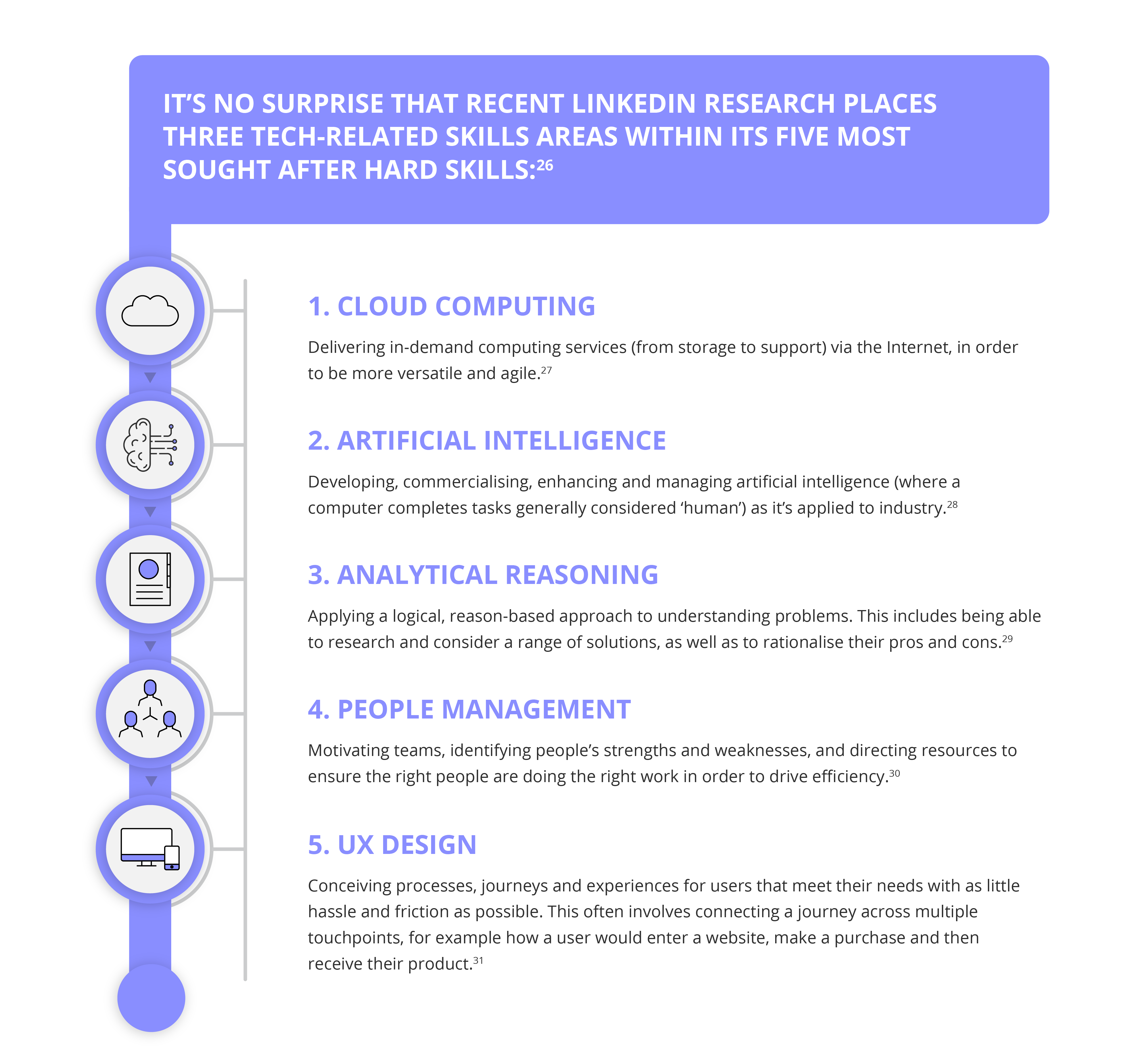 Development areas to future-proof your organisation
'Digital transformation' is a buzzword in business for good reason. Mobile internet and cloud technology account for the biggest technological drivers of change in the workplace, closely followed by advances in computing power and big data, new technologies and the Internet of Things (IoT).32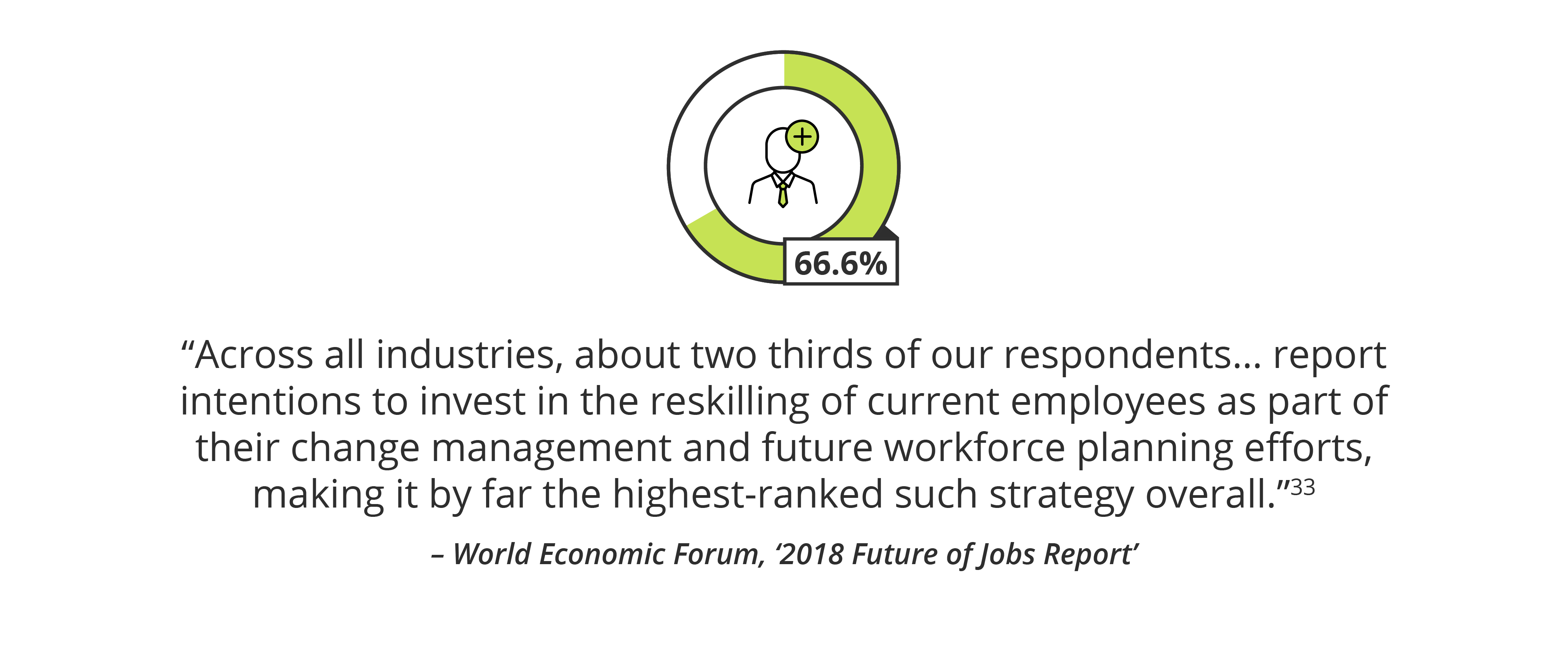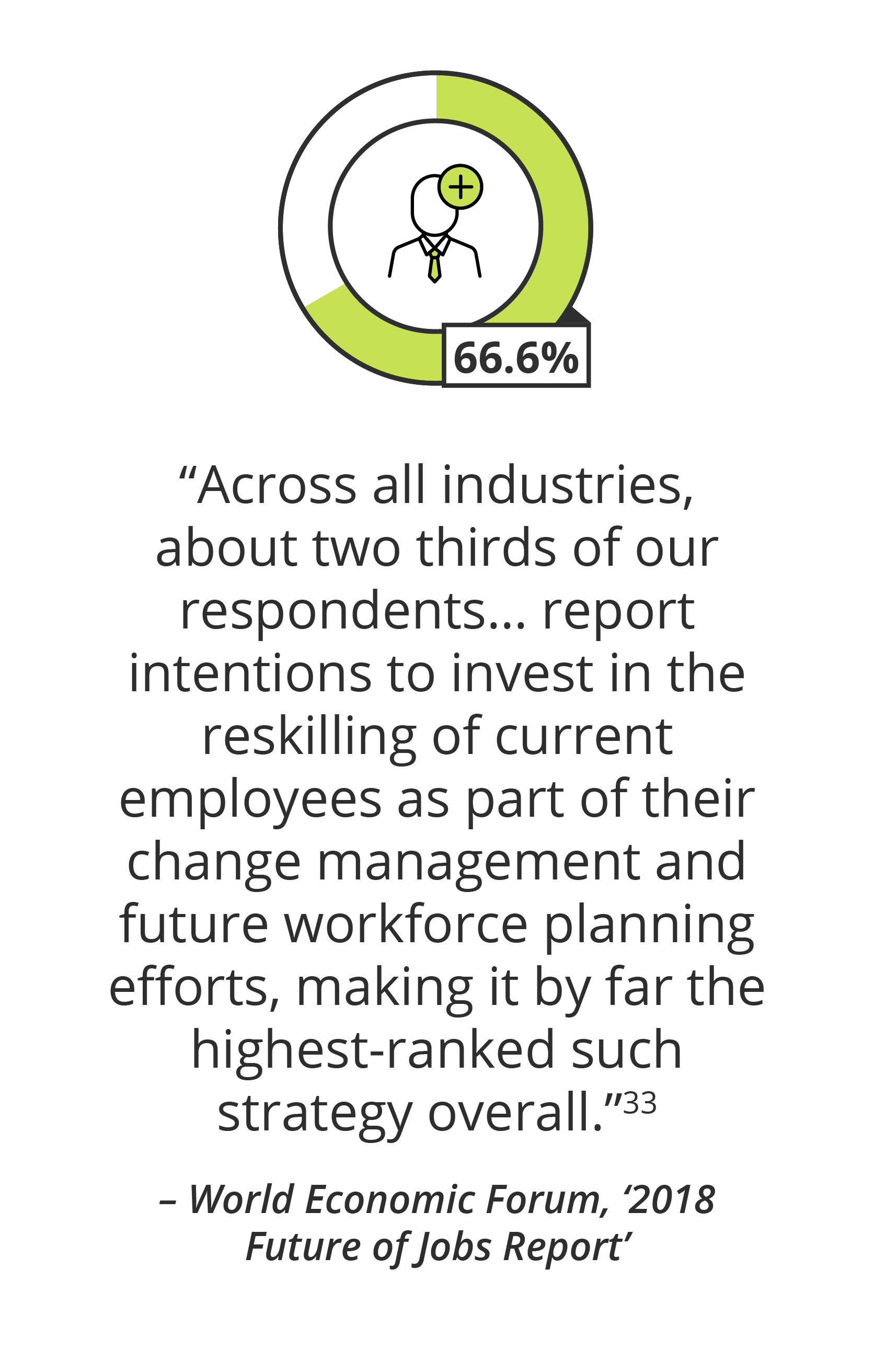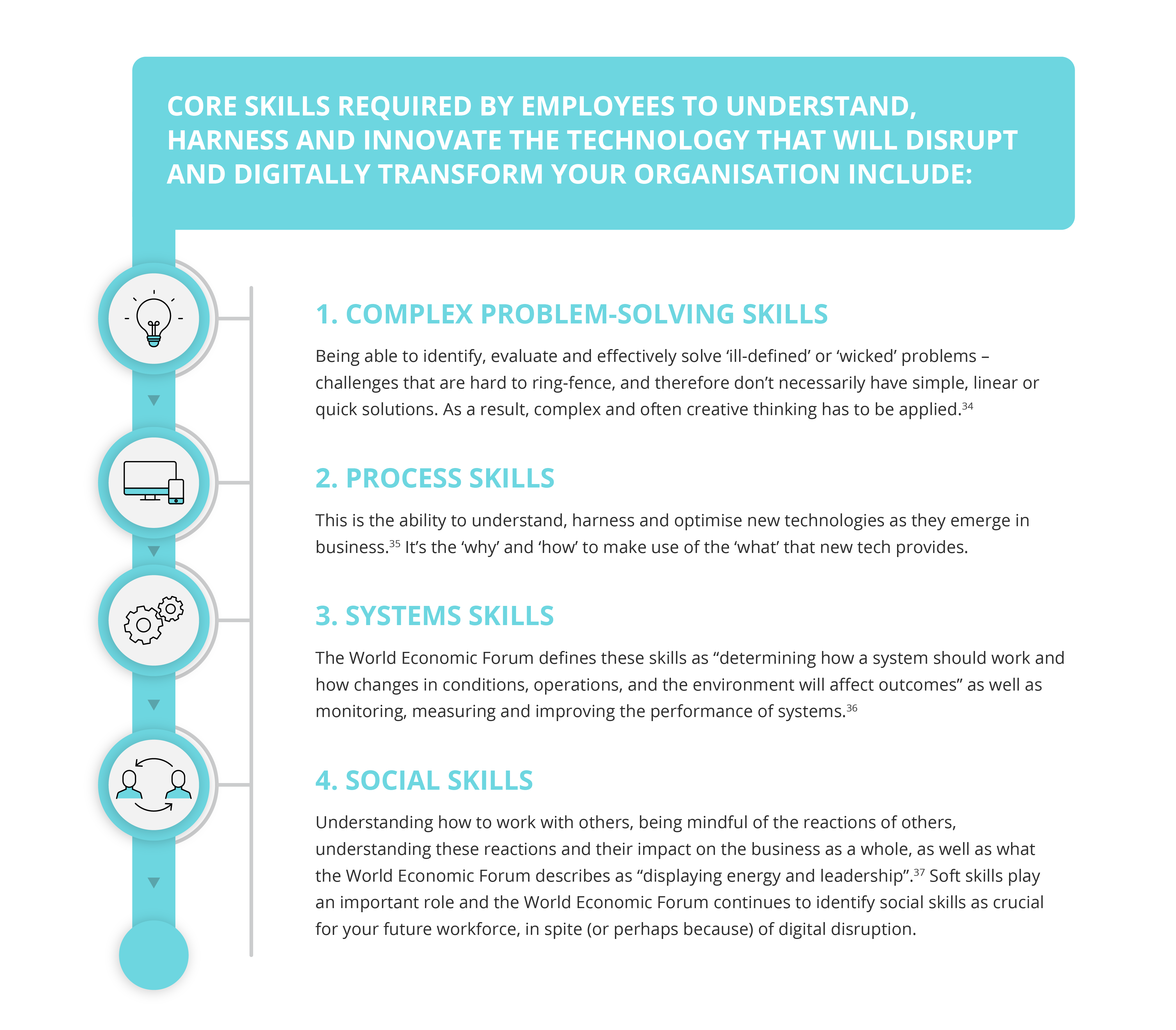 How to identify employee development areas
Approach your needs from two perspectives:
1. What areas does an employee wish to develop in?
This is important for two reasons. Firstly, an employee is on the ground, encountering their own skills deficits and seeing first-hand the innovation for which they need to be upskilled.38 Secondly, if an employee feels invested in, they are more likely to remain in your business.39 Demonstrate your investment in employee growth through feedback, reviews or questionnaires. Other effective tools include:40
Quarterly one-on-one reviews and assessments
Internal questionnaires asking employees about development areas
Making training and development part of employee KPIs
Mentorship programmes
Task and time analysis tools like Chase and Slack to track performance and deficit areas
2. What are your business needs?
Compare your business needs with your current employee structure and job descriptions. Use tools such as these (below) to identify your organisation's future plans and vision, and identify where evolution and development is required:41
Client or consumer questionnaires and reviews
Two- to five-year business objectives mapped against current company organograms and employee job descriptions
Operational capability charts to reveal current competencies compared to required development areas of departments and teams as a whole
It is in almost any organisation's interest to be invested in the development needs of its employees, not least because this forces a company to continually consider where and how it should innovate and grow. People can be a company's greatest liability or greatest asset. Driving the right areas of employee development helps a business secure the latter.42