What is the Difference Between a Career Development Plan and an Employee Development Plan?
There is a resurgence of learning and development within industries and markets. Organisations are realising that training employees provides more than individual growth, it has a business benefit too: substantial impact on growth, engagement, and success.
Understand the difference between an employee development plan and an employee career plan
Although similar, these two plans have distinctly different methods and purposes. An employee development plan focuses on the development of an employee's skills, and is often aligned to larger business growth and goals. This plan is more focused on skills gain, identified by the talent developer according to hiring needs or business skills gaps.1
A career development plan is a personalised plan that targets a specific employee's aim of learning and developing new skills, for the purpose of advancing their individual career path.2 It's less managed by company talent developers and more aligned to the personal efforts of the employee.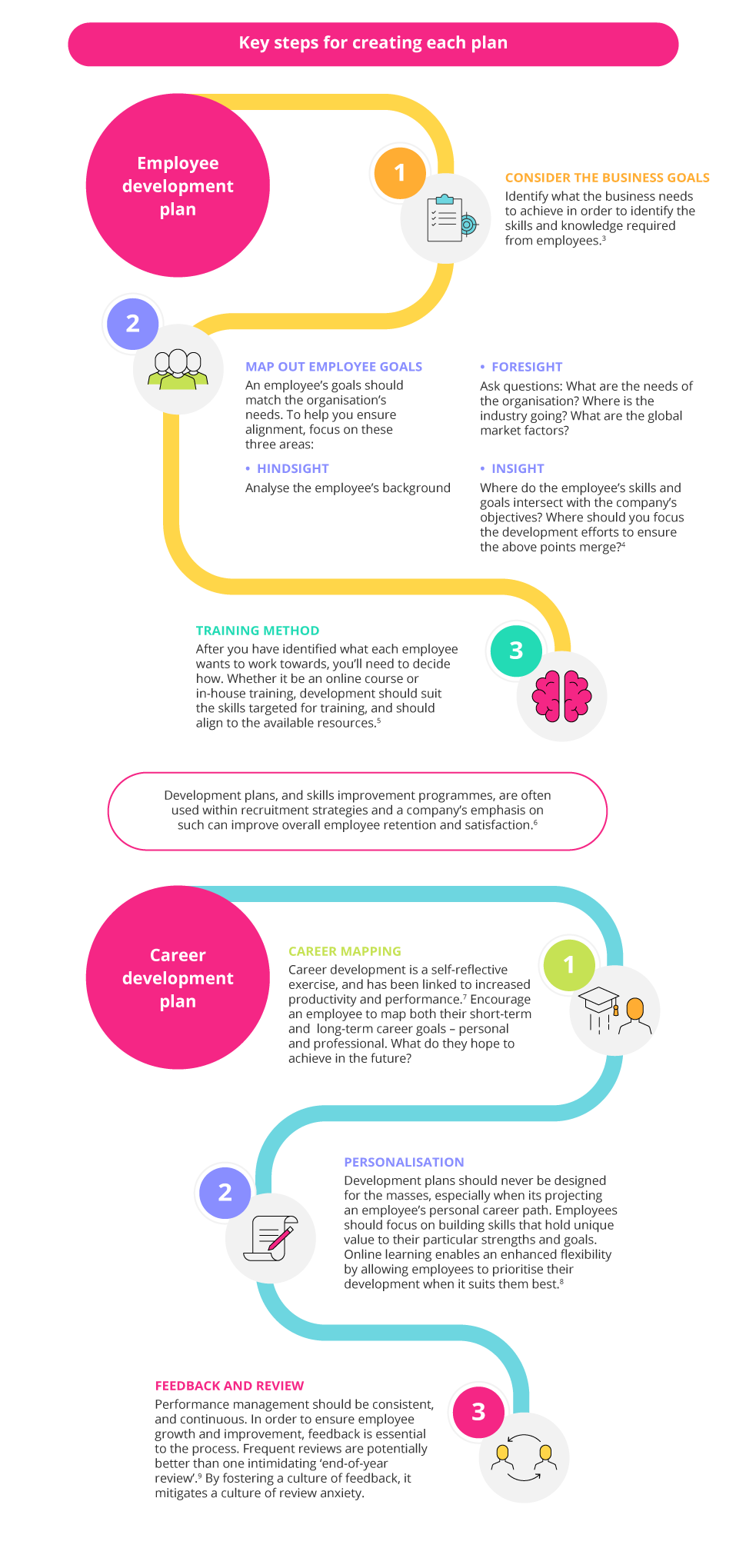 Although both plans function by establishing set goal objectives, an employee development plan is more commonly fuelled by company incentives. As employees improve, so does the company. Training is an effective way of preparing future organisation leaders, by relying on internal talent resources.10
Career development has a much greater emphasis on the individual's personal career objectives, that may not necessarily be related to an organisations larger goals. Ideally, career development will benefit both employee and business, as the one naturally influences the other. By way of training, employees should become more promotable, more highly skilled, engaged, and loyal to the company that has invested in them.11
Future development trends
Despite the digital revolution and rise of disruptive technology, the number one priority for talent development is training for soft skills.12 Here are some of the top trends for learning and development (L&D):13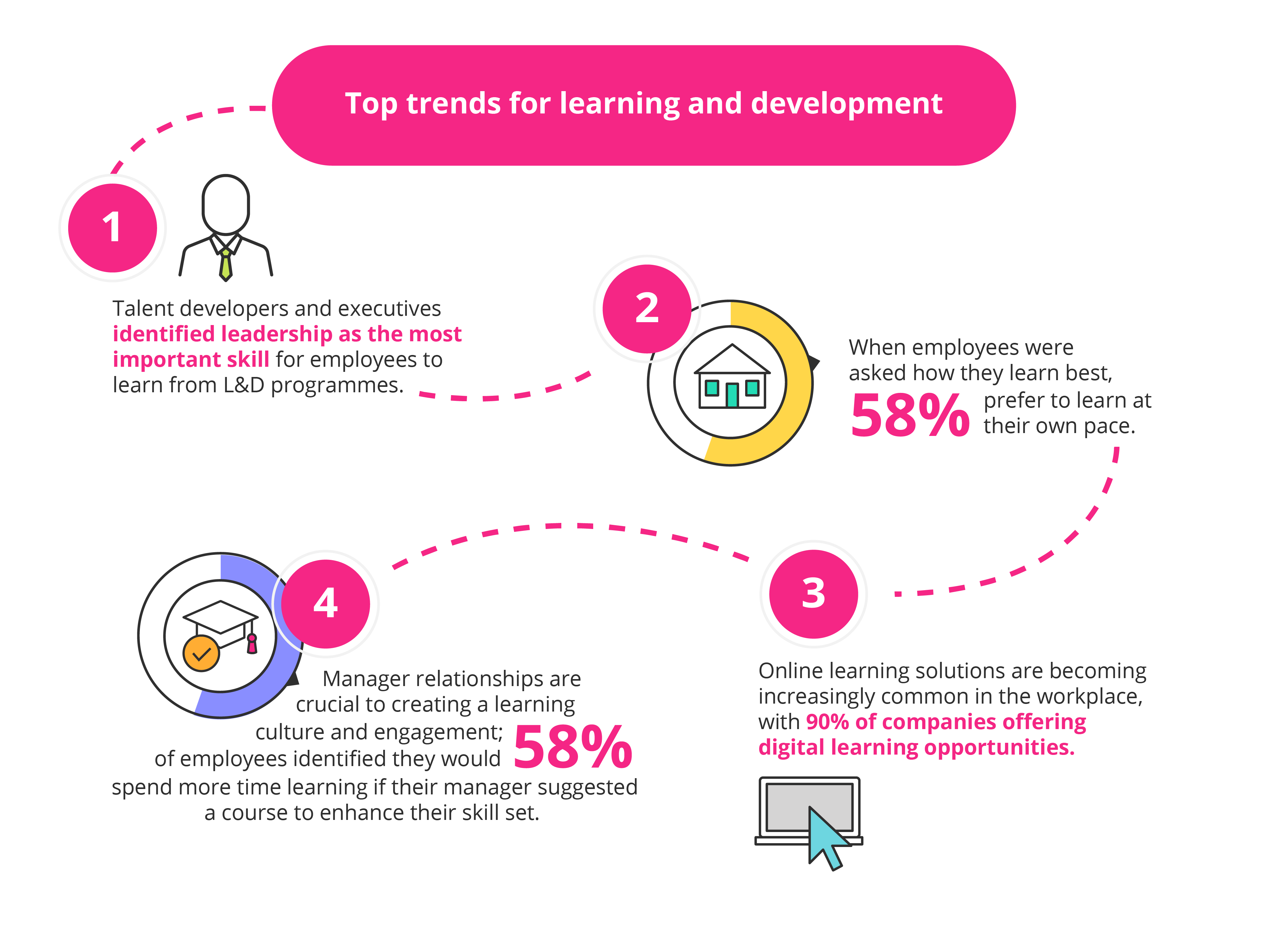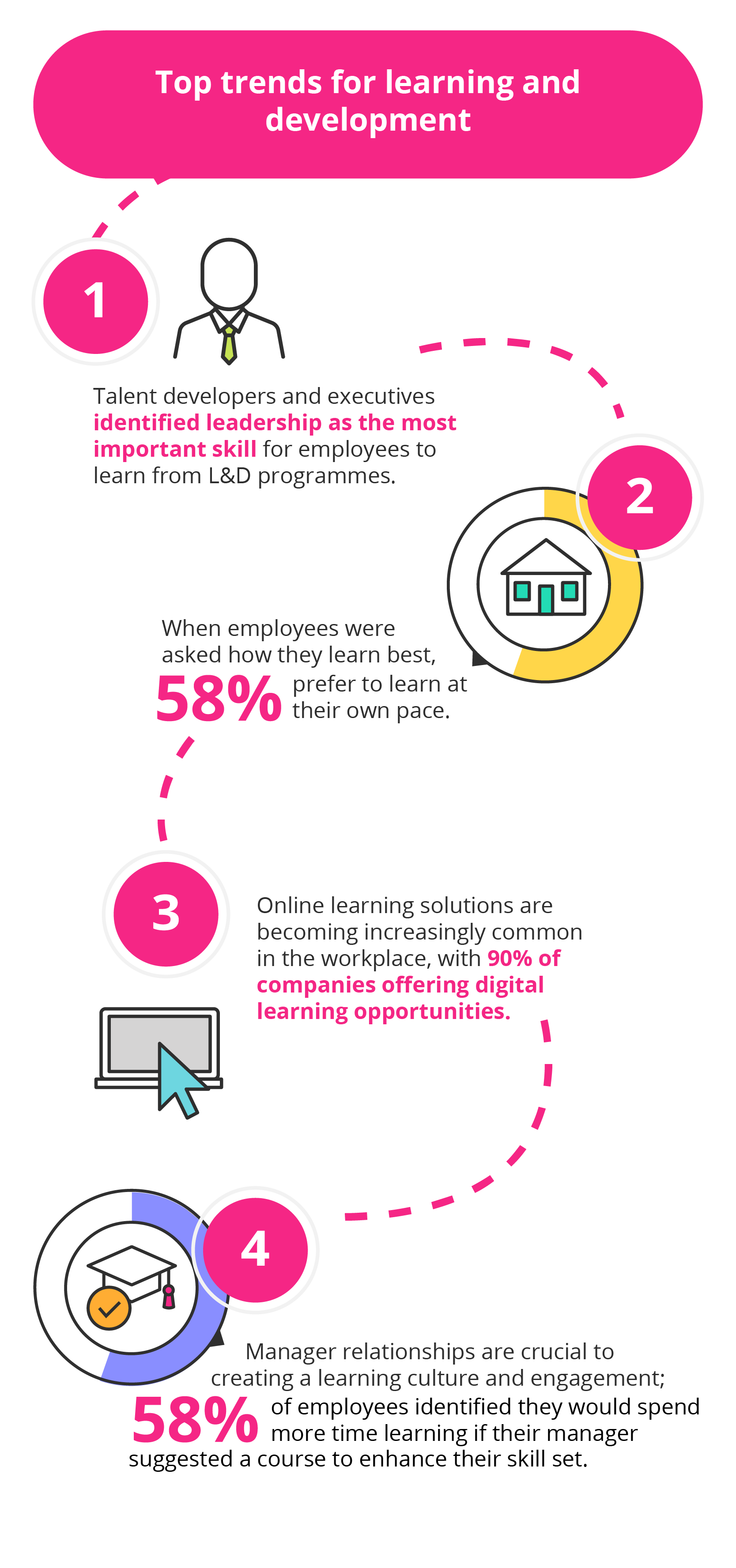 Both an employee development plan and a career plan need to hold the specific employee accountable for their own progression and development.14 Before general career expansion or targeted skill improvement training can occur, managers need to ensure that the employee is prepared and capable of achieving the projected plan. Often the incentive of development is advancement, whether that be a title change, a salary increase, or a step forward within your 10-year plan.
Whatever the motivation, performance improvement consultant Julie Giulioni says managers need to be realistic when "inviting new responsibilities and activities into someone's role. They have to figure out how to offload other things to make room for it so it doesn't become punitive".15 Managers should guide and support employee plans by encouraging growth and providing opportunities, but avoid 'owning' the plan; an employee's development depends on their own commitment.16
In 2016, millennials became the largest generation in the US workforce. What's more, a report by the Society for Human Resources Management (SHRM) revealed that 88% of millennials place a greater importance on career development opportunities compared to baby boomers.17 Globally, companies need to prioritise training, not simply because it's crucial for workplace engagement and staff retention, but because the workforce is changing and companies need to facilitate a new generation with new workplace priorities.
The current workforce recognises an organisation's focus on employee development and will choose their company accordingly. Talent and human resource teams need to remain aware of generational intricacies, and develop training strategies that actively engage employees and harness their digital fluency. Be it an employee development plan or career plan, both offer a mutually beneficial impact to an organisation. Development plans should initiate career plans, and vice versa. As a company's biggest asset, investing in your employees means investing in your company's future.