Applications of Speech Recognition
What is speech recognition?
Speech recognition technologies such as Alexa, Cortana, Google Assistant and Siri are changing the way people interact with their devices, homes, cars, and jobs. The technology allows us to talk to a computer or device that interprets what we're saying in order to respond to our question or command.1
With a long history of development and innovation, it was the introduction of these artificial intelligence voice-controlled assistants, or digital assistants, into the voice recognition market that changed the landscape of this technology in the 21st century.2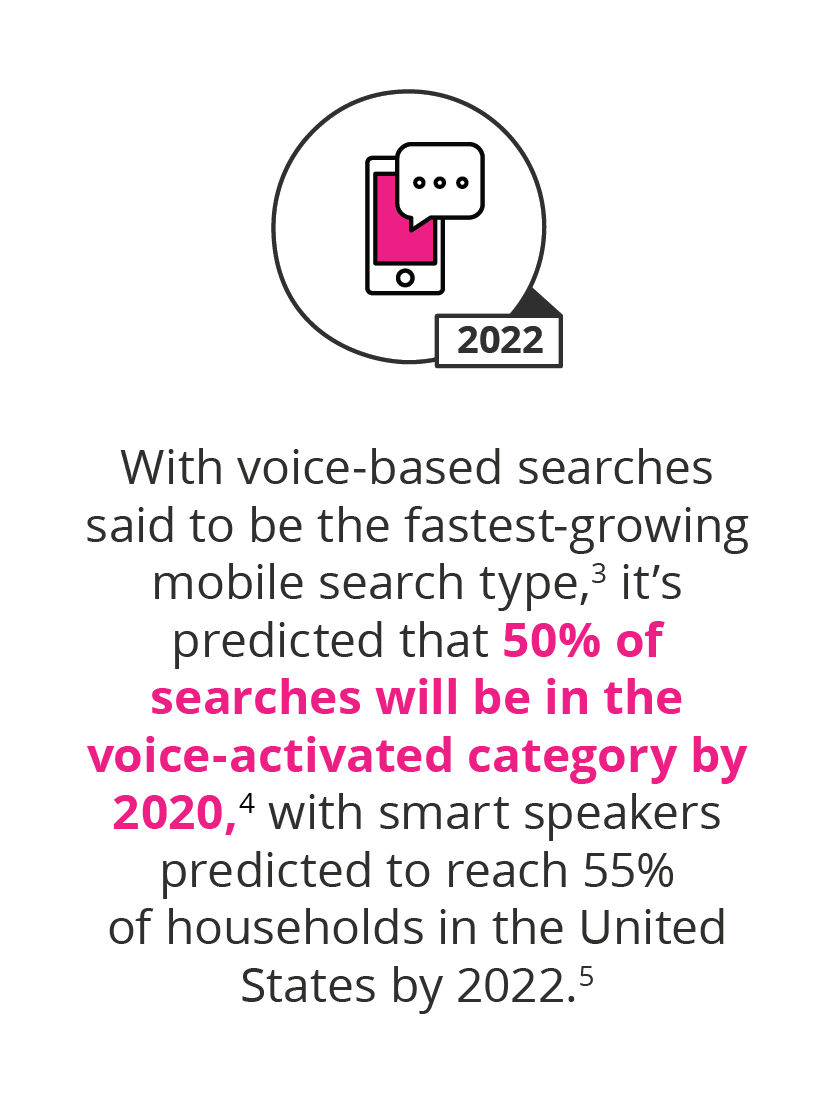 With digital assistants quickly becoming ubiquitous in various aspects of life, understanding their capabilities and applications is paramount to individuals, businesses, and organisations.
Introducing speech recognition digital assistants
Digital assistants are designed to help people perform or complete basic tasks and respond to queries. With the ability to access information from vast databases and various digital sources, these robots help to solve problems in real time, enhancing the user experience and human productivity.6
Popular digital assistants, include:
Amazon's Alexa
Apple's Siri
Google's Google Assistant
Microsoft's Cortana
Applications of speech recognition technology
Speech recognition technology and the use of digital assistants have moved quickly from our cellphones to our homes, and its application in industries such as business, banking, marketing, and healthcare is quickly becoming apparent.
1. In the workplace
Speech recognition technology in the workplace has evolved into incorporating simple tasks to increase efficiency, as well as beyond tasks that have traditionally needed humans, to be performed.
Examples of office tasks digital assistants are, or will be, able to perform:7
Search for reports or documents on your computer
Create a graph or tables using data
Dictate the information you want to be incorporated into a document
Print documents on request
Start video conferences
Schedule meetings
Record minutes
Make travel arrangements
2. In banking
The aim of the banking and financial industry is for speech recognition to reduce friction for the customer.8 Voice-activated banking could largely reduce the need for human customer service, and lower employee costs. A personalised banking assistant could in return boost customer satisfaction and loyalty.9
How speech recognition could improve banking:10
Request information regarding your balance, transactions, and spending habits without having to open your cell phone
Make payments
Receive information about your transaction history
3. In marketing
Voice-search has the potential to add a new dimension to the way marketers reach their consumers. With the change in how people are going to be interacting with their devices, marketers should look for developing trends in user data and behaviour.11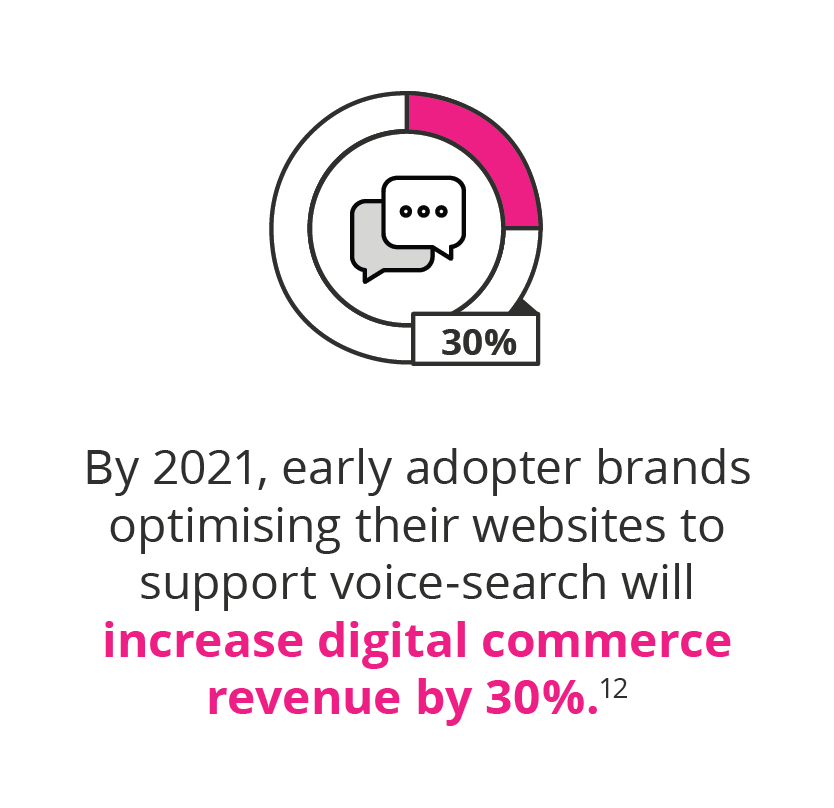 Data – With speech recognition, there will be a new type of data available for marketers to analyse. People's accents, speech patterns, and vocabulary can be used to interpret a consumers location, age, and other information regarding their demographics, such as their cultural affiliation.13
Behaviour – While typing necessitates a certain extent of brevity, speaking allows for longer, more conversational searches.14 Marketers and optimisers may need to focus on long-tail keywords and producing conversational content to stay ahead of these trends.15
This type of fast search could make users more impatient and increasingly dependent on choosing to use the internet as their main source of information.16 Due to this, the amount of time users spend looking at a screen might decrease. Marketers should consider what this might mean for predominantly visual content, as there may be a shift towards focussing on auditory and information-heavy content.
4. In Healthcare
In an environment where seconds are crucial and sterile operating conditions are a priority, hands-free, immediate access to information can have a significantly positive impact on patient safety and medical efficiency.17
Benefits include:18
Quickly finding information from medical records
Nurses can be reminded of processes or given specific instructions
Nurses can ask for administrative information, such as the number of patients on a floor and the number of available units
At home, parents can ask for common symptoms of diseases, when they should go to the doctor, and how to look after a sick child
Less paperwork19
Less time inputting data20
Improved workflows21
The most significant concern using speech recognition in healthcare is the content the digital assistant has access to.22 It has been recognised that the content will need to be supplied and validated by recognised medical institutions, in order for it to be a viable option in this field.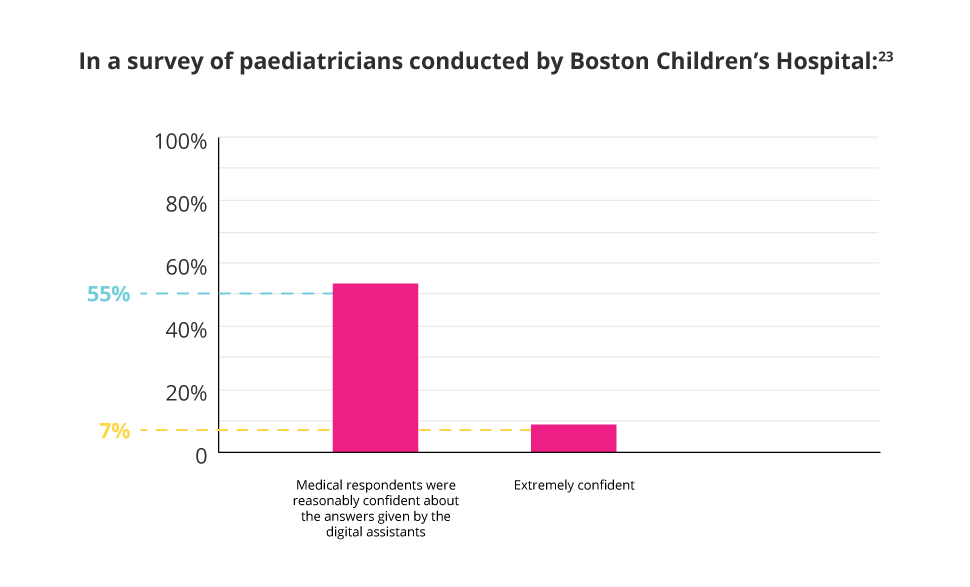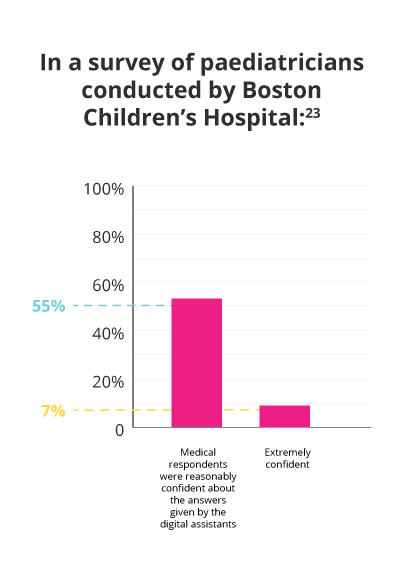 5. With the Internet of Things
Siri's ability to connect to smart lights and smart thermostats24 makes it seem as though instructing your digital assistant to turn the kettle on is not far off. The Internet of Things (IoT) is not the futuristic possibility it once was, but rather a relevant development happening around us.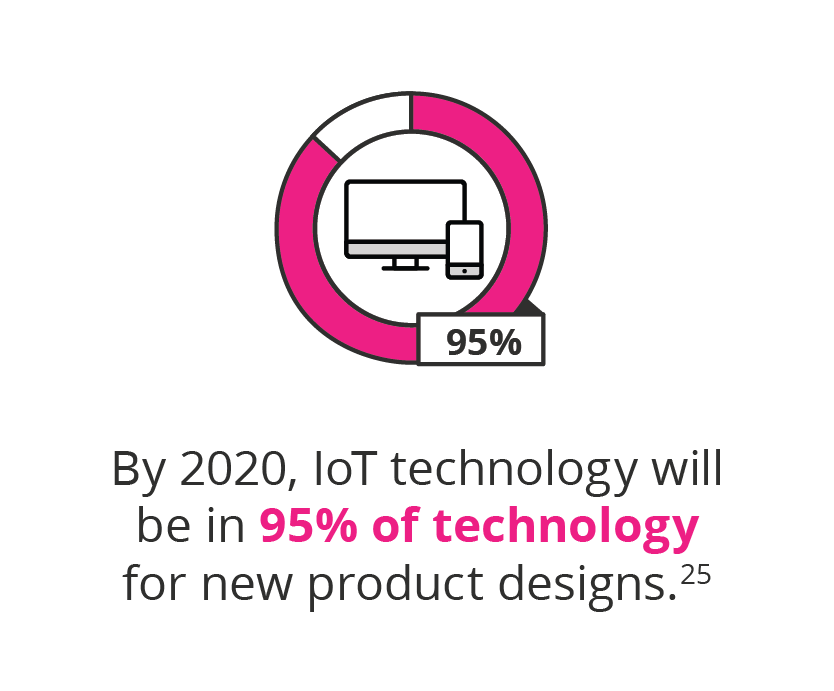 Currently, one of the most prominent applications of speech recognition in the internet of things is in cars. It is predicted one in every five cars will be connected by 2020.26 The advantages of this could change the way we drive and interact with our vehicles, with the overall aim of limiting driver distractions.
Digital assistants application in cars:27
Listen to messages hands-free
Control your radio
Assist with guidance and navigation
Respond to voice commands
6. In language learning
One of the most transformative applications of speech recognition technology from a human perspective is its ability to remove language barriers and cultural boundaries in aspects of social life and in the workplace.28
A world without language barriers opens up great possibilities for collaboration among various countries and cultures,29 perhaps contributing to a faster rate of innovation as a result of the increased diversity.
Future applications
This technology is still largely in its infancy, but with the theory of "hyper adoption", by which consumers tend to adopt new technologies more quickly than they did in the past, it's likely this technology is going to grow and improve rapidly.30 At this stage of the technology's life cycle, having a clear idea of its potential and its likelihood to become a commonality in our daily lives in the near future is paramount. Businesses should be proactive in their approach to introducing or incorporating speech recognition technology into their digital marketing strategy and budget, while individuals should continue to explore the benefits of speech recognition in their daily activities. As accuracy rates improve and consumer buy-in increases, industries can expect to encounter a need to adapt to be more speech centric, and in turn more human, than may have seemed possible in previous years.
Explore the possibilities of HCI for the enhancement of user experience with this online course from MIT CSAIL.