Are we underestimating the gains from globalisation?
Over the years, our world has become significantly smaller. Globalisation has made it possible to collaborate with foreign markets and economies in disparate parts of the world, creating a web of integrated economies and policies, that just 10 years ago seemed implausible. In 2017, the US goods and services trade with China amounted to around $710 billion.1 More recently, a trade war has erupted between the two countries – potentially costing the world more than $430 billion lost in GDP, with even more serious consequences on the horizon.2 Globalisation's impact is undeniable, however, despite its revolutionary legacy, the implications of globalisation haven't gone unquestioned. After decades of relying on global trade – services, economies, and world notions that globalisation has facilitated and encouraged – its core premise is being scrutinized by society and its global leaders.
Globalisation explained
The term emerged as far back as the 1960s, but it was only in the late 1980s that globalisation came into holistic practise.3 Globalisation is a phenomenon and process "by which national and regional economies, societies, and cultures have become integrated through the global network of trade, communication, immigration, and transportation."4 More recently, experts have focused on the economic impact of globalisation, and with this comes politics. As the pitfalls and benefits of globalisation are being analysed, political alliances are also experiencing profound transformations – collectively causing a disruption to life as know it.
The move away from globalisation
Globalisation has made it cheaper to trade across borders over the years, which was originally supported as something positive.5 It has seen wealthy countries, where labour is more expensive, move entire industries to less developed, poorer countries, where the labour costs are less. Goods become cheaper, despite having to import them. As globalisation has continued to rise, governments have become highly competitive in the race to make their country more suitable for potential business.6 The ripple effect has seen labour become cheaper, regulations become looser, and trade unions which protected employee rights – dismantled.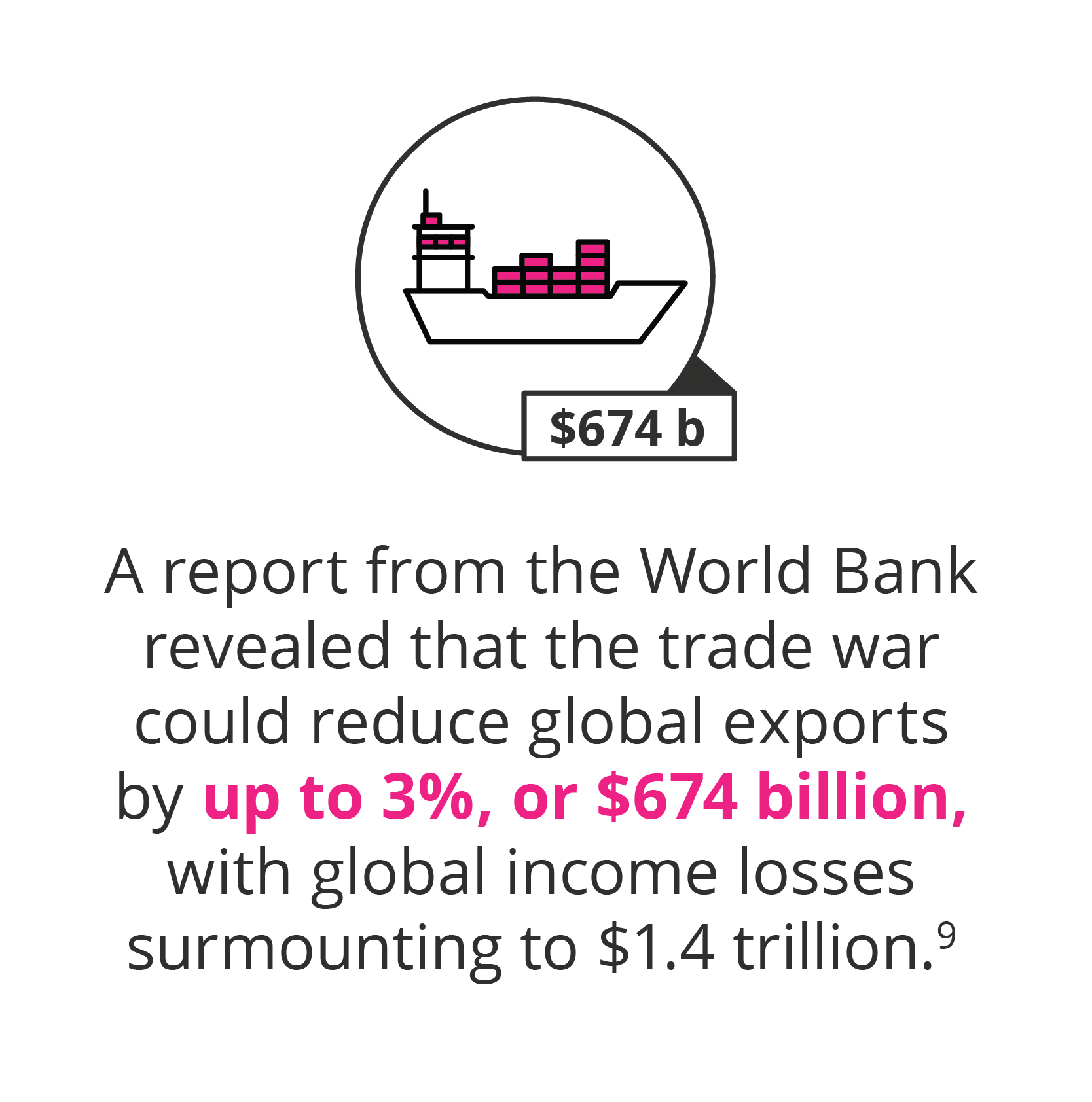 In theory, it was imagined that rich countries would benefit, and in return, poorer countries would develop their economies. However, in practice, this competitive trade has not always benefited each party. In many scenarios, it has produced even worse inequality, unemployment, and wage conditions.7 China, which is still considered a developing country, overtook the US in 2013 as the largest trading nation, and has been the world's largest exporter of goods since 2009.8 The US is one of China's main trading partners, but with the increasing trade tariffs between the countries, this may not be the case for much longer. A report from the World Bank revealed that the trade war could reduce global exports by up to 3%, or $674 billion, with global income losses surmounting to $1.4 trillion.9 A union, once facilitated through globalisation, is disintegrating.
The anti-globalisation wave is rising in a way that's similar to its initial wide-spread love and adoption. "Americanism, not globalism, shall be our creed", sung American President Donald Trump at a Republican national convention in July 2016.10 Trump is among the world leaders disrupting globalised trade agreements in favour of a more independent existence. Following Trump's presidential inauguration, other political leaders have surfaced – producing a populist surge within governments. British Prime Minister Theresa May is among the wave trying to cultivate solidarity, also known as Brexit; a vote that will see Britain leaving the European Union. Rather than remain part of one of the world's largest economic unions, Britain prioritised immigration control and the fear of job loss.11 Though the intention may not have been to completely isolate the English island, the reality could be just that. The Bank of England Governor, Mark Carney, said that, initially, such seclusion will be the main result as trade ties with the rest of Europe will become damaged, resulting in Britain's entire economy weakening and thus higher inflationary pressures.12
France is also joining the ranks of those for de-globalisation. Following her qualifying victory in the first round of the presidential election, Marine Le Pen said, "The main thing at stake in this election is the rampant globalisation that is endangering our civilisation."13 The Catalan independence vote is another example of protectionism, and Greece and Hungry are already ruled by populist parties, ultimately jeopardising liberal democracy and the existing global order.14 Tensions between nations are rising, creating financial pressures and trade instability – calling for an international assessment of our predominant systems.
A gaze over the political climate will indeed reveal who is pro-globalisation, and who is against. Although the backlash exists, and is arguably growing, the globalisation phenomenon remains a powerful force across borders and economies. Although populism and protectionism will never disappear, there's a strong belief that globalisation will continue to benefit many fields of goods, services, markets, and technology as a dominant world trade system.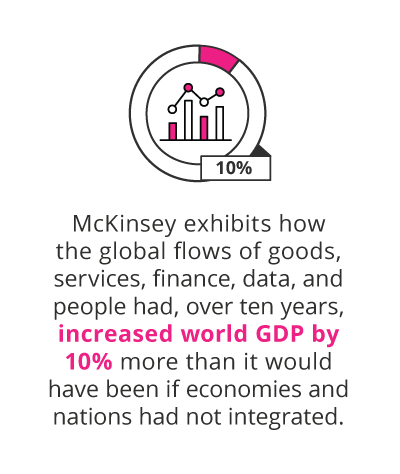 The value of globalisation
Most notably, globalisation has enabled global trade to boom, which in turn has been fueled by supply-and-demand economics and the emphasis on consumption.15 It's widely argued that globalisation has benefited individual economies around the world, which many economists agree has indeed occurred.16 Research from McKinsey exhibits how the global flows of goods, services, finance, data, and people had, over ten years, increased world GDP by 10% more than it would have been if economies and nations had not integrated.17 These cross-border flows have shaped the world we live in today, and the exchange has gone far beyond goods themselves.
One of the main advantages of globalisation is the resulting technological innovation.18 The integration of global networks has been facilitated by technology, both industries growing side-by-side. Global competition has also initiated technological development in the effort to create efficient processes and thus improved economic performance. Companies now rely on their digital presence, and innovation within saturated markets is vital for survival. Michael Hadley, the CEO and President of iCorps Technologies recognises that as a leader of an IT company, he has witnessed how the rise of the internet and the adoption of cloud services have driven globalisation.19 Globalisation and technology have placed developing countries such as China and India in the spotlight, and the fourth industrial revolution is opening the markets for robotics and automation.20 Transport infrastructure has also benefited from the global expansion and connection of countries.
Though the opportunities are vast, operating within these rapidly expanding markets needs to be managed carefully. The intertwined growth of globalisation and technology still runs the risk of creating inequality. Innovation shouldn't increase the gap between rich and poor, and it should be accomplished in a socially responsible way that ensures a better future for all.21 Moreover, as globalisation brings about increased levels of international trade and interaction, the effects of one culture on others need to be carefully considered. Cultural differences need to be taken into account by leaders – both international and organisational – when transacting with foreign markets and parties in this increasingly international environment.
Globalisation has also facilitated diversity within employment markets. Despite the political backlash towards immigration, it remains an important factor within tech markets. Mary Meeker's 2018 Internet Trends report revealed that more than half of the most highly-regarded US tech companies are founded by foreign, first or second-generation immigrants; Uber and Tesla have first-generation founders for example.22 Businesses (and the entrepreneurs leading them) tend to think globally; wider international markets mean larger audiences, and faster opportunity for growth. However, thinking globally is not without its challenges. Different countries mean different political landscapes, new regulations and regimes, shifting trade agreements, among other factors that business owners have no control over.23 To truly reap the benefits of globalisation, leaders need to be agile and constantly aware.
What does our global future hold?
The fluid and unstable landscape certainly opens the conversation and initiates the question many countries have begun to ask; do the pros of globalisation outweigh the cons? At the 2018 World Economic Forum in Davos, Switzerland, more than 2,000 of the world's most elite and powerful individuals gathered to discuss the important issues our world faces. The 2018 programme focused on 'creating a shared future in a fractured world'.24 In an attempt to save the existing global order and liberal democracy, the WEF aimed to reassert the benefits of globalisation and mitigate instability.
Pascal Lamy, a Global Policy Board Member, believes that globalisation is set to continue due to two reasons: technology and politics.25 Lamy acknowledges that political concerns could prevail, however, the level of economic integration and technological development is set so high, that it's unlikely. There's also the cost of "going backwards", and as Lamy explains, "taking the egg out of the omelette is difficult, and expensive".
What does our future hold? Our social and international systems seem to be in dire need of reconstruction, one that recognises diversity, and complexity. Amidst the controversy, there's also a gradual distrust of those who create the policies,26 causing the establishment in its entirety to be questioned.
Political priorities are indeed changing, as are the processes that facilitate globalisation. Will this global phenomenon see a complete stand-still? For now, no; the gates to world economic trade have been opened, and closing them will take a significant transformation, and possibly revolt. But perhaps globalisation is indeed slowing down. As a business leader, whether it's reduced or increased, a sustainable future hinges on a broader understanding and awareness. Currently, the force that is globalisation continues to power through, and our global economy still intrinsically relies on it. It was originally thought to be the solution to consistent financial growth, but economic leaders, political policy-makers, and innovative entrepreneurs are starting to rethink their predictions. How will you prepare for a new global landscape?