Factors Affecting the Real Estate Market
The real estate market is one that is constantly changing, molding and reforming each year as the world around it does too. When looking at the factors that affect residential and commercial real estate, there are four that stand out: government policies, socio-economic factors, demographics and technology. With these key factors, knowing what to look for and how to use it to your advantage could save you time and money – whether you're looking to invest or develop.1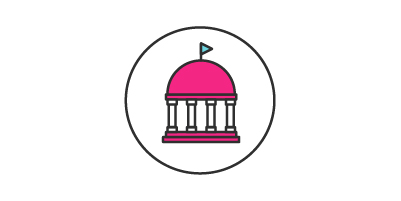 Government policies affecting price and demand
An important factor to look out for when considering investing in property is government policies. Legislation can have a considerable effect on the price and demand of property. There could be a temporary boost in demand for real estate by government influence through tax credits, deductions and subsidies.2 It's important to understand the current political climate in order to identify changes in supply and demand, and make smart investment choices.
Additionally, be wary of the legitimacy of your information. This will prevent you from falling for false trends or failing to read the fine print, such as with the 2009 U.S. first-time home buyer's tax. This was a refundable tax credit offered for a limited time to Americans purchasing their first homes.3 This attempt to jump-start home sales worked temporarily, but only as a result of the tax incentive for that particular year, a fact that was not known to many.4
A more recent blow to the real estate market comes in the form of the United States government shutdown. The shutdown negatively affected over 800,000 federal workers in nine different departments and agencies, including the Housing and Urban Development sector.5 A study of 2,211 members of the National Association of Realtors showed that 11 per cent of respondents reported that the shutdown had an impact on their current clients and 11 per cent claimed there was an impact on their potential clients. Of those affected by the impact, 25 per cent had buyers that refused to buy property, due to government uncertainty.6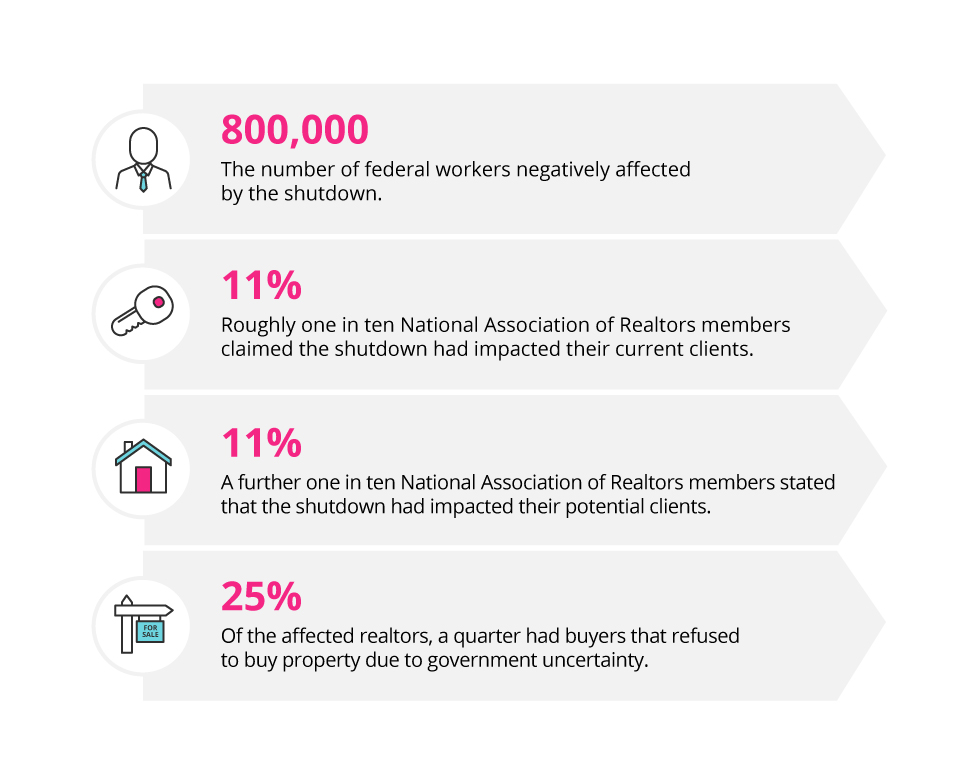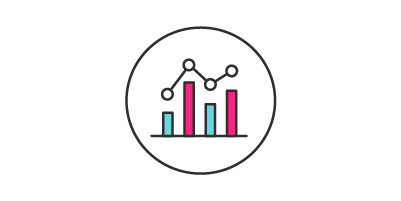 Socio-economic factors affecting the real estate market
The relationship between economic conditions and the real estate market is significantly reciprocal.7 However, a dip in the economy may not affect everyone in the same way. In fact, through strategic planning and being aware of factors such as construction costs, inventory mixes and seasonal trends, there are opportunities to invest in a worthwhile property.8 While a struggling economy may not be a welcome sight for most, it does ensure there are available bargains for investors and first-time buyers in areas where there may be significant property price drops.9
Knowing what kind of commercial property to invest in can help you avoid the backlash of a bad economy. For instance, an investor who has a predominant ownership of hotels would typically be more affected by a recession than an investor who has invested in office buildings. Hotels generate income from short-term leases that are easily avoided when there is an economic downturn. Alternatively, office tenants require long-term leases that are not so easily changed on a whim.10
In addition, a basic understanding of interest rates, and how the economy can influence those rates, makes a financially stable decision much easier, such as choosing a mortgage. Typically, there are two kinds of mortgage rates – fixed rates and adjustable rates. Fixed interest rate mortgages have a shorter lifespan, but the interest remains fixed for the entirety of the mortgage's lifespan. The interest rate on an adjustable rate mortgage can change monthly, depending on the terms of the mortgage.11
---
Stay Competent, Confident and Informed
Sign up to our monthly newsletter to receive the latest course information, expertise from renowned thought leaders, and a summary of our most recent blog articles.
---
Advance your understanding of real estate with GetSmarter's selection of online real estate courses.
---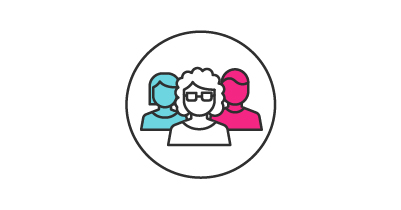 The role of demographics in property trends
Often overlooked, demographic and socio-economic factors play a large part in predicting important property market trends. Being aware of who resides in a particular area is powerful information, such as millennials who are most likely starting families and beginning to build their careers, or baby boomers who are getting ready for retirement. Gaining knowledge of this is largely advantageous, and can help investors and developers gain a better understanding of prospective buyers or renters.12
Investors are likely to spot trends before they emerge by examining the demographics of an area they want to invest in. Change in income, children growing older and moving out – these are some of the factors that influence demand and can help investors locate desirable real estate investments.13 This information is also particularly useful to buyers who are looking to find a neighbourhood that matches their own needs.14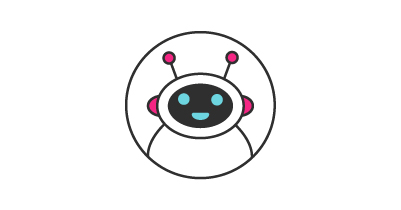 The large presence of technology in real estate
Each year, new technologies are permeating both commercial and residential real estate,15 although at a slower pace for commercial real estate than most other industries.16 The real estate market is a particularly notable exception in tech, especially considering the fact that real estate is the largest commodity in the world.17
Developers are now urged to offer 'robot friendly' homes. This includes less stairs and more wooden floors, as robots struggle with multiple stories and rough flooring.18 Investors should look into developing tech-ready houses so that buyers and tenants may choose to install their own devices. Simple improvements – like a well-placed router and evenly spread-out plug points – can add much value to a home.19
Technological interior finishes are not the only thing changing the market. With the influence of virtual reality (VR), property tours have now become an unreal experience, transporting potential clients into an immersive experience where they can navigate floor plans in a whole new way.20 'The Cloud' has streamlined long and frustrating application and paperwork processes. This, along with better management application procedures, ensures that commercial and residential purchases are processed more easily and faster.21
Whether it's commercial or residential, these four components are vital to any potential real estate ventures. Monitoring each factor and the subsequent way in which they affect real estate prices, allows for informed decision-making and lowers the chance of serious risks.22

Learn to assess a property based on its income-generating potential with the LSE Real Estate Economics and Finance online certificate course.