How Proptech and Fintech are Influencing the Real Estate Market
Real estate's biggest disruptor
Now, more than ever, technology is integrated into our everyday lives, and it's only a matter of time until every product, service, process, and business model has been disrupted. Digital innovation continues to change economies and markets, reinventing the way business is done regardless of industry. Some sectors, such as media and telecoms, were impacted immediately, while others, such as real estate, are only now benefitting from the profound effects of digital transformation.
While the real estate industry has generally been slower than most to transition to digital, it's now at the point where it's benefitting from innovations that are propelling business forward. Pilot technology programmes and software aided by change-driven institutional investors are demonstrating the benefits of making faster and better decisions,1 which is one of the main reasons real estate companies choose to invest in technology in the first place.2 Property technologies (proptech) help professionals gather and interpret data, which they can use to determine the value of real estate instantly, and in real time. To that end, digital platforms not only allow users to interact with the market, but also allow for faster and easier transactions, impacting the growth of the property sector as a whole.3
"The real estate industry is, by its nature, quite a traditional industry, but it faces a number of challenges. As the sector is quite data-rich and open to exploring digital opportunities, this makes it particularly well-suited for leveraging digital and innovative property technologies as a means to address their myriad challenges such as using space more efficiently, improving tenant experience and satisfaction, and managing the carbon footprint of their assets. As the industry continues to build its awareness of the value of proptech over the next year, investment will likely grow considerably in both investment in innovative solutions, but also in required new competencies and capabilities within the teams."4 – Sander Grünewald, Global Real Estate Advisory Leader, KPMG International
6 technologies disrupting the property and real estate industry:5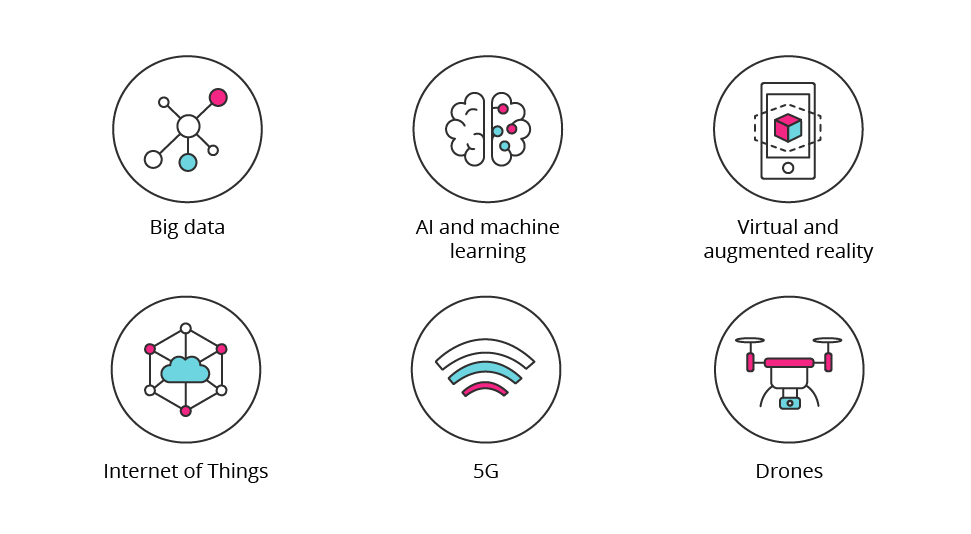 Bridging the gap with property technology
The opportunity to modernise real estate isn't new. Since the 1980s, proptech has undergone three waves, each triggered by trends in the broader tech ecosystem.6 In order to appreciate the potential impact of proptech, it's necessary to understand what it is and what it involves.
What is proptech?
Proptech is a combination of recent innovation technologies and solutions that optimise the creation and management of real estate.7 Simply put, proptech refers to "technology that aids or improves the way we do property".8 It helps put purpose, culture shift, and customer experience at the heart of the property sector. Owed to a variety of online tools, it's now possible to view, assess, and purchase the property of your dreams without even leaving the couch.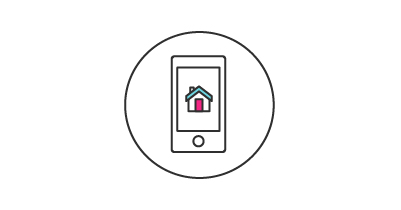 The impact of proptech on the real estate sector:
It's changing the way we buy, sell, and interact with our properties.9
It streamlines processes and makes transactions more efficient.10
It presents applied solutions for real estate development and the management thereof.11
As opportunities within the real estate industry grow, so too will assets invested in the sector, and this includes the expansion of proptech.
What is fintech?
Financial technologies (or fintech) is a term used to describe new tech that seeks to improve and automate the delivery and use of financial services. ​​​At its core, fintech is utilised to help companies, business owners, and consumers better manage their financial operations, processes, and lives by utilising specialised software and algorithms.12 Governed by lucrative avenues such as online payment systems, online exchanges, and crowdfunding equity and debt platforms, fintech provides a foundation for real estate to thrive.13
Traditional real estate companies can benefit from the solutions offered by fintech in a number of ways. For example, technology-based platforms facilitate the trading of real estate asset ownership and leasing,14 and help to expand and diversify the lender base.15
Adding to its accessibility, fintech also facilitates the financing of home loans, making it easier for a buyer to get through the financing process and thereby impacting the expansion of the overall industry.16
While fintech has been around for more than 10 years, proptech has only just started gaining momentum.17 Together, proptech and fintech are making the process of buying a home more intuitive and convenient.
Stay Competent, Confident, and Informed
Sign up to our monthly newsletter to receive the latest course information, expertise from renowned thought leaders, and a summary of our most recent blog articles.
The role of proptech in the sharing economy
The advent of proptech presents a substantial area of opportunity for entrepreneurs and investors. As the largest asset class, real estate offers tech-driven companies the chance to compete in a somewhat undeveloped space.18 This is due not only to the unmitigated size of the market, but also to its limited innovation, inefficient processes, and unnecessary or exorbitant transactional costs.19
The sharing economy is a peer-to-peer (P2P) mediated model of online platforms that allows people to turn unproductive assets into income through a better management approach. With the expansion of internet-based technologies, the sharing economy is emerging as a new and rapidly growing sector, one that offers transformative potential for new economic activity.
As a result of radical changes in consumer behaviour – prompted by demographic challenges, the economic climate, and technological growth, and data usage, to name a few – companies such as Couchsurfing, Airbnb, Uber and similar have overturned entire sectors in the space of a few years.20 Their success is largely defined by their ability to offer customers something that previously didn't exist. Similarly, consumer needs, improved technology, and shifting mindsets are changing how real estate is designed and managed, and how people live (in their homes) and work (in their offices). These trends are also changing the way space is used in different sectors, and will continue to evolve in the next few years.
Proptech in the sharing economy is disrupting the real estate industry: among its many applications, it's designed to promote the temporary use of real estate assets or space through technology. This includes – but is not limited to – houses, rooms in houses, restaurants, office buildings, storage space, and retail.21 An example of digital disruption in the property sector is Airbnb, the online marketplace for renting accommodation. With over 1.5 million global listings across more than 190 countries, the San Francisco-based company has revolutionised the concept of renting a wide variety of accommodation for business or pleasure.22
How the sharing economy impacts real estate
As startups find their place in the real estate market, and aim to disrupt the value chain and improve the operating factors of traditional market players, they're reshaping the home-buying experience from the ground up.23 The resultant wave of proptech-driven innovation is having a significant impact on the global real estate industry, with South Africa making its own strides within the movement. On average, 90 per cent of South African consumers begin their real estate journeys online.24 Technology and mobile apps, in particular, are becoming tools to improve efficiency and give value-added services to clients.
While many of these opportunities and challenges are experienced elsewhere in the world, the nature and scale of them is unique to Africa. In South Africa, the formation of Proptech Africa, the first continent-wide association of its kind, was launched in an effort to promote and better understand the local proptech ecosystem.25 Such solutions are altering the business of real estate as we know it.26 Thanks to online agents and letting services, transactions are becoming more efficient and transparent, particularly in the residential sector. Property management is also becoming more efficient through innovative software solutions, and the new avenues for investment and financing that are available through crowdfunding platforms.
Four South African proptech startups in the sharing economy to watch: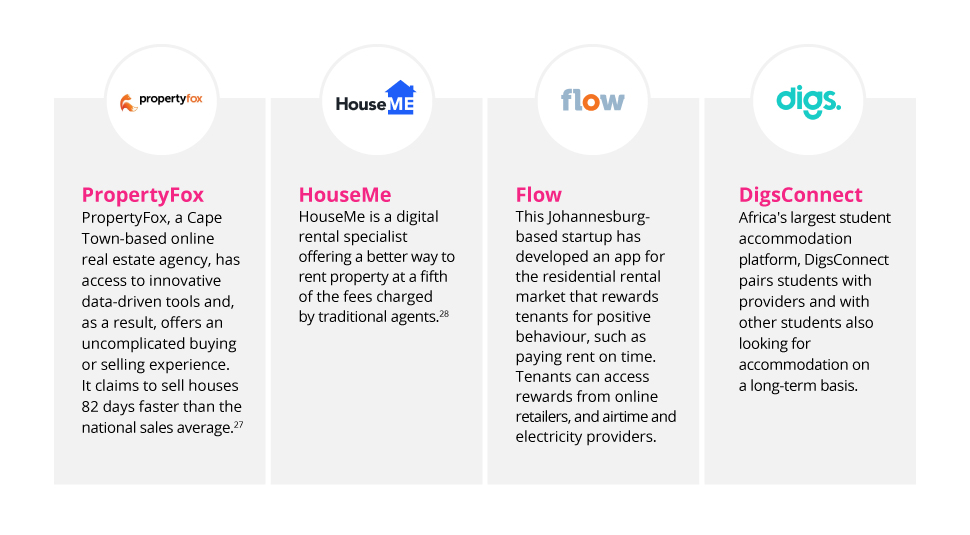 Surged levels of investment in the proptech sector have increased the pulse of the real estate industry. Globally, as technology continues to develop and become more affordable, and collaborative platforms continue to grow, the amount of data produced by the property industry is increasing, giving real estate contenders a data-driven advantage.29 According to the Urban Real Estate Research Unit – a UCT-affiliated interdisciplinary research platform – Europe, the USA, South America, the Middle East, and Asia all show evidence of increased proptech activity.30
The future of proptech: embracing new opportunities
Globally, there has been a rising number of real estate firms focusing on identifying innovation and proptech opportunities, and incorporating digital solutions within their primary business processes.31 According to BetterBond CEO Carl Coetzee, "In South Africa, too, we're adopting more proptech solutions in various parts of the sector, and there's every likelihood that a digital-first approach to property will become more pervasive in the coming months and years, and particularly as we look for innovative ways to strengthen and grow the industry amidst the global Covid-19 pandemic. Proptech can help make the industry more efficient and more resilient, with the purpose of driving more value for clients in the most relevant way."32
Looking forward, more real estate and property management companies are expected to embrace proptech. From a more defined digital strategy and road map, to a cultural shift within organisations, real estate agents need to figure out basic mechanisms for data capturing. Investment in proptech is expected to continue, as traditional real estate market players adopt the significance of digital solutions. As new technologies continue to affect and advance the property industry, real estate service providers can stay ahead of the curve by working to develop and implement effective strategies to meet the demands of today and tomorrow.