How to Build Digital Into Your Business Strategy
Digital technology has been unsettling markets and disrupting businesses and industries for more than two decades, but surprisingly, business leaders are still struggling to find ways to identify potential, optimise opportunities and implement it accordingly.1 Many enterprises have started out on the digital journey without understanding that the core drivers of a digital business are fundamentally different from those of a traditional enterprise.2 They end up applying legacy strategies and outdated principles to their digital programmes, which results in a capped delivery of the digital business, frustration, and failure.
A broad definition of digital transformation can be seen as the integration of digital technologies with business processes to improve the performance or reach of the business. However, a more progressive approach to digital transformation is to use technology to impact on these three areas of a business:3
Externally, or customer focused, with a view to use digital to positively impact on the customer experience, and potentially change the entire customer life cycle of the business.
Internally, or operationally, where digital and technology impact on business operations, decision-making and potentially the structure of the business.
Holistically, where every function and segment of the business is affected, often leading to an emergence of completely new business models.
The best place to start, is to first understand where your industry is headed, then to develop a long-term view on your company's role and place in that digital future. Plan your digital strategy with the short-term 'stepping stones' to get there.4 This will allow you to successfully plot a course towards attaining that vision, while maintaining some agility.
The current state of digital transformation in business
In a recent SAP survey, 62% of SAP's German-speaking DSAG user group revealed that their progress in their digital transformation efforts was "not far".5 While this could be considered a slow start, businesses are trying. Accenture's 2019 Technology Vision survey of nearly 7,000 business and IT executives shows that 94% of respondents have accelerated the pace of their digital implementation over the past three years.6 IDC's forecast of digital transformation spend displays growth of almost US$2 trillion by 2022, which is almost 17% up from 2018.7
Digital transformation is not only for large corporations, even mid-sized businesses are starting to feel the pressure to evolve. However, this brings with it a number of challenges. The main challenge of implementing digital transformation in business is a lack of skills or insufficient training, followed by the challenges of legacy IT and processes, and underinvestment in digital. Barriers to digital adoption, according to IDC, include a lack of: urgency, communications and project management, staff buy-in, and leadership or vision.8
In spite of the many challenges, it's worth building digital into your business strategy. The Constellation Research 2018 Digital Transformation Study shows that businesses that implemented a digital strategy with a focus on effectively reaching and engaging with their customers, gained a competitive advantage through diversifying their revenue streams, increasing profits, and updating legacy IT systems – all of these have verifiable return on investment (ROI).9
Building a digital strategy into your business
A digital strategy provides businesses with the framework they need to effectively use their digital tools.10 Understanding the current digital state of the business, the direction the industry is evolving, and what role this should play in that digital context will lead to mapping out what the road ahead will look like, in order for your business to effectively obtain that result.11
McKinsey's recent survey of 1,542 C-level executives across a spectrum of industries and business sizes found these four areas influenced how successful companies approach digital strategy:12
Be agile.13 Digital strategy succeeds based on agile digital strategy practices. This will unlock first-mover opportunities. The more adaptable you are in planning, executing, and revising your digital strategies; the greater your chance of attaining first-mover (or very-fast-follower) status, a source of significant economic advantage.
Use digital platforms.14 Improve digital education company-wide, by taking advantage of digital platforms and the ability to broaden the business's ecosystems. Use these digital platforms to innovate new digital products and business models.
Merge and acquire.15 Utilise mergers and acquisitions to build new digital capabilities into the business. Invest more aggressively than your competitors, and branch out.
Early talent investment.16 Invest ahead of your peers in digital talent and be agile in how you use your digital talent. Boldly reallocate this talent across the business where and when necessary. Staying nimble allows for faster deployment of resources to the highest-value digital efforts, and a better alignment between resources and strategies.
A useful framework to determine whether transformation is complementary with your existing key business processes is the Matrix of Change, a tool developed by Brynjolfsson, et al.17 This matrix allows you to input ideas for your business, and assists in critiquing the proposed digital transformation, such as incorporating artificial intelligence (AI), machine learning, neural networking and so forth, and ultimately reveals whether these digital platforms will complement or conflict with existing processes. As with many business process transformations, multiple components of a new system interact with each other, which can make it complicated to implement them in isolation. This matrix helps determine the feasibility of the proposed changes, the ideal speed of execution of these changes, and the optimal sequence of changes and can help ensure implementation of these changes is adopted successfully in the business.18
The three stages of digital strategy implementation
Once you are ready to launch and accelerate your digital transformation process, understanding the stages of digital strategy implementation will ensure you maintain digital momentum.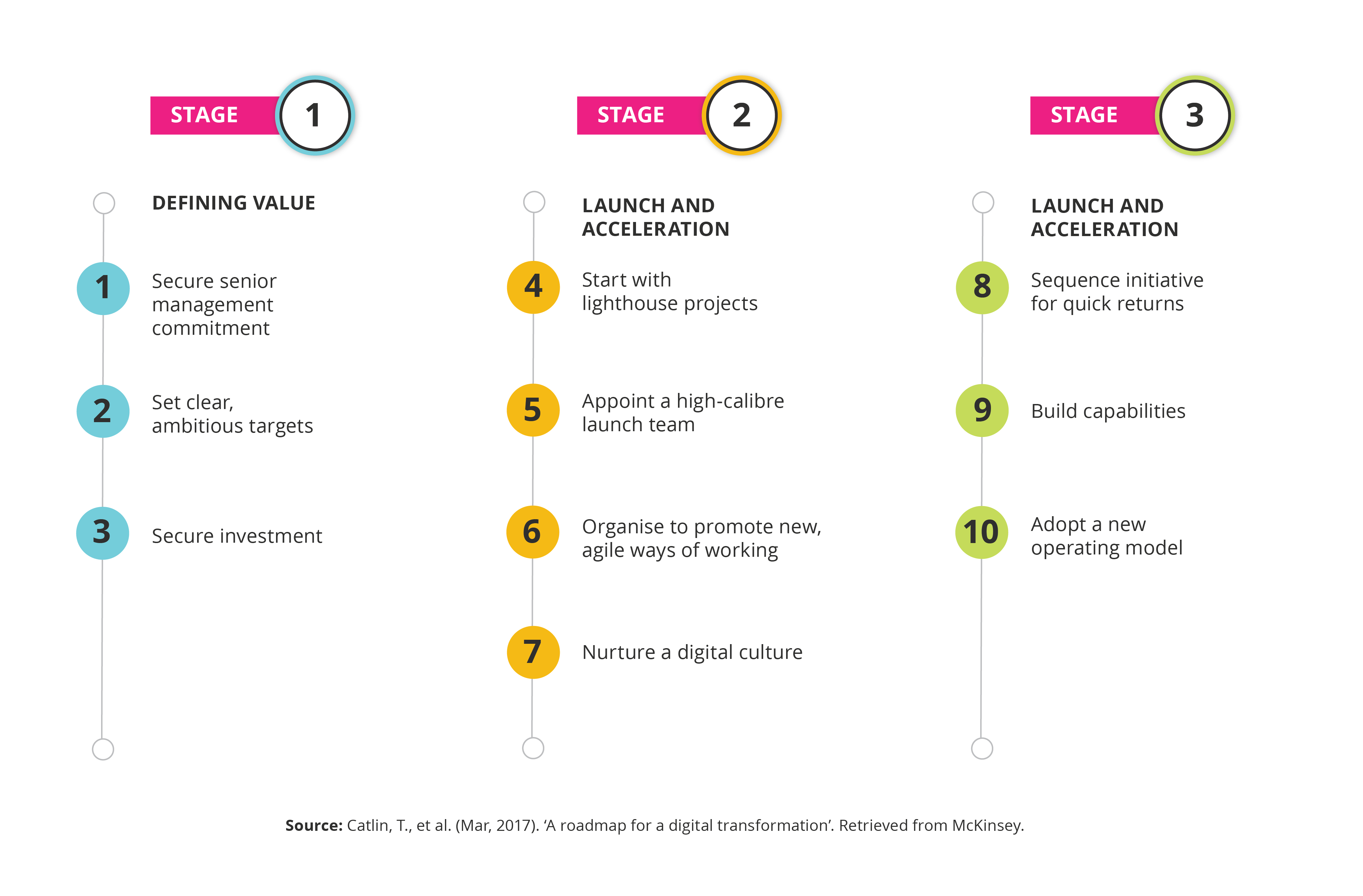 Stage 1: Defining value
Once CEOs have embraced the sheer magnitude of the digital transformation commitment, and have made digital strategy a core focus of their agenda – with clear, ambitious targets – then digital transformation occurs. Implementing your digital strategy may require significant financial investment in order to update old IT systems. This may result in lower profits in the short run, but without this investment you could run the risk of losing profits in the future.19
Stage 2: Launch and acceleration
It is easy to launch your digital strategy in your business, but much more difficult to maintain the momentum, and drive innovation. Appoint a high-calibre launch team under a talented chief digital officer (CDO) to run carefully chosen lighthouse projects that have the promise to yield significant rewards with minimal risks. Review the business's structure and embrace agile working models to nurture a digital culture in your business.20
Stage 3: Scaling up
At this point your company should be making good progress, with key initiatives already showing value. It's a common error to believe that the business can ease up on digital momentum. Digital transformation should be an ongoing priority with a focus on building more capabilities and upskilling teams and systems – this will ensure you reap the full rewards.21
Be prepared for potential shifts in your business model at the introduction of a digital strategy, as digital transformation can impact your business model in three different ways:22
Bring improvement to the existing business model. Digitising products and services can lead to cost optimisation throughout the business.
Transform the existing business model through the adoption of digital processes that facilitate better decision-making thanks to Industry 4.0, big data or AI. This could lead to reconfiguring existing models, and extending the established business offering.
See the development of a new business model. Bringing digital into the business could bring about a transformation of the value proposition and operating model through the introduction of new products and services and a phasing out of the old.
If you hope to build a successful digital strategy in your business without changing the fundamentals of the business, your efforts will be futile. Building digital into your business strategy isn't about building a digital business, but about bringing about an absolute change in your entire business.23 Your journey to digital transformation begins when you know where your industry is heading, you develop a long-term view on the preferred role your company should play that digital future, and then put short-term goals in place to achieve it. Understanding that implementing a digital strategy is not just about adding digital innovations to your business, but more about rethinking the way your business can operate with digital incorporated into it, is the foundation of a successful digital strategy for your business.