Blockchain and the Economic Problems it Could Solve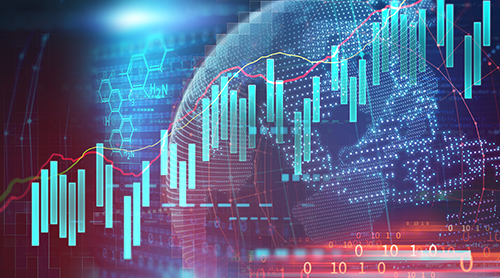 What do leapfrogging and blockchain have in common? Both could offer solutions to struggling economies. Leapfrogging, defined by using the lack of existing infrastructure as an opportunity to adopt the most advanced methods, has been an extremely effective strategy for developing nations over recent years. Problems solved by blockchain include offering access to funds or financial institutions to enable financial transactions, where infrastructures are lacking.1
The main economic advantage blockchain technology offers is its decentralised, digital ledger system.2 Along with providing a truthful and accurate chain of records, it assures data privacy and control to its users.3 Rohan Pinto, an expert in blockchain technology and cryptocurrency,4 states that, "Distributed ledger technology (DLT) is here to stay… DLT provides the underlying trust, immutability and transparency that such systems desperately need".5
Technology could allow for the transformation of economies, in essence leapfrogging, by using blockchain as an economic tool. This is disrupting the financial services industry, as traditional services often include an expensive middleman used to verify a transaction as being correct and true. Blockchain circumvents the need for a middleman through the use of technology. Although blockchain isn't infallible, it's resistant to falsification attempts, making it a viable alternative to traditional processes.6 The advances of technology could empower societies in a number of ways, but that's not to say that blockchain is an absolute solution.
Distributed ledger technology (DLT) is here to stay… DLT provides the underlying trust, immutability and transparency that such systems desperately need.
What blockchain can solve
The big question is, is blockchain the future? When pondering its place in society, MIT's Technology Review estimated that in 2019, blockchain will play a role in 21% of global economic affairs.7 With this in mind, here are a few of the economic problems that blockchain could solve, now and in the future.
1) Global trade and regulation
Globalisation is the effect that technology has had worldwide – making financial services easier, convenient, and affordable. Cross-border transaction fees is an issue that could divide a country's population into those who can afford financial services and those who can't.8 In Africa alone, with 54 countries and different currencies, exchange rates and legalities, this provides a challenge for such transactions.9
What happens when only a third of the adult population in sub-saharan Africa can access traditional financial services?10 When banking facilities are only available in urbanised areas and for lower income earners – come with a hefty price tag of banking fees?11 Blockchain can offer financial inclusion for these individuals, allowing them to fully participate in the economy by providing an affordable answer to these challenges.
Entrepreneurs from these areas could have more options to solve economic issues by using blockchain as an economic tool.12 As technology widens communication and collaboration globally, this results in an increased reach to people who wouldn't ordinarily have had the opportunity to access traditional financial services. By drastically reducing the costs of this economic activity, blockchain becomes an affordable economic tool for the masses that doesn't discriminate on gender, ethnicity, income bracket, or occupation.
2) Property rights and real estate
Transparency and accountability are the two big issues at play in this sector. Records of who owns land or property are usually kept by the government – but what if this is lost, or stolen, or someone can't prove ownership?13 In this way, blockchain, due to its natural characteristics, is a useful tool to determine ownership. Blockchain can replace the middleman without incurring further fees, and aid in verifying the data.14
3) Proof of identity
Refugees often flee without having formal identification on their person. This causes innumerable delays in providing verifiable proof of their identities in order to obtain legal documents. "An identity is essential for nearly everything needed in a crisis – securing shelter, accessing services, crossing borders, and receiving funds. These are challenging enough when you're distressed by displacement; they're exponentially so when you don't have an identity."15 It's estimated that there are at least 1 billion people globally, who don't have a valid identity document.16
How blockchain works in this case is that, "each block contains a cryptographic hash of the previous block, that is to say, a timestamp and transaction data record that are sealed in the chain of blocks so built. By design, a blockchain is resistant to modification of the data and thus helps to secure the identity data".17 What this could mean for addressing other social and economic rights through blockchain's applications are vast. It could be utilised to verify identity, prevent human trafficking, store medical records, and keep refugees in contact with other family members.18
Blockchain problems
Blockchain has its own inherent problems that still need to be addressed as the technology is still in its infancy. It must be recognised that blockchain isn't a complete solution for all problems. According to World Economic Forum, "This level of evangelism is both unwarranted and damaging to the overall development work required to reap the benefits of distributed ledger technologies (DLT), of which blockchain is the best-known example".19
The hype related to blockchain must also be evaluated objectively. Ripple (XRP) is a popular cryptocurrency that uses blockchain, and during the major hype of blockchain they wanted to push for a global payments system for banks. Interestingly enough, even though this token was designed to enable faster global transactions, the banking system wasn't convinced that Ripple was a better solution.20
The main issue with this is trust. Bank executives don't trust a cryptocurrency like Ripple with their corporate clients' funds – viewing it instead with suspicion, as this company tends to hold the majority of their own cryptocurrency tokens.21 There are also limits to holding these tokens, as only limited amounts can be sold at a time to avoid crashing the market, with most of these tokens also being held in escrow.
The decentralised system that blockchain offers is the most attractive attribute about using this system. This is due to the implication that through such a system, ''there's no single point of failure.''22 The benefit of having this audit trail is balanced through the less desired outcomes of: consistency resulting in a rigid approach, difficulty in design, fixes requiring consent from all parties, scalability, as well as maintenance of a blockchain system that has high costs to account for data checks and transmissions.23 "Blockchain technology hasn't solved the scalability issue. Reaching consensus on Bitcoin transactions, for instance, can take over an hour, which leaves much to be desired in a retail atmosphere," says Forbes.24
Blockchain is a product of technology, and as such it's a tool. It may not be appropriate for use in every situation despite those who think it's a blanket solution. The reality is, you won't receive the security of a decentralised system by controlling it like it's a centralised system. Be that as it may, there are also situations where blockchain is a better solution and can be quite beneficial to use. For struggling economies, blockchain can certainly eliminate the stucks of traditional financing issues for lower income earners.
Blockchain technology hasn't solved the scalability issue. Reaching consensus on Bitcoin transactions, for instance, can take over an hour, which leaves much to be desired in a retail atmosphere.