The Shifting Landscape of Sustainability Legislation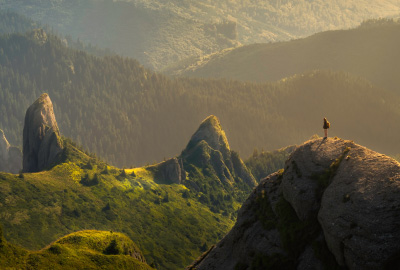 Sustainability and environmental legislation has become a fact of modern life, as we continue to grapple with the consequences of our industrialised lifestyle in the world we live in. Governments and global organisations are reckoning with the drastic changes needed to avoid a climate change tipping point that is coming sooner rather than later.1
At the same time, social inequality continues to be an abiding plague, restricting access to equitable living conditions for billions of people worldwide.2
The question of how to combat these twin ills, while maintaining economic development and wellbeing on a large scale, is one that governments, businesses, and global organisations are confronting through various policies, agreements, and laws.
Operating a business in this environment means navigating the shifting waters of sustainability legislation. However, the argument could be made that these types of legislative measures need not be a burden on business – they could instead hold the seeds of opportunity.
Understanding sustainability and sustainable development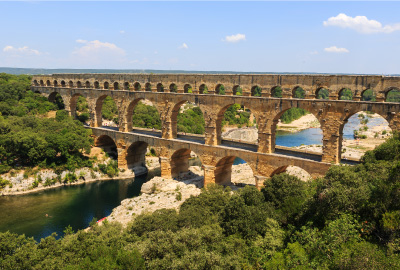 Humankind has been concerned with the environment we live in for much of our shared history: environmental laws can be found stretching all the way back to 80AD, when the Senate of Rome passed legislation intended to protect the city's water supply.3 However, sustainability as we know it today is a recent phenomenon – although it has been discussed for well over a century, it was only in the second half of the twentieth century that it entered the Oxford English Dictionary with its current meaning:4 the "avoidance of the depletion of natural resources in order to maintain an ecological balance."5
Many governments and international organisation's have now seen the need for an approach which allows for the growth of business.
Many governments and international organisations have now seen the need for an approach which allows for the growth of business, while still taking care to protect and nurture the environment in which they operate – this has come to be called sustainable development, which attempts to marry economic and environmental wellbeing into one policy.6
There are several key agreements and goals in this pursuit; The Paris Agreement is a collaboration between nations with the specific intention of safeguarding the environment from the threat of environmental change,7 of which the IPCC report is only the most recent reminder. Closely related are the Sustainable Development Goals, 17 global goals set by the United Nations General Assembly, also in 2015. These are intended to function as a shared blueprint for long term sustainable prosperity, and along with an explicit desire to preserve the environment, it also encompasses such goals as ending poverty, reducing inequality, and promoting responsible consumption and production.8
These agreements serve to encourage the adoption of policies by governments across the world, that are intended to combat the twin challenges of protecting the environment while ensuring human prosperity. These pursuits are complementary, and are what we refer to as sustainability legislation – in truth, a host of laws and measures, whose sum purpose is sustainability.
These policies must have a major effect on business; the question, then, is how can business benefit from the existence and implementation of sustainability measures by governments?
How can business benefit from the existence and implementation of sustainability measures by governments?
Sustainability legislation and business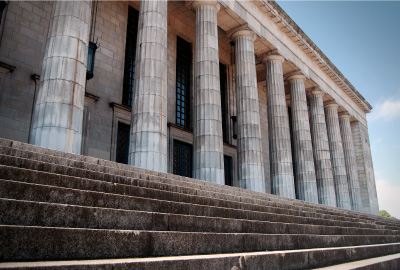 What role, exactly, should governments take in sustainable development? According to a plan put forward by the Cambridge Institute for Sustainability Leadership, this can best be achieved by government working together with business to the benefit of all. Under their plan, '[t]heir role in building a sustainable economy is simple: provide the signals and conditions necessary to adjust economic behaviour, a responsibility that takes in government policy, regulation, spending and public service practice'.9 Effectively, this means doing three things:
Set goals for progress, and the apparatus for measuring them
Use fiscal incentives, such as tax breaks, to encourage sustainable behaviours, while at the same time removing subsidies for unsustainable practices (as in Norway, where government exemptions on electric vehicles made the country the biggest buyer of electric vehicles in 2016)10
Help drive innovation, through the adoption of sustainable measures in the government itself, and through project spending11
Necessarily, sustainability legislation must constrain certain operations of business, whether by setting limits on the amount of carbon produced by industry, or through labour legislation intended to reduce inequality, or through any number of other legislative efforts to promote development goals. However, this does not mean that business is disadvantaged through their existence – indeed, it is entirely possible for forward-thinking organisations to gain a competitive edge through the sincere application of their own sustainability measures, above and beyond that of governments.
Business is now embracing sustainability even in cases where legislation measures are absent.
In fact, business is now embracing sustainability even in cases where legislation measures are absent, lobbying governments to put these laws in place.12 The question is, why would business – traditionally wary of over-regulation by governments – embrace the move towards sustainability legislation? Clearly, organisations around the world see some benefit to the new drive towards sustainability.
It's hard not to agree with their thinking.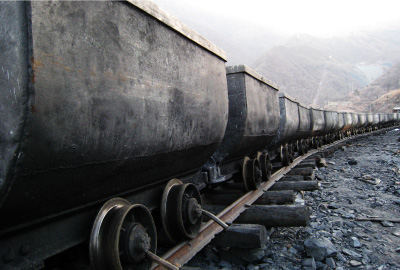 In the United States, where the current administration has made plain its desire to prop up the coal industry,13 businesses across the country are choosing to invest heavily in renewable energy instead.14 This isn't entirely because those at the head of business are feeling altruistic: the cost of renewable energy is much cheaper than it once was, and future trends show that investing in these technologies now will save money in the long run.15
Cost savings are not the only advantage businesses hope to gain. As long ago as 2015, a Nielsen study found that younger generations are willing to pay more for sustainable products.16 This is a clear signal that brands can leverage to find a competitive edge in an often crowded business space, regardless of the industry.
However, a sustainable business strategy isn't something that can be cobbled together; organisations need to approach with care, as a misstep can come across as tone-deaf at best, and damaging to the brand's reputation at worst. Such was the case of Volkswagen, who used artificially improved emissions tests as part of their marketing in the USA.17
Sustainability needs to be approached seriously, and with a sincere attempt at improved sustainable practices.
Better business through sustainability
We've broadly outlined the goals of sustainability above, but it's worth looking at them in a little more detail, before we discuss how business can use sustainable practices – and governments sustainability initiatives – to find success.
Sustainability can be easily confused with environmentalism. However, while environmentalism is a part of it, the concept of sustainability is actually much broader; as legislated by government policy and enacted in business, sustainability is made up of three prongs:18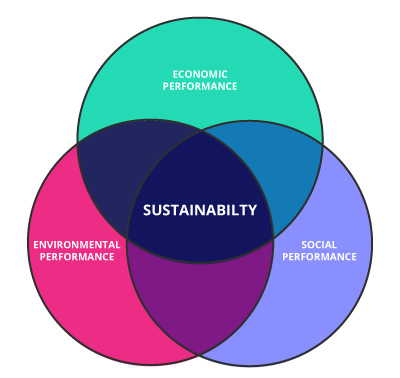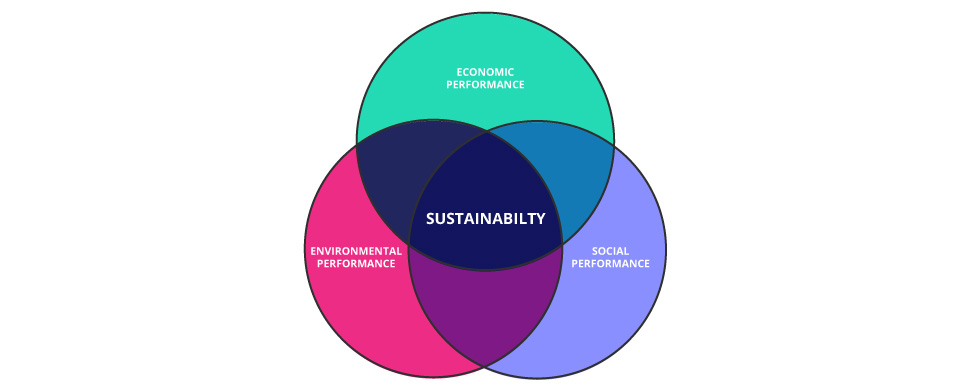 The first, economic performance, is represented by the primary goal of all businesses throughout history – the pursuit of profit. Environmental performance refers to the goal of preserving the earth, and as we've mentioned above is the part of sustainability which is most spoken about.
Social performance, by contrast, means the pursuit of equitable and fair working conditions for all people who are employed by the organisation, as well as those who interact with it – essentially, taking care of people. This last prong of the fork is often talked about generally, but tends to be overlooked in discussions of sustainability in business.
What would a profitable and sustainable business look like? There are several illuminating examples:
Global conglomerate Siemens places sustainability at the core of its business practices, including contributing to the UN Agenda 2030 for Sustainable Development.19 The company saw above-expected profits in the first quarter of 2018, despite the decline of its fossil fuel based power generation business20
DuPont, a US based conglomerate, has seen similar success, gathering huge savings – $2.2 billion a year by 2007 – through energy efficiency measures, as part of a drive to reduce carbon emissions21
The effect can similarly apply to whole industries, – a global study of small and medium wineries and vineyards found that those that pursued sustainable practices were more profitable.22
These companies all committed to embracing sustainability, and in many cases not only increased profit, they also thrived. Sustainability clearly can have a positive impact on business, regardless of the legislative environment.
Sustainability clearly can have a positive impact on business, regardless of the legislative environment.
The future of business and sustainability legislation
As business and governments grapple with the three needs of sustainable development, it is increasingly clear that while each can have some success – in the case of some businesses, quite a lot of success, the ability to implement sustainable practices while on a wide scale while maintaining profitability, is best done in concert.23
Sustainability legislation allows for the setting of goals on an even playing field, allowing business to pursue sustainable practices while still maintaining strong economic growth.
Businesses like Siemens, which not only adhere to but actively engage with governments and international organisations on issues of sustainability, will find that they are placed to take advantage of the opportunities of the new reality, gaining the all-important competitive edge granted by being at the forefront of sustainable innovation.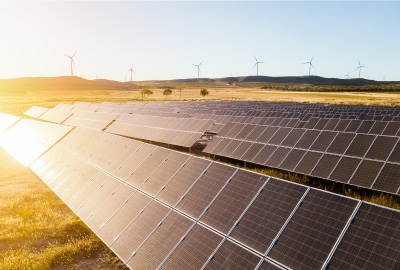 Indeed, as legislation changes to accommodate new sustainability goals, entire fields of industry are finding new investment and invigoration. Such is the case in the renewable energy sector, which is experiencing a boom that can be directly linked to the need for more sustainable energy production.24
While enacting sustainable practices can initially require additional investment and capital expenditure, there is plenty of evidence that the long term benefits more than make up for it – particularly given the modern awareness and preference for sustainable brands among consumers. One of the smartest sustainability investments a business can make is in its own customers. Jain Irrigation Systems, which started out life as a supplier of irrigation systems, provides an excellent example of this in action: By training farmers to use micro-irrigation systems in the face of water supply pressure, and even helping farmers secure loans and subsidies, the company has seen profits grow, while its customers have been able to secure their future.25
It may be tempting, when considering sustainability legislation and business, to see them as opposed to each other. The reality, however, is far different – the landscape of sustainability legislation and policy is a fertile one, and their lies within it a wealth of opportunity for those businesses that are willing to invest in it. And in that investment, business is helping to ensure our collective future.