The Truth about Disruptive Innovation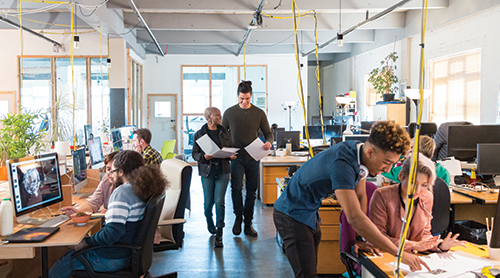 Disruptive innovation is a term that's often thrown around the boardroom, but isn't always fully understood. Rife with misconceptions, we aim to set the record straight and clearly define what the term truly means by looking into its origin, the misconceptions surrounding it, and its effect on business. We'll also show how businesses can embrace disruption and use it to their own competitive advantage.
No market is safe from disruption. PwC carried out a survey of 1,379 chief executives in September 2017 that found 60% of these executives said their sectors have already been changed or reshaped. Seventy-five per cent of those surveyed anticipated that they would see their market disrupted by the year 2022.1
What is disruptive innovation?
Most businesses think disruptive innovation is when a small or new company, with only a few resources, successfully challenges existing or long-standing businesses.2
"The term 'disruption' is widely used by the media to imply a form of breakthrough that takes place in rapidly-changing markets," says Carlos Martin-Rios, Assistant Professor of Innovation at Ecole hôtelière de Lausanne (EHL). "It can mean different things to different people, along a continuum from incremental change to radical transformation. According to conventional wisdom, a provocative marketing campaign may be seen as 'disruptive' as an affordable-luxury hotel concept with shared bathrooms."3
However, Harvard Business School professor Clayton Christensen, the first person to combine the two words into a single phrase "disruptive innovation" almost 20 years ago in his book, The Innovator's Dilemma, says the term is "widely misunderstood" and commonly applied to businesses that are not "genuinely disruptive".4
So, what is an accurate definition of disruptive innovation? According to Christensen, disruptive innovation occurs when a smaller company, with less available resources, overthrows a successful business by targeting portions of the market that the larger company failed to attend to.5
Typically the small, new company gains a foothold in the neglected, or lower segment of the market by offering an innovative, more affordable solution. This initially goes unnoticed by the bigger companies because they are so focused on keeping their existing customers happy by improving their current product and service offering.
Then, it begins to steadily move upmarket until it delivers the performance that the larger business' target customers expect, while still maintaining the advantages that drove its early success. True disruption happens when the larger company's mainstream customers opt for the start-up's products or services in volume. Think Blockbuster and Netflix.
By no means does this imply that large businesses have stopped innovating. On the contrary; they are constantly finding ways to improve products and services. This is called "sustaining innovation" and is different from disruptive innovation.6
The effect disruptive innovation has on businesses
Businesses recognise that disruption is coming. They understand that it could impact their existing processes and infrastructure, but are still reluctant to change.7 "There are a variety of reasons for this, in no particular order," says Mathias Herzog, Leading Practitioner in Digital Strategies for PwC's strategy consulting business Strategy&. "First, a lack of clarity on what the appropriate response is and correspondingly, a digital investment strategy that is much too diversified and not fit for a company's particular context. Secondly, competing priorities, thirdly, a lack of appreciation for the time it takes to build up digital, and fourth, 'tissue rejection' by the rest of the incumbent organisation."8
However, it's vital that business leaders embrace disruptive innovation if they hope to stay abreast with the constant shift of consumer-preferences in business nowadays. If a business fails to continuously transform itself, it stands the risk of becoming irrelevant. However, this flux in customer preference can also be seen as an opportunity for growth and competitive advantage through disruptive technology and innovation, if embraced by business leadership.9
5 ways for business leaders to embrace disruptive innovation
EY Global, a multidisciplinary professional services organisation, points out that change can be difficult for most companies and leaders who avoid it can land up being unprepared. In order for managers and leaders to bring their teams through this change, they need to start preparing now.10 EY Global recommends these five ways that business leaders can embrace innovation.
Think living organism rather than static organisation. Create a unique and diverse ecosystem in your business by seeing yourselves more as a host organism that welcomes internal and external sources of innovation, rather than a static organisation.
Focus on bringing people together. Develop your team's capabilities by making an effort to create conversations with people from different departments and functions that would not ordinarily collaborate. Vanessa Colella, Head of Citi Ventures and Chief Innovation Officer at Citi calls these conversations 'productive collisions.' This allows the change in thinking to take root throughout the business and will help you flourish during times of disruption.
Think differently about talent and leadership. It's no longer about being a subject matter expert on just one thing. Rather, being able to effectively collaborate and connect knowledge from others within the business, and beyond its borders, is what adds real value to the business.
Move from "no" to "how." New opportunities often come with uncharted regulations and compliance needs for the business, plus internal risks and legalities. Where this might be seen as a hindrance to proceed, being disruption-ready instead means working closely with these regulators to first understand their needs, and then collaborate with their experience and knowledge to see how the business can successfully carry execute the opportunity.
Ongoing commitment to disruption. This is not a once-off investment in being disruption ready, but rather an ongoing company-wide focus on transformation, development, and innovation. This commitment needs to start at the top; the CFO, CEO and board need to align with a shared goal and desire for disruptive innovation in order to steer the investment, governance, and communication to shareholders. Remember to test your innovation vision with your current investor base. If you find that they do not support your innovation agenda, you may need to work to change your investor base. Thankfully, effectively communicating your disruption agenda is sure to attract other institutional investors who are like-minded in their disruptive readiness desires.
Create open workspaces that allow you to imagine again. Bring creative thinkers together with business thinkers if you want to create conversations that are productive, and have momentum. Always bear in mind the human outcomes that all of this is hinges upon. These are some of the actions you can take to prepare your team for the upcoming disruptions.
10 Ways to make disruption work for you
According to Paul Leinwand, Global Managing Director of capabilities-driven strategy and growth for Strategy&, and Cesare Mainardi, the former CEO of Booz & Company and Strategy&, "You shouldn't try to be faster than potential upstart competitors; you should aim to be better. The impact of a sector-wide disruption on any particular company depends on how well that company can maintain a fundamental advantage compared with others within its sector. Keep in mind that the few things that allow you to be better than your competition at what matters to your customers typically outlast markets. Without those great capabilities that set you apart from the rest, you're at the will of others to redefine your space; with them, you have tremendous abilities to shape your own future."11
In PwC's recently published report on digital disruption, the following principles were given to help businesses plan for the new digital age.12
Embrace new logic. View each challenge from a start-up as a learning experience, and work out how to offer better value.
Start now, and move deliberately. Balance overestimation with underestimation, and move fast when the time is right.
Focus on your right to win. Don't allow yourself to abandon your business model just because success is coming slowly. Focus on building a strong identity first, and on doing what you do well.
Create your customer's future. In the words of Steve Jobs, companies need to work out what their customers want before they do.
Use price to drive demand. Invest careful thought into your costing model as customers respond more powerfully to reduced costs.
Create profit from overlooked assets. Products, skills, spaces, and computing power can be optimised to reduce cost, or improve profit, by being utilised more efficiently.
Control your part of the platform. Know what your business is best at, but make use of others' applications and services where necessary.
Integrate, don't isolate. Digital projects should be linked to the core of your business to improve their chance of success.
Challenge the rules. If a regulation is preventing customers from getting what they need, it's likely to be ripe for disruption. Step outside of the box to catalyse change in legislation.
Define a new way of working. Rethink how your departments can work together. When you combine technological acumen, strategic purpose, and an appreciation for customer experience in one group, it enables you to imagine products and services that you wouldn't have thought of otherwise.
Amazon is a great example of persistently pursuing disruptive innovation in order to stay ahead of competitors. They defined themselves as a store that connected with customers online, with a new and innovative interface that allowed people to exchange views and recommendations about the value of its products.13
Another great example is Netflix – the media company that successfully evolved from its mail delivery strategy to streaming online content. Not an overnight success story, their persistence and willingness to embrace innovation is what allowed them to disrupt the media industry, and ultimately how we consume media, which is still evident today.14
Even with a prescribed list of potential strategies, risks need to be taken in order to remain disruption ready. It's the prerogative of business leaders to decide which risks are worth taking in order to advance in this ever-evolving landscape. Committing to your organisation's disruption ready agenda, and clearly communicating this with the organisation and its key stakeholders, while constantly fostering a mindset of innovative collaboration both inside and outside of the company, will ensure your business is primed and ready to successfully ride the wave of disruptive innovation, now and into the years to come.