Will AI Steal Our Jobs?
As artificial intelligence develops and disrupts more industries, more working professionals are becoming increasingly concerned about its implications for the future of work. According to a Pew Research Center survey completed in 2017, 72% of Americans fear AI technology is capable of replacing jobs, with 25% feeling exceptionally worried.1
The industries most at risk are predicted to be jobs within science, healthcare, security, farming, construction, transport, and banking.2 More specifically, the following common jobs are expected to become redundant by the year 2037, and replaced by automated versions:3
Cashiers to self checkout machines
Newspaper delivery people to electronic reading devices

Travel agents to travel websites

Taxi dispatchers to mobile applications

Taxi drivers to self-driving cars

Journalists to artificial intelligence software

Social media specialists to the everyday person

Telemarketers to automated robots

Assembly line workers to automated robots

Sports referees to video technology
While it's speculated AI will take over 1.8 million human jobs by the year 2020,4 the technology is also expected to create a 2.3 million new kinds of jobs, many of which will involve the collaboration between humans and AI.5 Research shows artificial intelligence is capable of performing several tasks better than humans in specific occupations, but it's not capable of performing all tasks required for the job better than humans.6 In other words, most jobs will be affected by AI but in such a way that a partnership is formed between humans and machines, a more powerful alliance compared to either working individually.7
What will this look like?
AI collaboration with humans is already happening. The Harvard Business Review completed research involving 1,500 businesses which revealed companies benefit the most when humans and machines are working together.8 Humans have certain characteristics machines cannot take on, and vice versa. A simple example is a person making a joke as a response to what someone has said, a natural process for a human being, but difficult for a machine to comprehend, while analysing thousands of gigabytes of data is easy for a machine to do, but virtually impossible for a human.9
BMW discovered that when their robot and human teams worked together, they were approximately 85% more productive10 compared to when they had robots working on one side of the factory, and their employees working on their old automated assembly line on the other side of the factory.11 James Wilson, Co-author of Human + Machine: Reimagining Work in the Age of AI describes how, "Together, they really started to see those big productivity improvements that just weren't possible through the old way of thinking about automation."12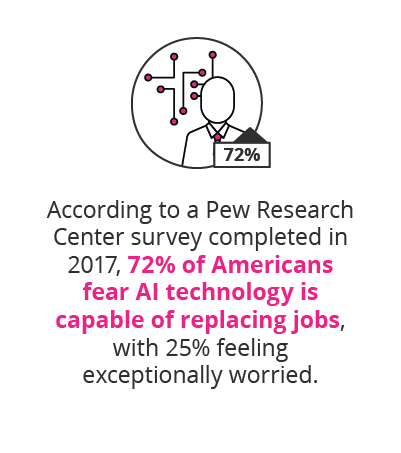 Other businesses such as Stenner Pump, have opened their arms to cobots too. A cobot, or a collaborative robot, is an assistant of sorts that doesn't work for a human being, but works with it, unlike traditional robots which have previously not allowed for proper interaction.13
The manufacturing company, which has 90 employees, bought Baxter, their two-armed cobot in 2015 which they use to feed parts from manufacturing to packaging. Overall, Baxter has reduced human handling by 75%, and significantly decreased the cycle time from raw material to finished product.14
The emergence of cobots is a fairly new phenomenon and has not infiltrated many industries, mostly due to the price starting out at around $24,000 per machine.15 However, the benefits of cobots outweigh the benefits of robots working on their own as they're designed in such a way as to be safe around human beings.16 A traditional and industrial robot designed to perform tasks often referred to as the four Ds (dirty, dear (expensive), dangerous, and dull), will often need to be constrained, sometimes in cages to avoid accidents and physical harm to people.17
However, constricting robots in this way limits their application, making cobots far more effective. Described as "the hardware version of augmented intelligence", cobots enhance human capabilities rather than replacing humans and taking their jobs. They're trained differently to traditional robots in that they are not programmed to do specific tasks, but are trained through demonstration.18
Think of cobots in the same way as understanding Tony Stark's Ironman suit which he controls through the artificial intelligence system of his own making called J.A.R.V.I.S. Stark is in control of the robot, just like humans would be in control of the cobot in their factory, by physically moving it around and ensuring the bot remembers the steps taken which it will repeat on its own.19 Therefore, the AI is not taking over jobs but collaborating with the person to enhance performance.
In answer to the question: "will artificial intelligence be responsible for my job?", research shows, it's complicated. On the one side, there are those who predict certain industries and specific careers have a high chance of becoming fully automated in the future. It was Stephen Hawking who told the BBC in 2014, "development of full artificial intelligence could spell the end of the human race."20 On the other side, are those who are adamant the most powerful situation is one where robots pair with humans, and neither are working as individuals.21
Euan Cameron, AI Leader of PwC puts it plainly, "There will be winners and losers…it's likely that the fourth industrial revolution will favour those with strong digital skills, as well as capabilities like creativity and teamwork which machines find it harder to replicate".22