What to Expect from Blockchain in 2018
5 min read
2017 was the year of cryptocurrency. The global cryptocurrency market cap rose by over 1,600% from a mere US$18 billion to over US$500 billion by the end of December. Bitcoin reached a high of US$20,000 per single coin, and a plethora of alternative coins (Altcoins) sprung up out of the woodwork.1
Although 2017 was the year of cryptocurrency, 2018 looks set to become the year of the system on which those currencies exist: blockchain. Because blockchain technology is much more than merely a system used to facilitate the secure online transactions used in transfering cryptocurrencies from one holder to another.
Outside of finance, blockchain technology can be used in countless applications – from business management to healthcare and communication. With the new and extremely-bright spotlight being shone on blockchain technology, the global economy is preparing for the blockchain revolution.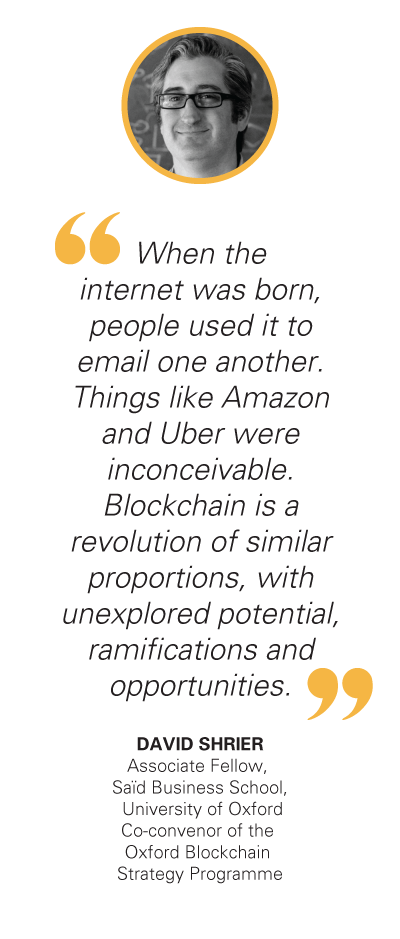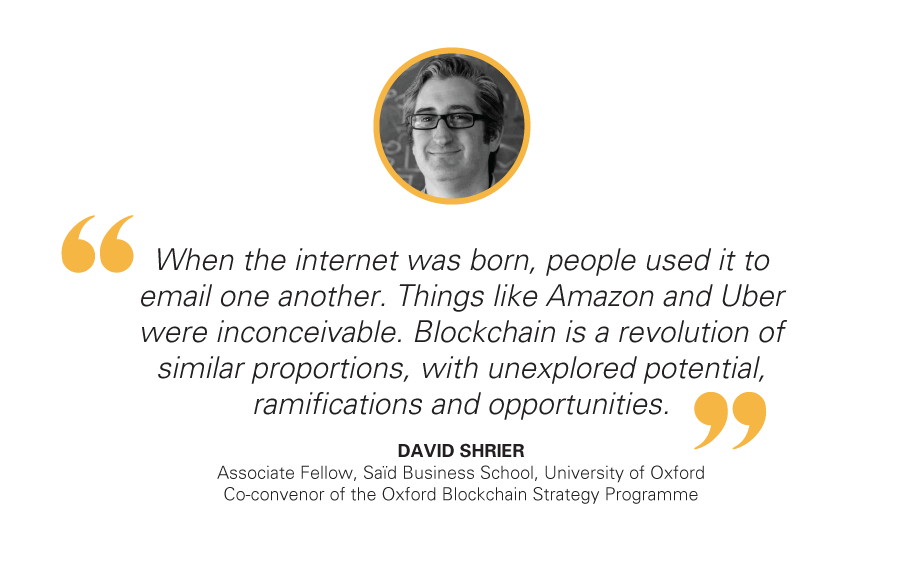 To keep up with this rapidly-evolving trend, now is the perfect time to upskill in blockchain strategy – to understand its effects on business and the future of marketplaces and economies. While most blockchain courses are too technical or overly simplified, the six-week Oxford Blockchain Strategy Programme cohesively integrates relevant information on blockchain for business leaders and innovators, allowing you to make the most of the momentum of this blockchain revolution – and avoid being left behind.
Take a look at the following predictions for the blockchain revolution in 2018 to get a better idea of how blockchain technology will begin to influence the global landscape:
1. Blockchain, future uses outside of finance
Any industry or organisation involved in the recording and overseeing of transactions of any kind could benefit from moving its operations onto a blockchain-based platform. Specifically within the sphere of healthcare, IDC Health Insights predicts 20% of organisations will have moved beyond pilot projects and have operationalised blockchain in their businesses by 2020.2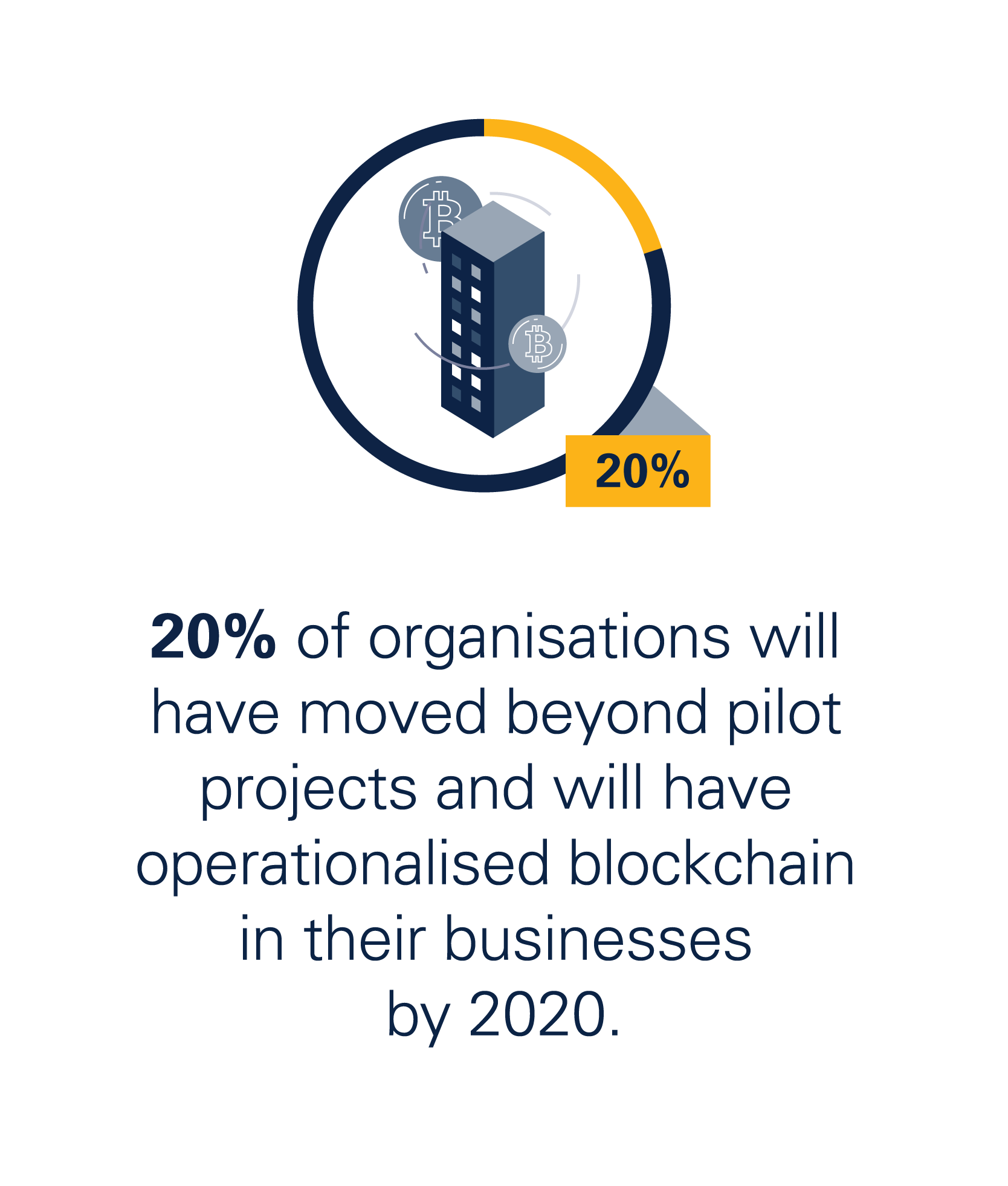 Because of the infallible nature of the blockchain system, CVs, certificates and experience are immediately verifiable by recruiters, allowing HR procedures to flow smoother than ever before.
In law, blockchain technology can be used to validate ownership documents such as title deeds. Even supply chain management is easier than ever before, making manufacturers' jobs that much simpler to complete.
2. The blockchain revolution enables the growth of smart contracts
Smart contracts are digital contracts that automatically progress as the previous steps and requirements are fulfilled, allowing for the removal of third parties or middlemen. The danger of smart contracts comes in when the system can be manipulated to appear as if the requirements have been met, when in fact they haven't.
Blockchain technology allows smart contracts to become absolutely concrete, as the crowdsourced verification of data or events on the blockchain doesn't allow for tampering or inconsistencies. This pairing will lead to the rise of smart contracts as the new normal, streamlining event chains such as dispatching goods once they're paid for or paying money into accounts once targets are met.
3. Countries to adopt cryptocurrencies and blockchain technology
The United Arab Emirates has taken initial steps to enter the cryptocurrency and blockchain age, with Dubai launching its own official cryptocurrency, emCash.3 With this move, the Dubai government is welcoming and embracing the blockchain revolution, as the currency will be used to pay for both governmental and non-governmental services – anything from buying coffee in the morning to paying for petrol and school fees.
According to Ali Ibrahim, Deputy Director General of Dubai Economy:
"The fast-paced environment and incredible willingness to adopt innovative technology has made Dubai the perfect place for us to do business. It will harness blockchain technology to make financial transactions cheaper, faster and more secure while demonstrating the huge advantages of embracing this technology for governments, business and customers alike."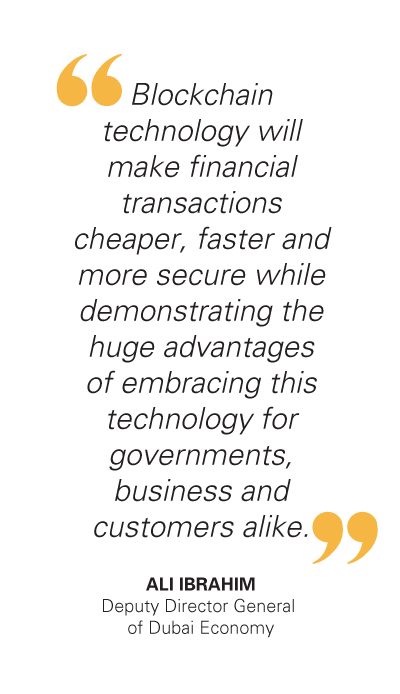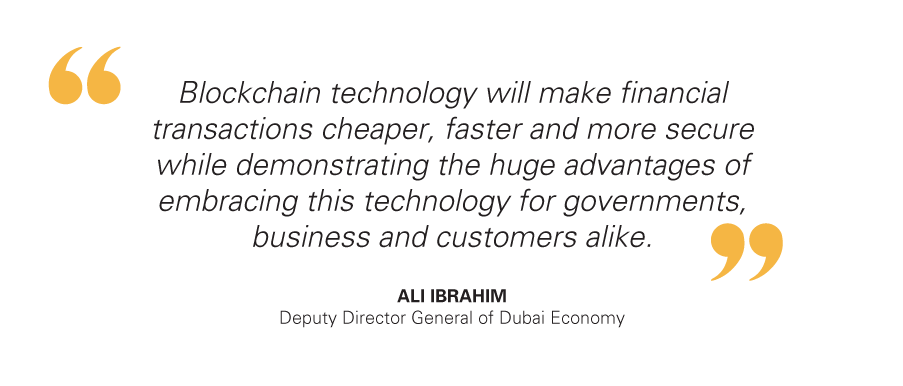 4. The future of blockchain in healthcare
The blockchain revolution found its way to the healthcare industry last year, and it's only going to pick up speed from here on out. A study by IBM, Healthcare Rallies for Blockchain found 16% of surveyed healthcare executives planned on implementing commercial blockchain technology in their organisations in 2017, while 56% plan to do so by 2020.4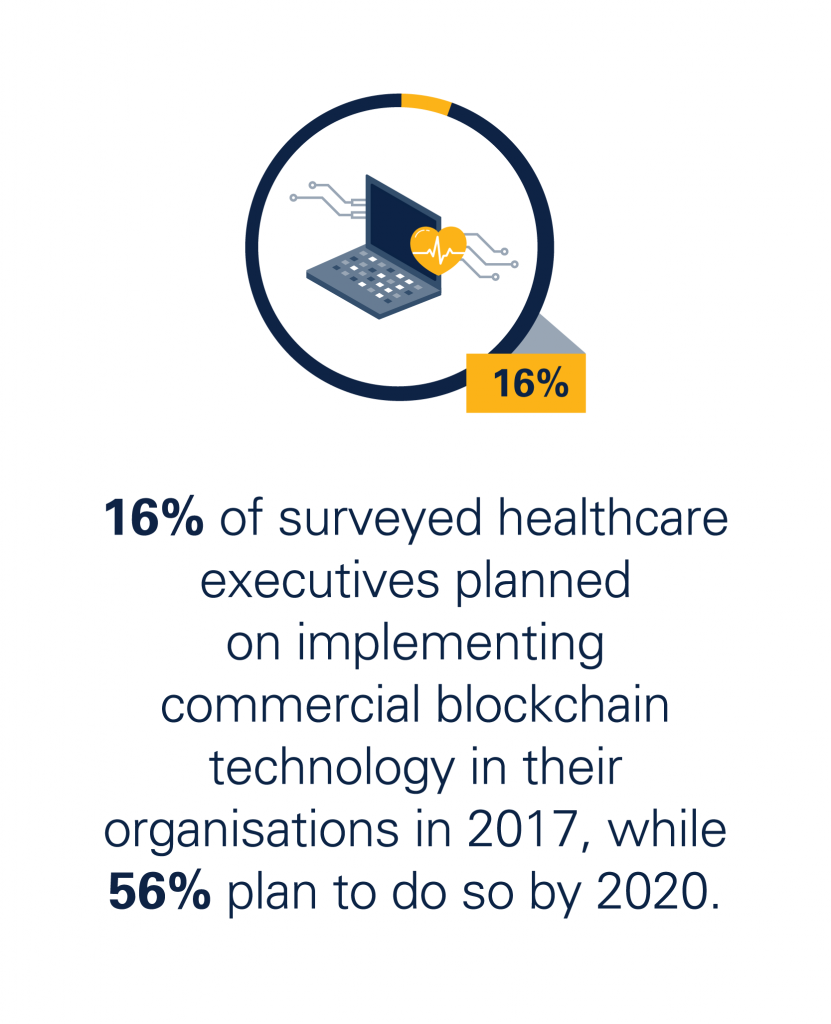 According to Innovatemedtec, an example of a blockchain ecosystem being implemented in healthcare could look something like this:5
Health organisations direct information to the blockchain – health organisations provide services to patients, the clinical data is tracked in existing health IT systems, and standard data fields and patients' public IDs are redirected to the blockchain system via APIs
Transactions are completed and uniquely identified – smart contracts process incoming transactions, with each transaction being stored on the blockchain, containing the patients' public, non-identifiable IDs
Health organisations and institutions can directly query the blockchain – health organisations and institutions submit their queries via APIs, non-identifiable public patient information (age, gender, illness, etc.) is viewable, and data can be analysed to uncover new insights
Patients can share their identity with health organisations – patients' private API keys link their identities to blockchain data, the private keys can be shared with new health organisations or institutions, by using the keys, organisations can uncover patients' data, but the data remains non-identifiable to organisations with the keys
For more context-driven examples, take a look at the following three products recently developed and implemented by healthcare organisations, designed to embed the use of blockchain in healthcare.
The MediLedger Project6
Implemented in 2017, the MediLedger Project is a collaboration between Chronicled and The LinkLab that brings together their respective expertise in pharmaceutical supply chain management and blockchain technology to create their own addition to the blockchain revolution.
The aim of the MediLedger Project is to use blockchain in healthcare to improve the track-and-trace capabilities for prescription medicine. Built to meet the requirements set out by the US Drug Supply Chain Security Act (DSCSA), the blockchain healthcare project meets not only the letter of the law, but also supports the operational needs of the pharmaceutical supply industry.
The MediLedger Project offers the following benefits:


SimplyVital Health7
Created in 2017 with the goal of creating an audit trail for healthcare providers, SimplyVital noticed providers work together to bring down the cost of care, and as such get paid for working together and delivering results – but they needed proof of their collaboration in order to get reimbursed.
Because of this need, SimplyVital created ConnectingCare, a product solution bringing together providers through blockchain technology, allowing them to view the same data for shared patients, and recording all their interactions in an immutable blockchain.
Next up in the blockchain revolution for SimplyVital is the creation of Health Nexus, a blockchain infrastructure and protocol offering a new form of validation and governance protocol focusing on Health Insurance Portability and Accountability Act (HIPAA) compliance.
Robomed Network8
The Robomed Network is a decentralised medical network designed to use blockchain in healthcare to provide patients with the most appropriate, effective medical care. Founded in 2016, the system achieves its goal by automating patient safety and healthcare quality checks, by implementing smart contracts based on clinical guidelines.
Through the use of smart contracts, medical organisations and practitioners are only paid once a patient has been confirmed to be cured of their ailment. This is done by other users of the Robomed Network accessing the anonymous user data housed on the blockchain system to confirm the status of their health. In this way, the patient pays for the result instead of the medical process itself.
Since inception in 2016, the Robomed Network has produced three software products; connected 20 clinics to its blockchain system; gathered 1,7 million patients to its database; digitised and stored 2,900 clinical guidelines, and ensured doctors get paid for treating patients according to the guidelines.
The Robomed Network team even released their own cryptocurrency, RBM tokens, in an ICO in late 2017, allowing them to raise funding. The ICO capital will be used to create a provision fund, and drive development, marketing, operations, and legal activities.
The future of the blockchain revolution?
Still being explored, the possibilities and opportunities associated with blockchain appear endless. The trends above are just a few examples of the implications blockchain technology will have for businesses, trade and entire economies – highlighting how important it is for business leaders, tradespeople and decision-makers to become familiar with the technology.
Learning from global experts and formalising your blockchain strategy knowledge with a certificate from a world-class business school allows you to not only adapt to this evolution, but to use the blockchain revolution to your competitive advantage.