9 Tips to ensure you achieve your New Year Resolutions
This article has been created alongside the New Professional's 2018 Career Guide. Download your free copy here and be recognised in 2018.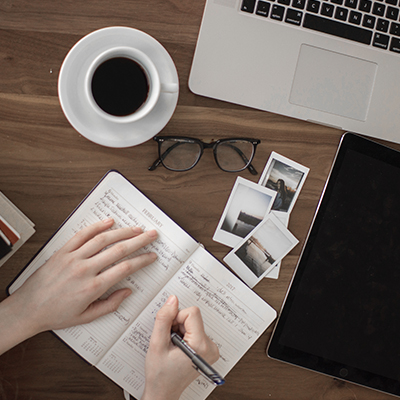 Did you know? In a recent GetSmarter survey, 88% of participants said they would be setting New Year resolutions for 2018. But only 40% of participants have actually achieved their New Year resolutions in the past.1
If you're keen to join the 88% in 2018 by making personal or professional New Year resolutions, use these nine tips to ensure you reach your goals and join the 40% of successful goal-getters.
1) Keep your list short
The reason many people fail at achieving their New Year resolutions is because they have too many competing priorities. Choose no more than three resolutions – two personal and one professional, or vice versa. Not sure how to whittle down your wants? Start with your why.
2) Make them specific and measurable
Don't set vague resolutions. Instead of saying "I'm going to lose weight" or "I'm going to start my business", be specific: "I'm going to run three times per week" or "I'm going to write two pages of a business plan for my new business every week". These are better ways to make a resolution sound specific, measurable and achievable. This also means one resolution might encompass a few mini-resolutions.
3) Break them down
Divide your one big resolution into 12 goals, one per month, and for each goal create four mini-goals, one to achieve per week. If starting your own business is your resolution, there are a number of elements involved. Breaking it down into achievable segments is one way to ensure you don't get overwhelmed by the bigger picture resolution and you're able to slowly and consistently work towards achieving it.
4) Make them visual
Write your resolutions down, and put them where you can see them: on your fridge, on your bedroom wall next to your bed, in your bathroom, and on your computer screen at work. A list of your resolutions plus a monthly calendar that lists your mini-goals works well.
5) Set timeframes
When it comes to setting any goal, a timeframe in which you will achieve that goal is important. Set check-in dates for yourself, use a reminder on your phone and hold yourself accountable for reaching the milestones you set for yourself.
6) Tell someone
The best way to keep yourself accountable for your New Year resolutions is to tell someone else what your goals for the year are. This can be a friend, a family member or your boss or colleague. Ask them to help you stay accountable to your goals, or find a "resolution buddy" who you can share mutual motivation with as you both work towards achieving your goals.
7) Record your progress
Use a calendar or journal to track your progress. Choose one day per week to check in on your weekly mini-goals; use gold stars or a highlighter to make the milestones stand out visually so that you can see how far you've come as the weeks tick on.
8) Reward yourself
Incentivise yourself to keep reaching for the next milestone by taking time to reward your progress. Positive reinforcement of your achievements will only serve to motivate you to keep at it.
Ran three times this week and hit your goal? Reward yourself with a new pair of gym togs.
Wrote five pages of your new business plan? Buy yourself a motivational business book.
Spent less money on things you don't need? Explore the payment options for the GetSmarter online short courses.
9) Don't give up
Setting New Year resolutions is about acknowledging a change you'd like to make in your life. Some progress towards making that change is better than no progress. No matter what, don't give up. This is your year!
---
Ready to take the first step?
Open new doors for your career in 2018 and achieve your career resolutions by downloading the New Professionals's 2018 Career Guide.
Source: