How To Become A Chief Technology Officer
Like it or not, every company today is a technology company.1 With the success of a company hinging heavily on how quickly they can adapt to new technology developments, as well as cyberattacks and system weaknesses able to cripple even the biggest organisations, Chief Technology Officers are a crucial asset in any company.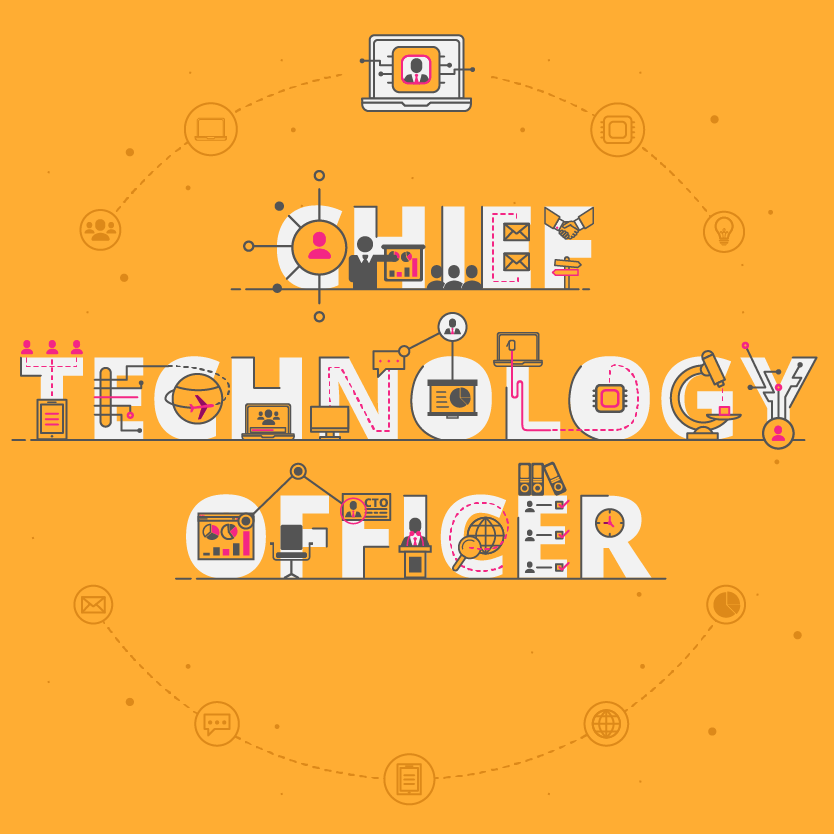 If you're looking for that kind of responsibility in your current organisation, you've got to be willing to put in the effort and the time. 39% of internally-promoted Fortune 100 CTOs were promoted to the role after more than 16 years of service at their company.2
Spending such a long time at a company allows potential CTOs to gain a deep understanding of the objectives and challenges of the business. But stagnation of ideas and reluctance to change can also creep into a long-term employee's mindset, hindering their progression to the role of CTO.
CTOs need to be highly adaptable to change, have an eye for strategic business management, and be up-to-date with the latest technological trends. They are responsible for making decisions about the systems and technology used within a company that could either lead the organisation to success or drive it to failure.
What are the key responsibilities of a Chief Technology Officer?
CTOs are responsible for the technological development of their company. As an executive member of their organisation, CTOs oversee the entire information technology department and directly manage senior managers within the IT division. Because of this, CTOs are expected to assume their fair share of responsibility at their organisations.
As the lead on all technological decisions, a CTO is responsible for deciding when a company's systems and technology needs to be updated. To achieve this, they need to keep an eye on the competition, stay up to date with current developments and trends, and perform research on the state of the technological systems. This allows findings to be reported to the executive committee so decisions can be made about how to move forward.
The key duties of a CTO include:
Leading technology teams in everyday operations
Conducting reviews of products or systems to evaluate their potential value to the company
Guiding strategic business decisions and resources allocation
Monitoring management of all hardware, software, databases and licences
Creating technology strategies for the development of an organisation
Ensuring technological processes follow federal guidelines for privacy and security
CTO's will also be expected to show confidence and competence in the following three pioneering tech fields:
Artificial intelligence

Develop a roadmap for the strategic implementation of AI technologies in a business context
Support informed, strategic decision making and augment business performance by integrating key AI management and leadership insights into the way your organisation operates
Transform your organisation into an innovative, efficient, and sustainable business of the future through a practical grounding in AI and its business implications and applications

Internet of Things

Assess the current state of leadership and technology in your company, and find opportunities to unite them for a strategic advantage
Explore the ways you can use IoT technologies on an organisational level to improve productivity
Consider and create strategies for your unique business situation to support the application of IoT technologies

Cybersecurity 

Articulate the role of cyber risk management within an organisation and distinguish the legal and compliance risks for an organisation or sector
Investigate the threats and vulnerabilities to an organisation's critical business systems, networks and data
Deduce types of questions necessary to determine the technologies implemented in an organisation's cybersecurity
---
Related content: What's The Difference Between Information Technology and Information Systems?

---
What is the career path of a Chief Technology Officer?
There are many different paths to becoming a CTO, and the journey to the role varies greatly by industry. For example, Aerospace and Defence CTOs on the Forbes 100 list have only worked in Automotive and Defence sectors, while retail CTOs come from as many as ten different industries.3
54% of Forbes 100 CTOs were promoted internally. While this doesn't show a large preference to either internal or external recruiting, the requirements for an external CTO are much higher. 52% of external CTOs need prior experience in the role, compared to only 22% of internally-hired CTOs having past experience in the role.4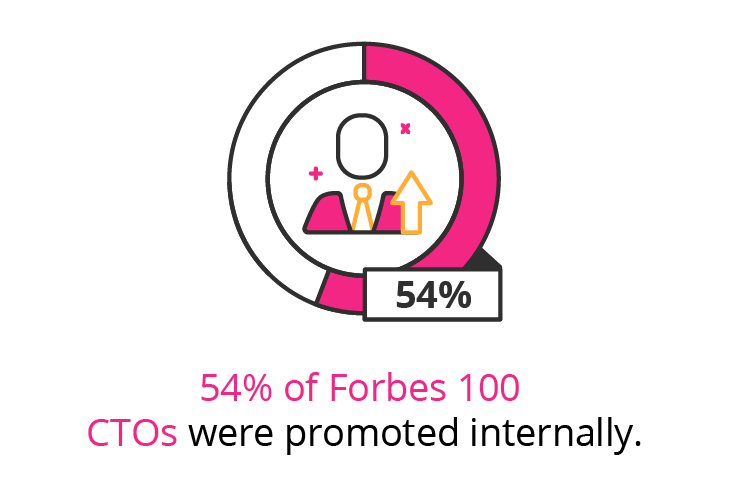 Here's how you can start the journey to becoming CTO:
What is the potential salary for a Chief Technology Officer?
As a CTO, your salary would be largely dependent on the revenue your organisation brings in, and would, therefore, be directly related to the size and success of the company you work at. For example, the highest paid CTO in 2015 was Jeremy Delinsky of Wayfair, taking home $13.8 million for the year, with Wayfair's annual revenue for 2016 sitting at a comfortable $3.38 billion.5
CTOs are executive members in their respective companies, and their pay starts at a high baseline growing as their business expands. Some hold more than their executive committee position though, filling roles like Director, President or Executive Vice President.
The skills associated with higher pay for a CTO are:
Software architecture
IT management
Strategic business management
Project management
Click on a country to see what you can expect to get paid as a Chief Technology Officer in either South Africa, the United Kingdom or the United States of America:
RSA

| | |
| --- | --- |
| Entry-Level | R696,000 |
| Mid-Career | R770,000 |
| 15 Years Experience | R1,010,000 |
UK

| | |
| --- | --- |
| Entry-Level | £58,000 |
| Mid-Career | £63,000 |
| 15 Years Experience | £85,000 |
USA

| | |
| --- | --- |
| Entry-Level | $101,000 |
| Mid-Career | $126,000 |
| 15 Years Experience | $164,000 |
What are the education and training requirements for a Chief Technology Officer?
Because CTO positions are present in a wide variety of industries, their education and training requirements differ according to what their role requires. A common level of education required to become a CTO is a bachelor's degree, coupled with a considerable amount of experience.
Some employers may be looking for CTO candidates with an MBA, due to the business management elements of the role. Further skills development through online short courses in IT management, information systems management and business management is a sure way to prepare for the role.
Bachelor's degree: Obtaining a bachelor's degree in an engineering or computer science field will provide you with the base knowledge required to begin your journey to CTO. You can use this qualification to study further, obtain an MBA, or get straight into the working world.
MBA: Because of the leadership and management responsibilities included in the role of CTO, studying an MBA is a sure way to boost your expertise and prepare yourself for the role. Prepare to study an MBA and use your newly-acquired technical skills to make better business decisions.
Online short courses: CTOs are required to assume a wide range of responsibilities within their organisation, which means they need to be skilled in many areas of expertise. Constant skills development is required to keep up with the fast-paced business world. Work your way towards becoming CTO by studying online short courses in the following fields: IT Management, Project Management, Information Systems Management, Strategic Business Management, Data Analysis, Cybersecurity, and Business Systems Analysis.
---
Which skills do you need next?
Download a course prospectus to find out how one of these online short courses can help you become a Chief Technology Officer.
1 Glassdoor
2 Russell Reynolds
3 Russell Reynolds
4 Russell Reynolds
5 FindTheCompany