How to become a Digital Marketing Strategist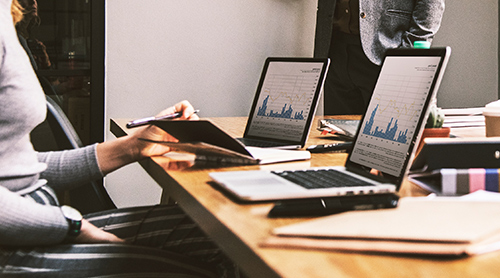 Our world is changing faster than it ever has before, and this is thanks to the rapid evolution of the digital space. This, in turn, has made our biggest advantage simply being human… which is why those who can determine how best to use the internet for your business objectives are so necessary. They are called Digital Marketing Strategists.
Over four billion people are already using the internet,1 breaking the not-so-old assumption that these numbers would only be hit by 2020.2 That means that over 55% of the world's population uses the internet (with an average growth rate over the past 18 years of over 1000%).3 This rise in popularity and reliance is astounding, especially when we look back at the birth of the World Wide Web only in 1990.4
Advertising and marketing are directly responding to the digital movement. Traditional marketing has become overshadowed by the likes of digital marketing. Related strategies, and industry spend reveals just how influential it's become. Reuters reported that contributions to digital marketing grew by 44% in the US and Britain in 2017, amounting to $52 billion.5 It was also estimated that global outlays on digital marketing are approaching $100 billion. As this field of business becomes increasingly digital and data-driven, digital marketing will continue to dominate, and strategists will be responsible for paving the way.
What does a Digital Marketing Strategist do?
Digital Marketing Strategists plan and advise on the execution of marketing campaigns. They are a mix of innovative, creative, and tech-savvy individuals who have the ability to identify trends before they peak, and use those insights to inform international marketing strategies and campaigns for the brands they champion. A Digital Strategist combines all the relevant marketing channels and platforms – from SEO to paid media, to content – into one actionable plan that is then used to launch the marketing of a product or service.6
A Digital Marketing Strategist must have an aptitude for data, analysing results from their own campaigns and that of competitors to determine outcomes and plans to move marketing efforts forward. Perry Hewitt, Harvard University's Chief Digital Officer, defines the eclectic role: "Digital is part technology, part content strategy, part marketing art – and science. People who very strongly identify with only one piece of the equation will struggle on a high-performing digital team."7
However, being a Digital Marketing Strategist is not just about using these tools and skills to showcase your company's product or service. As author Seth Godin put it; "Marketing is no longer about the stuff you make, but about the stories you tell".8
Marketing is no longer about the stuff you make, but about the stories you tell

Seth Godin
What is a Digital Marketing Strategist responsible for?
It's difficult to define precisely what the role of a Digital Strategist looks like, as it largely depends on the company that hires you. However, if digital marketing strategy is going to be your daily bread and butter, you can expect to have a wide range of responsibilities. These will be dependent on the size of your company, marketing team, and business needs for middle management. You would most commonly be required to serve multiple functions, much like a Jack of all Trades, but at companies with larger marketing teams you might instead specialise on a particular set.
The key responsibilities of a Digital Strategist include making an impact in the following three areas:
Set online marketing strategies that utilise all tools and channels, including emails, analytics, social media and paid media
Investigate the campaigns of competitors and understand best practice to inform online marketing benchmarks
Identify opportunities to use digital technology to enhance the overall marketing strategy
Analyse web traffic and identify opportunities for improved SEO
Drive more traffic to your website and impact your online business presence by assisting with creating SEO-optimised content
Manage inbound marketing, PPC, AdWords, and SEO strategies
Implement various frameworks available for building brand equity and value
Continually assess the alignment of a brand to the organisation's strategic objectives
Recognise which digital marketing communication tools will be most effective in portraying a unique value proposition for your brand
What are the career prospects for a Digital Marketing Strategist?
A defining feature of the digital strategist role is that it is not limited to one function. It spans multiple marketing roles and teams and requires a holistic skill set. A recent General Assembly assessment on the current state of digital marketing showed there is 33% market gap of digital marketing strategy skills, which means that 33% of employers are not able to find candidates with the adequate digital marketing strategy skills to fill their job gaps.9 That reveals an opportunity, especially for those who are accustomed to the digital marketing landscape.
Here are some of the related career paths those skilled or trained in digital marketing strategy are able to move into or adopt:
CRM (Customer relationship management) and Email Marketing Manager
Digital Marketing Manager
Web Manager
PPC Manager
What education does a Digital Marketing Strategist require?
Although the role of a Digital Strategist favours a good tertiary education, it also requires skills that are learnt on the job. It's not enough to only have the qualifications and know-how, as a large portion of the job is dependent on instinct.10 These instincts that enable you to be fast-acting in high-pressured or time-sensitive situations are learnt through experience, which is why industry knowledge is so highly valued by employers of this role.
The place to start is in attaining knowledge so that you can put yourself in the best position.
Necessary education to become a digital marketing strategist would be any of the following:11
A Business Science Degree in:
Marketing
Advertising
Related field
A Bachelor's Degree in:
Marketing
Communications
Public Relations
Journalism
Working as a Digital Strategist requires both a broad skill-set and a critical thinking mind, often requiring you to work independently one day and within a large group the next day. It is a job for those who enjoy fast-changing environments, thinking on their feet and, above all, a hunger for all things digital.