A Nomura Holdings study interviewing Chief Information Officers revealed that big data, cybersecurity and cloud computing would take priority as top drivers of IT spending.1
With the disruptions these technologies dictate, businesses need information systems professionals who can define an IT system's architecture to support the company's strategy. Someone who can dive deep into technical issues and produce objectives that are aligned with business goals and process.
Which is exactly what the Enterprise Architect does.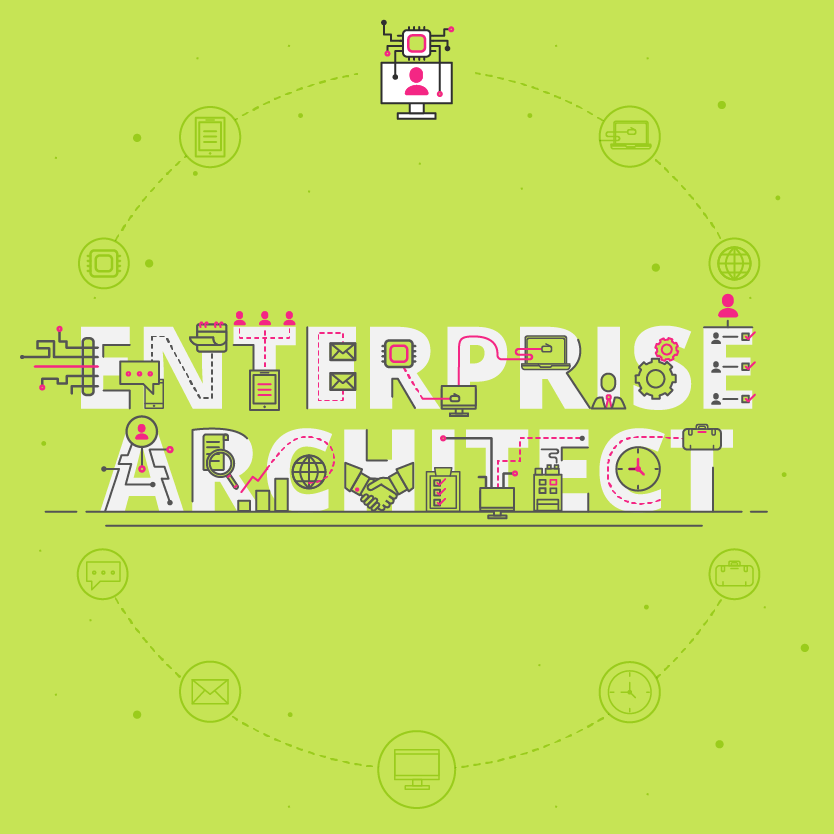 The core output of an Enterprise Architect is to create a complete design of the enterprise. If you love technology, are highly analytical and a leader, this position could deliver a satisfying professional prospect for you.
Unplanned events happen in all businesses, and recently Gartner found that worldwide IT spending by organisations is experiencing a 2.9% increase.2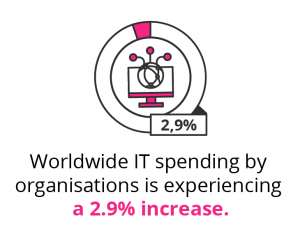 Your decision to upskill in the systems and technology industry and move towards the role of Enterprise Architect has never looked so simple. Find out which daily responsibilities, skills and knowledge you need to influence your earning potential as an Enterprise Architect.
What are the key responsibilities of an Enterprise Architect?
The role is dynamic and multifaceted – it's not just about having tech skills but also business process knowledge. Within the Enterprise Architecture team, your role could be anything from a Lead Enterprise Architect to a Solution Architect, to a Security Architect – all of which have different responsibilities.
With that in mind, if you want to be an influential and effective Enterprise Architect you need to ensure you're able to offer knowledge and expertise in the following three essential performance areas:
Business Process Design

Delivering dynamic work design solutions
Utilising structured problem solving
Attributing visual management best-practices
Understanding how to design work for people

Information systems technology

Recommending governance and ethics principles
Developing information systems strategies
Identifying enterprise and global system applications
Applying knowledge of telecommunications, IoT, networks and databases into daily tasks

Cybersecurity 

Articulating the role of cyber risk management
Executing on a cyber risk mitigation strategy
Identifying threats to an organisation and enterprise
Developing an incident response plan in the event of a cyberattack
---
Related career path: How To Become an IT Manager 

---
Gartner's Peter Sondergaard believes,"the next digital gold rush will be focused on how you do something with data, not just what you do with it. This is the promise of the algorithm economy."3
The demand for Enterprise Architects will continue to grow as the economy becomes increasingly tech-focused – are you ready to grab hold of the opportunity? If you're interested in climbing the corporate ladder and moving into the executive suite of the business, working as an Enterprise Architect is a good career move.

Here are the job positions you can aspire to as an Enterprise Architect:
| | |
| --- | --- |
| Chief Architect | Examines how IT functions can be centralised so that all departments can work together seamlessly. |
| Chief Technology Officer | Executive-level position focused on scientific and technological issues within an organisation. |
| Chief Executive Officer | The highest-ranking executive in a company, responsible for making overarching corporate decisions, managing the overall operations and resources of a company, and acting as the key point of communication between the board of directors and corporate operations. |

What is the potential salary for an Enterprise Architect?
As an experienced Enterprise Architect you can expect to enjoy a hefty income and a key skill associated with high pay for this job is competency in Service Oriented Architecture (SOA).4
Click on a country to see what you can expect to get paid as an Enterprise Architect in either South Africa, the United Kingdom or the United States of America:

What are the education and training requirements for an Enterprise Architect?
If you're an aspiring Enterprise Architect, it's important to have a clear roadmap in order to make it in this demanding and competitive industry.
Here are the five steps you should take to move towards a career as an Enterprise Architect:
Step 1: Study a Bachelor's degree in one of the component architecture disciplines first: business architecture, data architecture, application architecture, network architecture, security architecture.
Step 2: Learn an EA framework that allows you to work with other architecture disciplines, and get certified as an EA. The Open Group Architecture Framework, TOGAF has certified almost 45,000 people and is widely recognised as the best EA certification to hold but you can also go through the FEAC Institute for certification.
Step 3: Become an apprentice and work under an experience Architect or two of the first few years of your career.
Step 4: Study a Master's Degree in Enterprise Architecture.
Step 5: Keep your IT knowledge and practical skills relevant with an online short course in Business Process Design for Strategic Management, Business Systems Analysis or IT Management, or Information Systems Management.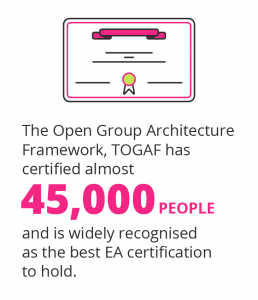 ---
Which skills do you need next?  
Download a course prospectus to find out how one of these online short courses can help you become an Enterprise Architect.