Greenwashing: The Enemy Of Sustainability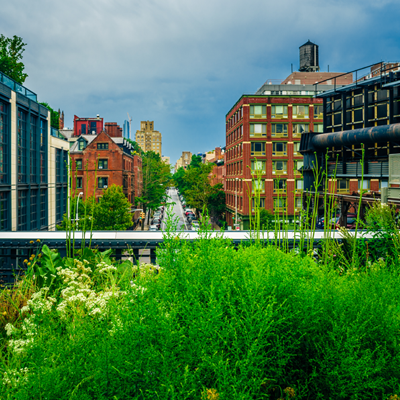 As the UN pushes for global adoption of its Sustainable Development Goals (SDGs), organisations are encouraged more and more to integrate sustainable practices into their business plans1 – for the good both of the world and the organisation.
According to the Nielsen Global Survey on Corporate Social Responsibility (CSR), 55% of over 30,000 online consumers from 60 countries are willing to pay more for goods and services from companies showing commitment to creating positive social and environmental impact.2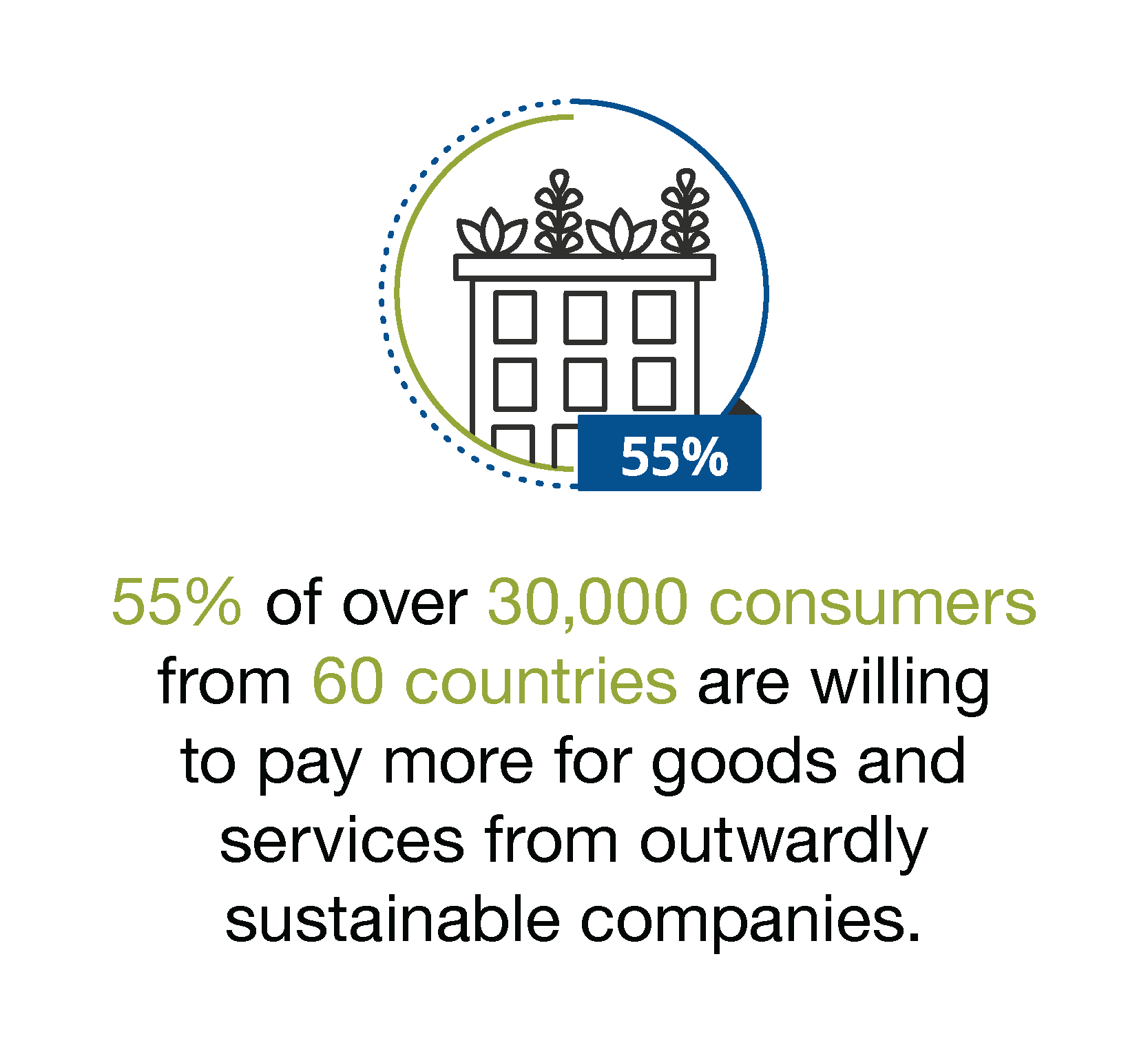 The value of casting a company in a green light is vast. The Nielsen report also found the majority of consumers take into account sustainable packaging when making purchasing decisions, and companies' bottom lines are positively affected by making sustainability claims.
But in order for the true value of CSR practices to be realised, these sustainability claims need to be more than just for show. Businesses can easily fall into the trap of greenwashing their practices, instead of integrating sustainable change into their strategies.
What is greenwashing?
Greenwashing, also known as green marketing or green sheen, is a form of marketing employed to make companies appear more sustainable than they are in practice.
The various tools used by companies to achieve this sustainability falsehood range from press releases about green projects or sustainability task forces to rebranding products or services and advertising materials.
Perhaps the most famous case of greenwashing globally is the Volkswagen "Clean Diesel" engine scandal. In this case, the car manufacturing giant admitted to tampering with on-board emissions regulation software in order to make their cars appear more environmentally-friendly than they actually were. This lead to several false advertising lawsuits being filed against VW, and a global recall being ordered of over 11 million vehicles.3
Volkswagen's false greenwashing claims about "clean diesel" engines cost the company over US$30 billion through multiple lawsuits,4 and a year after the data was released, the company's stock was valued at 30% less.5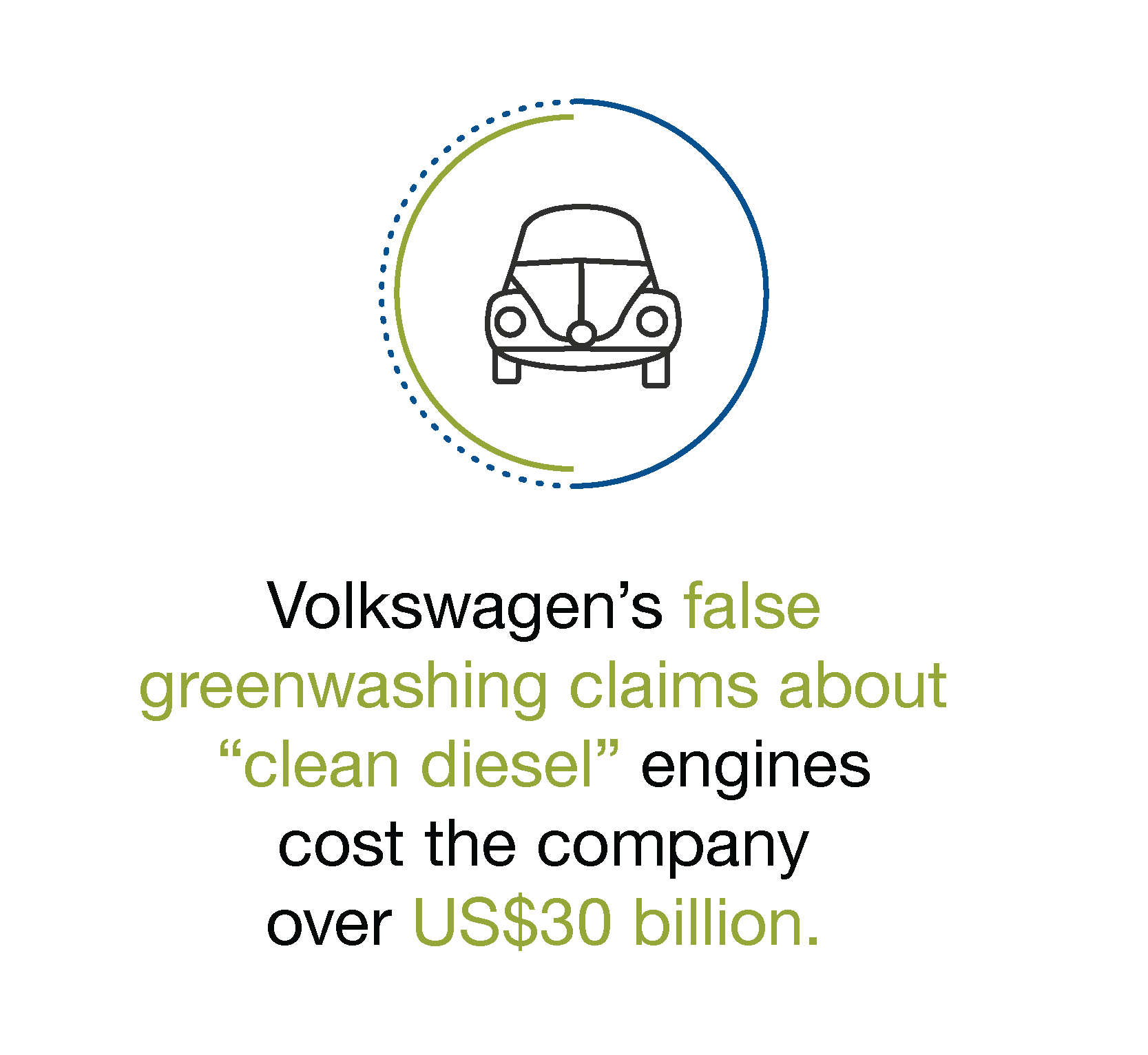 The VW example clearly highlights the pitfalls of greenwashing a business's practices: not only do you not contribute to reducing costs or environmental impact, you also leave yourself open to being found out, ultimately resulting in potential litigation and loss of revenue and public support.
Why should you care about greenwashing?
From public outcry about the use of plastics in manufacturing,6 to increased regulatory pressure to adhere to sustainability reporting standards,7 global organisations are increasingly expected to meaningfully up their sustainability efforts.
As the demand for green practices increases, many companies will inevitably opt for the easy way out by using green marketing to appear environmentally responsible. However, appearances will only get a business so far. International regulations such as the Paris Agreement seek proven empirical evidence of sustainable reform.8
The onus now falls on business to not only adapt their strategies, but also to lead and drive the charge for global sustainable change. As the Rewiring the Economy report from the University of Cambridge Institute for Sustainability Leadership (CISL) states, "Given the significant business opportunities and risks in the transition to a sustainable economy, this is no time for greenwash, complacency or 'basic compliance' approaches. Business is expected to lead."9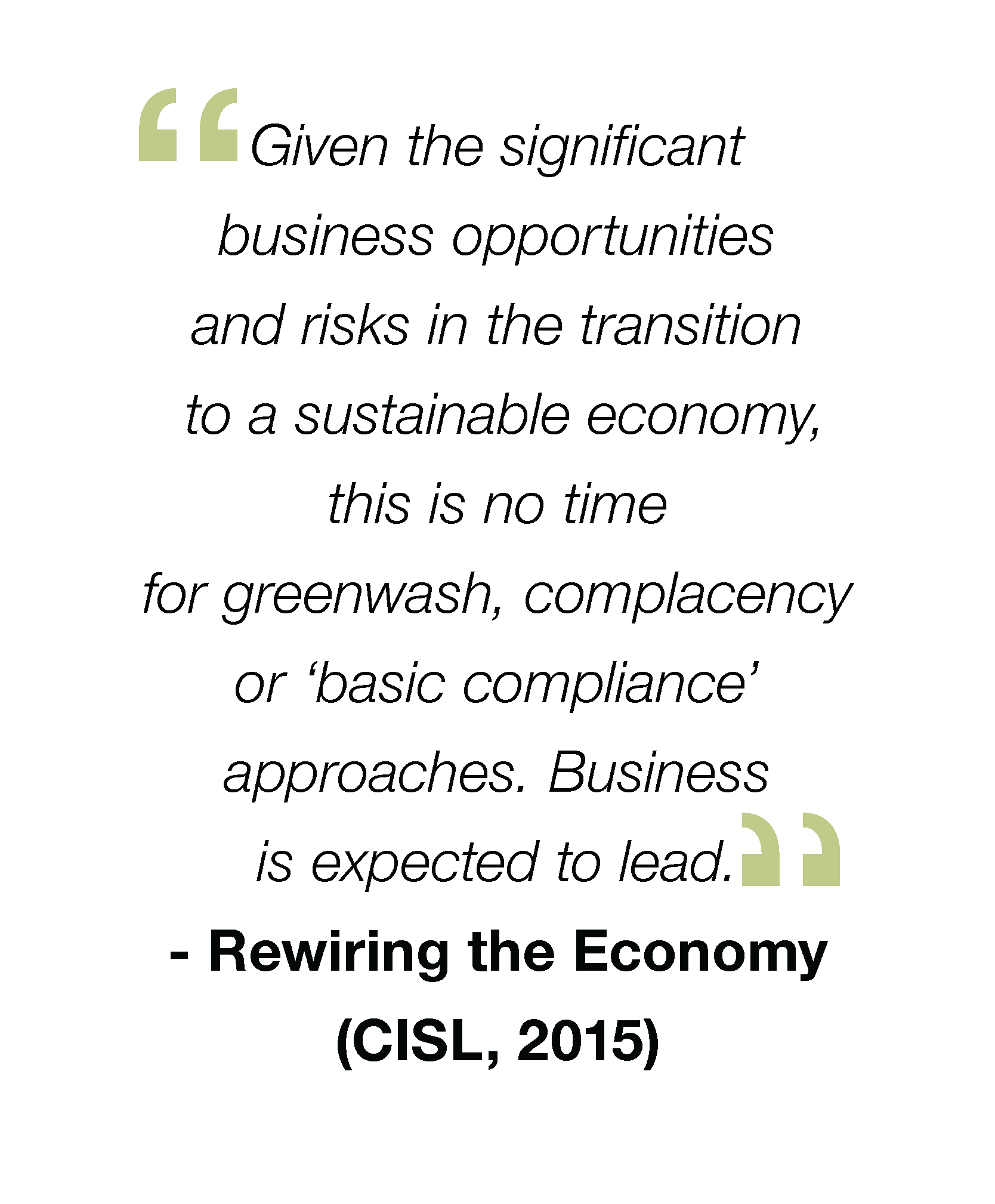 How to lead sustainability integration in your organisation
Professionals of all levels – not only those in leadership positions – need to take on the challenge of driving meaningful sustainable change. To achieve this, workers need to upskill their sustainability leadership expertise.
The Business Sustainability Management online short course from the Cambridge Institute for Sustainability Leadership (CISL) has been designed to equip you with the tools you need to argue the business case for sustainability integration. You'll learn how to conceptualise sustainable design and planning, create a sustainability leadership strategy, and successfully market your organisation's sustainable practices – increasing your environmental appeal without greenwashing.
The eight-week course will enable you to integrate sustainability into your business practices and avoid getting caught in the legally- and reputationally-detrimental trap of greenwashing.
---
Want a sustainability integration action plan for your business?
Learn more about the University of Cambridge Business Sustainability Management online short course