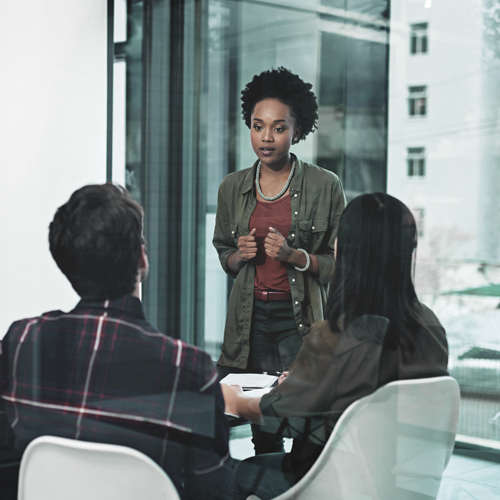 Helen Clark, former Prime Minister of New Zealand, the first woman to have won office at an election, and former member of the Council of Women World Leaders, is well-known for saying on the day of submitting her nomination as New Zealand's candidate for the 2016 UN Secretary-General selection, that she was running as the best possible candidate, and not necessarily because she is a woman. 
As a woman in leadership, Clark calls for gender equality, but also for a significant emphasis on the fact that women are still being underrepresented in leadership on a global scale, which calls for something more than just having the same human rights.
.@HelenClarkNZ shares a message for women and girls aspiring to be leaders.

Join the conversation using #CWF and learn more at https://t.co/RZbTzvrrEI #CHOGM2018 #OurCommonwealth #WomenInLeadership pic.twitter.com/EGnuZNofzm

— The Commonwealth (@commonwealthsec) April 16, 2018
Chimamanda Ngozi Adichie, author of We Should All Be Feminists wrote in The Guardian:1
"Some people ask: 'Why the word feminist? Why not just say you are a believer in human rights, or something like that?' Because that would be dishonest. Feminism is, of course, part of human rights in general – but to choose to use the vague expression 'human rights' is to deny the specific and particular problem of gender. It would be a way of pretending that it was not women who have, for centuries, been excluded. It would be a way of denying that the problem of gender targets women. That the problem was not about being human, but specifically about being a female human. For centuries, the world divided human beings into two groups and then proceeded to exclude and oppress one group. It is only fair that the solution to the problem should acknowledge that."
In honor of Black History Month, here are some iconic words by one of our favorite Nigerian authors, @AdichieSpeaks . pic.twitter.com/RKcv0X6CBk

— USAfricanImmigrantsG (@ImmigrantsGist) February 13, 2018
Women like Clark and Adichie are calling for all to join the conversation on the topic of #WomenInLeadership. Female leaders are finally starting to become a reality, and most are making full use of their positions to give powerful advice on topics like developing your own leadership identity, or on embracing opportunities amidst fear.
If you have a look at your social media news feeds, it's evident many of these determined women are keen to add their voice from various fields and industries, like:
Medicine
I get asked all the time: "How do you do it all?" *in soft worried voice
(mom, wife, daughter, doctor, researcher, leader, advocate, friend)

Usually by older MD colleague.

Do men get asked this?#WomenInLeadership #WomenInMedicine #WomenInSTEM#gendergap @DrRFernandez

— Rita McCracken, MD (@DrRitaMc) April 15, 2018
Prof Hannah McGee on how RCSI fosters an environment of inclusivity to make leadership opportunities more widely available for women @30percentclubIE #scholarships #womeninleadership @RCSI_Equality pic.twitter.com/ONU2uk5YDG

— RCSI (@RCSI_Irl) April 17, 2018
Parliament and Politics
Currently, 64% of Rwanda Parliament is Female and it has been ranked the highest country in the world with most Women in parliament as of January 2017. https://t.co/Bwkfy7MpHt #Africa #womeninleadership #WomenInPolitics

— ladders (@LaddersNG) March 12, 2018
Science
If I had one wish it would be that we knew how to give each other #feedback with #kindness and to receive it in return #wholeheartedly. Life would be easier @HomewardBound16 #womeninleadership

— Fabian Dattner (@FabianDattner) April 15, 2018
Religion
Women: we are not an afterthought. #womenleaders #halfthesky #halfthechurch #womeninleadership #morethanenchanting #thedreamofyou #mentoringmoment

— Jo Saxton (@josaxton) April 10, 2018
At the African Prestigious Awards with Regional CEO for West Africa
United Bank For Africa (UBA)
Mrs. Abiola Bawuah in charge of six African countries

When women support each other, incredible things happen. #AfricanPrestigiousAwards#WomenInLeadership
🇬🇭🇬🇭🇬🇭 pic.twitter.com/UzycO2Vjyk

— Rev Lucy Natasha (@RevLucyNatasha) April 15, 2018
Education
"You can't be what you can't see" we need more female role models #womeninschools #womeninleadership @WLASocial @NESLI_AusNZ @rosefitzben @achauncy @ItaButtrose

— Tania James (@TaniaJames) April 18, 2018
Leadership Development
Many thanks to all of our participants in our 2018 WIL Mentorship Program – Vancouver, Calgary, and Toronto! Thanks so much to our incredible Mentors, our Host Sponsor @FaskenLaw , #ImmigrantServicesCalgary, our facilitators, and our amazing volunteers! #womeninleadership pic.twitter.com/N2VWhEWijG

— Women in Leadership (@WIL_Fdn) April 19, 2018
Financial Services
Wonderful introduction of @WNORTHconf @KateFurber speaking of #diversity and @PwC_Canada commitment 50 50 gender parity partner admissions by 2020 #womeninleadership pic.twitter.com/v2uH8bGr8x

— Diane Kazarian (@DianeKazarian) April 19, 2018
Venture Investing
"If revenues generated by minority- women owned firms match those of other women owned businesses, $1.1Tn in revenues& 3.8M jobs will be added to the US Economy." @thebeacondc launch their latest Inclusive Entrepreneurial Ecosystems report #entrepreneurs #womeninleadership pic.twitter.com/mEWIQMW2qj

— Sarah Chen (@scsarahchen) April 18, 2018
Communications
Ever wonder what 500 inspiring women and emerging leaders look like? 💪 We're at #WILB2018 this week talking about leadership and communications. Follow along and get inspired! #wilbconference #womeninleadership https://t.co/vaUc5ZoObF pic.twitter.com/U8s1P2rzhG

— McLuhan & Davies (@CommunicateGuru) April 16, 2018
---
Will you join the conversation?
Explore the core strengths of female business leadership by studying the Women in Leadership online course from University of Stellenbosch Business School Executive Development.