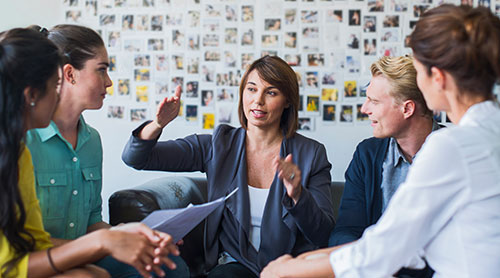 As a business leader, your goal should be to get the most out of your team by developing them so that they grow within the organisation. To achieve this, you need to help your managers undergo a shift in their thinking, so that they can stop acting as 'managers', and start seeing themselves as leaders in the business. If it is true that leadership has very little to do with position, and has more to do with one's ability to influence others to follow you, then how, and why, do we change our mindsets to become better leaders? 1
According to Scott Keller and Mary Meaney, authors of Leading Organizations: Ten Timeless Truths2 and senior partners at McKinsey & Company, there are ten critical and timeless challenges that every leader should address if they wish to maximise their team or business's performance. These are:3
Attracting and keeping talent
Developing existing talent
Managing output and performance
Developing leadership teams
Making decisions
Capturing value quickly by regrouping
Cutting long-term overhead costs
Creating a culture for competitive advantage
Spearheading transformational change
Transitioning successfully to new leadership roles
Most leaders deal with some, or all, of these issues, and a shift in mindset is required to address these successfully.4 This could start with developing smaller, more diverse, empowered and connected teams that you lead with greater transparency, and fewer layers. Effective leadership in an agile organisation will enable greater innovation, collaboration, and value creation.5 This will mean that your mindset will need to become one of discovery, partnership, and abundance-thinking, so that you can lead from a position of service of purpose, and passion for what you believe you and your team are able to achieve.
Here are some mindset changes that will help make you a better leader:
Be open.6 Most leaders acknowledge that being open to improvement is the first step towards positive results. Just having a baseline interest in improvement can bring about positive results. Being open to improvement is the first step towards seeing a positive change.
Take ownership of your weaknesses.7 Being vulnerable in front of your team is difficult for most leaders, as leaders are often under the misconception that they should present themselves as being impervious to the stresses of work. Sharing emotions and feelings and being vulnerable with the team could be perceived as showing weakness. However, it actually shows strength, and sets the right example for the team. Emotional intelligence (EQ) is when you understand and are able to manage your own emotions, as well as the emotions of those around you.8 EQ is a must-have skill in the workplace with research showing that EQ can be the best predictor of performance, and 90% of top performers typically have a strong set of soft skills.9 Leaders with a high EQ are more likely to stay calm under pressure, resolve conflict effectively, and respond to co-workers with empathy.10
Go after growth.11 More often than not, leaders who are driven by a desire for career advancement are more open to change. This also points to how they lead their teams: Good leaders closely observe the people in their teams and invest in their growth when they're ready for it, which increases trust and engagement. Additionally, when the team grows and develops then, by default, it reflects positively on the leader.
Ask for help.12 Changes in leadership are commonplace due to the pace and rate of change in the workplace, yet new leaders seldom get much support. According to a study by Equilar of 500 large-cap companies, the median tenure for CEOs was five years at the end of 2017.13 Transitions at an executive level are challenging and companies often use a mentor system to support new leaders. However, leaders can still struggle to successfully adapt into their new role. Studies show that two years after executive transitions, anywhere between 27% and 46% of them are regarded as failures or disappointments, due to difficulties in work politics, office culture, and people.14 Leaders should have a holistic view of the team and division before assuming the role. Based on this initial review, they should ask for proper support from management and their new teams to ensure that legacy culture, outdated strategy and inefficient processes are addressed and do not impede their success. Seeking help sets a good example for the team. It shows employees that their leaders are open to guidance, and this creates a healthy culture and encourages the team to ask for help and to ask questions.
Be authentic.15 A shift in mindset from reactive to creative responses will make you a better leader. A reactive mindset is an externally stimulated mindset that is based on reactions to circumstances and other people.16 This means, if someone in your team is having a bad day, then you will have a bad day. A creative mindset is self-authoring, and is based on creating your own experiences by being anchored in your authentic self, and locked onto your core purpose.17 As a result, you remain calm and focused despite your environment, which means you're able to lead with clarity.
Be self-aware in uncertainty.18 Increased self-awareness helps leaders embrace reality rather than battle uncertainty. When leaders embrace that they're there to lead others in an environment of constant uncertainty, and start to become more comfortable with the current circumstances, they can better answer the call to adapt to these changes, improvise and lead with confidence.
Don't issue orders: give vision.19 Simon Sinek, in his TedTalk 'Start with Why' says, "Leaders never start with what needs to be done. Leaders start with why we need to do things. Leaders inspire action."20  Good leaders understand that orders do not motivate people, so they provide meaningful challenges, and give their team vision. Then they allow their team to come up with the best way to achieve it.
Leadership is a profoundly human process. Becoming a better leader follows the same process as becoming a better person. All of these mindset changes will require a form of deeply disciplined leadership.21 It will mean a 'letting go' of old mindsets, and embracing new ways of doing things. The process of transformation and change will allow us to grow into a better version of the person, and leader, we are now.