The Importance of Developing Leadership Skills in an Ever-Changing Workplace
Organisations find themselves trying to keep up with the constant and rapid evolvement within the workplace, largely due to Industry 4.0 (or the fourth industrial revolution) – the current trend of automation, using data exchange and machine learning in manufacturing technologies.1 Leadership development is critical in order to maintain this dynamism and keep businesses relevant and profitable.2 One of the first lessons of John Maxwell's The 21 Irrefutable Laws of Leadership, 'The Law of the Lid', states that the limit of an organisation's leadership capability, is the lid on the overall ability of a business to perform.3
Leadership development is a key activity for many corporate HR departments.4 A recent survey of 1,500 professionals in the learning and development industry shows that 14% of businesses in America spend from $7,000 to over $10,000 per year per person on leadership development, with 68% spending $4,000 and less per year.5 However, only two out of five businesses believe they are developing leaders in a way that benefits the business.6
Even with such a large focus on leadership development in business, only half of 734 millennials in a survey conducted by Harvard7 believed their company's leadership development programmes were aligned with its business needs.
The infographic below examines 13 problematic leadership development statistics:8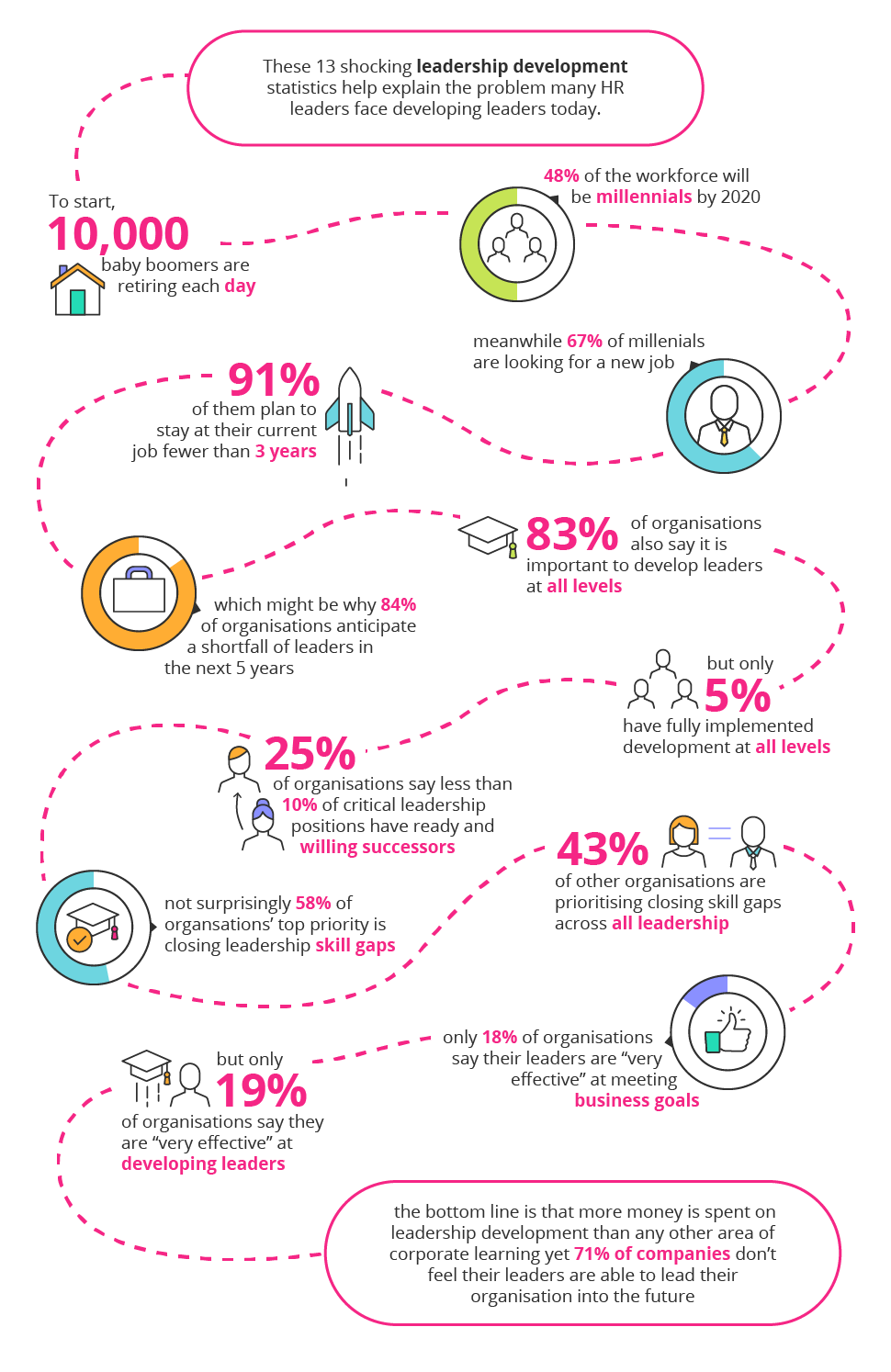 The importance of leadership in management
In the Industry 4.0 economy, the competitive advantage of a business lies in its ability to add value.9 Value is derived through utilising and optimising knowledge through technology, products, service and systems. Connected to this integral part, is the ability for a business to link this to internal innovation and to partner resources in order to stay competitive in today's business environment.10
1. Leadership development may cause a new leadership structure
Characterised by increasing digitisation and interconnection of value chains, business models, and products industry, along with partners and co-creating innovators; 4.0 leadership is similar to a thriving ecosystem rather than the bureaucratic business structure of previous generations. A flatter leadership structure is evident, and businesses are compelled to evolve, if they wish to remain relevant and profitable.11
Greater levels of delegation and decision-making are noticeable in some of the most successful start-ups and more evolved larger organisations:12
Leaders tend to guide and communicate vision, focus on leading larger client projects, and invest in developing their teams.
Managers take on more responsibilities and delegate downstream more.
2. Leadership development creates skilled and empowered leaders
Typically, a work day might find management and leadership being 'extremely busy' carrying out tasks that align with their key performance indicators (KPIs), but with no formal measurement on how well they "lead."13 It seems easier to teach and measure managerial skills – such as planning, budgeting, staffing, quality control, processes, systems – than leadership, and not many businesses are designed for effective leadership development.14
Updating the way your leaders work to be more in keeping with Industry 4.0 means a shift in leadership's thinking from siloed or 'hero' leadership. Here, only one person makes all the decisions and everyone follows, to 'hero teams' – where people from various functions, departments, and roles work collaboratively with a somewhat flattened hierarchy. Hero teams encourage decision-making across functions and roles and emphasise the need for varied competencies.15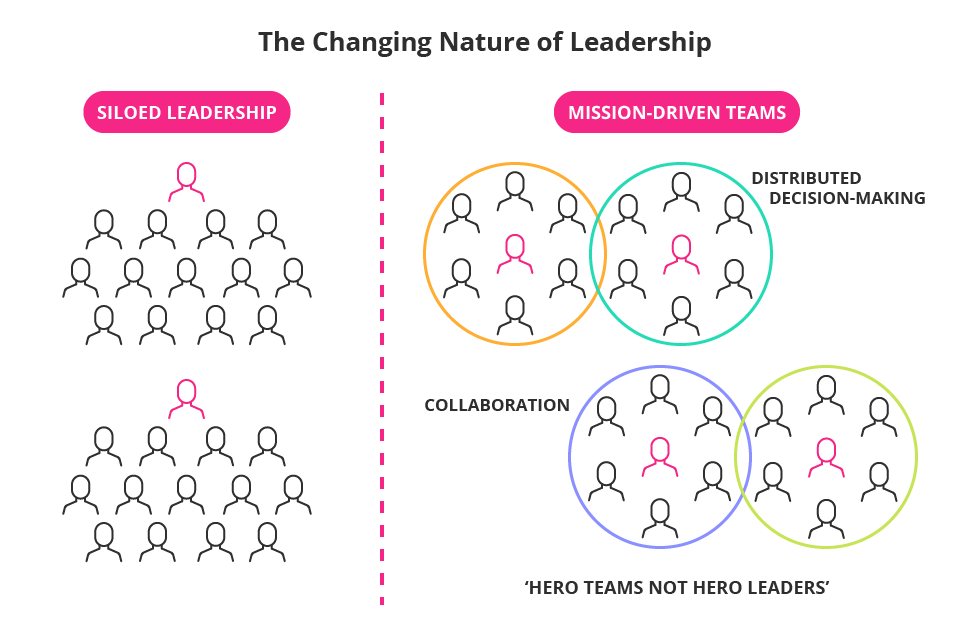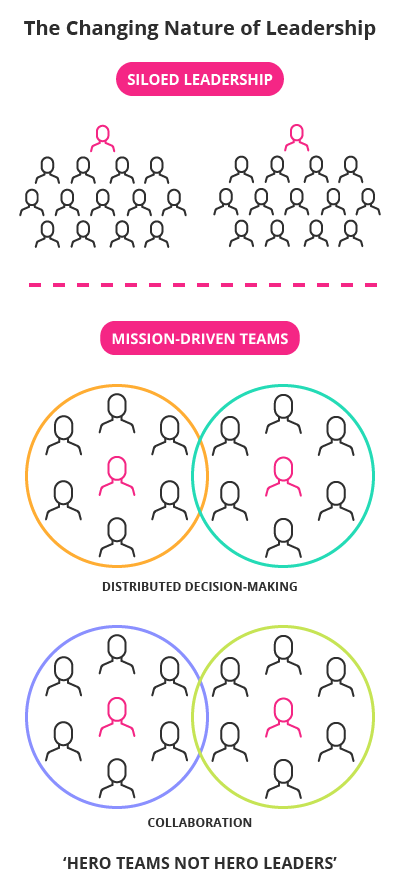 3. Improved leadership skills allow for greater innovation
According to Harvard Business Publishing Corporate Learnings 2018 'State of Leadership Development' report,16 80% said companies need more innovative learning techniques in leadership development programmes.
To bring transformation and innovation to their businesses, successful leaders in Industry 4.0 are not relying on the weight of their position to inspire productivity, but rather focus on inspiring their people to believe in a bigger vision that is good for everyone. They serve as mentors and coaches to internal talent while giving clear direction to external partners. These leadership qualities are more aligned with the Industry 4.0 economic dispensation, and foster a climate of trust and motivation.17
Innovative leaders focus on being more empathetic, in the continued education and development of the individuals in their team and themselves. Through leading by example, on advocating greater autonomy, allowing remote workers, and embracing agile external talent.18
The benefits of leadership development
Leadership development programmes aid a person who is transitioning from only leading themselves, to a leadership position where they now need to lead a group of people.19 Leadership development programmes give people important leadership skills and attributes they need to be an effective leader, such as communication skills, motivation and inspiration, as well as better decision-making skills and accountability.20
The changes Industry 4.0 have brought to leadership and business are significant. For one, the flattened organisation structure means that more people take on leadership roles, but with a lower cost to company, so more people feel connected and inspired to be at work. More senior leaders have a chance to focus on vision, and succession is easier, in part to the network of collaborative teams that are already in place.21
The importance of establishing a leadership development programme to grow leadership skills include:
Better financial performance
Investing in leadership is immediately evident in several aspects that directly affect the bottom line. When priorities are in line with the business's goals, project executions improve, employees are more engaged and productive, there's less wastage, and systems are in place for sustained improvement.22
The ability to attract and retain talent
Employee retention is 20 times better at companies that focus on leadership development.23 In a Gallup survey24 of 195,600 US employees, and more than 31 million respondents, a lack of investment in staff is the main reason that 91% of employees start looking for employment elsewhere. When it comes to attracting, and then keeping, talent, developing your people, helping them strengthen their creativity and leadership skill set and increasing talent engagement and performance is visible internally and externally. It boosts productivity, collaboration and overall work satisfaction.25
Increased alignment at the top
When a company can maintain alignment at the top, strong company culture is developed. Employees are more engaged, and customers become more connected to the brand's vision, mission, and values.
Better customer retention
Leadership's ability to motivate, mentor and inspire has a significant impact on the service provided by customer-facing teams, and the level of perceived value. Leaders show their teams by example how to act, respond, and communicate with customers, which drives customer loyalty. Leadership development programmes designed based on customer feedback; give leaders and teams a plan to tackle difficult situations, which improves customer retention, making a big impact on profitability.26
Increased agility and ability to adapt to change
Change is integral to improvement, and improvement should be an ongoing process. A commitment to change should be part of your corporate culture.27 In an unpredictable business environment – at least 86% of companies with leadership development programmes in place are better able to rapidly respond to change, compared with 52% of companies with less mature leadership programmes.28
As Industry 4.0 continues to take centre stage in today's workplace, it's time for leaders to evaluate how their teams and technology can work together to add value and achieve greater business goals. Investing in leaders through leadership development programmes that are grounded in experiential learning is the best way to navigate successfully through the ever-changing workplace world of Industry 4.0.29