Off The Field And Into Finance: The Multi-Talented Flip Van Der Merwe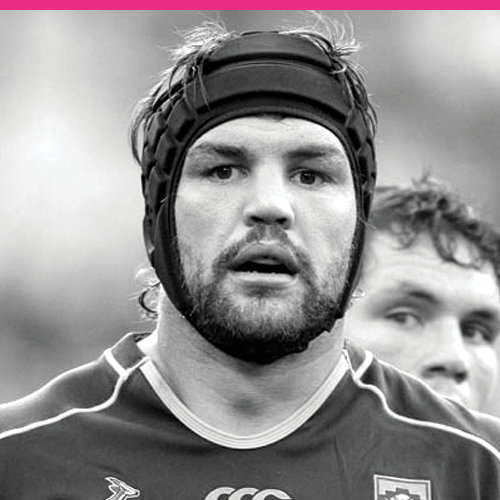 Born and bred in the Northern Cape on a cattle farm near a town called Kathu, Flip Van Der Merwe has always had a great love for the outdoors – whether that be joining fellow Springboks players on the field or pitching a tent under the stars in Bloemfontein.
Flip made his debut on the provincial side of the Free State Cheetahs, then made his way to the Cheetahs, Blue Bulls, Springboks, and most recently to French rugby union club, Clermont Auvergne.
But what many of his supporters don't realise is that Flip has the mind and drive of an entrepreneur.

More than meets the eye
Having studied a Bachelor of Commerce, specialising in finance, at the University of the Free State, Flip has always embraced education and lifelong learning."I cannot put enough emphasis on how important education is for any and every sportsman or sportswoman out there," says Flip.
"Not only because your career in sport is so short in comparison to life, but studying or taking courses will help you make better decisions on how to invest your hard-earned money so that it can work for you after sport. I'm a firm believer of continuous improvement ,in my life and in my business. Coming across Getsmarter has helped me improve myself in so many ways."
Striving towards self-improvement
Throughout his rugby career, Flip has always been involved with many business projects and developments.
Below is a timeline listing Flip's involvement for the last few years: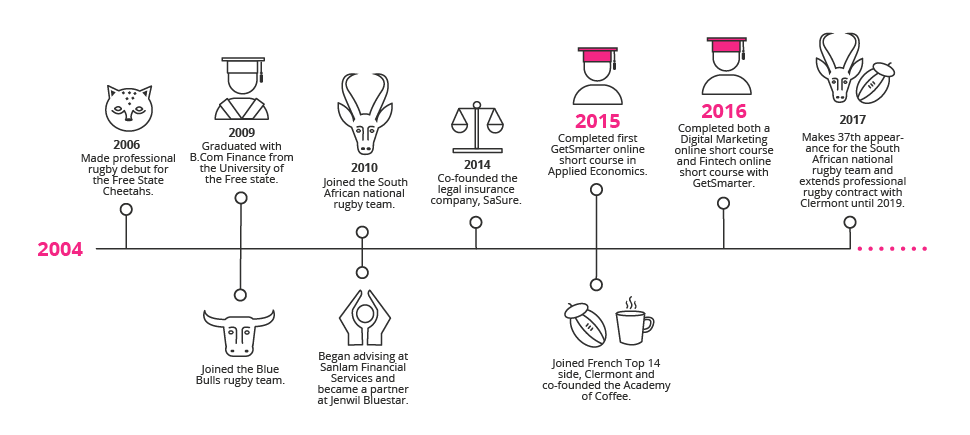 But as his involvement in business grew, Flip found he needed to upskill.
"When you start a small business, you suddenly realise you have many shortcomings – being in that unique position gave me the opportunity to want to learn new skills. Online education is the future."
Over the years, Flip studied three online courses with GetSmarter – one of the most recent being the UCT Digital Marketing online short course.
"Marketing and the application thereof has changed so much since the time I learned about marketing as a 2nd-year student and I was able to change my whole approach to marketing in just 8 weeks."
Gaining transferable experience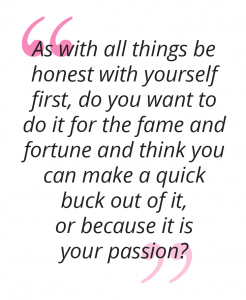 Flip has discovered both rugby and entrepreneurship to evoke a similar motivation within him: if the heart and dedication are not there from the very beginning, many would accept defeat instead of pressing on.
Throughout his career, Flip says said his goal has always been to embrace any experience as an opportunity to learn and grow.
"As with all things,  be honest with yourself first. Do you want to do it for the fame and fortune and think you can make a quick buck out of it, or because it is your passion? As it is with business, rugby can be cruel and demanding, filled with lots of ups and downs, but no money can compare to the feeling of celebrating with your teammates after a hard-fought match."
Embracing a new era
Although Flip can look forward to a good few more years on the field, he's made sure to prepare for what the future holds, and a large part of this preparation has had to do with embracing education.
"If all goes well I still have a couple of years of rugby left in me which I want to embrace to the full. In terms of business, I am exploring a few exciting new ideas in the fintech space and I'm sure to always keep an eye on the Getsmarter website to find something to study next."
---
Amidst his successful rugby career, Flip took the initiative to embrace lifelong learning in preparation for his future.
Which skills do you need to keep yourself relevant?