Supply Chain and the Role of the Project Manager
To drive strategy or create improvements within a business, project management principles are commonly applied. These same tools can be effective within the supply chain function. But first, let's investigate the supply chain.
What is a supply chain?
A supply chain is the network of activities, resources, and technologies involved in the creation of a product.1 It typically begins when the source materials are received from the supplier, then progresses through the chain to production at the manufacturer, and concludes when the finished product is delivered to the end customer.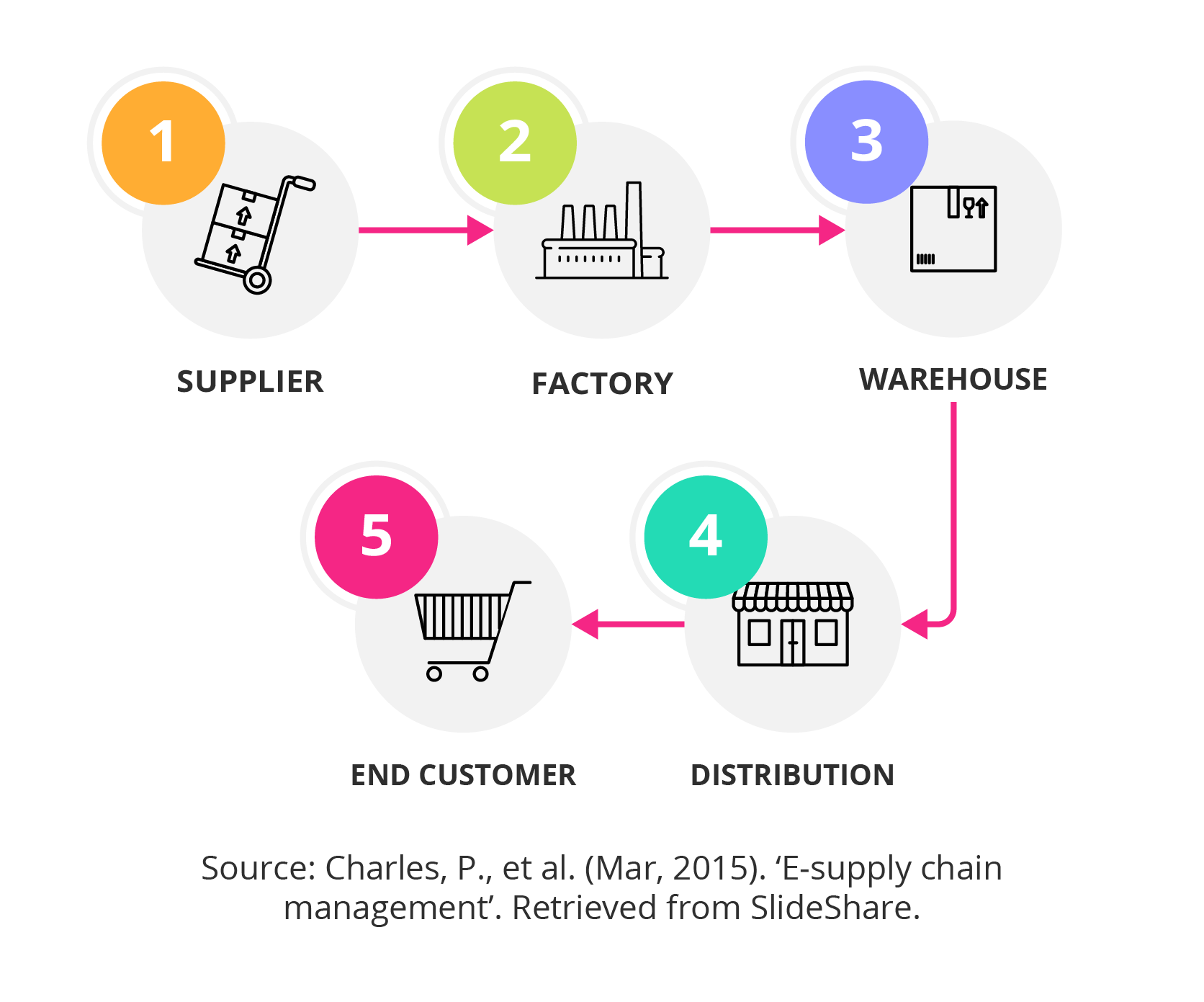 What is project management?
Project management can be defined as the application of processes, methodologies, insight, knowledge, skills and experience that will result in the goals of a project being reached.2 Projects are typically not part of the day-to-day business operations, and this is what separates project management from everyday business management. A project manager leads a team of people selected to be involved in a project that it is locked into a specific timespan, and has a set of finite, key outcomes to achieve.3 Business management on the other hand, typically has long-term goals with broader outcomes.
Where can project management play a role within a supply chain?
As project management is the process of coordinating resources and tasks that will result in a defined objective within a set timeframe, budget and scope, it is ideally suited to the supply chain.4 Areas along the supply chain where it could be considered, include:5
Transitioning from a local to a global supply chain
Improving lead times
Driving inventory process efficiency
Improving supplier efficiency
Rolling out new software and systems
Outsourcing tasks, such as assembly or manufacturing
How could project management functions improve the supply chain?
To bring about improvement to the supply chain, project managers can apply the following functions:
Project integration management6
A strategy that factors in other existing projects and initiatives. It looks at the tasks, tools, methods, expenses, staffing needs, process tracking, communication between stakeholders, risks, constraints, challenges, and contingencies, in order to deliver the project on time and within budget.
Project scope management7
In this role, the project manager takes care of all the legal requirements, civil infrastructure or project fundraising required for the project to effectively increase the business profits and productivity. This includes looking into the latest available technology, current market demand, environmental restrictions, or social needs.
Agile scheduling and planning8
An important aspect of project management in the supply chain is to develop and maintain accurate delivery schedules that are relevant to project dependencies and resources. Following an Agile approach, allow requirements to be delivered iteratively and in smaller increments throughout the life cycle by scheduling, planning, and collaborating throughout the project.
Risk management9
The process of identifying, analysing and responding to risks that arise and threaten to derail or delay a project. Risk management should be included in the planning process, so that potential risks can be identified, made provision for, and consequences preempted, thereby eliminating a 'reactive' risk-management approach.
Business case and financial awareness10
For a project to be successfully executed, personal assumptions about business initiatives need to be put aside in favour of a well-developed business case. This will provide the action needed to make the supply chain processes more efficient, and will ensure the costs for executing it are planned for, and covered in the budget. It will also ensure key players understand the business benefits of carrying out the project.
Resource management11
Resources include people, materials, equipment, knowledge and time, of which most businesses have a limited supply. Make provision for challenges in execution with regards to limited resources, such as training, skills, equipment and processes that support project execution. Counteraction of these challenges will ensure the execution phase of supply chain project management is a success.
Quality systems12
Strategically gaining goods with low costs are of little use to the business if they are not fit for purpose or do not meet the quality standards of the business.
Document roles and responsibilities13
A key part of project management is the documentation of tasks, priorities, and responsibilities, with delivery dates. Meeting with project stakeholders regularly will ensure that tasks have been prioritised accurately, and that the team and other individuals involved understand their roles and responsibilities. Likewise, if external teams are included in the project, the documentation should include their tasks and categorise any dependencies. The documentation will help all involved understand the progress of the project through the life cycle.
Communication14
Even with the improvement of project software tools and applications, nothing can replace communication and soft skills. Just as a supply chains incorporate technology to analyse and track the movement of data, products, and finances through the supply chain, so too human relationships and interactions remain the critical link to building trust, setting expectations and conveying confidence.
Related article
As technologies such as artificial intelligence (AI) and robotics develop, and big data gives decision makers access to deeper business insights, the supply chain gets more complex.15 The project manager is best placed to identify factors that might add to these complexities. These could include: geographical variances between customers and suppliers, potential risks and security considerations, changes and subsequent obstacles due to regulations and compliance standards, increased customer expectations regarding quicker lead times, and an increase in the number of competitors.
Being able to effectively manage change and drive improvement in these complexities is vital in order to achieve business objectives, such as greater efficiency, growth and profitability. To achieve success in supply chain initiatives, a project manager can provide the foundation upon which executives can carry out growth strategies.