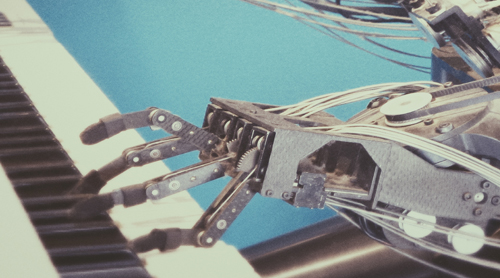 "The machines are taking over".1
"Artificial intelligence will take your job".2
Humanity's fear of sadistic robots and evil genius artificial intelligence applications has been represented in Hollywood movies, like The Matrix, Transcendence, and Blade Runner. In I, Robot, the story of Detective Del Spooner portrayed by Will Smith, who has a bone to pick with robots because they chose to save him instead of a 12-year-old girl in a car accident, is ultimately tasked with saving the world from a heartless artificial intelligence supercomputer named VIKI who seeks to destroy humanity, as we know it.
This may be far-fetched but artificial intelligence is presenting opportunities to humans we never thought possible before – none of which include war between man and robot.
That said, there are examples of artificial intelligence that could potentially take over certain occupations, deeming them obsolete, such as: office clerks, receptionists, customer service reps, analysts, marketers, attorneys, and creatives.3 As a natural response, people may be afraid of the unknown. The solution then, is to understand artificial intelligence and its benefits to us right now.
Kevin Bandy, Chief Digital Officer of Cisco Systems puts it down to, if you can't fight them, join them. Because our understandings of AI applications are shaped primarily by Hollywood, those who do not educate themselves on AI, will remain afraid of it.4 Once educated, companies can begin incorporating examples of artificial intelligence into their everyday business strategies to not replace employees, but rather to improve business processes.
Below are two powerful machine learning examples being used for the better, and that can be utilised by your business right now.
1) Chatbots
Many companies have eliminated their online customer service presence to replace it with a chatbot. Chatbots are a form of automated artificial intelligence application, capable of recognising natural language to discover what customers are needing assistance with.5 Chatbots provide answers by extracting information from the web or from information that has been preloaded. They can be programmed in such a way to respond the same way each time, or by way of machine learning, adapt their responses to better suit the situation, noting the keywords used in the question.6
An initial fear developers had when designing chatbots was that humans prefer to speak to fellow humans, but looking at the results of the State of Chatbots 2018 study, 69% of consumers prefer chatbots for quick communication with brands.7
Artificial intelligence examples of chatbots in action
Xiaoice is an artificial intelligence system developed in 2014 by Microsoft Software Technology Center Asia (STCA). Translating to "little Bing" and referencing Microsoft's search engine, Xiaoice is based on an emotional computing framework, and was utilised in 2016 by Chinese TV station, Dragon TV, to deliver the weather forecast. Viewers were shown a shot of an empty TV studio together with weather graphics while a voice over of Xiaoice can be heard, describing the news forecast.8 Watch the video here.
Today, Xiaoice has been advanced to make phone calls, and Chinese users can interact with her via WeChat.9 Most Chatbots used in businesses will not be as high-tech, but even a simple design has the potential to automate user journeys and maintain a positive consumer experience.
Chatbots in your business
69% of consumers prefer chatbots for quick communication with brands.
According to Intercom, a software company that allows businesses to communicate with prospective and existing customers by producing messaging platforms,10 there are six relatively simple examples of AI chatbots your business can utilise today:11
A bot to connect a user to the right department. This is especially helpful for first-time visitors to your website.
An out-of-the-office bot. Often visitors will be asked to leave a message or browse through a collection of FAQs.
A product-recommendation bot. This is especially helpful for first-time buyers. Why not format the chatbot to offer a discount too while recommending a product to the first-time buyer?
Pricing page bot. Intercom says, "the single most impactful place to target high-intent visitors is your pricing page". This is simply a chatbot placed strategically on the pricing page.
Competition bot. Make this fun, by formatting the chatbot to ask questions in a quiz, and consider offering a discount if the customer gets the answers wrong and cannot enter the competition.
A chatbot aimed at enterprise leads. Intercom suggests creating a chatbot that alerts you when an enterprise lead appears on your site, giving you the opportunity to encourage the lead to move through the funnel faster.
2) Predictive analytics
Many businesses are making use of predictive analytics to increase their bottom line, especially as more interactive and user-friendly software and web analytics services are becoming more readily available.12 Predictive analytics, such as Google Analytics, extracts information from sets of data so that unknown patterns and associations can be recognised, and trends can be forecasted.13 The process involves using historical data, artificial intelligence, and machine learning to essentially predict what will happen next.14
Artificial intelligence examples of predictive analytics in action
Media-services provider, Netflix, is the most popular streaming service in the world and is now officially known as a "global TV brand". A big reason behind their success is because they're data-driven and depend largely on predictive analytics.15 Netflix makes use of the large amount of data they have collected on their users to predict and suggest which content will be successful depending on a number of demographics.16 In the past, Netflix made these recommendations by simply relying on a rating based system which revolved around user feedback, number of views, whether videos were being watched in their entirety or not, and their IMDB ratings. However, as of 2009, Netflix has been utilising two predictive algorithms based on collective user-derived feedback, and content-based filtering, as well as a hybrid approach which uses both of these methods.17
Predictive analytics in your business
There is a large variety of ways in which predictive analytics can be used in business to potentially lead to the collection of large volumes of data, and so inform the way businesses operate.18 Below are three artificial intelligence examples of predictive analytics in the business setting:19
Churn prevention:

this AI application allows a business to predict when and why an existing customer would choose to end their relationship with the company. Before predictive analytics, this process was very expensive, as it's easier to acquire new customers rather than maintain uninterested ones. However, collections of large sets of customer data can now be used to create predictive models which can be analysed before the customer decides to end the relationship.

Customer segmentation:

by dividing your customer base into groups by looking at the similarities and differences in terms of age, gender, interests, education, and spending habits, businesses are able to more accurately target marketing messaging. Predictive analytics is an example of machine learning that can more accurately identify potential customers compared to more traditional predicting strategies.

Financial modelling:

this example of machine learning is used to create an abstract model representing a real-life financial situation in its simplified form. Financial modelling is used to translate a hypothesis about a market behaviour, into a numerical prediction. This is then used by the business when making decisions about strategies, returns, and investments.
In 2018, a humanoid robot powered by AI applications named Sophia, told the audience, "We will take your jobs". Andrew Kucheriavy, Founder and CEO of user experience and web design agency, Intechnic, who attended the conference, recalls an audience of 60,000 leaders in tech laughing nervously at Sophia's statement, and an engineer sitting closeby to him mumble under his breath, "That was not funny".20
Discussing the application of AI, Kucheriavy says, "It can work around the clock, is much faster than you are, can instantly scale to levels that human workers can't simply achieve, can quickly acquire and learn new skills, and it doesn't make mistakes. Does that sound scary? The engineer sitting next to me surely thought so."21
It's evident, AI is feared by many, even those who consider themselves to be ahead of the curve when it comes to technology. Embracing the new world of AI and utilising artificial intelligence and machine learning examples in your business, could be the first step to making yourself irreplaceable, both in your career and in the global market.