The Future of Blockchain in Business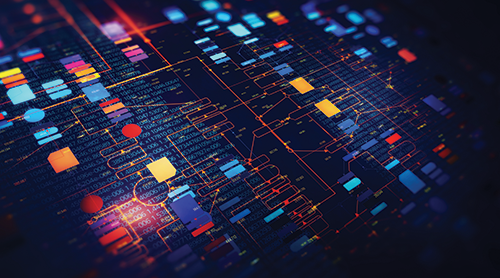 In 2017, the global cryptocurrency market cap rose by over 1,600% from US$18 billion to over US$500 billion by the end of December that year.1 Cryptocurrency is underpinned by blockchain technology.2 The adoption of blockchain technology and the disruptive technology and products it supported will dramatically impact on how we do business.3
Outside of finance, blockchain technology can be used in applications ranging from business management to healthcare and communication. This is because blockchain technology is much more than a system used to facilitate the secure online transactions used in transferring cryptocurrencies from one holder to another.4 With the spotlight being shone on blockchain technology, the global economy is preparing for the blockchain revolution.5
Companies that are most likely to benefit from blockchain are those that need transparent and clear transactions, are looking to move away from paper-based legacy storage systems, and/or transmit high volumes of information.6 To keep up with this rapidly-evolving technology, you need to familiarise yourself with blockchain policy in order to understand its effects on business and the future of marketplaces and economies.
By 2020, it is predicted blockchain networks will be used in increasing numbers of large organisations, with at least a quarter of companies on Forbes' Global 2000 list utilising blockchain services at scale.7
In essence, any industry or organisation involved in the recording and overseeing of transactions of any kind could benefit from moving its operations onto a blockchain-based platform.8 Take a look at the following predictions of how blockchain technology will begin to influence various sectors of the global landscape.
1) Finance
One area predicted to continue evolving with blockchain technology is cross-border payments. These recent developments from SWIFT, Ripple, IBM, and more are leading the transformation on this front:
IBM's Blockchain World Wire – This blockchain-enabled conduit uses the Stellar protocol and allows for banks to clear and settle cross-border payments almost immediately. It is more cost-efficient, faster, and can support any number of asset types across destinations and sizes. The process integrates the World Wire API into banks' payment systems and then World Wire converts the digital asset into currency, completing the transaction.9
Paystack (Africa) – Paystack creates payment infrastructures and connects payment processors with each other with the goal of making it quicker and easier to facilitate online payments. To date, it is processing 15% of Nigeria's online payments.10
SWIFT (Europe) – European gpi payments are marked by speed. They are credited within 30 minutes generally speaking, though it's noted that many transactions are credited in seconds. Thus, fintech firms can track international payments globally in real time. According to SWIFT, the gpi is set to be the standard for cross-border payments by the end of 2020.11
Ripple for Brazil and Japan – MUFG Bank and Banco Bradesco will use distributed ledger technology from Ripple, a San Francisco-based software vendor specialising in global real-time settlements, to create a new cross-border payment service between Japan and Brazil.12
BitPesa (Africa) – BitPesa uses blockchain technology for small businesses to send and collect payments to and from Africa. With one easy payment from nearly anywhere in the world, an employer can send money to their employees, distributors or suppliers in Africa. To minimise foreign exchange risk, payments are processed in a day.13
When it comes to development in fintech, large banks are funding innovation to stay ahead of the blockchain revolution. Barclays' Accelerator, a 13-week programme for startups, provides space and funding for a number of blockchain-based fintech companies.14
Below are more examples of financial innovations using blockchain technology.
Bitcoin Atom – A new form of Bitcoin, Atom allows you to easily exchange cryptocurrencies without any trading fees and no intermediaries. However, widespread adoption is currently hindered by the highly technical skills they require; something Bitcoin Atom is working on.15
Securrency – This is a trading platform for cryptocurrencies and any kind of asset. It is exchanged through Securrency tokens, which allows cryptos to be traded outside of their dedicated exchanges.16
ABRA — A global app and cryptocurrency wallet that allows you to buy, invest and store up to 20 cryptocurrencies including bitcoin, ethereum, litecoin and more.17
Smart Valor — Smart Valor gives secure access to global wealth and investment opportunities to anyone interested in alternative investments.18
Circle — This UK-based company allows you to send money via text without any fees.19
2) Business
The main drivers of adopting blockchain technology in business – higher revenue, lower costs, and more efficient use of time – are why major corporations are embracing it. Examples of how blockchain is being adopted by corporate companies include:
JP Morgan has announced the release of its Quorum technology, aimed at bringing transaction-level privacy with network-wide transparency to the financial sector.20
IBM used it to develop its tracking tool for shipping companies.21
Retail chain, Eastman Kodak, is experimenting with blockchain to create repositories for stock images.
Spotify is looking to use blockchain to manage copyrights.22
3) Law
In law, blockchain technology can be used to create smart contracts, as well as validate ownership documents such as title deeds. In application, blockchain could improve efficiency in the criminal justice system; if law firms are given access to records on the blockchain, those records could bring new, incorruptible evidence to the fore.23
Smart contracts is an application of blockchain in the legal sector. Smart contracts are digital contracts that uphold the nature of a legal contract: an offer is made, consent is given, and value is exchanged, except – unlike traditional contracts – smart contracts automatically update as the previous steps and requirements are fulfilled.24 Unlike regular contracts, the crowdsourced verification of data or events on the blockchain doesn't allow for tampering or inconsistencies in smart contracts.25
Some examples of smart contracts in everyday life are Follow my Vote,26 a blockchain-based voting platform that "embodies all the characteristics that a legitimate voting system requires: security, accuracy, transparency, anonymity, freedom, and fairness".27 Voters use government IDs, a webcam, and a computer to remotely log in and cast their vote.
Smart contracts may become more useful as cryptocurrency and blockchain evolve. Currently, the technology is new and the boundaries are unknown.
4) Real Estate
Advances in real estate using blockchain technology include Deedcoin, which runs on only 1% commission and connects real estate agents with home buyers,28 and Ubiqity, which securely records property information to ensure a clean record of ownership.29
Smart contracts are also being used in the property industry to facilitate international property purchases, such as BitProperty.30
5) Logistics
When it comes to logistics and supply chain, tracking goods from source can be challenging. In the food industry, blockchain improves the efficiency of determining what food might be contaminated and from what source throughout the supply chain.31
Below are more examples of innovative logistics and supply chain-focused blockchain applications:
TradeLens – IBM's blockchain solution for logistics and supply chain provides transparency and improved efficiency through blockchain with a shared record of ownership and location of parts and products in real time.32
Provenance – Consumers are increasingly demanding transparency regarding the products they purchase to ensure the ethical sourcing and production of products. Provenance uses blockchain to provide chain-of-custody and certification of supply chains.33
Blockverify – Focusing on anti-counterfeit solutions, Blockverify use blockchain to verify counterfeit products, diverted goods, stolen merchandise and fraudulent transactions.34
De Beers – De Beers mines, trades and markets more than 30% of the world's supply of diamonds. The company uses a blockchain ledger to trace diamonds from the mine to the customer purchase, and helps confirm diamonds are free from conflict.35
6) Healthcare
A study by IBM, Healthcare Rallies for Blockchain found that 16% of surveyed healthcare executives planned on implementing commercial blockchain technology in their organisations in 2017, while 56% plan to do so by 2020.36 According to Innovatemedtec, a blockchain ecosystem implemented in healthcare could have the following impact:37
Healthcare organisations send client and clinical data to the blockchain via APIs.
Transactions are completed, uniquely identified and stored on the blockchain with smart contracts.
Health organisations can analyse data to discover new medical patterns, trends, and insights.
Patients can securely share their medical data with health organisations with private API keys.
Below are examples of recently implemented uses of blockchain technology in healthcare organisations.
MedicalChain – This is the first healthcare company that uses blockchain technology to facilitate the storage and utilisation of electronic health records to deliver a complete telemedicine experience.38
MedRec – MedRec uses blockchain to save time, money and duplication in procedures between a variety of facilities and providers by giving any medical practitioner secure access to patients' records. Patients could also grant access to their anonymous medical records to be used for research.39
Nano Vision – Nano Vision combines the power of blockchain with artificial intelligence (AI) to gather molecular-level data on Nano Tokens. AI then sifts through the data to find trends and analyse connections.40
Gem – With the goal of giving patients control over their medical records and genomic data, Gem has partnered with Centers for Disease Control and Prevention to experiment with using blockchain to monitor infectious diseases.41
The MediLedger Project – The MediLedger Project is a collaboration between Chronicled and The LinkLab that brings together their respective expertise in pharmaceutical supply chain management and blockchain technology. The aim of the MediLedger Project is to improve the track-and-trace capabilities for prescription medicine. Built to meet the requirements set out by the US Drug Supply Chain Security Act (DSCSA), the blockchain healthcare project meets the legal requirements as well as supporting the operational needs of the pharmaceutical supply industry.42
The impact of blockchain innovation in business
The tools and platforms described are just a few examples of how blockchain technology has been applied in various industries. This highlights the implications this technology will have for businesses, trade and entire economies and how important it is for business leaders, tradespeople and decision-makers to become familiar with the technology.
So what does blockchain innovation look like for the future? We could see more governments following in Dubai's footsteps and embracing distributed ledger technology (DLT) for their government systems.43 Emerging economies will enter an era of experimentation and explorations with regards to cryptocurrency.44 2030 could see the emergence of a blockchain identity for individuals that includes physical and virtual assets that will solve the highly-siloed, insecure identity systems we see today.45
What is certain is the ongoing maturation and strengthening of blockchain will see more value emerge across all sectors.46 Allyson Clift-Jennings, CEO of Filament, says, "The impact of distributed ledger technology may be greater than any of us realize — it has the potential to change economics, business and society, and we're just beginning to scratch the surface of what's possible."