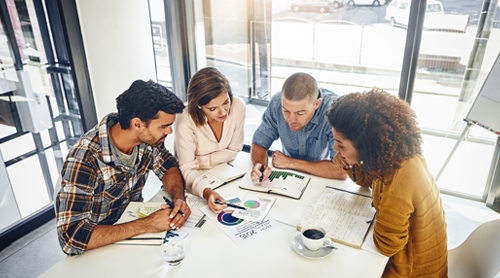 It's becoming increasingly important to understand the impact of technological advances on your day-to-day life. The sheer amount of information available might make you feel like you're drowning in a digital overload, especially if you want to understand blockchain, its technology, and how it relates to cryptocurrency.
In conversations surrounding transformative technology, it's almost inevitable that "blockchain" will enter the conversation. The economic innovation of blockchain architecture could have profound global implications.1 Blockchain, as a new technology, will need time to adapt and evolve to society's current economic ecosystems and revenue models.2 While the technology and financial sectors are ablaze with this term – is it as prominent outside of these sectors?
Professor Christian Catalini believes, "The potential for blockchain to transform how organisations produce and capture value is very real, but so are the challenges to its broad implementation."3 Essentially, blockchain technology hasn't reached its full potential yet, so there will always be uncertainty about future applications.
To provide insight into this emerging technology, here is a simplified list debunking eight myths about blockchain technology. As a bonus, included are six facts about blockchain and cryptocurrency.
The potential for blockchain to transform how organisations produce and capture value is very real, but so are the challenges to its broad implementation.
Eight myths about blockchain technology: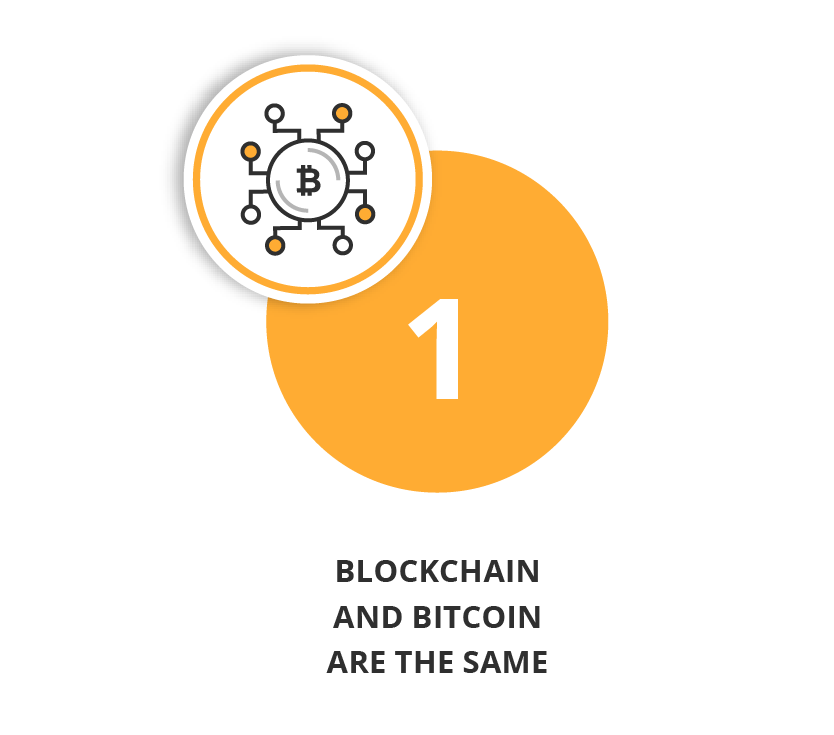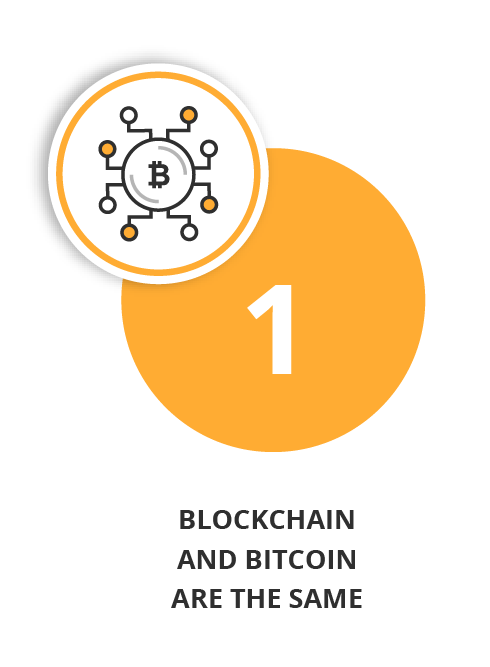 A common blockchain misconception is that the technology and the cryptocurrency, bitcoin are the same entity.
What is blockchain? According to the Oxford English Dictionary, blockchain is defined as, "A system in which a record of transactions made in bitcoin or another cryptocurrency is maintained across several computers that are linked in a peer-to-peer network."4
Essentially, blockchain technology is a digital ledger that's open and distributed, and can record transactions between parties.5 Each transaction is encrypted and added onto the original, forming a chain of data that lists all the records and requires a digital key to unlock. This relies on the coding embedded in the ledger. In this way, blockchain can also execute such functions automatically.
The key to understanding cryptocurrency relies on the knowledge that blockchain and bitcoin are two different technologies, but linked closely to each other.6 The initial purpose of blockchain was to facilitate cryptocurrencies like bitcoin that allow for the distribution of digital information, without copying it through a "new type of internet".7
Bitcoin, on the other hand, is a cryptocurrency that may or may not be regulated depending on country-specific laws. The intention behind bitcoin is to form a currency that can bypass government currency controls by being decentralised, and avoid extraneous intermediaries that drive up the costs of transactions.8
The idea of creating a digital currency previously faced an obstacle known as the "double spend" problem.9 Since electronic transactions are digital, technology needed an upgrade to be able to account for this accurately, otherwise currency bearers could spend the same cryptocurrency twice, before the first electronic transaction was properly recorded.
Algorithms in bitcoin ensure transactions are given a numerical order for when they occur. This ensures every transaction is distinctive, thus resolving the "double spend" issue.10 The essence of bitcoin is that it's reliable, trustworthy, and lowers costs by being an online, publicly accessible currency.
Detractors on the other hand mainly focus on the current restrictions of the technology. At the moment, bitcoin can only process limited amounts of transactions per second and it consumes a large amount of electricity to compute these programs.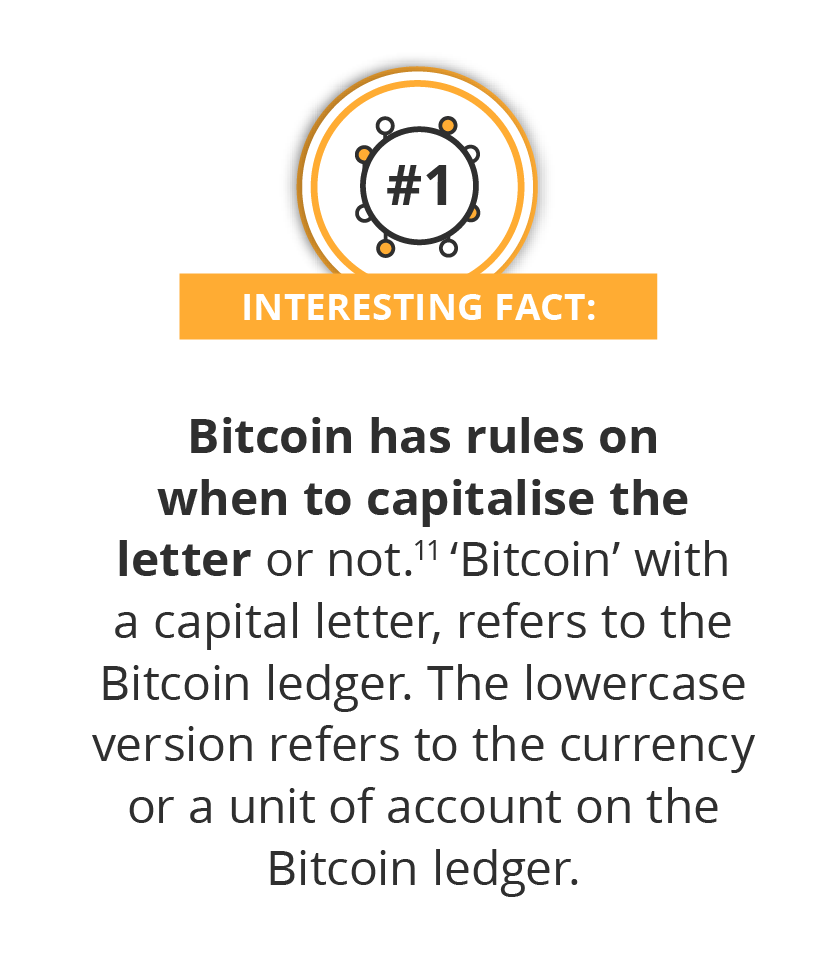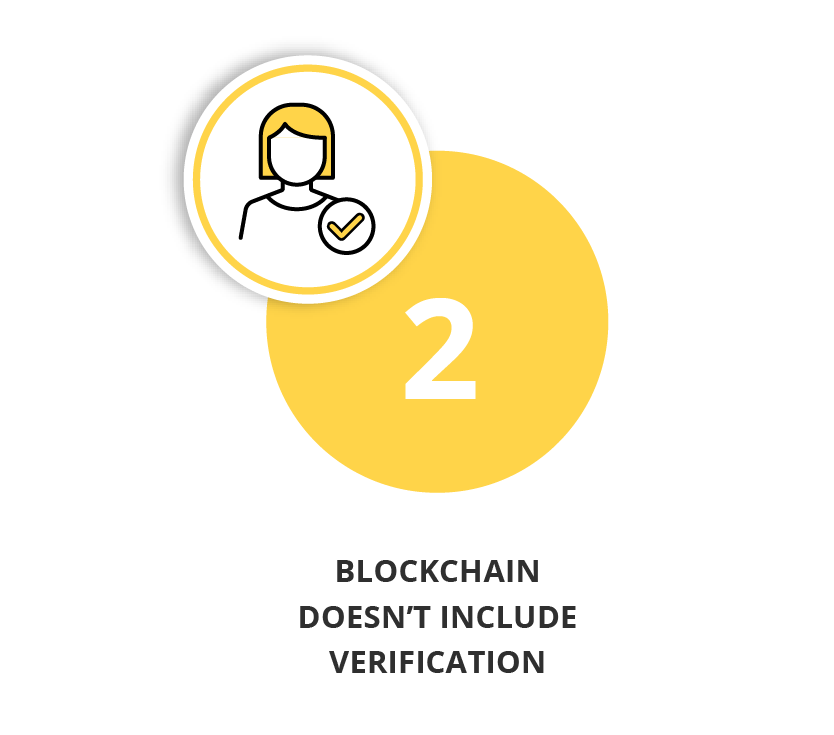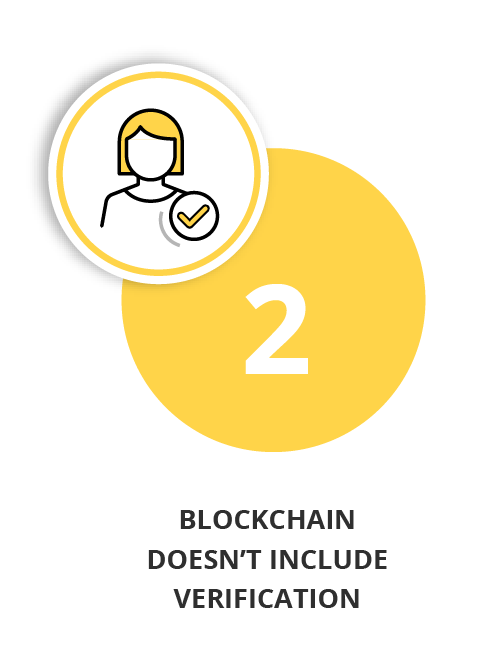 The problem with many traditional transactions today is that a ledger can be tampered with to reflect incorrect information, including adding and removing records.11 Commerce transactions require not only trust, but also verification. To avoid irregular activity, commerce is regulated by intermediary institutions, such as banks, that facilitate the exchange of information and services.
A blockchain misconception is that blockchain technology does not provide a trusted method to verify transactions. However, the architecture of blockchain technology disproves this. This is explained by Professor Catalini and Professor Joshua Gans in the below diagram: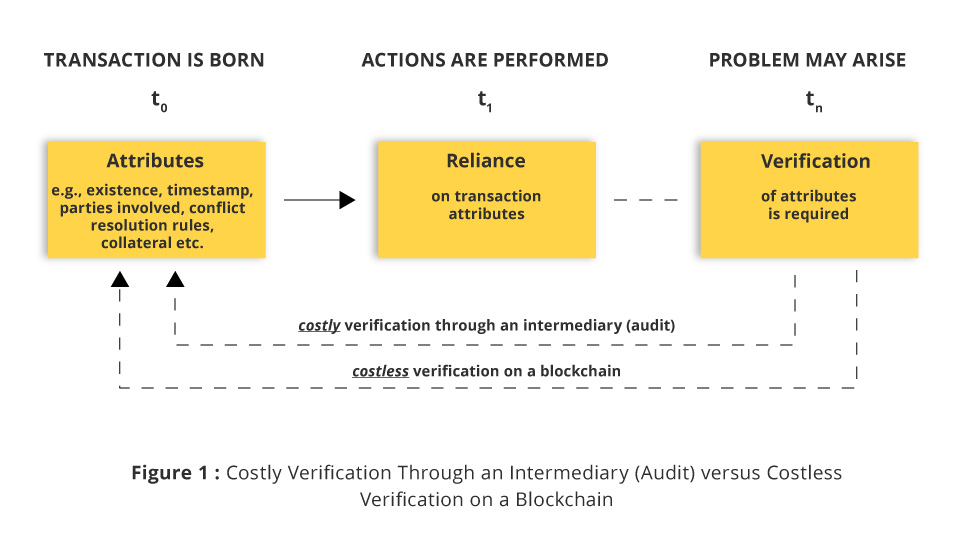 Here are five basic principles of blockchain:12
Distributed database
Peer-to-Peer transmission
Transparency with pseudonymity
Irreversibility of records
Computational logic
In addition to a distributed database, the following principles comprise the basis of blockchain technology:
Distributed database
One of the aspects of blockchain technology is the distributed database, which ensures all parties on the blockchain can access all records in the chain. As it's decentralised, no single person has complete control over the blockchain and this removes the need for an intermediary to access the information and verify its accuracy.
Professors Catalini and Gans detail how blockchain can bring down the cost of verification in their paper, Some Simple Economics Of The BlockChain: "Overall, for transaction attributes that can be reliably recorded on a blockchain, verification goes from being costly, scarce and prone to abuse, to being cheap and reliable."13 This means that blockchain technology could provide more economic power to low-income earners, who don't have bank accounts, by providing a reliable, low-cost method for transactions.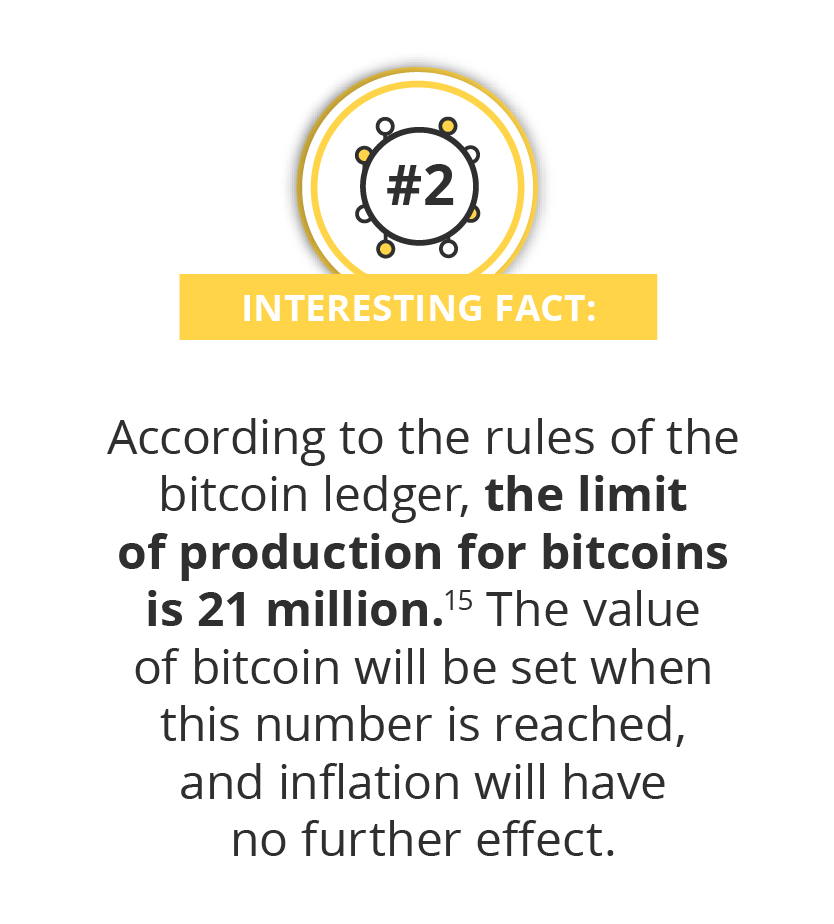 Overall, for transaction attributes that can be reliably recorded on a blockchain, verification goes from being costly, scarce and prone to abuse, to being cheap and reliable.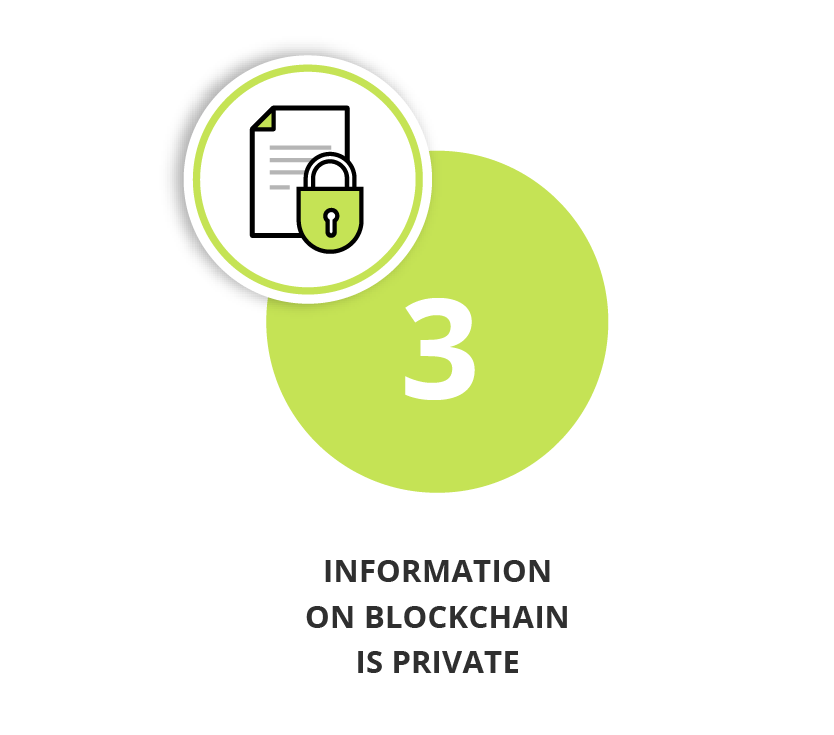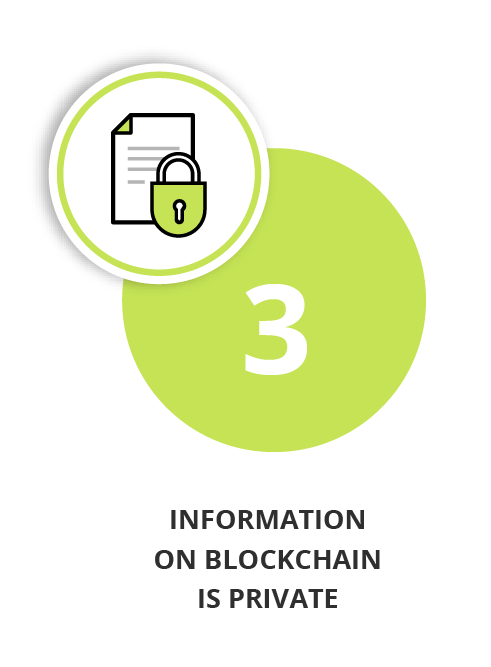 The remaining four principles of blockchain technology debunks the misconception that the records contained by blockchain are not publically available.
Peer-to-peer transmission
As subsequent transactions continue, a record is created in the form of blocks of chained data.14 This ensures each node speaks to another node directly, and communication will then flow through the chain with each transmission.
Transparency with pseudonymity
Since the blockchain is publicly accessible, every record and its values are visible to parties with access to the system. Identity is provided in the form of a "unique 30-plus-character alphanumeric address".15 This gives users the option to provide identification or stay anonymous, as transactions reflect only the blockchain addresses.
Irreversibility of records
Entering a record in the blockchain database and updating it makes it finalised, which offers certainty to the parties transacting, as this record can't be changed. This is due to the fact that each transaction builds upon another and changing the record would require altering the entire chain of records, along with specific algorithms and coding. Therefore, blockchain records are sequential, accurate, accessible, and most importantly permanent.
Computational logic
Due to the ledger existing digitally, rules for coding and algorithms can be programmed into blockchain to ensure automatic functions, and communication between nodes will implement this.17 Both parties involved in the transaction can have peace of mind that recording the transactions will be easier.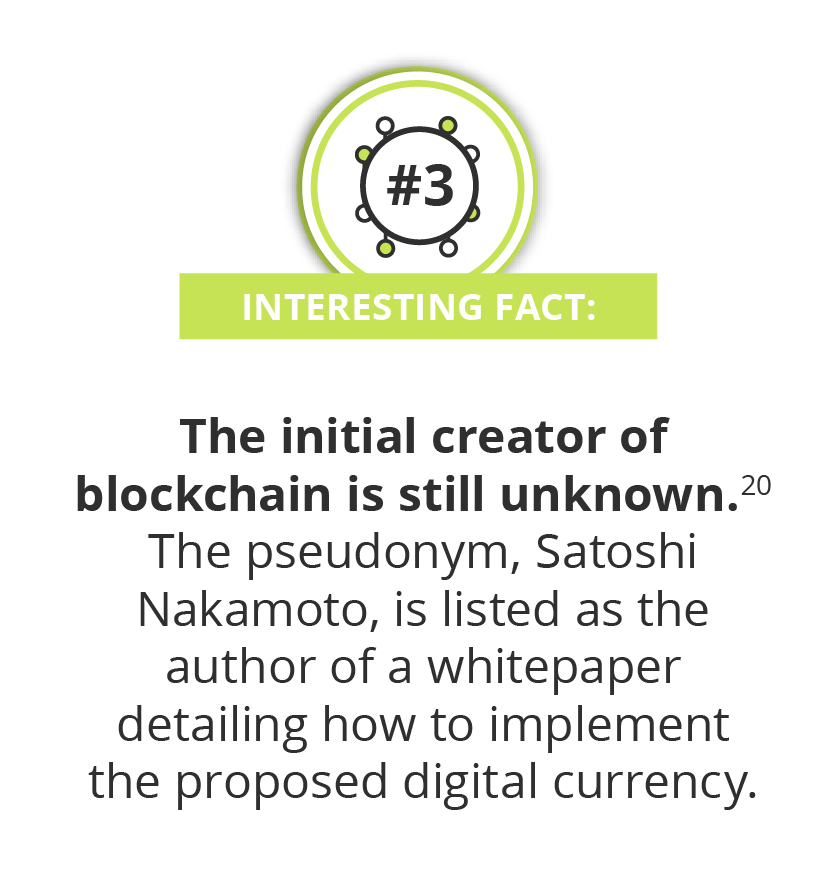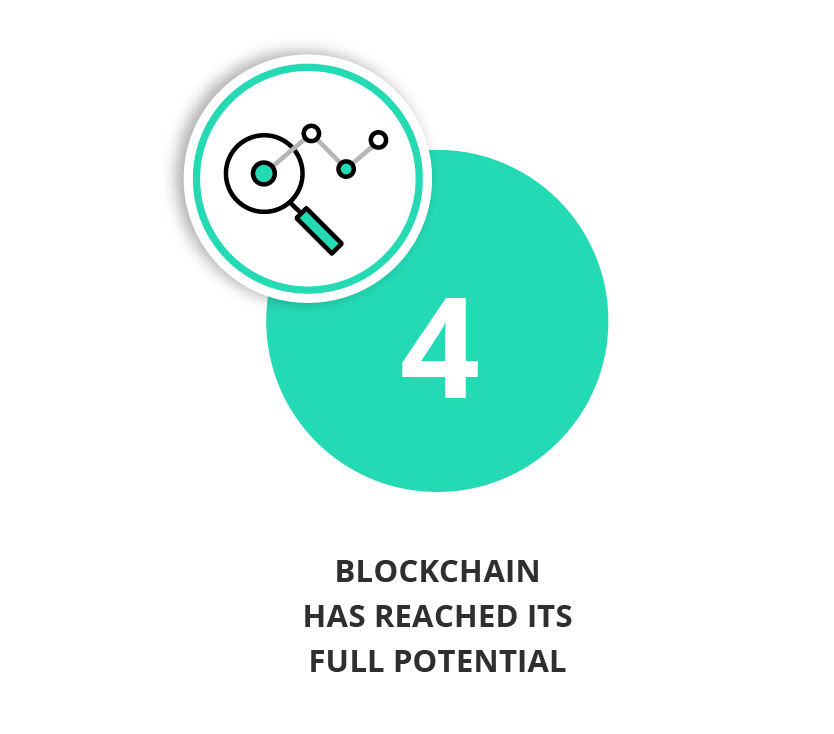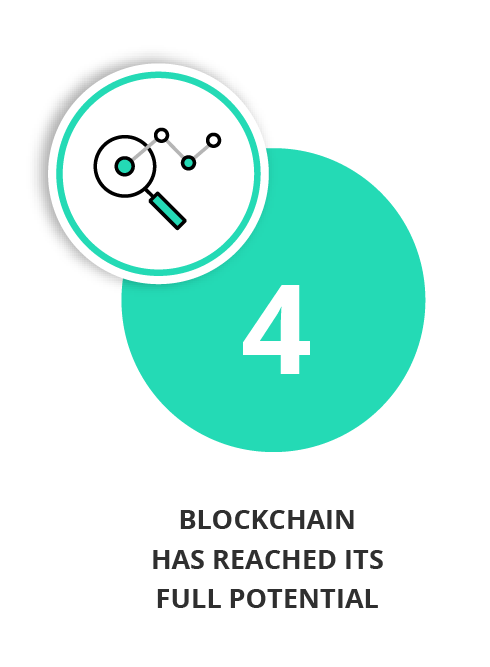 Blockchain is a foundational technology rather than a disruptive one. It's been heralded as being revolutionary. With the massive hype around its possibilities, there is a common misconception that all applications for blockchain technology have been explored. Professors Marco Iansiti and Karim Lakhani, noted that the adoption of blockchain technology is still in its infancy in their journal article: "True blockchain-led transformation of business and government, we believe, is still many years away. It has the potential to create new foundations for our economic and social systems. But while the impact will be enormous, it will take decades for blockchain to seep into our economic and social infrastructure."18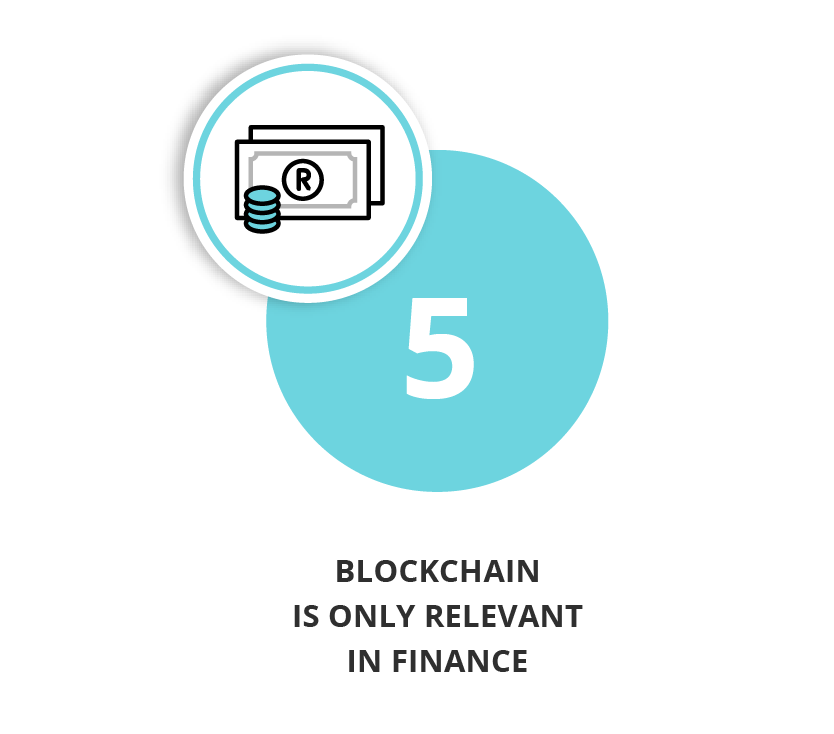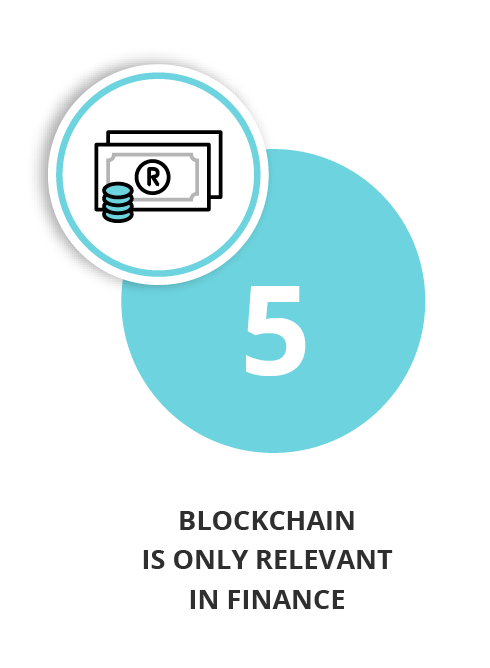 The promise of blockchain lies in how it can be applied to many other functions of electronic transactions. If the technology is perfected, it could become a method that allows buyers and sellers to virtually store and exchange value.19 Ideally, this removes the need for trusted third parties to facilitate this exchange. If this is achieved, blockchain technology has the potential to reinvent the way organisations operate.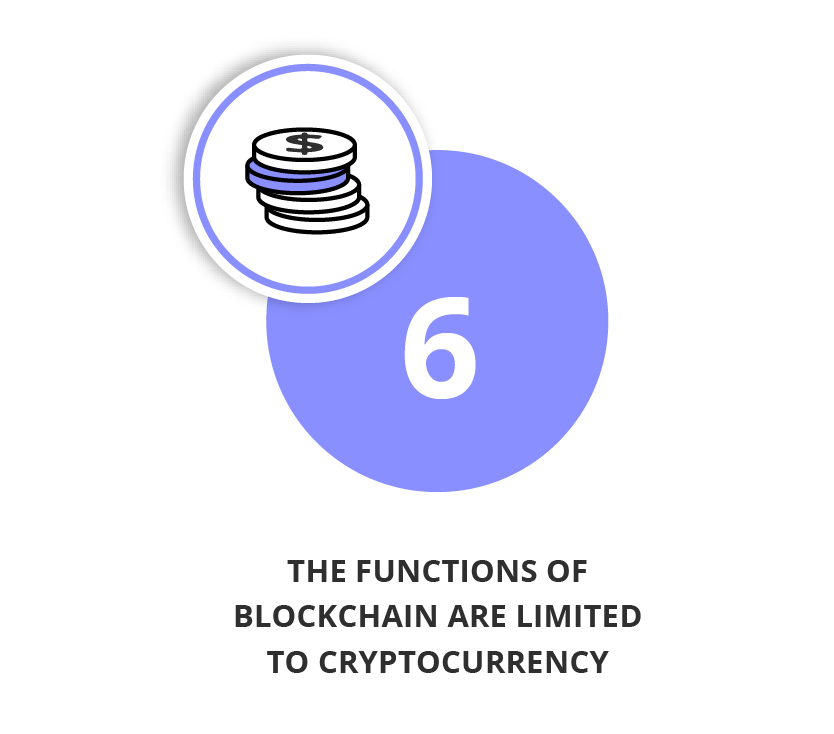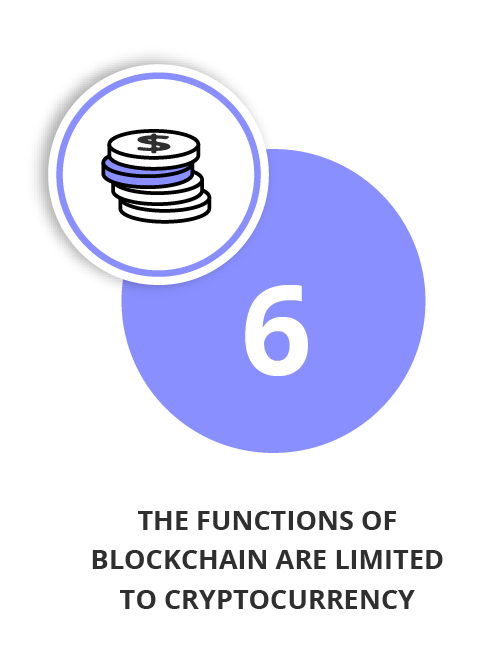 Cryptocurrency has forced people to view monetary exchange and digital currencies through a technology-focused lens – from funding to managing and creating value for companies. Blockchain will change organisations in the way information is facilitated. One common belief is software will be able to more efficiently control more management functions.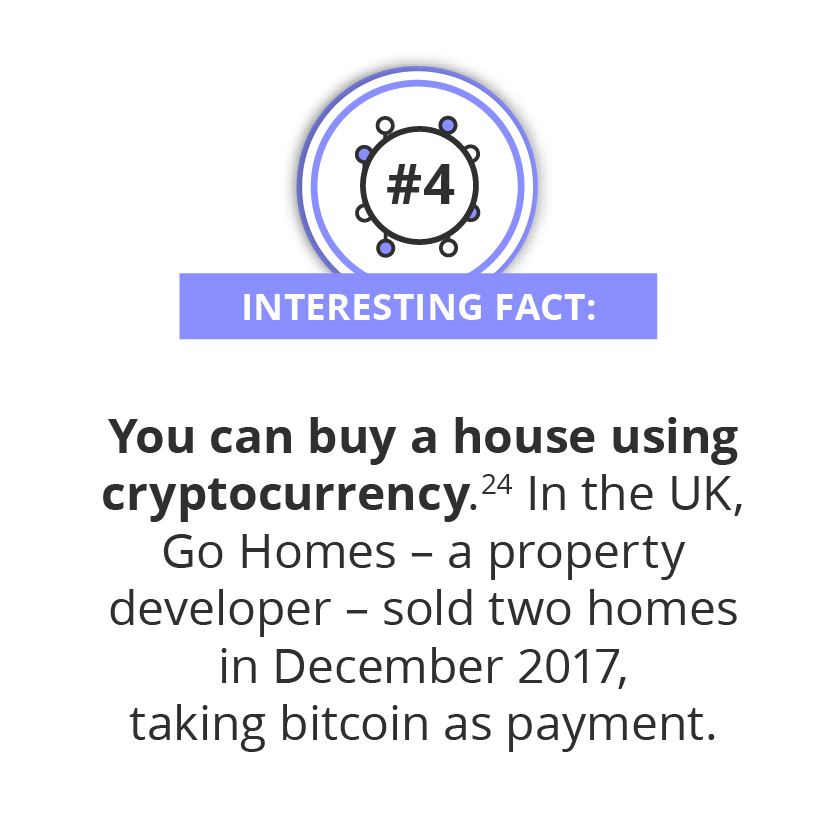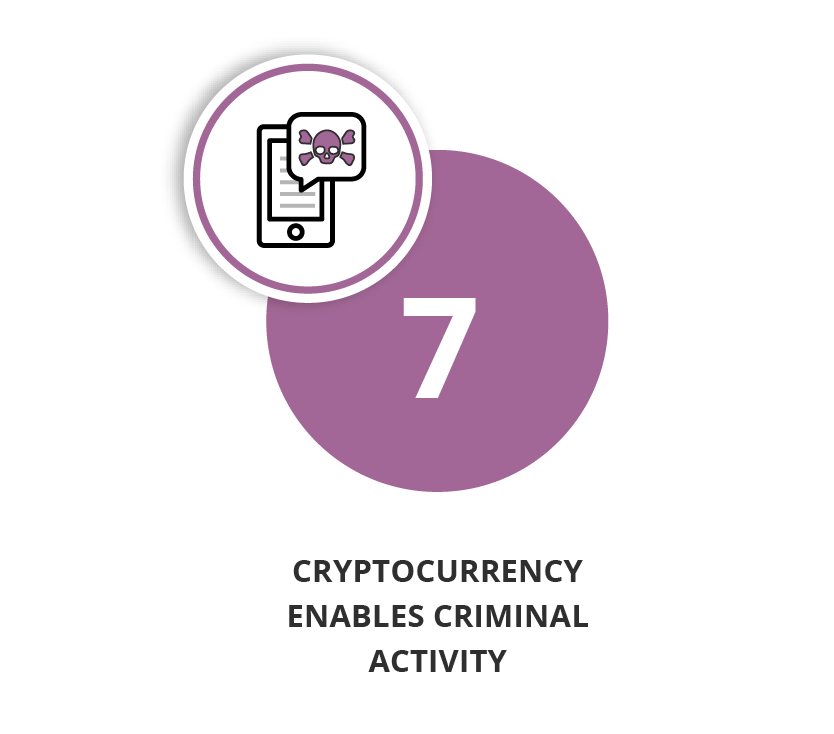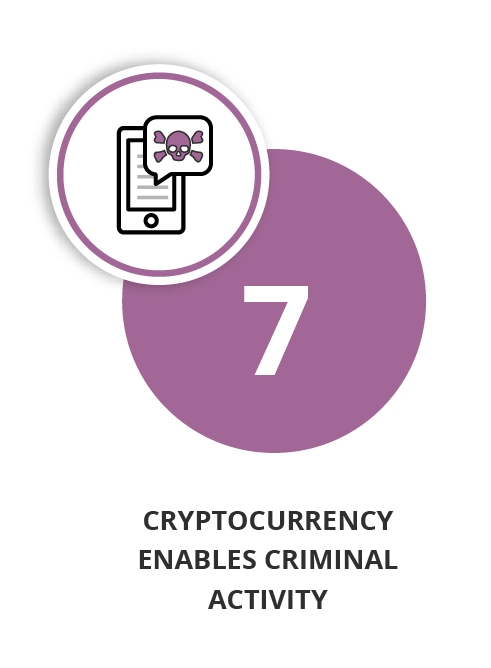 Blockchain's method of chaining data will discourage criminal activities such as fraud, as tampering with the coding means each subsequent data chain will reflect inaccurate data.21 This makes the technology difficult to hack as each chain leaves a footprint of data that the code builds on.
However, fears of security breaches and privacy of information being compromised have prompted the International Monetary Fund to push for tighter regulation to protect consumers.22 Globally, specific countries have responded to this call. Japan remains the biggest market for bitcoin, considering it a legal tender.23 Due to this, it has also become the first country to seriously regulate cryptocurrency trading after experiencing some infamous breaches.24
Switzerland is known to be very friendly towards cryptocurrency, favouring the title of "Crypto Valley" in Zurich. Japan and Switzerland are part of a minority of countries that accept bitcoin as legal tender.
A large majority regulate its exchange, but don't recognise it as legal tender, for example: the United States of America, United Kingdom, European Union, and Singapore.26 There are also countries that have outright banned cryptocurrencies, such as China and India.27 South Korea is seeking to ban only anonymous trades.28
The banning of the currency feeds into the misconception that blockchain enables criminal activity. Other barriers to the success of blockchain technology include governance, organisational, societal, and technological ones.29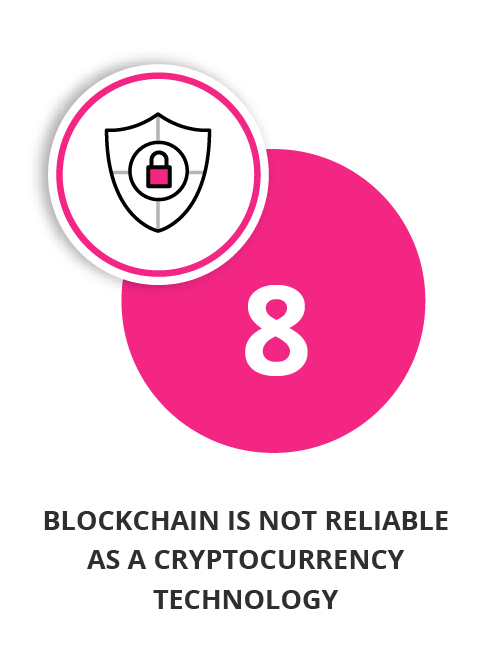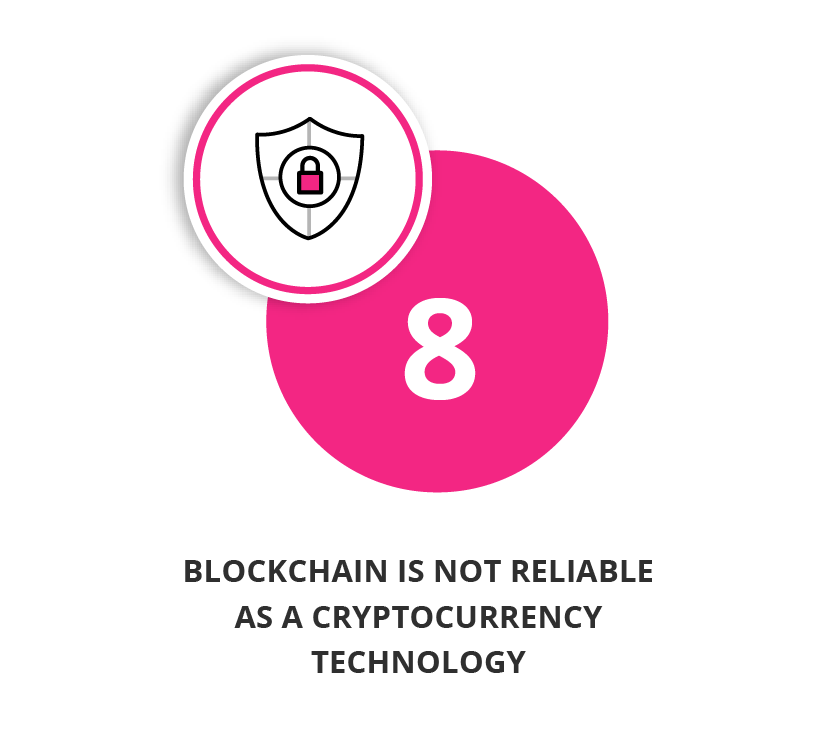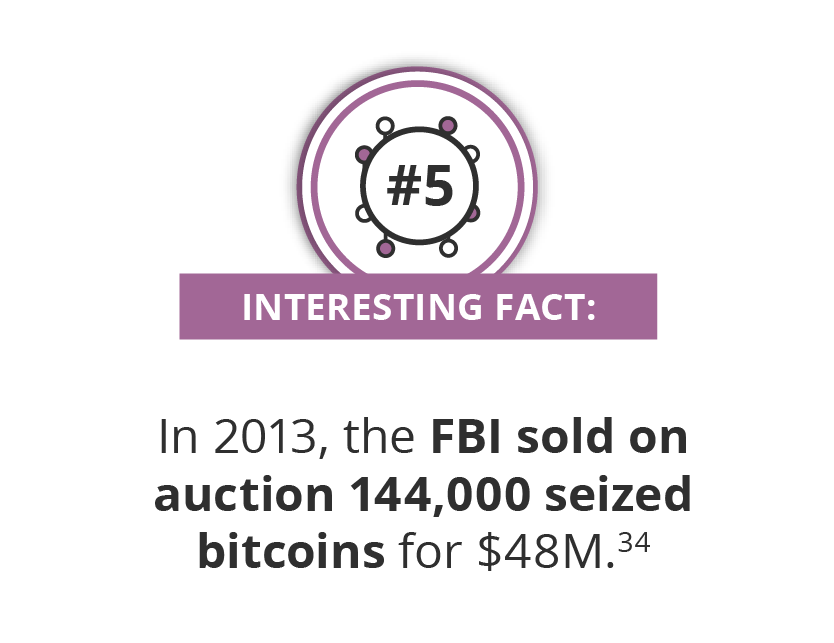 Regulation has steadily been increasing on cryptocurrency, with countries worldwide changing the way cryptocurrency is administered. The fact that no single entity or government has control over cryptocurrency has motivated the crack down on digital currencies.30
The Group of Twenty (G20) is an international conglomerate consisting of 20 of the world's leading economies. G20 resisted attempts to regulate cryptocurrencies until they had more information. After the G20 summit in July 2018, cryptocurrencies have been deemed to be crypto-assets.31
The G20 acknowledges the "technological innovation underlying cryptocurrencies, which has the potential to improve the efficiency and inclusiveness of the financial system and the economy more broadly."32 In a press statement, the Financial Stability Board, which has oversight on the financial regulation of G20 economies confirmed, "crypto-assets do not pose a material risk to global financial stability at this time."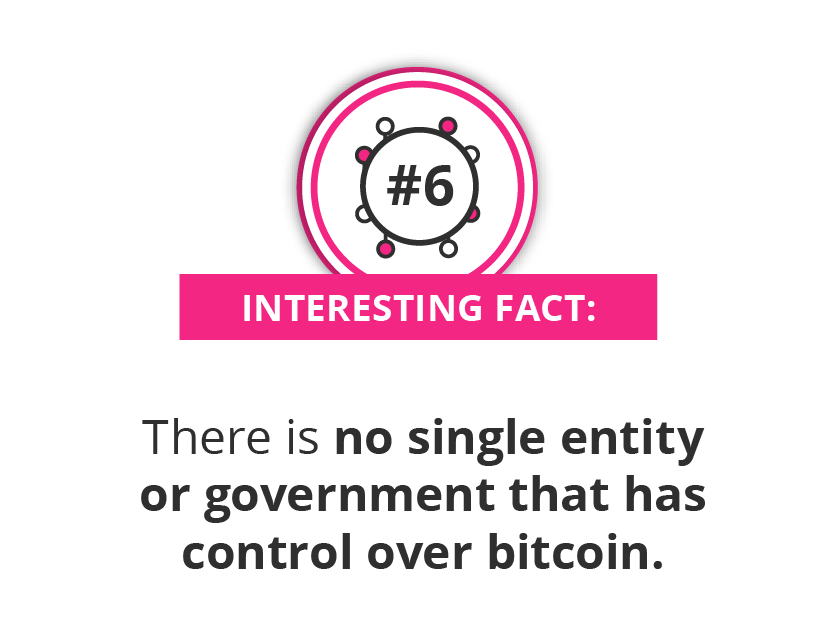 Blockchain has the potential to reinvent the way you engage in business and business processes.34 The opportunities for the application of blockchain technology include the potential to reinvent organisational infrastructure in multiple industries. Keep up-to-date on the dynamic nature of blockchain technology and its potential for your organisation.
---