How to Become a Social Media Marketing Specialist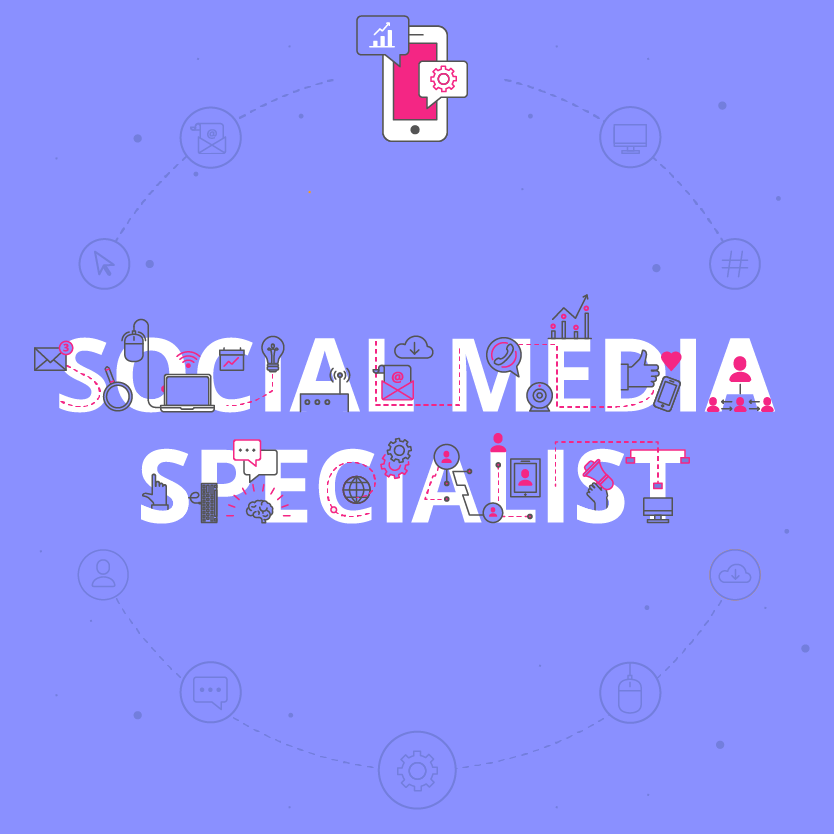 There are currently 13 million South Africans on Facebook, 2.68 million on Instagram and 7.4 million users on Twitter – verifiable proof that social media is a key marketing tool for businesses and brands looking to reach new audiences and boost sales.1
What is social media?
Social media is a collective of online communications channels dedicated to community-based:
Input
Interaction
Content-sharing
Collaboration
Social media marketing takes advantage of social networking to help a company increase brand exposure and broaden customer reach. The goal is to create content compelling enough that users will share it with their social networks.2
With 90% of people between 18-29 years old using social media, and a third of millennials using social media as a preferred method of communicating with brands and businesses,3 companies are reexamining their traditional marketing strategies.
Enter into the world of inbound marketing, a technique used by companies to drive customers to their products and services combining the use of the following three tactics:
Social media marketing
Content marketing
Search engine optimisation
What does this mean for you and your social media marketing skills?
"The social media landscape is evolving daily, and businesses and brands need to ensure they have strategy and staff that can evolve with it." says Kiara Havenga, Head tutor for the University of Cape Town Social Media Marketing online short course. "This has led to an increase in job openings for social media marketing professionals who are flexible and adaptable in an ever-changing digital landscape."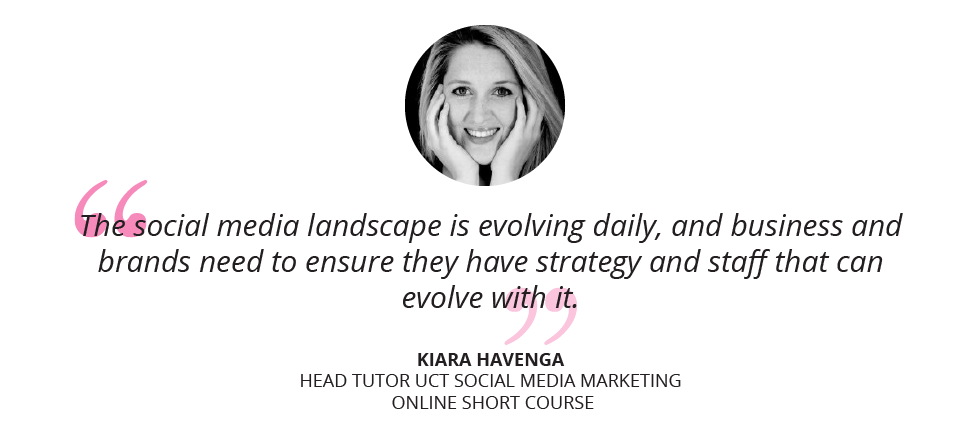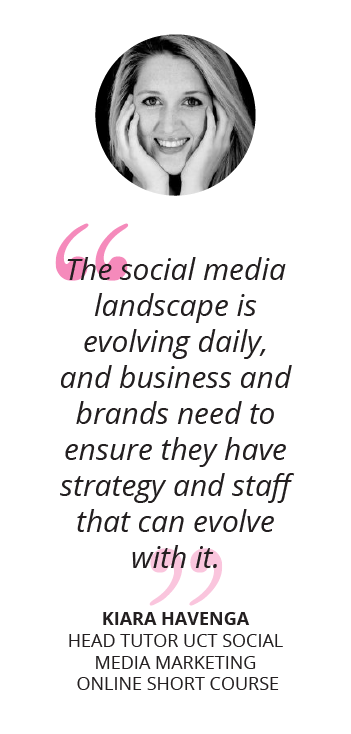 What are the key responsibilities of a Social Media Marketing Specialist?
Your ability to navigate the social media landscape is the key to understanding the role of social media in marketing brands and businesses. The responsibilities of a Social Media Marketing Specialist can be divided into the following six key areas:
Social media strategy
A Social Media Marketing Specialist is responsible for defining, developing and incorporating a social media marketing strategy for a business or brand. They accomplish this by:
Identifying the elements of a social media audit and competitor analysis
Articulating and aligning social media goals with broader marketing objectives
Distinguishing content pillars that will guide the social marketing strategy
Determining which social media platforms will be optimal to specific strategies
Social media advertising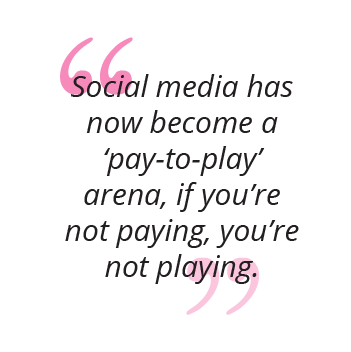 "Social media has now become a 'pay-to-play' arena, if you're not paying, you're not playing," Kiara says. "It's crucial for a business to have a social media advertising budget in place, and an expert with the know-how to put it to use on various platforms."
A Social Media Specialist is the informed and reliable expert that a company can rely on to draw up and allocate a budget across a content distribution plan by using various tools best suited to the overarching marketing strategy.
Social media platform and tools management
Kiara says, "Due to the fact that social media platforms and tools change constantly, Social Media Marketing Specialists need to have an agile awareness of how trending features can best be used to communicate a brand's principles."
What you decide to use for Instagram stories, Twitter scratchpads or Facebook LIVE! today, will not be relevant or effective in six months time when new updates are released.
How can you stay ahead of social media marketing trends and developments of platform tools?
You can complete a social media marketing course designed to equip you with foundational communication strategies that are not platform-specific and can be applied to serve a variety of marketing objectives.
Content creation and distribution
Content is key to creating a social media presence, and a Social Media Marketing Specialist is able to ensure that the right content is distributed to drive engagement. They're able to lead content creation strategies to serve a range of company objectives and marketing priorities.
Community management
"News travels fastest on social media – the good and the bad," says Kiara. "Knowing how to proactively develop and manage an online reputation is how a Social Media Marketing Specialist is able to stay on top of what is being said about a brand."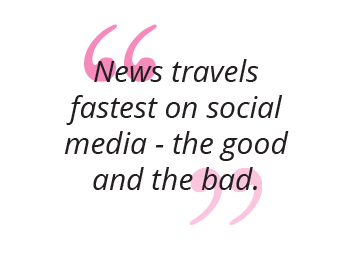 A Social Media Marketing Specialist looks to serve both the community and company by:
Advocating the business or brand on a variety of social networks
Actively engaging with the online community and potential customers
Using brand-aligned messaging to maintain a prompt response time and service
Developing, executing and re-evaluating community management strategies
Assisting with market research using crowdsourcing to gain consumer insights
Social media reporting
Kiara notes how "anyone can use social media for marketing. Not everyone can use social media for marketing effectively. In order for a business or brand to understand the effectiveness of their social media marketing they need to be able to measure it."
This is where the role of the Social Media Marketing Strategist is key. The ability to measure, report and optimise your social media ROI is paramount for an effective performance.
What is the career path of a Social Media Specialist?
Social media marketing management is pervasive across all businesses with a marketing function. The scope of career paths and diverse range of roles mean that whether you're a Community Manager, Content Marketer or Media Coordinator, social media marketing is a transferable skill that can make an impact on your career or business goals.
Other relevant roles that the career path of a Social Media Marketing Specialists can combine with include the following:
According to Payscale, most people with the role of Social Media Marketing Specialist move on to other positions after 10 years in this field.4
Career paths related to a Social Media Marketing Specialist:
What is the potential salary for a Social Media Marketing Specialist?
The skills you'll need to advance and increase your earning potential?
Click on a country to see what you can expect to get paid as a Social Media Marketing Specialist in either South Africa, the United Kingdom or the United States of America:
Source: payscale
What are the education and training requirements for a Social Media Marketing Specialist?
Social Media doesn't require a specific degree or diploma, favouring experience above anything else, but there are different avenues if you're interested in this career path.
Experience in social media marketing, regardless of industry:
Often organisations want a Social Media Specialist who has hands-on experience conversing, engaging and working with different social media channels and can exhibit strategic thinking across a variety of social media platforms.
An online course:
You can become an asset to any business by becoming an expert in social media marketing. Completing a Social Media Marketing course will equip you with the ability to become more than your job description and expose your career path to a wider variety of roles.
You'll be able to increase your earning potential and career trajectory by getting your skills recognised with a certificate from a world-leading university. You'll also have the opportunity to grow your professional influence and network by expanding your expertise with related online short courses in the marketing industry.
---
Which skills do you need to advance in your career as a Social Media Marketing Specialist?
---
3 Pew