How To Become A UX Designer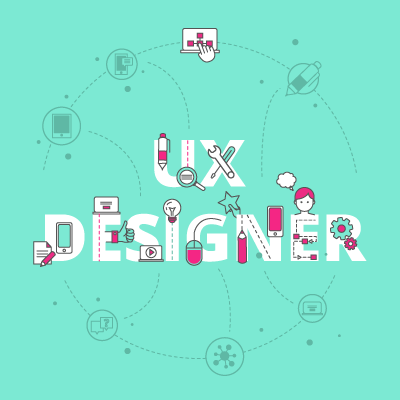 From stone tools to robotic arms, humans have been designing with the user in mind to better serve our changing needs since year one; this practice just didn't have a name to it yet.
User experience (UX) design has evolved into a necessary discipline over the past few years, the only difference today is the focus has moved from manual to digital.
UX design can be defined as the deliberate process of creating or enhancing systems and products to achieve a specific objective, namely, to optimise a user's experience of said systems and products.
Good UX design involves enhancing user satisfaction with a product by improving the experience behind the interaction with the product. Simply put, if an object is not easy to use, and doesn't make achieving its purpose simple and intuitive, users will struggle or fail entirely, to perform even the most basic tasks.
What is a UX Designer?
Demand for UX Designers will grow by 13% between 2016-2026.1 A UX Designer considers the why, what, and how of product use. Companies whose operations are conducted largely through the web, and that require complex applications, need an expert in UX Design.
As Dylan Brits, Marketing UX Lead at GetSmarter says, "UX Design is about finding the most effective ways to minimise barriers to optimise outcome. Simply put, UX Designers create and update systems that ultimately improve a business' bottom line."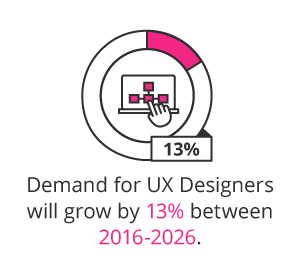 What are the key responsibilities of a UX Designer?
UX Designers have to be agile in order to perform multiple tasks.
User Experience Design

Conduct research to make educated and informed speculation on how users will use a specific interface
Develop User Personas
Create clickable prototypes and test usability

Web Design

Make design changes to user interface
Build fully responsive, interactive websites
Master the basics of HTML, Javascript and SS

Digital Marketing

Consider the user before implementing internet marketing campaigns
Have a direct impact on successful brand awareness, website marketing, brand advocacy and product conversion rates
Consider everything from web design to email marketing, social media, analytics and PR when creating digital marketing strategies
User Experience Design
Conduct research to make educated and informed speculation on how users will use a specific interface
Develop User Personas
Create clickable prototypes and test usability
Web Design
Make design changes to user interface
Build fully responsive, interactive websites
Master the basics of HTML, Javascript and CSS
Digital Marketing
Consider the user before implementing internet marketing campaigns
Have a direct impact on successful brand awareness, website marketing, brand advocacy and product conversion rates
Consider everything from web design to email marketing, social media, analytics and PR when creating digital marketing strategies
What is the career path of a UX Designer?
There is no direct path a UX Designer has to go down before or after taking on this position. A UX Designer attains their position often after gaining a lot of experience and varied skills in IT and digital marketing. Some will have started out in the following careers:
Difference between UX Designer and Web Designer
UX Designers are often confused with Web Designers. The table below stipulates the differences between these two career paths:
| | |
| --- | --- |
| UX designer | Web designer |
| Designs websites, apps and other software elements. | Designs websites. |
| Works primarily for web-based businesses. | Works for any business. |
| Advanced knowledge of complex information architecture. | Basic knowledge of information architecture (HTML, JavaScript). |
| Informed by thorough research. | Informed by client. |
UX designer
Designs websites, apps and other software elements.
Works primarily for web-based businesses.
Advanced knowledge of complex information architecture.
Informed by thorough research.
Web designer
Designs websites.
Works for any business.
Basic knowledge of information architecture (HTML, JavaScript).
 Informed by client.
What is the potential salary for a UX Designer?
Click on a country to see what you can expect to get paid as a UX Designer in either South Africa, the United Kingdom or the United States of America:

What are the education and training requirements for a UX Designer?
UX design is a technical field, requiring you to be well-equipped with the skills necessary to execute key responsibilities such as conducting research, developing user personas,  and making design changes to a user interface.
Not all UX Designers will follow the same path in education, however there are three ways in which you can develop the necessary knowledge and expertise to enter this industry:
Acquire relevant skills and qualification: While many UX Designers may not have a formal qualification in UX design, many have qualifications in related fields such as web design.
Get relevant work experience: Most UX Designers start their career in adjacent fields like graphic design and web design and then move into UX design by mastering software programs such as Balsamiq and learning industry-grade frameworks, vocabulary, tools, and best practices.
Take online short courses: The digital space is incredibly dynamic. A UX Designer is dependent on understanding changing trends and technologies in this space. The most effective UX Designer is one who continues to stay ahead of the curve. One surefire way of ensuring you stay relevant in UX design is to commit yourself to lifelong learning.
---
What skills do you need to advance your career in user experience design?
Download a course prospectus to find out how one of these online short courses can help you enter this lucrative industry.