Women Disrupting the Future of Work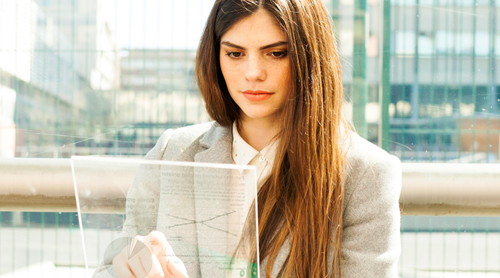 Women in the workplace has been the subject matter of academic studies, global surveys and corporate diversity schemes for decades. Yet, only 33 Fortune 500 CEOs are female – the highest number to date.1 Nevertheless, the business advantage of women in executive positions has been proven both economically and culturally. Is digital transformation – where technology fundamentally changes the way businesses and industries operate2 – the key to levelling the professional playing field? The trajectory of some of the most powerful women in tech suggests it could be.
In the US, women have earned the majority of college degrees, both at bachelor and more advanced levels, since the 1980s.3 As of the first quarter of 2019, women make up a greater percentage of the college-educated workforce – 50.2 per cent, up 11 per cent since 2000.4
However, the increased education level is not reflective of women's acceleration into executive positions. PwC UK's Women in Work Index 2019 acknowledged that women in positions of leadership are still underrepresented, and the gender pay gap still exists – but also highlighted positive changes such as a 20.2 per cent increase in female earnings in the UK since 2000.5 The financial benefits of female economic empowerment speaks volumes: the projected boost in GDP, for member countries of the Organisation for Economic Co-operation and Development (OECD), is $6 trillion and $2 trillion for improving female participation in the workplace, and closing the gender pay gap respectively.6
Women in tech: skills gap and digital transformation
Historically, automation has, on the whole, had a positive impact on women's quality of life and economic empowerment.7 However, the current wave of technical automation and artificial intelligence (AI) could be a threat as there is a high concentration of women in lower and middle-skilled jobs that would be the first to be automated.8 That said, these technologies could also open up new opportunities as digital platforms offer a broader range of ways to upskill, or allow the possibility of working remotely. This could provide new or higher earnings and help balance work and home responsibilities. 
It is critical that women are better represented in information and technology fields and in management positions, as these are the types of roles that will not only survive digital transformation, but be the key to economic prosperity. 
A 2019 report by Silicon Valley Bank has found that only 56 per cent of startups have at least one woman in an executive position.9 And when it comes to having at least one female board member, it drops to just 40 per cent.10 Small steps towards addressing these disparities are being made – one in six tech startups have a framework for increasing the representation of women in leadership.11
Programmes and policies aimed at nurturing female talent are necessary. The drop off of females in STEM (Science, Technology, Engineering and Mathematics) industries escalates along the progression of education, research and career development. In fact, it's so common that it is known as the 'leaky pipeline' phenomenon.12 Yet, this does not have to be the case and in some countries it's not: In Lithuania, Bulgaria, Latvia, Portugal, Denmark, and Norway women outnumber men in science and engineering roles.13
A report by PwC has identified four key changes that need to happen in order to increase the number of women in tech:14
Provide greater education on the role technology plays in shaping the world and how it can be used for good
Show that a career in technology is within reach
Increase the visibility of women already in the industry and promote them as role models
Ensure that women in the industry reach their full potential
Their findings are not unique. Charles Kenny, a global expert in technology and development suggests that changing gender policy and social norms now, will ensure that all women benefit from the technological advances that will reshape the future of work and, in turn, leadership roles.15 It's important that women already in executive roles champion the inclusion, promotion or hiring of other women instead of being 'Onlys' – the experience of being the only female in their department, level or organisation – to change the leadership of the future.
Women in the workplace: leadership effectiveness
A-typical career paths bring a unique skill set that can benefit organisations, especially as digitisation grows to affect and change every industry.16 Sheridan Ash, leader of the Women in Tech initiative at PwC, did not attend university until she was a single mother in her late 20s,17 eventually earning an MBA and working her way up the corporate ladder. Her unique career path has given her invaluable insight:
Research shows that the leadership style adopted by most female leaders helps build interpersonal relationships in the workplace. Leadership skills displayed by most women include effective communication, emotional intelligence and authenticity. As a result, the advantages of having women in executive positions include: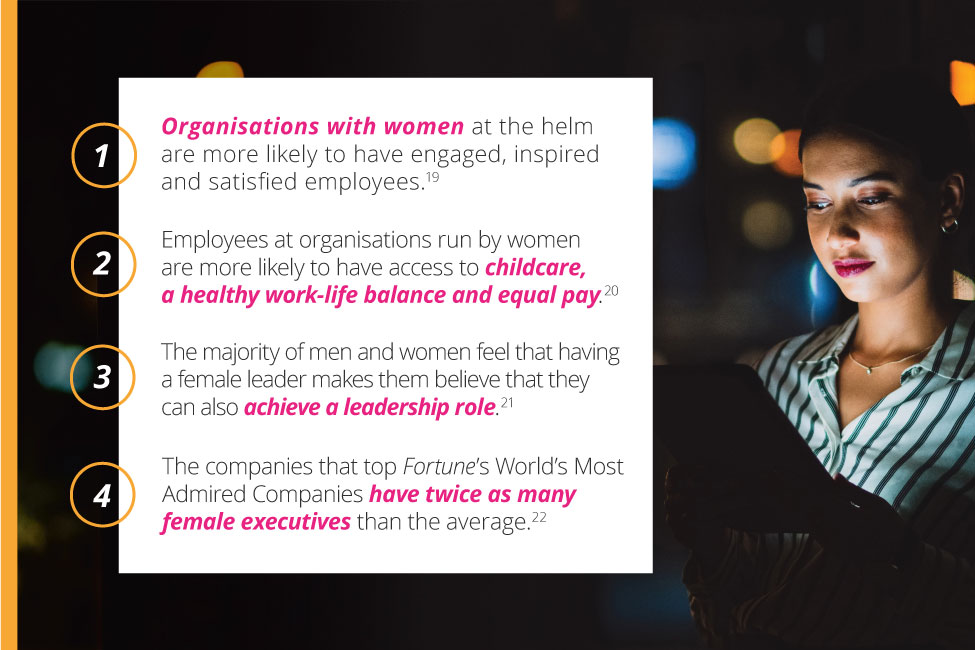 These findings all count towards, what researchers have dubbed, the 'female leadership trust advantage'.23 And it can give women in the corner office that competitive edge in times of crisis.24
It is also proven that women-led organisations make financial sense. While venture capitalists spend 98 per cent of their capital investing in startups run by men,25 data has shown that female-run startups offer a better investment: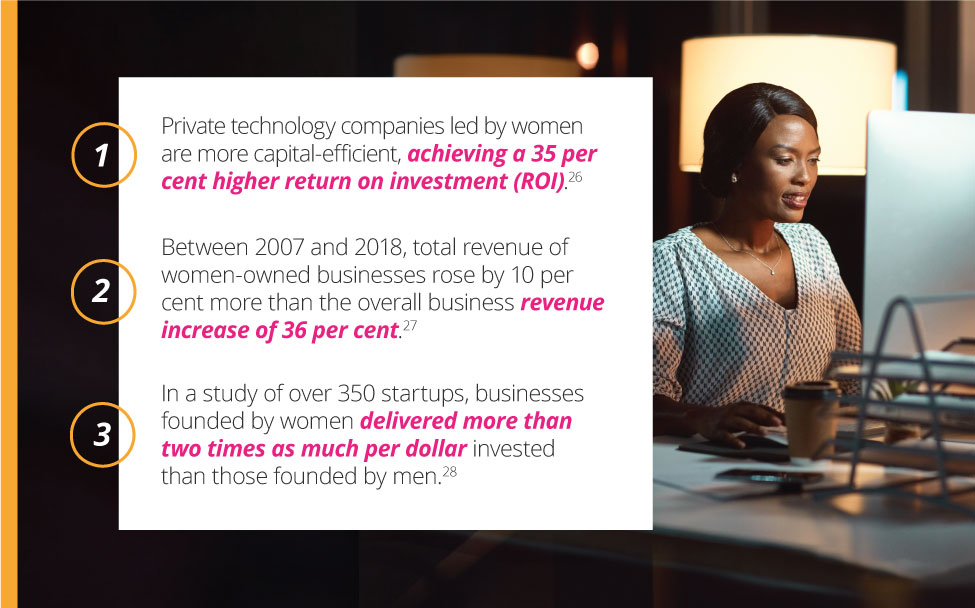 Tech trailblazers: women who have led the way
The early days of tech were filled with female pioneers: Ada Lovelace is generally considered to be the first computer programmer, publishing the very first algorithm in the 19th century.29 Hollywood actress Hedy Lamarr invented frequency hopping method of transmitting radio signals that avoid detection and hacking, paving the way for WiFi, GPS and Bluetooth.30 During the second world war, Grace Hopper lay the groundwork for programming languages with her work for the US navy.31 Katherine Johnson made history, and inspired the film Hidden Figures, as the first African-American women scientist at NASA in the 1950s.32
Despite the current underrepresentation of women in STEM fields, there are a recognisable collective of female innovators and icons who are helping to change the face and styles of leadership in technology.
1. Sheryl Sandberg 
Best-selling author of Lean In and Option B: Facing Adversity, Building Resilience, and Finding Joy. Sandberg has been COO at Facebook for more than a decade, leading the company from $56 million in losses to a $22.1 billion profit last year.33 She has recently been in the firing line over Facebook's data controversies and the Cambridge Analytica scandal, but has shown resilience in her fall from grace.
2. Susan Wojcicki
The current CEO of YouTube, Wojcicki rented out her garage for $1700 to Larry Page and Sergey Brin in the late 90s. She was the 16th employee to be hired at Google and advocated for the purchase of the video streaming platform that is now worth an estimated $90 billion.35 One of her early marketing projects was Google Doodles36 and drastically increased the company's advertising revenue with AdSense.
3. Angela Ahrendts
The former senior vice president of retail at Apple, Ahrendts is currently on the board of Ralph Lauren and, as of May 2019, Airbnb as well.38 While CEO at Burberry, she more than tripled the value of the fashion brand and was, at one point, the highest paid CEO in the UK.39
4. Kimberly Bryant 
One of the few women of colour in the tech industry, Bryant has worked in STEM since the mid-80s, founding the pioneer non-profit organisation, Black Girls Code, and considered to be one of the 25 Most Influential African-Americans In Technology.41 Through Black Girls Code, her goal is to teach one million girls by 2040,42 which will go a long way in changing the gender, and racial, imbalance in STEM.
5. Gerri Martin-Flickinger 
The executive vice president and first-ever CTO at Starbucks, Martin-Flickinger is a key driver of tech adoption at the organisation. Her innovations have included mobile order and pay, and voice ordering.44 She is vocal about making digital transformation work to improve the experience of customers and of the role tech plays at an organisation like Starbucks.
Leadership of the future: empowering women
The innovation and financial successes seen at many women-run startups show that women are taking the lead in the tech space.46 However, there are definitive steps that need to be taken within the industry at large to ensure future empowerment. For young women, and girls, in the early stages of education and career development, the tech industry must be presented as a viable option. For women further along in their careers, there must be opportunities to upskill and adapt their strengths to move into the tech space. Ultimately, greater gender diversity benefits innovation and investment as much as it secures the economic future of women in the age of automation.