Your Future Career: What Skills to Include on Your CV
With the increase in technological innovation – and the rate of change it brings – the workplace of the future is predicted to be vastly different to the one of today. As a result of this shifting landscape, companies are looking for employees with different types of expertise, which means that professionals may need to reassess their current skill sets or pursue new career paths altogether. With this in mind, it's important to know what skills employers are searching for, and what you need to include in your CV to set yourself apart in a changing world.
GetSmarter, a 2U, Inc. brand, recently conducted research on the Future of Work which surveyed over 8,000 executives, managers, and employees from over 106 countries to gain insight into emerging capability gaps in business and the growing demand for new skills.
The research found that, while up-to-date technical expertise are increasingly becoming a basic necessity in the modern working environment, soft skills that allow you to navigate this environment have become even more crucial. In fact, in the face of constant change, it's these skills that will differentiate you most when looking for new employment.
The changing state of careers
Contrary to popular belief, automation is not expected to displace all jobs and operations; it will instead result in a restructuring of business processes and existing roles. And while 75 million roles could be displaced by artificial intelligence (AI), robotics, and machine learning in the future, 133 million new positions will potentially emerge in response to these changes.1
Some of the jobs that are expected to still be in demand in the years to come include:2
Technology-supported roles that are well established in today's workplace – such as data analysts and data scientists, software developers, social media specialists, and website developers – are expected to remain relevant.
People-centric roles will be as important, if not more so, as they are today. Skills in customer service, sales and marketing, training and development, people management, and organisational development will grow as the decade gains momentum.
Skills in emerging technologies – namely AI and machine learning, big data analysis, process automation, robotics, data security, user experience and human-machine interaction design, and blockchain – have the steepest predicted growth, and will experience a significant increase in demand in the years to come.
Addressing future skills demand
As a result of the change that automation and other disruptive technology will bring, it's anticipated that over half of all employees in the world will need considerable upskilling and reskilling within two years.3 This raises the question of which professional competencies will be most important in the future workplace.
While technology has been cited as the main driver of change in business, it's interesting to note that the skills most in demand are not tech-based, but rather people and analytical in focus. As indicated in the graph below, GetSmarter's research found that employers and employees alike agree that addressing the gap in soft skills like leadership, and analytical/critical thinking trumps the need for new technical and digital proficiencies. With a workplace in regular upheaval due to technology-led disruption, it follows that organisations are in dire need of professionals who have the skills to provide steady leadership and critical thinking to better manage these changes.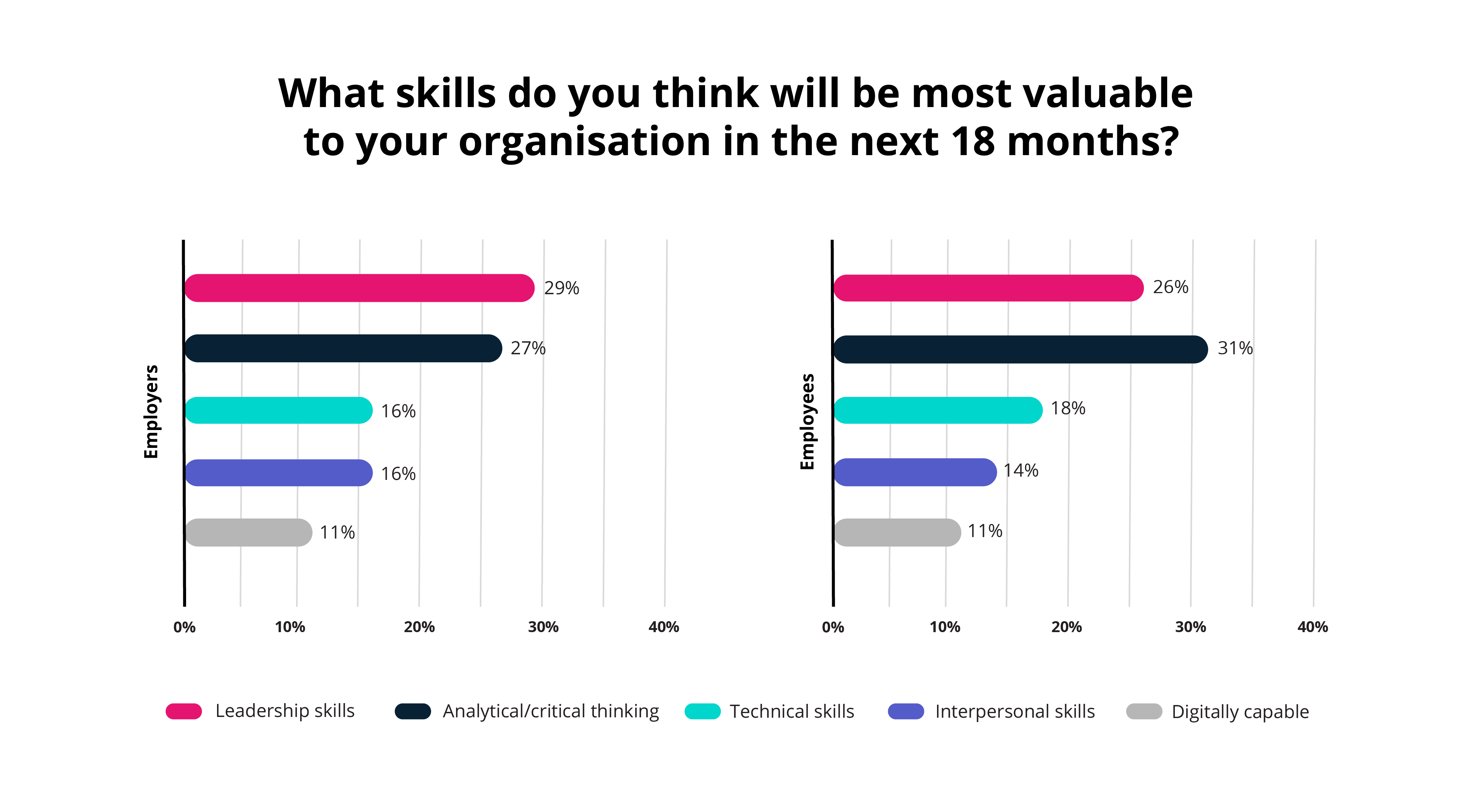 What employers are looking for right now, and for the future
With the shifting demand for skills in today's workplace, there's a change in what employers are looking for in a potential employee. GetSmarter's research reveals that there is a stark contrast in what future hires think should be highlighted on a CV and what recruiters actually find important. While candidates believe depth of experience in a certain field or industry is most important to showcase on a CV, employers place a higher value on evidence of continued learning.
Surprisingly, job title ranks lowest on what employers look for on a CV. This suggests that, with the changing nature of careers, past positions hold less weight today than they did previously. Instead, your expertise, and your willingness to grow these expertise, will be what gets you the job.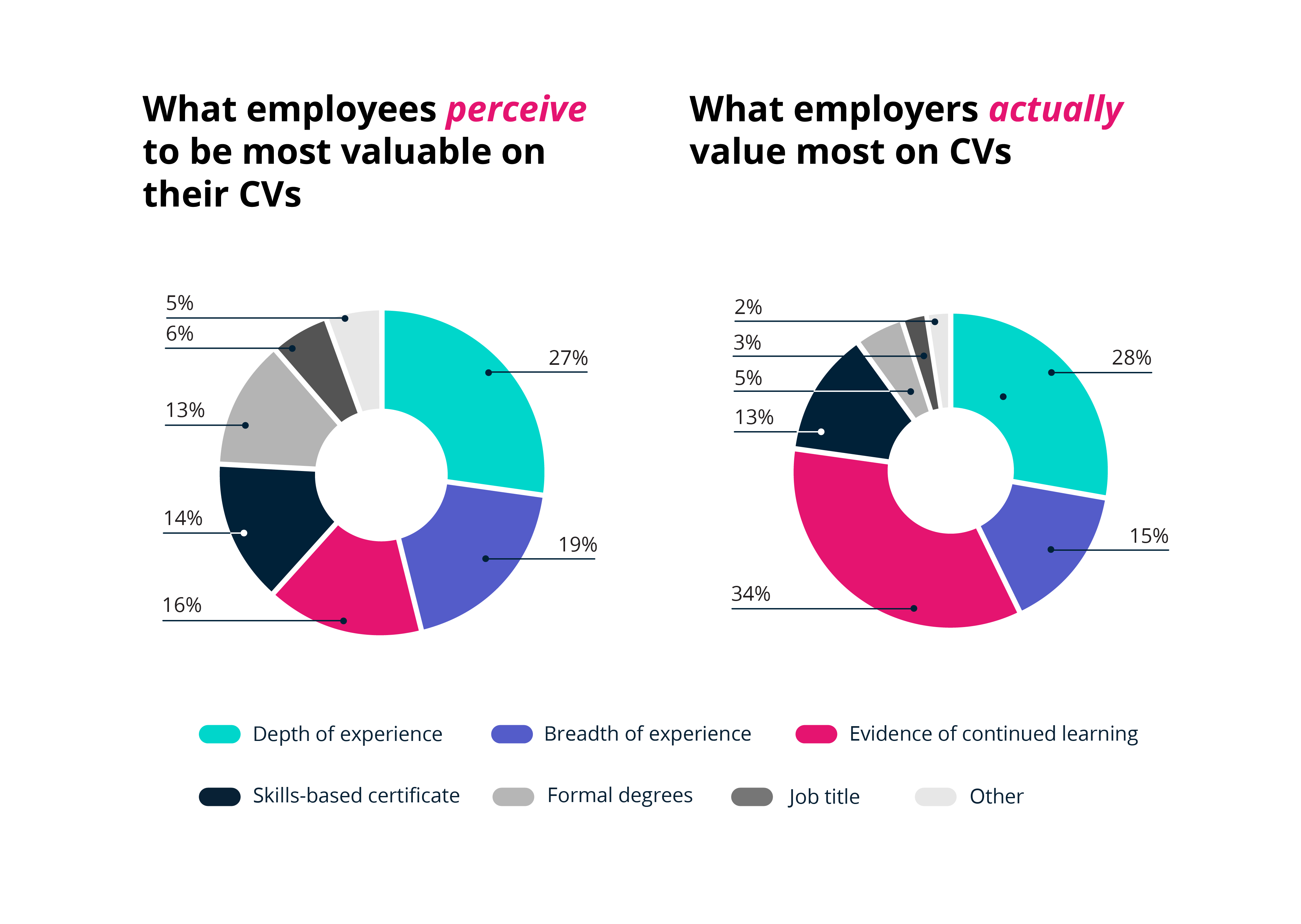 Despite the fact that millions of workers around the world will need to be retrained in hard skills as a result of technological change, a recent IBM study reveals that executives listed adaptability, time management, and collaboration as some of the most important skills they are looking for in today's workforce.4 GetSmarter's research displayed similar findings, with people managers ranking soft skills at the top of their list. Their most valued skills ranked highest to lowest are:
Analytical and critical thinking (28 per cent): The ability to logically break complex problems into their individual components, and the intelligence to make an objective evaluation of an issue in order to form a judgement.
Leadership (25 per cent): Strengths that help you oversee process, guide initiatives, and drive teams to achieve goals.
Technical skills (21 per cent): Proficiency in tasks needed for a specific job. For example, software proficiency, programming languages, coding, etc.
Interpersonal skills (19 per cent): The ability to communicate or interact well with other people.
Digital capability (7 per cent): Proficiency in typical daily office software tools.
Since robots and computers are not yet at the stage of development that they can supervise humans, careers that involve people management and empathetic human interaction – and with it, the implicit presence of emotional intelligence – are not likely to be replaced by automation.5 It's also proven that people with well-developed soft skills perform better at their jobs, and are easier to train and mentor – important qualities for future employers.6
These soft skills, as well as core analytical skills, have the ability to set a prospective employee apart from another candidate with a similar level of expertise. In the GetSmarter Skills Hierarchy, these skills are known as 'signal boosters', which can be layered on top of assumed digital and technical expertise. As your career progresses, the need for these will continue to shift and change.
What this means for individuals and businesses
Since HR prioritises evidence of continued learning, it follows that this should be presented in CVs. Aside from affirming an individual's competencies and ability to fill the skills gap at a prospective organisation, professional development shows an organisation the following about an individual:7
Their intent. An employer's clearest indication of an individual's desire for growth is the presence of continuous learning.8 It shows what direction they're hoping to move in. For example, investing in learning leadership and critical thinking skills shows that you may be striving to enter a more senior position
The right attitude. As technology develops and evolves, so too will the role people play in the workforce, which will place more emphasis on the ability to adapt.9 Continuous learning shows a personal willingness to invest in ongoing professional development, which can benefit employers in the long run10
Their breadth of experience. Continuous learning can help to grow an employee's breadth of experience, which speaks to the extent of their knowledge in multiple areas. This sort of professional development ensures that they're up to date with new skills, current technology, as well as business thinking
Their ability to work and learn. Commitment to learning and skills development while managing a demanding work schedule will show prospective employers that the individual has the ability to think short-term and long-term. It shows that they're able to complete current tasks while still developing future skills
The presence of soft skills
As seen above, soft skills are among some of the most sought after by employers. These could include social skills, communication, collaboration, emotional intelligence, and problem-solving and analytical capabilities.
"Reskilling for technical skills is typically driven by structured education with a defined objective with a clear start and end," says Amy Wright, IBM managing director for talent. "Building behavioural skills takes more time and is more complex."11
The good news is that self-awareness, communication, and emotional intelligence are not necessarily a question of personality; soft skills can be learnt. This is often done through personal coaching and leadership development, as well as through courses and training institutes.
While these are difficult skills to measure on paper, including course certificates that showcase these soft skills on your CV can be an important indicator to a business that you're focused on growing in these areas. LinkedIn is another way to highlight these skills as you have the opportunity to share and engage with content that reflects your values.
How this impacts your CV
A number of recruiters believe that the traditional CV does a poor job of representing candidates. Amanda Augustine, TopCV's career expert, says CVs "need to adapt to [employers'] changing needs".12 With GetSmarter's research highlighting the value that managers place on leadership and analytical skills, professionals may need to rethink what they focus on most in their CV.
The emphasis should be on soft skills. A CV should highlight soft skills, like creativity and empathy, critical thinking, and leadership13
Gaps in your CV can serve a purpose. With people's life expectancy moving ever closer to the 100-year mark, retirement age is expected to move back by another decade.14 As a result, people are taking short or extended breaks in their career timelines to study, travel, volunteer, and refocus. If this is the case, you can highlight what you've done during this time on your CV and present these gaps in a positive light
Personalisation is important. Highlighting individuality is vital in the dawn of automation in the workplace.15 The spark of humanity, the passions, hobbies and pursuits of the individual, set people apart from machines
Five tips for adapting your CV for current and future jobs
Update your personal statement.16 Positioned at the top of your CV, this is the first information that a recruiter reads. Ensure it creates a powerful, positive impression. Highlight what you have to offer, instead of what you want in a career, or what you lack in skills.
Remove old positions.17 If you've been working for over 15 years, and every one of those positions is on your CV, then it's time to remove some of those early entries. It's more important to showcase your relevant, updated roles, than to list the number of jobs you've held.
Sell your skills and abilities.18 Highlight your achievements, supported with facts and statistics. Don't only list your duties and responsibilities, but focus on the problem-solving, project-closing, people-empowering skills you bring.
Remove outdated phrases.19 Phrases such as "references available upon request" are dated and might categorise you similarly. References are only necessary if requested.20
Refresh keywords.21 Recruiters and applicant-tracking software scan for keywords while working through CVs. These keywords can change from time to time within an industry, so look at current job descriptions posted, then bring these keywords into the experience and skills section.
How to approach the future
The disruptions that technology and automation are likely to bring to the world of work will pose significant changes to the jobs of the future, and what skills are necessary to succeed. This means that organisations will need to either invest in developing their staff on a regular basis or hire employees who are better equipped to fill the skills gaps and navigate changes.
Because of this, it's important for professionals to rethink how they approach their growth now and in the future – as well as what they choose to highlight on their CV. When looking to upskill, ensuring that you build on your interpersonal and critical thinking skills on top of your technical ability is what is most likely to set you apart in the long run and equip you for a shifting business landscape. A readiness to embrace a lifestyle of continued learning could help you stand out to future employers and will no doubt better prepare you for the workplace of tomorrow.