10 Leadership Development Trends to Pay Attention to in 2019
Leaders in business face constant challenges. While some of these challenges are typically easier to identify and respond to, others, such as recognising and developing emerging leaders within your company, can prove more difficult. C-level executives today need to be deliberate about their people strategies, as well as prioritise the leadership development skills of next-generation leaders in order to retain their talent and maintain a competitive advantage.1
If you want the talent in your organisation to thrive, then you need to ensure they are developed, feel connected and engaged, and recognised for what they contribute to your organisation.2 According to a Gallup finding, 51% of adults employed in the USA are actively seeking new jobs or are on the lookout for new job opportunities.3 Inga Beale, a member of the mayor of London's Business Advisory Board, says about leadership in 2019, "There will be an increasing need for business leaders to fill the void and provide much-needed leadership that goes beyond the normal business boundaries and into society as a whole."4 The role of leadership in business is more than just strategising a winning business model to drive the bottom line: It also includes developing employees to ensure that the future set of managers are well-balanced, inclusive and set new trends for leadership. This is positive for the long-term growth of the business and for the industry overall.
Here are the leadership development trends to watch in 2019:
1. Investing in inclusion and diversity
Unleashing the full potential of a workforce that understands and reflects your customer is only achieved through embracing diversity in your leadership team.5 Research shows that companies with a more diverse workforce are better at developing innovative products and services.6 Richard Warr, a professor of finance at North Carolina State University, says, "There is a business case for diversity. It's not just about trying to be nice. It's good for business. It not only helps in terms of perception. It actually produces better outcomes."7
In her TED Talk, Rocío Lorenzo, partner and Managing Director at The Boston Consulting Group,8 reveals her findings after surveying 171 companies to find if businesses really are more innovative when they invest in leadership development skills of a more diverse leadership set.9 She explains that inclusion in leadership should be treated as a competitive advantage, as it produces more creative, fresher ideas.
Video link: (Oct, 2017). 'How diversity makes teams more innovative'. Retrieved from TED.
2. Fostering emotionally agile leadership
The frequency of burnout in a business is based on factors that rise and fall on leadership:10
Constantly changing, or unclear instructions
An unrealistic workload
Low emotional reserves
Burnouts can lead to an increase in absenteeism, or in the staff member ultimately leaving the company. "The cost of absenteeism and turnover is enormous in most organisations," said Dr Jim Harter, chief scientist of workplace management and well-being for Gallup.11 According to Gallup's study of nearly 7,500 full-time employees, 67% said that they're sometimes, very often, or always burnt out at work.12
The mental and emotional well-being of the team should be a concern for all business leaders. Currently, only 2% of employees are brave enough to talk to their HR departments about their mental health.13 Lorraine Heggessey, CEO of the Royal Foundation says, "Employees come up with other reasons to be off work – back pain, for example – anything so they do not have to mention mental health. They're worried that raising the issue in the workplace will affect their promotion."14
Studies show that employees whose leaders are more emotionally available are more engaged, which leads to higher operational efficiency, and increased performance.15 Fostering emotionally agile teams through leadership will address the high cost of absenteeism, dissatisfaction and job-hopping associated with burnout.
3. Learning to lead several generations
According to Inc.com, 2019 will see an influx of workers from Generation Z (those born in the late 1990s and early 2000s).16 At the same time, most companies already have baby boomers and members of Generation X on their team.
This brings a new challenge – while each generation should be treated individually, a team needs to be brought together with a common purpose so that they can better collaborate.
4. Launching more female leaders
In 2018, the number of female CEOs in Fortune 500 companies dropped by an alarming 25%, from 32 to 24.This is a serious cause for concern, when you consider the importance of female leadership.17
A global survey of 21,980 firms from 91 countries by the Peterson Institute for International Economics has shown a direct correlation between female leadership and business profitability.18
The report states,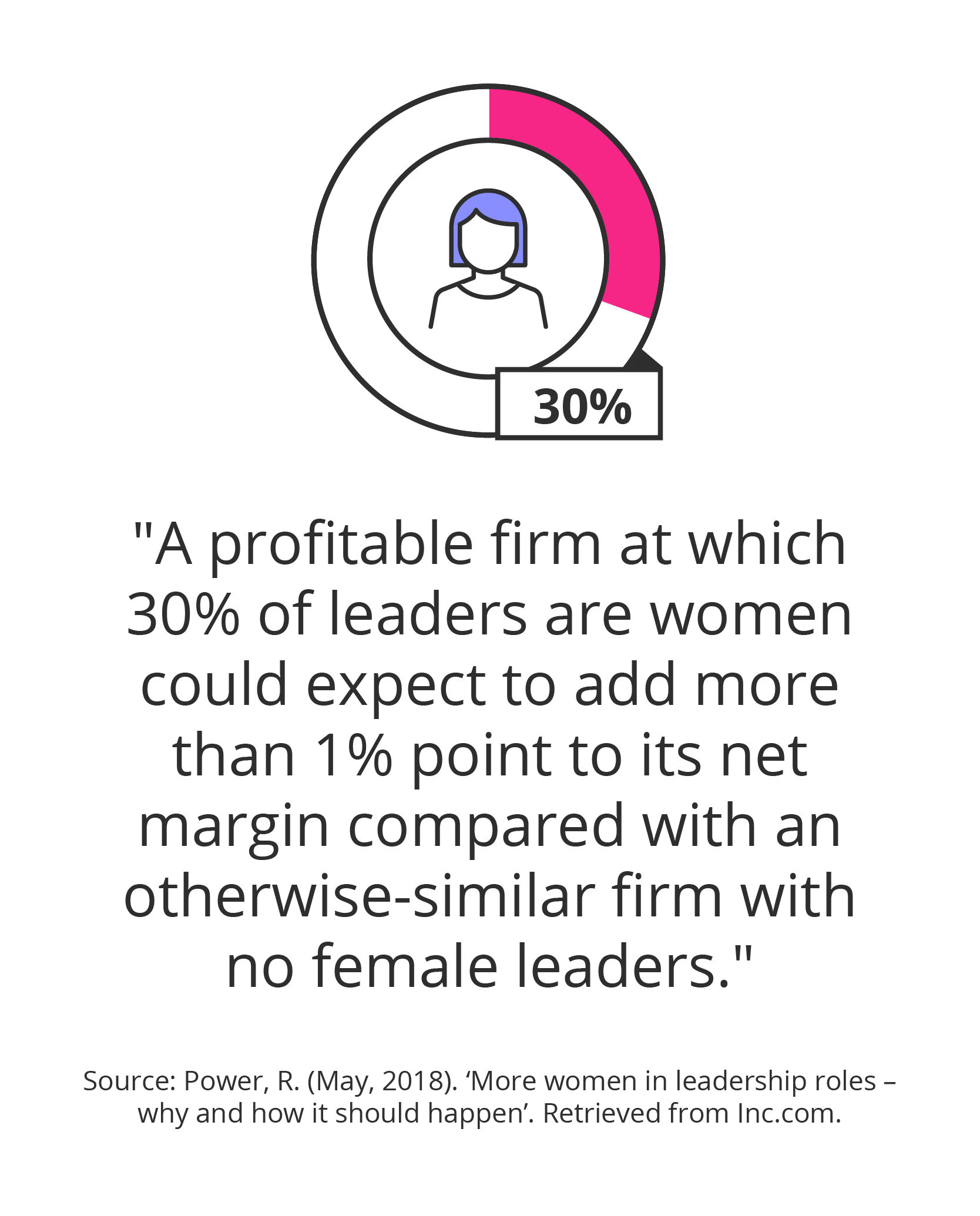 Businesses that develop their female leadership and diversify their teams by creating a corporate culture that makes employees feel included will achieve success.19
5. Fighting for authenticity
Gone are the days where rigid hierarchical organisational structures produce results. Authenticity in leadership is key, and leaders who create space for thoughtful, honest conversations about real issues that impact their team will thrive this year.20 More organisations are investing in leadership development skills to teach leaders to function in this way.
Ben Brabyn, head of Level39, a community of 1,250 leaders in cybersecurity, fintech and retail tech, says, "For those who fail to demonstrate trust and confidence, it will be a year of turmoil and anxiety."21 The ability to listen well and empathise with employees builds lasting trust and nurtures a more collaborative working environment. Gerard Grech, CEO of Tech Nation, says, "We will see more humility as a leadership trait in larger tech companies, leading to even more responsible growth and development."22
6. Focusing on accountability
Remote teams are on the rise, which is great for lowering office overhead costs and harnessing a wider range of talent and productivity, but it's challenging when it comes to transparency and accountability within a team.23
The benefits of employee accountability are manifold:24
It is the quickest route to growing employee engagement, which means they feel connected to key results and believe that what they do matters
It gives employees more meaning in their work
It breeds self-reliance and confidence in a team
Employees are able to focus on what matters, instead of finger-pointing and blame-shifting
Accountability reinforces employees' value to the company, and sets them up for success, which has a positive effect on you as the leaders, and for the organisation
A culture of accountability revolves around leadership. As such, businesses are investing training into their leaders around creating consequential conversations, both up and down the leadership ladder. Managers who lead by example by holding themselves, and those in their team, accountable to an attainable set of standards and values will set the bar for others to follow.
7. Staying curious
The only thing that remains constant in the business world is the need for companies to stay agile and adaptable.25 A culture of continuous learning should be at the top of management's agenda to attain and keep a competitive advantage.
As tech continues to influence business, it's becoming increasingly important that every member of the team becomes more digitally savvy, and leaders who help their employees learn new skills as new technologies emerge will reap the benefits.26 Investing in training for both leaders and their teams improves engagement and loyalty, and will help businesses stay relevant and up to date with the latest technology.
8. Cultivating culture
Culture speaks to what you do as a business, and how you do it, but also includes the less obvious characteristics of a team, such as the shared mindsets and values that influence how your people behave.27 Developing a healthy culture where teams feel safe, comfortable, valued and supported will result in improved employee engagement, retention, high-performance and innovation, as well as overall business profitability.28 A study of over 1,000 companies and their three million employees found that those with healthy cultures, based on the Organisational Health Index (OHI)29, deliver a return to shareholders 60% higher than companies on the median, and 200% higher than those who score low on the OHI.30 The study also showed that investing in healthy cultures means your team adapts better to change: 70% of the transformation failures experienced by businesses are due to culture-related issues.
9. Keeping up with the data eruption
We are in the undisputed age of data, with an estimated 2.5 quintillion bytes of data being created daily, and an estimated 1.7MB of data will be created every second for every person on earth by 2020.31 Data impacts on how business and people make decisions, so businesses are focusing on producing leaders who understand the potential of data to inform strategy.
10. Saying farewell well
The cost of staff turnover for an organisation can be high, especially when they've invested time and money to train individuals and build effective teams. According to a report by the Work Institute, employers paid around $600 billion in turnover costs in 2018 and could expect the bill to be around $680 billion by 2020.32
The value that a productive employee brings to the business is also significant. A study of over 600,000 researchers, entertainers, politicians, and athletes found that high performers are 400% more productive than average ones.33 Most business leaders understand that retaining talent is more cost-effective than hiring new people.
However, the reality that your high-performers will leave at some point is something that needs to be considered. "Employees have career options, and our study shows they're not hesitant to leave their current positions for jobs that better fit their preferences and expectations," said Danny Nelms, President of Work Institute.34
This said, developing leadership's approach around exiting employees could generate positive returns in the long run. Leaders who keep exit interviews positive are finding that these former employees leave the company as brand ambassadors, who – if they felt valued while working at an organisation and leave on good terms – often make great rehires, as they already know the culture and systems, and often bring more skills and expertise to the company.35
Leaders who invest in developing their leadership teams this year will see tremendous company-wide benefits, both in their team's productivity and in their bottom line. Developing a culture of authenticity, accountability, diversity, empathy, and curiosity within organisational leadership will foster a company that has engaged, motivated individuals, pulling towards a common goal.