The Impact of Fintech on Mortgage Lenders
Mortgages are a segment of the financial market that hits close to home for a large portion of the world's population: 66% of all Americans have a mortgage on their house1 while in the UK2 and China it's as high as 70%.3 McKinsey's Global Ecosystem group estimates total housing revenues to be at $3.8 trillion annually by 2025.4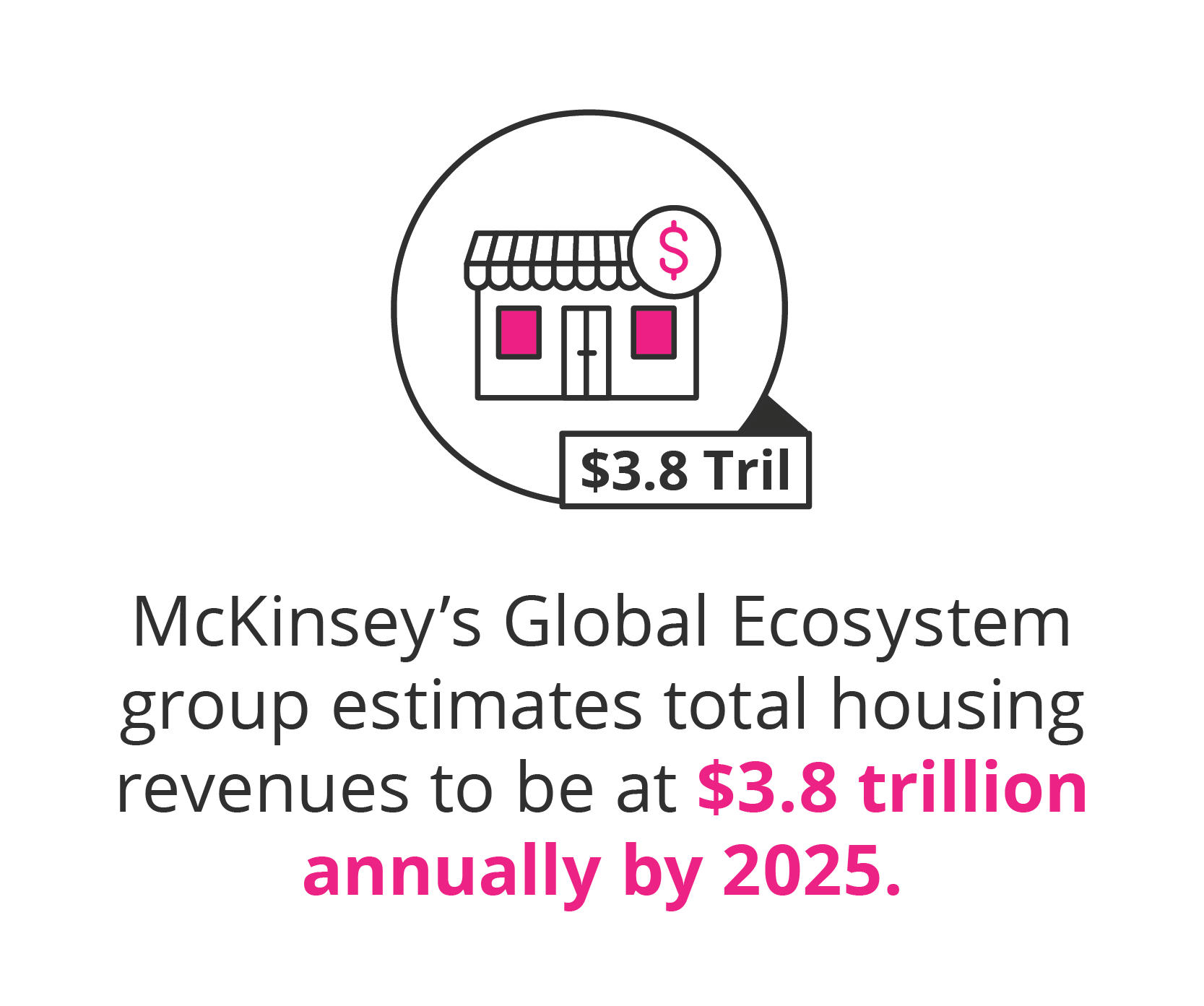 Financial technology – or fintech – is impacting significantly on real estate financing houses and mortgage lenders. In the USA, the market share of online mortgage lenders has quadrupled over the past six years. In 2016, Quicken Loans launched their fully online lending service that saw an increase in their total loan amounts by 22%, and loanDepot's digital lending platform saw their numbers grow by 40%, where Wells Fargo and Bank of America only saw 5% and 1.72% growth respectively.5 In fact, in late 2017 and early 2018, Quicken Loans overtook banking triumvirate: Wells Fargo, Bank of America and Chase Bank, as the top originator of residential mortgages.6
Why fintech is overtaking traditional mortgage lenders
A technology-based company that tries to improve financial services is considered a 'fintech' and typically promises to provide faster, more accurate, safer, and more affordable financial services options than traditional mortgage lenders. Plus they offer consumers ease of access (such as mobility), more transparency, and the ability to consolidate and aggregate across many different platforms.7
Fintech is faster
When compared to traditional mortgage lenders, fintech lenders can reduce the time it takes to close home purchases by around 7.5 days. When it comes to refinancing, the difference is an even more enticing 9.3 days shaved off from the closing process on average.8
More affordable interest rates
The Federal Reserve Bank found that fintech lenders are able to offer interest rates approximately 7.5 basis points lower than traditional lenders.9
Refinancing potential
The benefits that come with fintech mortgages – such as reduced costs, fewer obstacles, and increased market penetration – has led to more frequent and optimal borrower refinancing.10
Mortgage fintech startups that are disrupting the industry
These fintech startups are making it easier for prospective homeowners to finance their new homes:
Moneycatcha11 uses blockchain to make loan applications faster and more affordable by providing two blockchain-based solutions:


Homechain: This end-to-end blockchain solution retrieves and verifies data quickly and securely from third-party data providers, including land offices and government agencies.
Regchain: This is used for real-time risk monitoring in loan applications.

Block6612 is another startup that wants to use fintech to increase transparency, streamline capital lending, and overcome geographical lending restrictions. Their goal is to create a marketplace of pre-vetted borrowers which lenders can then access.
Molo13 is the UK's first fully digital mortgage lender startup that offers mortgages underwritten fully online. They leverage automated decisions and real-time data-validation to give customers instant answers, and a better overall customer experience.
Other startups to watch include: Homelend, which uses blockchain to crowdfund mortgages through a peer-to-peer platform,14 and the Viva Network, that uses a similar concept.15
How traditional financiers are starting to embrace fintech to finance real estate
Where most banks are still stuck in traditional credit checks, legal work, paperwork, and three-month-long mortgage financing processes, there are financial institutions embracing fintech to finance real estate:
The Chinese state-owned bank, Bank of Communications, used blockchain to issue digital mortgages worth $1.3 billion recently.16
The world's fourth-largest bank, the Agricultural Bank of China, issued a loan on a blockchain network worth around $300,000 for agricultural land.17
A subsidiary of the Russian bank, Raiffeisen Bank International, issued a digital mortgage through a blockchain platform called Masterchain.18
The Bank of China Hong Kong (BOCHK) uses blockchain to process 85% of its mortgage-related property valuations. The bank's General Manager of Information Technology, Rocky Cheng Chung-ngam, says, "In the past, banks and [real estate] appraisers had to exchange faxes and emails to produce and deliver physical certificates. Now the process can be done on blockchain in seconds."19
Digital and the internet is fast becoming an important channel for mortgage providers, with rapid technology innovation leading to greater competition from fintech mortgage startups. For financial institutions that hope to compete, a seamless, personalised loan process provided through technology will be to their advantage.20
Alternatively, banks can partner with fintech start-ups for their non-core activities to grow their competitive edge and improve their customer proposition, while still focusing on their core activities. This is mutually beneficial for fintech startups who need access to a larger customer-, and steady financial-base.21