As organisations feel the pressure to adapt and evolve for a tech-driven work environment, HR professionals with the right knowledge and expertise are becoming increasingly more important for ensuring that change happens in the most efficient and effective way possible.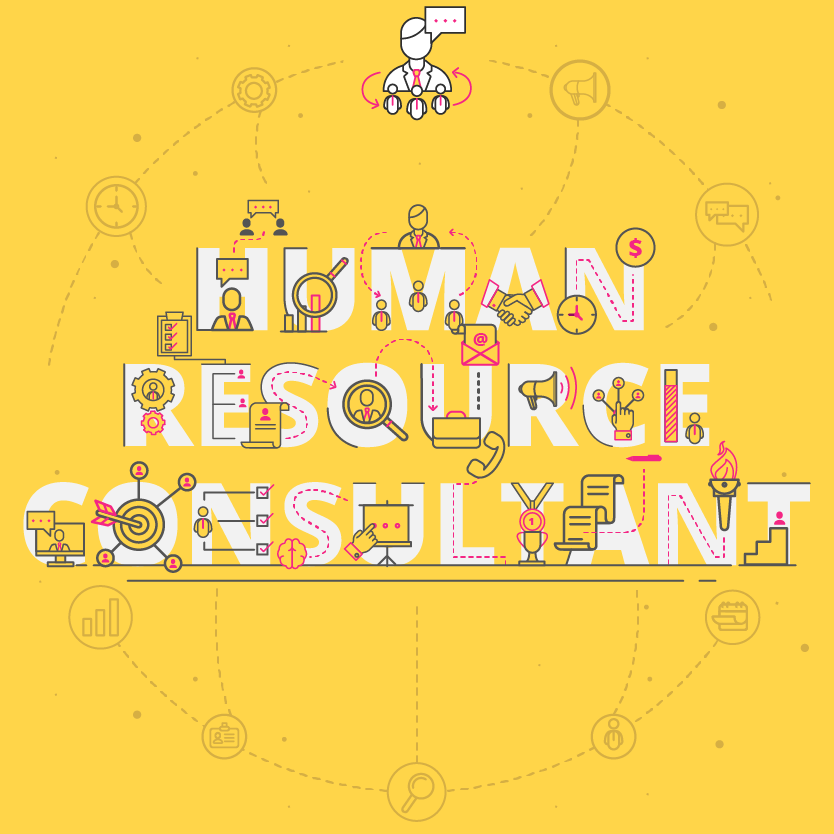 A recent study revealed that 83% of HR said that an employee's experience of the work environment is either important or very important to their organisations success, and in order to enhance the experience, they are investing more in training, improving their work spaces and introducing more employee benefits.1
Enter the HR Consultant: an extension of the management consultant, who charges companies a high hourly rate to impart much-needed human resources services.
As an HR Consultant you'd act in a supervisory role to an HR team or department, providing high-level support in the administration of a human resources program.

What are the key responsibilities of a Human Resource Consultant?
Human Resource Consultants handle a lot of administrative responsibility in an organisation – helping to implement human resources policies; providing training sessions on complex HR procedures and holding responsibility for a company's HR compliance management.
As an HR Consultant, you would not be focused on the strategic agenda of the business, but rather the daily operational activities.
Here are the day-to-day activities of an HR consultant:
HR management 

Analysing and recommending solutions to human resource issues
Developing, revising and implementing HR policies and procedures
Overseeing HR administration in the business

Project management 

Engaging in different people management projects
Coordinate a workforce to exceed output expectations and manage conflict effectively in project teams with an emphasis on communication

Business process design 

Developing, coordinating and recommending changes for the improvement of workflow
Using structured problem solving and different forecasting techniques to understand how to design work for people to meet organisation goals
---
Related content: The difference between talent management and human resource management

---
 What are the career prospects for a Human Resource Consultant?
The projected job outlook for a career in the human resources field is a 13% growth over the next ten years.2 In terms of building your HR career path, there are many options for creating a successful career in this industry.
Here are three of the most lucrative HR career paths for you to pursue:
Training & Development Manager
As a Training and Development Manager, you would be responsible for helping employees upskill and advance in their careers. Through workshops, conferences or e-learning programmes, you would design training content that ensures employees receive adequate professional development opportunities.
If you're a people-person and favour building relationships while still making a lot of money, being an Executive Recruiter could be the career for you to pursue. You'd be tasked with recruiting senior executives, CEOs and Vice-president positions within the company. This is a very lucrative and competitive field, so having prior HR consulting skills will help differentiate you.
Human Resources Executive (Chief HR Officer or Vice President of Human Resources)
If you're looking at remaining firmly planted within the HR field, then this is a great position to pursue. Not only will your earning potential increase, but you'll take on a more strategic, rather than administrative role, within HR.  Responsibilities would include creating an HR strategy for the company as well as defining policies, systems and goals. The entire HR department would report to you.
---
Related content: How to build an engaged and productive workforce

---
What is the potential salary for a Human Resource Consultant?
If you're looking to increase your earning potential as an HR Consultant, you'll need to equip yourself with skills in the following:
change management
people management
organisational development
performance management
Click on a country to see what you can expect to get paid as a Human Resource Consultant in either South Africa, the United Kingdom or the United States of America:
What are the education and training requirements for a Human Resource Consultant?
There are a number of steps you can take to move into the role of an HR consultant.
1. Get a Bachelor's Degree
In this 4-year program, you would major in subjects such as human resources management and business administration, and complete coursework in business communications, professional development, marketing, and operations management.
2. Gain work experience
You may have the opportunity to complete an internship during your university degree, which would include assisting with job interviews, observing administration of employee benefits, and completing basic administrative tasks. Alternatively, get some entry-level experience as an HR specialist, associate, assistant, or recruiter. Employers are more likely to hire you if you have some experience under your belt.
3. Get Certification from HR Certification Institute
This institute offers the Professional in Human Resources and Senior Professional in Human Resources designations, and the certification qualifications include experience requirements and passage of a comprehensive exam. This human resource management certificate and recognition will also open up the door to a lot of networking and career opportunities.
4. Continue learning new HR skills
You could do this by either pursuing a Master's Degree in Human Resource Management, or stay in your day job while completing an online advanced human resource management short course to ensure your skill set remains relevant and competitive.
---
Which skills do you need next?  
Download a course prospectus to find out how one of these online short courses can help you become a Human Resource Consultant.
---
2 Monster